Short and Sweet Weather Poems for Kids
In this Article
A poet's gaze, observation, insight, and wordplay can bring the wonders of the natural world to us in ways we've never imagined before. Weather poems span the change of seasons, dedicating to particular storms, odes to each month, and metaphors for every human emotion. Thus, poems about the weather that rhyme define the characteristics of each weather in a fun and lyrical way. A perfect weather poem for kindergarten can teach them the importance of staying safe during bad weather. They can learn what to do if a severe storm or natural disaster occurs. Read on to find the best weather poems that can perfectly capture the state of the atmosphere and describe the degree to which it is hot or cold, wet or dry, calm or stormy, clear or cloudy, accompanied by beautiful illustrations.
Best Weather Poems for Children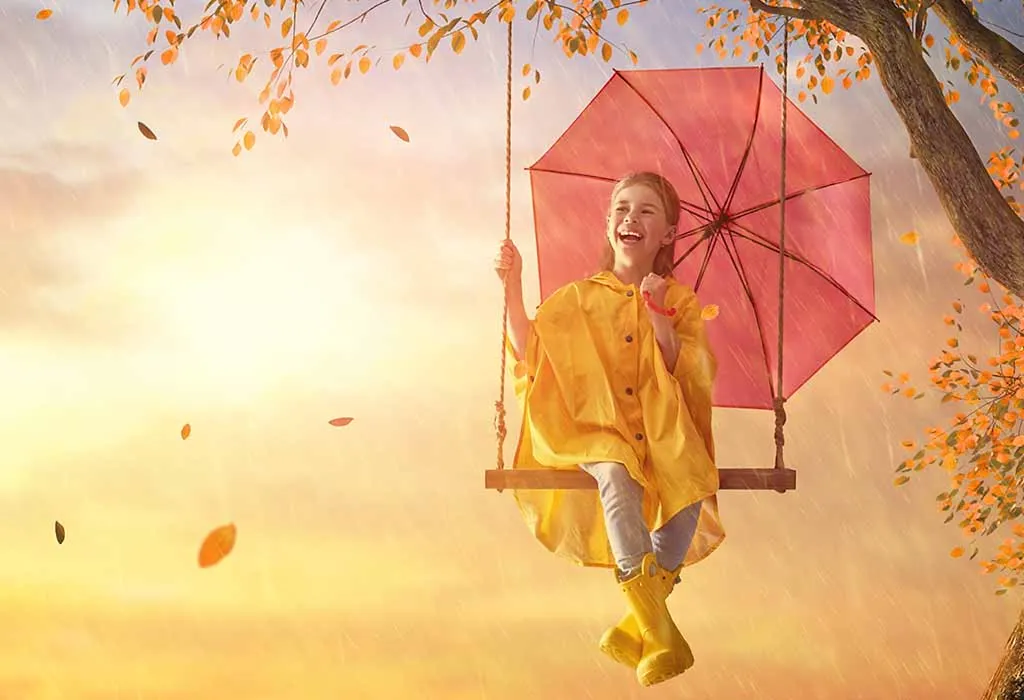 The weather is a fascinating subject to ponder about and discuss with children. Although children are often scared of thunderstorms, they love sailing paper boats or jumping in puddles of water after a shower and losing track of time while gazing at a rainbow after a storm fades. Making observations and discussing weather are great ways to integrate science with literature so that most children can easily relate to it. Weather comprises a mix of events that happen each day in our atmosphere. Its changing presence in our lives helps build a sensory tolerance and understand the different weather. Whether bright and sunny or rainy and windy outside, the weather directly impacts our daily lives. Throughout history, poets have written about the transient nature of weather and the importance of treasuring its wonderful, fragile variety. The weather also depends on where you live and what season of the year it is as some places enjoy warm weather year-round, while others are cold throughout the year. Poems about cold weather celebrate the solstice as a time for Christmas, contemplation, and renewal. Whereas poems about hot weather remind us about simpler and sunnier times spent tasting popsicles in the park, making barbecues, and playing baseball on the beach. Poems about thunderstorms may honor the play of light and sound of the natural world. In contrast, poems about rainstorms can evoke a sense of wonder at the violent weather condition involving extremely strong winds and heavy rain. Here is a curated selection of the best short-weather poems to spark children's curiosity about nature and environmental issues.
1. "A Crosstown Breeze – Henry Taylor"
"A drift of wind
when August wheeled
brought back to mind
an alfalfa field
where green windrows
bleached down to hay
while storm clouds rose
and rolled our way.
With lighthearted strain
in our pastoral agon
we raced the rain
with baler and wagon,
driving each other
to hold the turn
out of the weather
and into the barn.
A nostalgic pause
claims we saved it all,
but I've known the loss
of the lifelong haul;
now gray concrete
and electric light
wear on my feet
and dull my sight.
So I keep asking,
as I stand here,
my cheek still basking
in that trick of air,
would I live that life
if I had the chance,
or is it enough
to have been there once?"
2. "Dance Like Snowflakes – Song – Sung to Are You Sleeping"
"Dance like snowflakes, dance like snowflakes
In the air, in the air
Whirling, twirling snowflakes
Whirling, twirling snowflakes
Here and there, here and there"
3. "It Is Raining – Song – Sung to Are You Sleeping?"
"It is raining, it is raining
On my head, on my head
Pitter, patter raindrops
Pitter, patter raindrops
I'm all wet; I'm all wet"
4. "Flood – Eliza Griswold"
"I woke to a voice within the room. perhaps.
The room itself: "You're wasting this life
expecting disappointment."
I packed my bag in the night
and peered in its leather belly
to count the essentials.
Nothing is essential.
To the east, the flood has begun.
Men call to each other on the water
for the comfort of voices.
Love surprises us.
It ends."
5. "Weather – Hilda Conkling"
"Weather is the answer
When I can't go out into flowery places;
Weather is my wonder
About the kind of morning
Hidden behind the hills of sky."
6. "In April – James Hearst"
"This I saw on an April day:
Warm rain spilt from a sun-lined cloud,
A sky-flung wave of gold at evening,
And a cock pheasant treading a dusty path
Shy and proud.
And this I found in an April field:
A new white calf in the sun at noon,
A flash of blue in a cool moss bank,
And tips of tulips promising flowers
To a blue-winged loon.
And this I tried to understand
As I scrubbed the rust from my brightening plow:
The movement of seed in furrowed earth,
And a blackbird whistling sweet and clear
From a green-sprayed bough."
7. "Who Has Seen the Wind? – Christina Rossetti"
"Who has seen the wind?
Neither I nor you.
But when the leaves hang trembling,
The wind is passing through.
Who has seen the wind?
Neither you nor I.
But when the trees bow down their heads,
The wind is passing by."
8. "All Weather Woman – Dorsey Baker"
"She is
An all weather woman
Got good loving
All the time
She is
An all weather woman
Got good loving
All the time
She is
An all weather woman
Her lips are so sweet
Her kids
So devine
All weather woman
All weather woman
She is
An all weather woman
Got good loving
All year round
She is
An all weather woman
Got good loving
All year round
She is
An all weather woman
And she can
Really
Get down!"
9. "I'll Tell You How the Sun Rose – Emily Dickinson"
"I'll tell you how the Sun rose –
A Ribbon at a time –
The Steeples swam in Amethyst –
The news, like Squirrels, ran –
The Hills untied their Bonnets –
The Bobolinks – begun –
Then I said softly to myself –
That must have been the Sun!
But how he set – I know not –
There seemed a purple stile
That little Yellow boys and girls
Were climbing all the while –
Till when they reached the other side –
A Dominie in Gray –
Put gently up the evening Bars –
And led the flock away –"
10. "Noisy Wind – Song – Sung to The Farmer In The Dell"
"I like the noisy wind
I like the noisy wind
It roars and mutters (voice loud, then softer)
And shakes and shutters (shake hands tambourine style)
I like the noisy wind
I like the noisy wind
I like the noisy wind
It flaps the flag (flap your arms back and forth)
And rustles my bag (rub hands together briskly)
I like the noisy wind"
11. "Look Outside – Song – Sung to Twinkle, Twinkle Little Star"
"Look outside now, can you say
What the weather is today?
Is there sunshine, is there rain?
Is wind blowing down the lane?
Look outside now, can you say
What the weather is today?
Look outside now, can you say
What the weather is today?
Are there snowflakes falling down?
Are there big clouds floating around?
Look outside now, can you say
What the weather is today?"
12. "Snowflakes – Song – Sung to Sailing, Sailing"
"Snowflakes, snowflakes
Falling to the ground
Each one rests so gently
They never make a sound
Snowflakes, snowflakes
Are so pure and white
The special thing about them is
No two are alike"
13. "Those Winter Sundays – Robert Hayden"
"Sundays too my father got up early
and put his clothes on in the blueblack cold,
then with cracked hands that ached
from labor in the weekday weather made
banked fires blaze. No one ever thanked him.
I'd wake and hear the cold splintering, breaking.
When the rooms were warm, he'd call,
and slowly I would rise and dress,
fearing the chronic angers of that house,
Speaking indifferently to him,
who had driven out the cold
and polished my good shoes as well.
What did I know, what did I know
of love's austere and lonely offices?"
The natural world is filled with beauty and is ever-present. The vastness of nature's creativity and miracles of nature can spark the imagination of artists, poets, and authors alike. Weather poems can widen a child's vocabulary pool, the concept of wordplay, phrases, and rhyme scheme, and it can be used as a metaphor for a multitude of events or feelings. Moreover, poems on weather can support reading fluency, allow children to form their own opinions, develop interpretation skills and understand their own emotions. Hence, poetry seems more necessary than ever to help children navigate and make sense of their own experiences while providing much-needed entertainment and escapism to a different space and time.
Also Read:
Beautiful Fall Poems for Children
Short English Poems for Kids
Best Spring Poems for Children