18 Best Sports Movies for Kids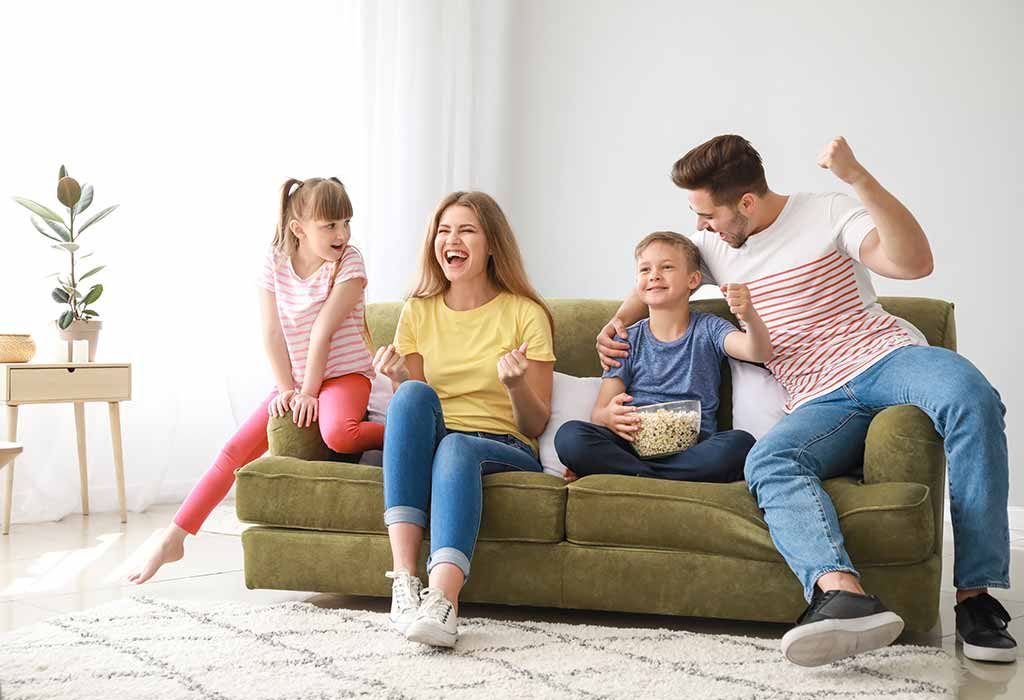 In this Article
The Sports genre is one of the best movie genres to teach your children some of the most important lessons of life. Sports movies can teach them everything, from overcoming adversity and beating all odds to breaking down cultural and racial barriers, working together as a team, and standing up for what you believe in. Here's a list of some of the best sports movies you can watch with your kids to teach them these valuable lessons.
18 Best Sports Movies for Kids
Here are some of the best family sports movies you could consider watching with your kids.
1. Karate Kid
Release Year: 1984
Movie Summary
Daniel LaRusso, the new kid in school, is having a very rough time adjusting to the new surroundings. His fortunes turn when he befriends the maintenance man in the apartment complex, Mr. Miyagi. Mr. Miyagi schools him in martial arts while simultaneously educating him in fence painting and car detailing. The movie is the first segment in The Karate Kid franchise and stars Pat Morita, Ralph Macchio, and Elisabeth Shue.
2. LadyBugs
Release Year: 1992
Movie Summary
Chester Lee, a character played by Rodney Dangerfield, is desperate for some respect from his boss and promotion at his work. In order to impress his boss, Chester claims to have been an amazing soccer player during his younger years and is badgered into coaching the Ladybugs, a girls' team. Dragging Julie, his assistant, as the assistant coach, Chester figures that the task is easy since the team always dominated the previous seasons. Unfortunately, he faces many problems this season, and the promotion he wants is based on whether the team wins that season. This movie makes a wonderful 90s kids sports movie.
3. We Are Marshall
Release Year: 2006
Movie Summary
The small town of Huntington and Marshall University, in 1970, reel when a plane, carrying the school's football players, coaches, and boosters crashes, claiming the lives of 75 people. Jack Lengyel, the new coach, comes to town to heal the grieving community and rebuild the football team.
4. Eddie the Eagle
Release Year: 2016
Movie Summary
This kid-friendly sports movie is the story about a notoriously tenacious British ski jumper, Eddie Edwards, who charmed the entire world during the 1988 Winter Olympics. Eddie the Eagle, inspired by true events, is about the ski-jumper who never stopped believing in himself, even when the entire country kept counting him out. With the help of a charismatic and rebellious coach, he makes a historic and improbably showing during the Winter Olympics, winning the hearts of millions of sports fans all around the world.
5. Miracle
Release Year: 2004
Movie Summary
The movie is about a player-turned coach, Herb Brooks, who led the U.S. Olympic hockey team in 1980 to victory over the Soviet squad. In 1980, Herb Brooke, the U.S. Hockey team's coach took a squad of college kids up against the legendary players from the Soviet Union. With hard training, he turns these players into an Olympic team. The movie is an inspiring story of a team that improved its performance and united the nation with hope. The story is based on one of the best moments of sports history, and it captures a place and time when differences were settled through games.
6. Rocky
Release Year: 1976
Movie Summary
The movie is about a small-time boxer, Rocky Balboa, from Philadelphia who is randomly chosen to take on the heavyweight champion of the world, Apollo Creed. This is a top kids sports movie that will inspire anyone who watches it.
7. Rudy
Release Year: 1993
Movie Summary
This movie is about a boy named Rudy Ruettiger, whose dream is to play football at the University of Notre Dame but does not have enough grades for a scholarship nor enough money to pay for the tuition. Overcoming dyslexia with the help of D-Bob, his tutor and friend, he begins to fight his way into the University's football team.
8. The Natural
Release Year: 1984
Movie Summary
Roy Hobbs is an unknown middle-aged man with a very mysterious past who comes out of the blue to take a losing baseball team and lead them to the top of the league. The movie begins with the story of Roy Hobbs, a young farm boy with an incredible talent for the game. Encouraged by his loving father who tells Hobbs that he has an amazing talent for throwing the ball, Hobbs knows that it is not enough for the big leagues. His father passes away while working under a large tree, and the same tree is split into pieces by lightening a few years later. Hobbs turns a piece into a baseball bat and gets a chance to play in the big leagues. This is an amazing movie that has supernatural elements along with the rush of the sport.
9. Eight Men Out
Release Year: 1988
Movie Summary
This great sports movie tells a true story about the 'Black Sox scandal' that happened in 1919, in which the player of White Sox deliberately lost the World series. The scandal in the movie is due to the labour dispute between the all-powerful team owner and the players, and how mobsters took advantage of the dispute. The result was a tragedy for players like Joe Jackson.
10. Bend It Like Beckham
Release Year: 2002
Movie Summary
Jesminder Bhamra, popularly known as "Jess" in the movie, is an 18-year-old British-Indian Sikh girl living in London. She is infatuated with football, but since she is a girl, her conservative family would not initially let her play, though she sometimes plays soccer in the park. While her mother tries to steer her into non-sporty activities, her father is very supportive of her football passion. Her skills are discovered by Jules, a girl of the same age from an English family, who later invites her to try out the local women's football team.
11. D2: The Mighty Ducks
Release Year: 1994
Movie Summary
Gordon Bombay, former Pee-Wee hockey coach and standout, is a star in the minor leagues and a lot of people expected him to reach the National Hockey League. Unfortunately, he comes back to Minneapolis because of a knee surgery that ends his career. He is then offered a chance to coach the United States team for the Junior Goodwill Games held in Los Angeles. He uses the opportunity to reassemble the Ducks nucleus while making a few more quirky additions to take the team to a whole new level. This is a very entertaining sports movie for kids.
12. Chariots of Fire
Release Year: 1981
Movie Summary
During the early 1920s, in a religiously divided and class-obsessed United Kingdom, two young runners fulfil their quest to represent the UK in the 1924 Olympic Games held in Paris. Eric Liddell is a devout Christian, sees the sport as a part of his worship to God's glory, while Harold Abrahams overcomes class bias and anti-Semitism.
13. The Rookie
Release Year: 2002
Movie Summary
The movie is a true story about a coach who discovers that it is never too late to make dreams come true. Jim Morris, played by Dennis Quaid, has a shoulder injury ending his pitching career. He never made it out of the minor leagues, and he finally became a high-school chemistry teacher and a baseball coach in Texas. He always loved baseball, and in order to motivate his team, he agrees to check out a professional try-out if the team wins the championship. With many obstacles in the way, he finally finds himself called up to the big leagues.
14. Glory Road
Release Year: 2006
Movie Summary
After Don Haskins is appointed as the new coach for the Texas Miners, he decides to use this opportunity to create a team based on talent. However, the conservative townsfolk do not like the new racially diverse team even when the team was winning all their games. When African American players like Bobby Joe Hill and Harry Flournoy start dominating the court, the racial tension increases, which further jeopardises the team's future.
15. The Pride of the Yankees
Release Year: 1942
Movie Summary
The movie is a biography of the New York Yankee baseball legend, Lou Gehrig, who passed away way too young due to Amyotrophic Lateral Sclerosis. The movie beings with young Lou waiting to play in the neighbourhood and when he finally gets his chance to bat, he hits and breaks a window. He is devoted to his mom, and as he goes off to college, he tries to stay away from baseball for his mother. However, that doesn't last long, and Lou gets into the Yankee team. The movie clearly shows the life of this legend and ends with Lou declaring himself "the luckiest man on the face of the earth" during a speech in the Yankee stadium.
16. Jim Thorpe: All-American
Release Year: 1951
Movie Summary
The movie is a true story about a Native American named Jim Thorpe. He rose from an Oklahoma reservation to become a professional star and Olympian. After his medals are stripped due to a technicality, and his dreams of becoming a coach were shattered, his life begins to unravel. He also finds challenges in his love life and becomes a forgotten figure, except for his coach.
17. Seven Days in Utopia
Release Year: 2011
Movie Summary
Based on the bestselling novel written by David Cook, "Golf's Sacred Journey: Seven Days at the Links of Utopia", this movie is particularly popular among struggling athletes. Luke Chisholm, a young golfer, is abused by his father from when he was little to become a pro golfer. At the Texas Open, when Luke's game blows up for the last hole, his father turns his back on him and walks away. A devastated Luke drives blindly until he crashes through a fence and meets a man named Johnny Crawford near a town called Utopia. He makes Luke an irresistible offer: spend a week with Johnny in Utopia and see if Luke can make changes in his life.
18. The Bad News Bears
Release Year: 1976
Movie Summary
Morris Buttermaker, a former minor league player, is a beer-swilling, lazy, swimming pool cleaner who takes money to become the coach of the Bears, a baseball team of players with no baseball talent. Realising his situation, Morris brings aboard Amanda Whurlitzer, the daughter of an ex-girlfriend, and Kelly Leak, a motorcycle punk who also happens to be the best baseball player around. The Bears, brimming with confidence, look to get into the championship name and avenge their losses to the Yankees, their nemesis.
These kids sports movies will provide you with many opportunities to teach your children essential lessons in life. Don't forget to grab some popcorn and enjoy the show!
Also Read:
Best Educational Movies for Children
Must-Watch Space Movies for Children
Interesting Dragon Movies for Children