Sev Murmura Recipe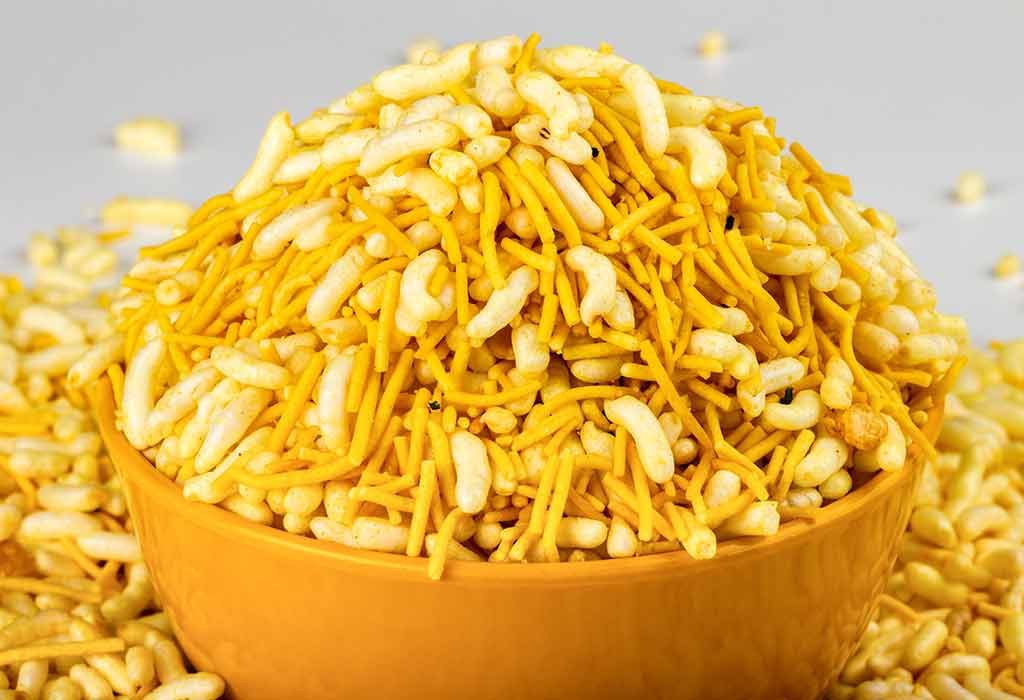 In this Article
Sev Murmura is a savoury snack that can be made quickly. This crispy and tasty snack is an ideal choice for evening munching and on the go. It is a quick recipe with murmura (puffed rice), groundnuts and fine sev, and can be a great snack option for the entire family. Compared to other junk food and store-bought snacks, this sev murmura is a healthier option for your little one. Amidst the list of low-calorie snacks, sev with puffed rice ranks on top. Your kid is going to love the crunch and the spice mixture of this sev murmura recipe for babies.
Cooking Time
| | |
| --- | --- |
| Type | Time(hh:mm:ss) |
| Preparation time | 00:05:00 |
| Cooking time | 00:05:00 |
| Total Time | 00:10:00 |
Cooking Method: Gas Stove
Type of Meal: Vegetarian
Suitable For: Toddlers above 14 months of age
Meal Schedule: Mid-morning and Evening
Recipe Type: Snacks
Ingredients
| | |
| --- | --- |
| Ingredients | Quantity and Volume |
| Sev | 1 cup |
| Murmura (Puffed rice) | 3 cups |
| Groundnut | 2 tbsp |
| Curry leaves | 2 sprigs |
| Turmeric powder | ¼ tsp |
| Dry Red Chillies (optional) | 3 nos |
| Oil | 2 tbsp |
| Roasted Chana Dal | 1 tbsp |
| Mustard | ½ tsp |
| Hing/ Asafoetida | A pinch |
| Salt | As per taste |
Instructions
Puffed rice is versatile and can be clubbed with different flavours for creating interesting snacks. One such delectable recipe with step-by-step instructions is listed below:
Heat a cast-iron pan or any other non-stick pan.
Add 2 tbsp of oil.
Add the curry leaves and let it splutter.
Add the chana dal, groundnuts, dried chillies and saute till the nuts turn golden brown.
Now add in the turmeric powder and give it a good mix.
Switch of the flame and add the sev and the murmura.
Add salt and give the mixture a good mix.
Allow it cool and transfer it to an airtight container.
Sev murmura is a can be stored in an airtight container for 8 to 10 days. Here are some more tips you can follow to make and enjoy this delicious snack.
Recipe Tips
If you are wondering how to make sev murmura with perfection, follow the recipe tips given below:
You can use store-bought sev or you can make homemade sev by simply preparing some besan (gram flour) dough, salt and water. Take small portions of the dough and press them in a sev maker directly into into hot oil. Fry the sev till it turns golden brown. Once fired, remove it on some paper towel to soak excess oil. Break the sev with you hands or a spoon into small pieces.
Always switch off the flame before you add the murmura as it may turn soggy if you keep cooking it.
Keep the flame on medium or low while tempering to avoid prevent it from burning.
You can add roasted dry coconut and your favorite nuts (chopped) to this recipe if you have already introduced nuts to your little one.
Remove the dried chillies once the sev murmura is cooled before feeding it to you baby
Let's take a look at the nutritional value and health benefits of this dish.
Nutrition Value (Per 100 gms)
| | |
| --- | --- |
| Energy | 150 cal |
| Fibre | 2.5 g |
| Fat | 7.5 g |
| Cholesterol | 0 mg |
| Sodium | 15 mg |
| Protein | 5 g |
| Carbohydrates | 20 g |
Health benefits
A simple and healthy snack like this home-made sev murmura has the nutritive values listed below:
Murmura is low in calories and also contains essential minerals, and hence your toddler can binge on it any time.
Murmura is loaded with Vitamin D, B2, and B1, and hence promotes stronger bones in your little munchkin.
The beneficial bacteria present in puffed rice eliminates constipation.
Sev murmura has enough fibre content to aid digestion.
Curry leaves are an excellent source of antioxidants, they sharpen memory, and are great for your baby's eyesight.
To make the most of this delicious snack, you must follow the buying guide given below.
Buying Guide
This guide will help you make the best sev murmura and ensure it is healthy for your baby.
Buy packaged organic besan, and most importantly, check for the expiry date on the package.
Murmura should be fresh as it will retain the crunch for a longer time.
Buy small and fresh curry leaves without spots on them as it makes the recipe more flavourful.
Please check the expiry date of the groundnuts before buying and make sure you buy a sealed packet.
Amidst so many recipes available online, this sev murmura for babies is a simple and ideal snack option for your little munchkin. The recipe is suitable for kids above one year, and is sure to grab your child's fancy as it is mildly spiced and has a crunch. Get your child used to home-made snack recipes than depending on other packaged snacks for healthier growth and development.