Rice and Carrot Porridge Recipe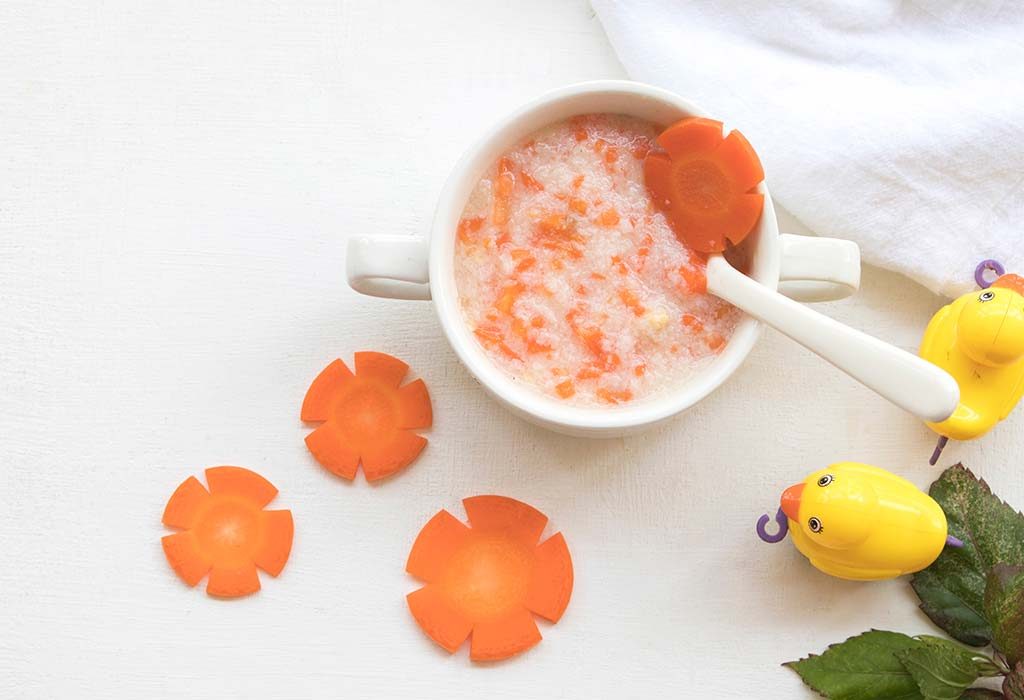 Rice and Carrot Porridge is a balanced sweet porridge recipe made from carrots, rice, dates and raisins. Carrots can be prepared quickly, and it also tastes good. This healthy recipe of Rice and Carrot porridge for babies can be given to babies from above seven months.
Video: Rice and Carrot Recipe for Babies and Toddler
Cooking Time
| | |
| --- | --- |
| Type | Time (hh:mm:ss) |
| Preparation Time | 00:10:00 |
| Cook Time | 00:15:00 |
| Total Time | 00:25:00 |
Cooking Method
Gas Stove
Type of Meal
Vegetarian Meal
Suitable For
Any baby above 6 months of age
Meal Schedule
Mid-Morning breakfast or Evening Snack
Recipe Type
Desert
Ingredients
| | |
| --- | --- |
| Ingredients | Quantity and Volume |
| Carrots | 2 Small Sized |
| Rice (Washed) | 2 Tsp |
| Ghee | 1 Tbsp |
| Milk | 1/4 Cup |
| Cardamom Powder | ½ Tsp |
| Chopped Raisins | 1 Tsp |
| Dates | 3 Pieces |
Instructions
If you are wondering about how to make Rice and Carrot Porridge, then below is the recipe step by step direction which is suitable for babies, infants and children.
Wash the rice and carrot nicely.
Peel off the carrot properly and cut them into small pieces.
Put the rice, carrot, water and dates into a saucepan and boil it for 10-12 minutes.
Let the carrot cook completely and turn off the heat.
Allow them to cool down.
Add cooked carrot, rice in a blender and make a smooth puree blend until your baby gets the correct consistency.
In the saucepan, put some ghee and heat it and put the porridge in the pan.
Add the cardamom powder and chopped raisins and mix all the ingredients well.
Add the boiled cow's milk and continue cooking for another two minutes. Stir it continuously and turn off the heat.
Rice and Carrot Porridge is ready to eat. Serve it hot.
Recipe Tips
Few points to remember before you start preparing the healthy and easy Rice and Carrot Porridge recipe for your baby.
For babies under one year, use the formula milk or breast milk.
Wash and soak the dates and raisins in water for 15 minutes.
Use filter water for cooking.
If the porridge gets too thick, then add boiled water or milk to adjust the consistency.
Do not throw the boiled carrot water as it can be used if required.
All the utensils should be washed and cleaned properly before using.
De-seed the dates before using. Chop the raisins properly.
For infants, do not use raisins as the carrot and dates are sweet.
Nutrition Information (Per Serving)
| | |
| --- | --- |
| Nutrient | Value |
| Energy | 256 KCal |
| Protein | 3.9 gm |
| Carbohydrates | 44.8 gm |
| Fibre | 3.2 gm |
| Fat | 6.8 gm |
| Cholesterol | 0 mg |
| Vitamin A | 474.3 mcg |
| Vitamin B3 (Niacin) | 1.3 mg |
| Vitamin B1 (Thiamine) | 0 mg |
| Vitamin B2 (Riboflavin) | 0 mg |
| Vitamin C | 1.1 mg |
| Vitamin E | 0 mg |
| Folic Acid (Vitamin B9) | 7.8 mcg |
| Calcium | 24.7 mg |
| Iron | 0.6 mg |
| Magnesium | 0 mg |
| Phosphorus | 0 mg |
| Sodium | 8 mg |
| Potassium | 28.5 mg |
| Zinc | 0.8 mg |
Health Benefits
Below are the health benefits of home-made Rice and Carrot Porridge baby food recipe.
Ghee is a rich source of Vitamin A, K and E which promotes skin glow and keeps it healthy.
Milk is a source of calcium which helps in keeping the bones and teeth stronger.
Cashew Nuts and Raisins are good sources of fats which is good for the heart and helps in weight gain.
Rice and Carrot Porridge is a healthy and nutrient rich sweet dish which would keep your baby's stomach full for a longer duration.
Carrot is a nutritious vegetable for the heart. Carrot is rich in vitamin A, and it is good for the skin and the hair. It also relieves bloating caused by eating too many products made from wheat and soy products.
Carrot is good for eyesight, and it acts as an immunity booster.
Rice is our staple food, and it is a good source of vitamins B, fibre, thiamine, niacin, riboflavin and iron.
Rice is an excellent source of manganese and magnesium. It improves the digestive system of babies.
Buying Guide
Buy good quality of Rice from the market. Preferably packed rice should be purchased.
Use fresh and organic carrots.
Ensure that it should not have insects on it and should not have a mushy texture.
Use homemade ghee and low fat fresh boiled milk.
All parents want to make healthy yet nutritious quick homemade food, hence this simple Rice and Carrot Porridge recipe. Serve your babies at least twice a week with this dish, instead of relying on the packaged food.