Panipuri / Gol Gappe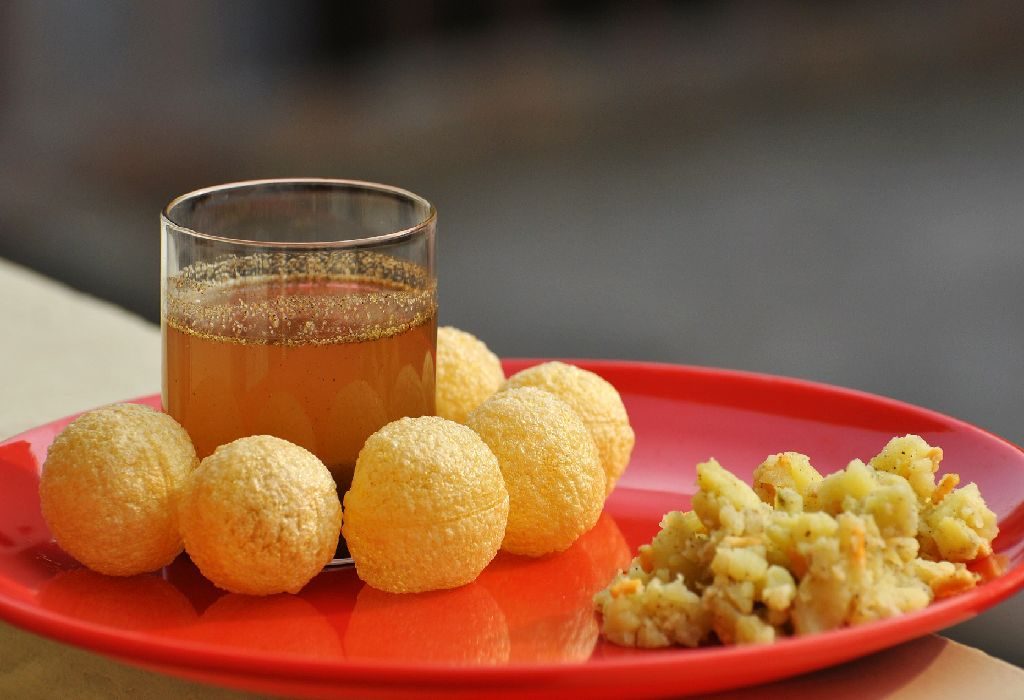 In this Article
Panipuri needs no introduction. This extremely popular Indian street snack is called by many names – gol-gappe, pani ke bataashe or puchka – but what's in a name! Just the mention of this dish would make your mouth water and you won't be able to resist, but have one. So make this dish at home & satiate your hankering for a khatta-mitha-tikha fare.
| | | |
| --- | --- | --- |
| Serves | Preparation Time | Cooking Time |
| 5 People | 30-35 Minutes | 0 Minutes |
Ingredients
25-30 puris (home-made or store-bought)
Ingredients for Stuffing
4 potatoes, boiled & mashed
1 onion, finely chopped
3 tbsp coriander leaves, finely chopped
2 tsp chaat masala powder
1 tsp cumin powder, roasted
1/2 tsp red chili powder (optional)
Black salt to taste (if not available, use normal salt)
Ingredients for Khatta-Tikha-Mitha Pani
1/2 cup coriander leaves, chopped
1/2 cup mint leaves, chopped
1 inch ginger paste
1 tbsp tamarind, seedless & soaked in water
4 tbsp crumbled or powdered jaggery/sugar OR the mixture of 2 tbsp chopped seedless dates & 2 tbsp powdered jaggery.
1 green chili, chopped
1 tsp chaat masala powder
1.5 tsp cumin powder, roasted
2 tbsp boondi (readily available boondi)
Black salt to taste (if not available, use normal salt)
Method
For Stuffing
Step 1
Boil the potatoes to cook completely, peel & chop well.
Step 2
Finely chop onion. Keep aside.
Step 3
In a large bowl, mix all the 'for stuffing' ingredients mentioned above. Add black salt (or salt) considering the amount of ingredients collectively.
Step 4
Mix well and keep aside.
For Khatta-Tikha-Mitha Pani
Step 1
Mix all the ingredients mentioned above for 'Khatta-Tikha-Mitha Pani' in a blender. Add water & grind to the fine mixture (is now called green chutney).
Step 2
Collect green chutney in a large bowl. Add 2-3 cups of water & mix well. Taste the seasoning & add chaat masala, jeera powder & salt to taste.
Step 3
Mostly thin pani is liked by many, so adjust the thinness by adding more water, but keep a check on seasoning & taste.
Step 4
Now, add boondi to this pani & let boondi become soft by soaking the pani.
Step 5
In summer season, you can chill this pani in the refrigerator or add ice cubes to it. (remember that adding ice cubes will make the pani thinner, so you'll again need to adjust it as per the desired taste)
Preparing Pani Puri
Step 1
Hold the puri in hand & crack the top with the thumb nail.
Step 2
Add boiled potato-onion filling inside the puri as per puri's size.
Step 3
Stir the green pani first and then add it to the puri. Next, add the sweet chutney as per your taste.
Step 4
Keep all the preparations handy. You should serve pani puri immediately, because it turns soggy due to pani.
Nutritional Information
| | |
| --- | --- |
| Calories | 152 Kcal |
| Proteins | 3.8 g |
| Fat | 0.9 g |
| Carbohydrates | 39.3 g |
| Cholesterol | 3 mg |
| Sodium | 1014 mg |
| Potassium | 687 mg |
Tip -You can also use sprouted steamed moong, sprouted steamed matki, soft boiled white chickpeas, finely chopped onions, chopped coriander leaves, chopped pudina leaves for stuffing.
?>