Paneer Apple Mash Recipe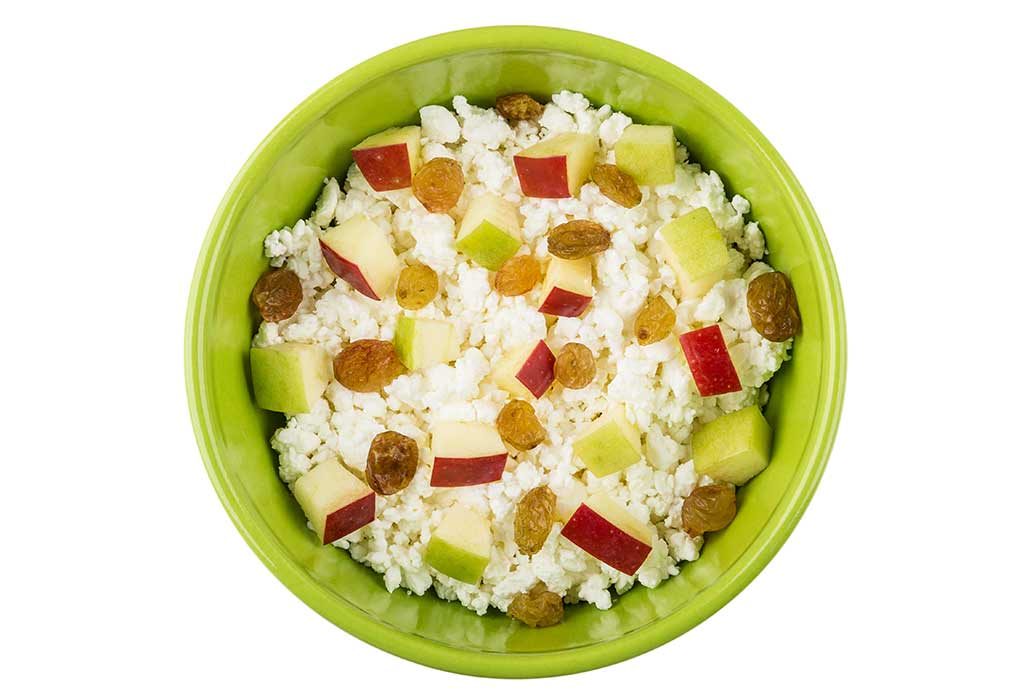 Need a delightful dessert to treat your kid after a meal or an instant snack idea after playtime? Paneer apple mash is one of the best weaning foods, has high nutrition value and can be easily prepared at home. Fruits like apples are the ideal first food for babies as they are sweet, mild and easily digestible. Packed with calcium, paneer or fresh cheese is the best dairy by-product that contributes towards the healthy development of babies and toddlers. With the combination of juicy apples, this recipe becomes indeed delectable with its soft and creamy texture. Every time hunger pangs worry your little one, include the goodness of its ingredients in your baby's daily diet by learning how to make paneer apple mash easily and watch how the bowl gets emptied soon!
Cooking Time
| | |
| --- | --- |
| Type | Time (hh:mm:ss) |
| Preparation Time | 00:10:00 |
| Cook Time | 00:05:00 |
| Total Time | 00:15:00 |
Cooking Method
Gas Stove
Type of Meal
Vegetarian
Suitable For
Weaning toddlers older than 12 months of age
Meal Schedule
Breakfast, after-lunch, Playtime
Recipe Type
Snack or dessert
Ingredients
| | |
| --- | --- |
| Type | Quantity |
| Apple | 1 Medium |
| Cottage Cheese | 100 grams |
| Ground Flax | ½ teaspoon |
| Cinnamon | 1 pinch |
| Sliced almonds | ½ teaspoon |
| Sugar | 1 teaspoon |
| Water | 1 Cup |
Instructions
The step by step directions given here will guide all parents who want to serve the best sweet dish to their little one.
Dice the apple into pieces and place it in a saucepan with 1 cup water.
Cook for a few minutes until the apple is not entirely broken. Set it aside.
Boil the milk in a heavy-bottomed pan.
Remove from the heat and pour vinegar into it.
Cover the pan and let it rest for 30 minutes.
Line a colander with a tea towel and place the colander over another bowl.
Pour out the curdled milk through the colander till the whey drains out.
Gather the ends of the cloth tightly together and form a cloth wrapped ball of cheese by hanging it for 30 minutes.
Dump the cheese into a bowl and break it into small pieces.
Now mix the warm apple and crumbled cottage cheese and sugar.
Sprinkle a pinch of cinnamon along with crushed almonds or flax seeds for garnishing.
Transfer it into a bowl and serve immediately.
Recipe Tips
This simple paneer apple mash recipe can be a wholesome snack or dessert for your child who would relish its sweet taste. It makes an excellent dish for introducing fruits for babies who are fussy eaters.
The neutral taste of paneer makes it easy to be mixed with any other kinds of fruits like strawberries or bananas.
If you want to thicken the consistency of the dish, then add water or formula milk to it.
Wash the apple well with your hands before starting to prepare this dish. Also, the vessels used should be thoroughly washed with clean water.
This homemade paneer apple mash baby food recipe can be made more delicious with the addition of different types of dry fruits for toddlers.
Mash the ingredients well to make it easier for your baby to chew and swallow without choking.
Sugar makes the dish more appealing for the ones with a sweet tooth.
Nutrition Information (Per medium-sized apple)
| | |
| --- | --- |
| Type | Value |
| Energy | 95 Cal |
| Carbohydrates | 25 grams |
| Fiber | 4 grams |
| Vitamin C | 14% of Reference Daily Intake |
| Potassium | 6% of RDI |
| Vitamin K | 5% of RDI |
Nutrition Information for Paneer (Per 100 gm)
| | |
| --- | --- |
| Type | Value |
| Energy | 72 Cal |
| Protein | 13 grams |
| Fibre | 131 milligrams |
| Vitamin B1, B2, B3 and B6 | 21mcg, 181 mcg, 143 mcg and 71mcg |
| Vitamin E | 13 mcg |
| Choline | 20 mcg |
Health Benefits
Nutrient-dense paneer apple mash has exceptional health benefits for babies while adding new flavours to children of vegetarian households.
Apple has a good amount of fibre which helps in reducing constipation in children.
Apples promote good gut bacteria, prevents type 2 diabetes and contains antioxidants that protect children against asthma.
The vitamins in paneer are essential for strengthening the immune system of babies. Vitamin B present in it plays a key role in the formation of bone cartilage. The fat content is crucial for the nourishment and growth of babies.
It is advisable to give paneer to babies in small quantities to avoid the risk of indigestion. If your child is prone to allergies like asthma, eczema or rashes, then avoid giving dairy products without your doctor's consultation.
Paneer has very low lactose content but is abundantly rich in magnesium, potassium and protein.
Buying Guide
This shopping guide is a ready reckoner to create awareness for consumers who should pay only for the best quality products needed for making this recipe:
Make sure that the paneer is made from pasteurised milk that contains a low amount of sodium and has not crossed the expiry date.
It is always better to choose fruits that are organically grown without the use of harmful pesticides.
Apples that you buy should be free of blemishes. Gently press to check its firmness.
Homemade Paneer Apple Mash for babies is a healthy substitute for pre-packaged food products that are available in stores. Our babies are our sweethearts so we can serve them the yummiest dish that is prepared with the touch of mother's love and care.