Paneer Anjeer Walnut Barfi Recipe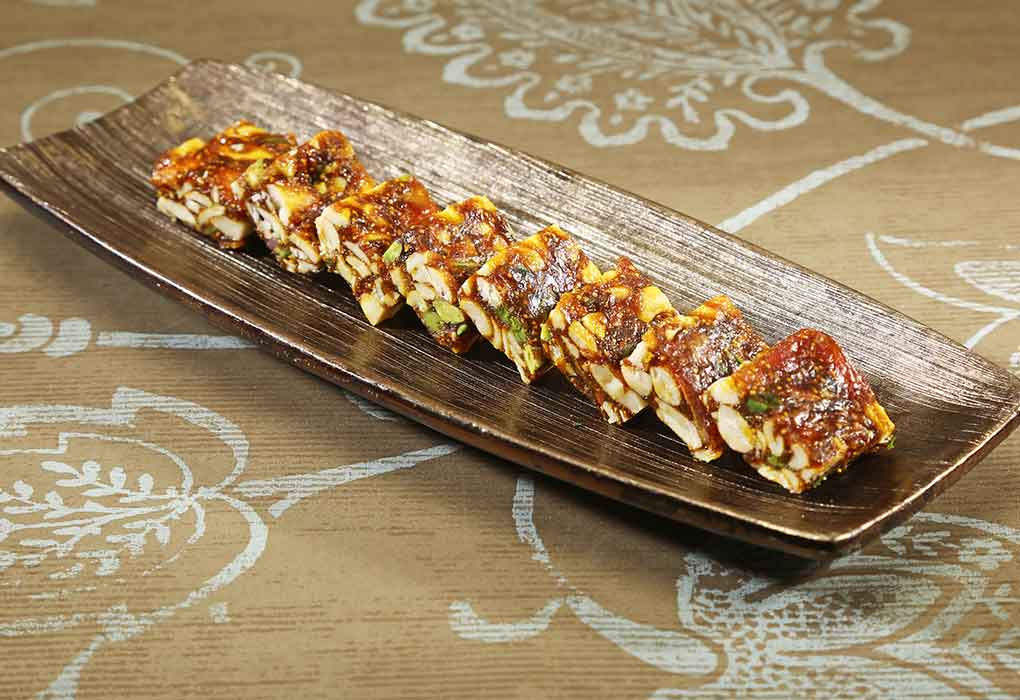 In this Article
We all are fond of sweets, and indeed, our kids are going to inherit it from us! Indian households do not need a reason to prepare desserts at home. However, when you have a kid or toddler at home, home-cooked sweets are the best. Firstly, you are well aware of the quality of the ingredients, and secondly, we can ensure the nutritive value of the food. Paneer anjeer walnut barfi is an Indian sweet dish that you can prepare at home in no time. It's soft, crunchy, delicious, and healthy – and your baby will enjoy its taste! More importantly, this simple paneer anjeer walnut barfi for babies is loaded with nutrients, ensuring good health for your child.
Cooking Time
| | |
| --- | --- |
| Type | Time (hh:mm:ss) |
| Preparation Time | 00:10:00 |
| Cook Time | 00:05:00 |
| Total Time | 00:15:00 |
Cooking Method
Gas Stove
Type of Meal
Vegetarian
Suitable For
Any toddlers above 14 months of age
Meal Schedule
Snacks
Recipe Type
Dessert
Ingredients
| | |
| --- | --- |
| Ingredients | Quantity and Volume |
| Dried figs (anjeer) | 12 |
| Walnuts (chopped) | 3 tbsp |
| Paneer (mashed) | 1 cup |
| Sesame seeds (roasted) | 2 tbsp |
| Ghee | 1 tbsp |
| Cardamom powder | 1 tbsp |
| Pistachios (chopped) | 2 tbsp |
Instructions
Preparing any barfi at home is always an easy task. This paneer anjeer walnut barfi is going to be no different. We are providing you with step-by-step directions, and you will learn how to make this paneer anjeer walnut barfi quickly.
Mash the paneer with a spoon or whisk it in the mixer. Ensure that the mashed paneer is uniform in size.
Soak anjeer or dried figs in warm water for 5 minutes.
Then, drain the water and put the anjeer in the mixture. Do not add any water while blending. Once the mixture is smooth, keep it aside.
Take the walnuts and chop them uniformly.
Next, heat the ghee in a non-stick pan.
Add the mashed paneer, blended anjeer, chopped walnuts, sesame seeds, and chopped pistachios in the pan.
Mix well and cook on medium flame for 2 minutes.
Switch off the flame and add cardamom powder to it.
Take a plate and grease it with a little ghee.
Next, transfer the mixture from the pan and spread it evenly on the plate using a spoon.
Let it cool. Once done, cut it into pieces of equal sizes.
Cool it completely by putting it into a refrigerator for 15 minutes.
Recipe Tips
This paneer anjeer walnut barfi recipe is quick and effortless. To maintain the taste and texture, here a few tips you can follow:
While chopping the walnuts, ensure that it does get powdered.
The mashed paneer should have powdered granules and not big chunks.
While blending the dried figs, do it uniformly to achieve a consistent paste.
You can add almonds, raisins, peanuts, and dates as well to add variety to the flavour.
While adding peanuts and almonds, ensure that you roast them properly.
Nutrition Information (per 100 grams)
| | |
| --- | --- |
| Nutrient | Value |
| Energy | 106 cal |
| Protein | 2.6 g |
| Carbohydrates | 7.8 g |
| Fibre | 1.5 g |
| Fat | 7.5 g |
| Vitamin A | 11.6 mcg |
| Vitamin B1 (Thiamine) | 0.1 mg |
| Vitamin B2 (Riboflavin) | 0.1 mg |
| Vitamin B3 (Niacin) | 0.4 mg |
| Vitamin C | 0.3 mg |
| Vitamin E | 1.1 mg |
| Folic acid (Vitamin B9) | 10.3 mcg |
| Calcium | 52.5 mg |
| Iron | 0.9 mg |
| Magnesium | 40.7 mg |
| Phosphorus | 62.3 mg |
| Sodium | 1.2 mg |
| Potassium | 152.7 mg |
| Zinc | 0.6 mg |
Health Benefits
Homemade paneer anjeer walnut barfi food recipe is full of essential nutrients. These are the health benefits of this tasty and crunchy barfi:
Anjeer promotes bone health in your baby and fights constipation as well.
Paneer is a vital source of protein for your baby.
This barfi promotes the development of the brain. Consider it brain food for your baby!
The walnuts have essential omega-3 fatty acids. This nutrient ensures the overall health of your child.
The potassium content of this barfi contributes to the muscle development in your baby.
Buying Guide
For Paneer, avoid buying from the market. Instead, it would be best if you prepared it at home.
Buy only organic food for your household needs.
Ghee should also be prepared at home instead of going for the packaged kind.
While buying figs and almonds, ensure their freshness.
As mothers, we take the pains to ensure that our baby gets the best in terms of nutrition and taste. The best thing about this paneer anjeer walnut barfi is not only its taste, but also its high nutrient content. You can store this barfi for a couple of weeks, and serve it to guests too!