Pancakes Recipe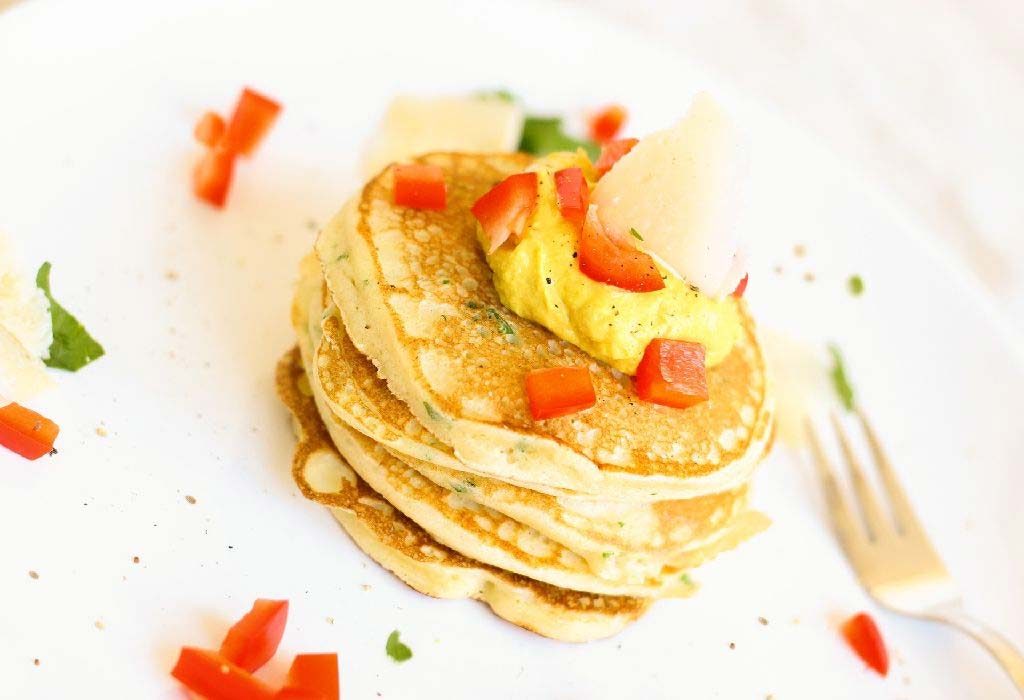 In this Article
Pancakes are considered a weekend-only treat, but there's no denying that the other five days would be better if they, too, started with a warm short stack right? If you have a busy schedule as a mother, pancakes can be a great option. The good thing with pancakes is that they are healthy and taste fantastic too. With their nutritiously rich ingredients, vegetable oats pancakes are a top pick. It is a simple vegetarian dish, with no use of eggs. Pancake for babies is quick to prepare with an Indian twist. Serve it to the baby as well as the adults in the house, and they will love the taste.
Cooking Time
| | |
| --- | --- |
| Type | Time (hh:mm:ss) |
| Preparation Time | 00:10:00 |
| Cook Time | 00:25:00 |
| Total Time | 00:35:00 |
Cooking Method
Gas Stove
Type of Meal
Vegetarian
Suitable For
Babies above 11 months of age
Meal Schedule
Breakfast or evening snacks
Recipe Type
Appetizer
Ingredients
| | |
| --- | --- |
| Ingredients | Quantity and Volume |
| Oats Flour | 1 cup |
| Grated Carrots | ½ cup |
| Chopped Spinach | ½ cup |
| Chopped Coriander | 2 tbsp |
| Oil | ½ tbsp |
Instructions
The recipe for making pancakes is quick and easy. If you are wondering how to make pancakes, we will guide you. Follow our step by step directions and prepare this healthy and delicious dish in almost no time.
Start by making the oat flour. Do it by taking 1 cup of oats and put in a small mixer jar.
Make a fine powder in a mixer. You can store this flour for a good 3-4 weeks in an airtight container.
Now put this flour into a deep bowl.
Add grated carrots and finely chopped spinach to this bowl.
Add chopped coriander to it along with salt as per taste.
Mix all the ingredients well with the help of a spoon.
To this mixture, add 1 cup of water and mix again.
Make a batter of this mixture to attain a uniform consistency. You can add a little more water depending on the oats flour.
Heat the nonstick tava and add ¼ teaspoon of oil.
Add a spoonful of batter on the tava. Carefully spread the batter in a circular motion.
Try to make a 4-5 inch circle of the batter on the tava.
Cook the pancake on the tava by adding more oil as required.
When perfectly cooked, the pancake will turn golden brown from both sides.
Repeat the same process with the remaining batter.
Recipe Tips
No doubt making these vegetable pancakes is easy, however, there are a few points for you to consider while preparing this simple Pancake recipe for your kid.
Make sure the oats flour is fine in texture and no coarseness in there.
Wash the carrots before grating it.
For spinach and coriander wash it thoroughly with water several times.
The consistency of the batter should be ideal. If it's too thick or too thin, you will have difficulty while cooking.
Use a spoon while preparing the batter instead of hands.
Ensure that the pancakes are adequately cooked from both sides. Half cook pancakes are difficult to digest.
Nutrition Information (Per 100 Grams)
| | |
| --- | --- |
| Nutrient | Value |
| Energy | 69 kCal |
| Protein | 2 gm |
| Carbohydrates | 7.9 gm |
| Fibre | 1.6 gm |
| Fat | 3.4 gm |
| Cholesterol | 0 mg |
| Vitamin A | 473.5 mcg |
| Vitamin B1 (Thiamine) | 0.1 mg |
| Vitamin B2 (Riboflavin) | 0.0 mg |
| Vitamin B3 (Niacin) | 0.2 mg |
| Vitamin C | 3.5 mg |
| Vitamin E | 0.1 mg |
| Folic Acid (Vitamin B9) | 12.9 mcg |
| Calcium | 16.9 mg |
| Iron | 0.6 mg |
| Magnesium | 25.1 mg |
| Phosphorus | 75.7 mg |
| Sodium | 5.6 mg |
| Potassium | 64.3 mg |
| Zinc | 0.5 mg |
Health Benefits
There are numerous health benefits of home-made Pancake baby food recipe:
Oats are a good source of protein, vital for your baby.
Carrots have Vitamin A that is good for the eyes.
Iron content in spinach is high, which is essential for your baby in their growing years.
These pancakes will be a wholesome diet for your toddler in terms of nutrients.
Buying Guide
Always prefer buying organic food for your home.
Avoid buying spinach that is not fresh or has wilted leaves.
Do not buy readymade oats flour; instead, prepare it at home.
These pancakes not only taste good but are also a powerhouse of nutrients. Your baby will love the taste, and it will add a variety to their menu. You can serve these pancakes a few times a week. Serve these warm along with some non-spicy chutney on top. These Indian pancakes are an excellent recipe for the household.
?>