Palak Baby Corn Sabji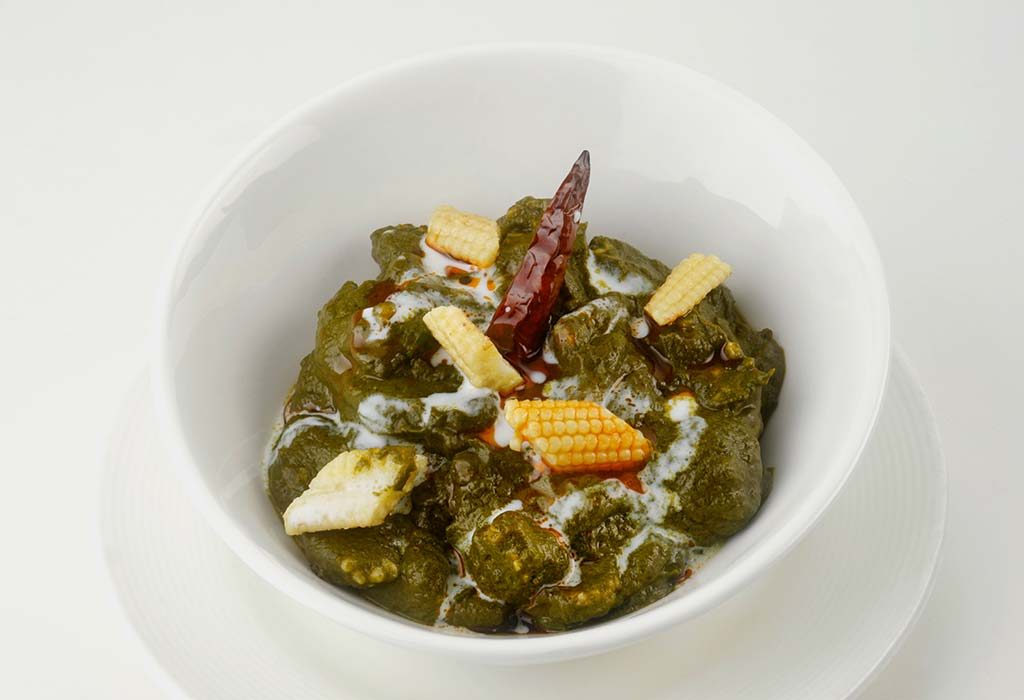 In this Article
The Palak Baby Corn Sabji is a delight for all ages! Not only is it delicious, but it is also brimming with nutrition. Palak is packed with iron and baby corn has a lot of fiber in it. The dish has practically no cholesterol and very less carbs. Palak Baby Corn sabji is the right accompaniment for your roti if you're trying to keep a tab on the calories you consume.
| | | |
| --- | --- | --- |
| Serves | Preparation Time | Cooking Time |
| 4 People | 10-15 Minutes | 15-20 Minutes |
Ingredients
2 cups spinach blanched and pureed
10-12 pieces of baby corn
1 big onion finely chopped
1 big tomato finely chopped
2 tsp Ginger garlic paste
4 green chillies slit length wise
1 tsp garam masala
Salt to taste
1 tsp Oil
1 tsp cumin seeds
Method
To blanch Spinach
Step 1
Clean and wash spinach leaves thoroughly.
Step 2
Fill a pan with water, add the spinach leaves and bring it to a boil. Boil for 20 to 25 mins. Press the spinach leaves gently down with a spatula during the process.
Step 3
Once the leaves have completely sagged into the water, remove the leaves out and grind them for puree.
Step 4
Don't throw the water in which you boiled the spinach away. This is your spinach broth and use it while cooking.
Palak Baby Corn
Step 1
Pressure cook the baby corn to 3 whistles along with a little salt and turmeric powder
Step 2
Chop the cooked baby corn into small cylinders.
Step 3
In a pan, saute the chopped onion, green chillies and tomatoes in a little oil and add the ginger-garlic paste once the onion turns a little translucent.
Step 4
Pour the pureed spinach and salt into the pan and cook till the spinach mixture solidifies a little.
Step 5
Now, to this mixture add the baby corn and garam masala and fry for a minute.
Step 6
Pour in a little spinach broth to get the desired consistency.
Step 7
Bring the mixture to boil and take off the heat.
Step 8
Garnish with coriander leaves and serve.
Nutritional Information
| | |
| --- | --- |
| Calories | 80 K cal |
| Proteins | 5.7 g |
| Fats | 5.5 g |
| Carbohydrates | 12.4 g |
| Cholesterol | 0 mg |
| Sodium | 728 mg |
| Potassium | 1163 mg |
*For frying, add approximately 10 grams of fat per serving at 9 Kcal/gm of fat.