Moong dal soup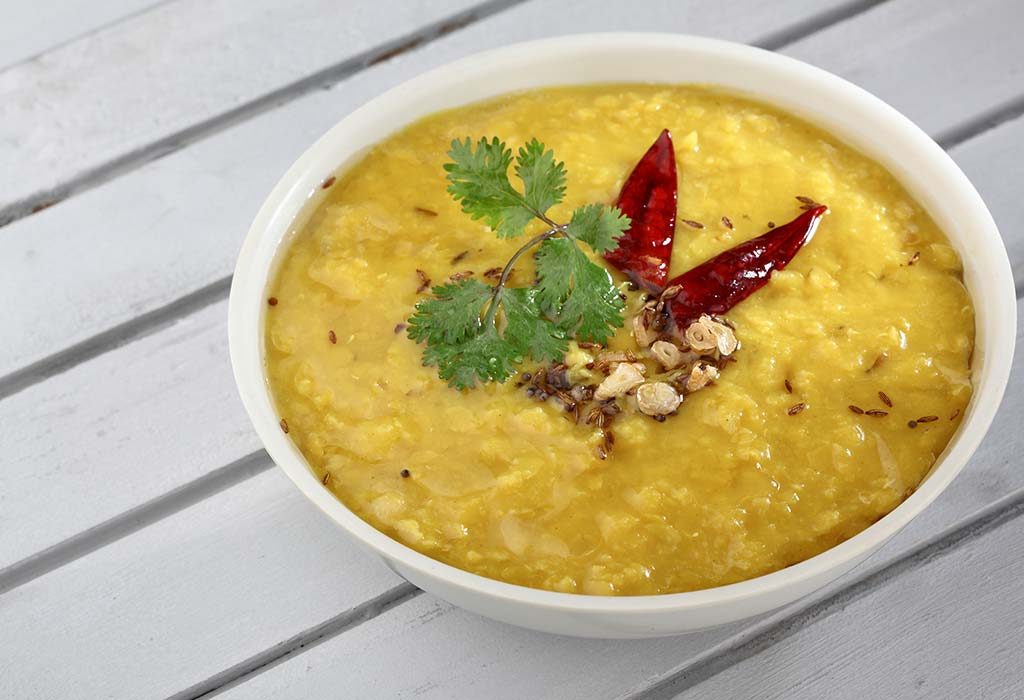 In this Article
Moong dal is the easiest to digest of all pulses and legumes. It is best suited even as first foods for your baby. Its is easy on your child's tummy. It is among the best known healthy foods for every one of us from small babies to adults to the aged. It is a soothing food for those recovering from an illness, dehydration, and even flu or for those trying to increase their protein intake.
| | | |
| --- | --- | --- |
| Serves | Preparation Time | Cooking Time |
| 2 people | 3 Minutes | 10 Minutes |
Ingredients
(240 ml cup used)
¼ cup moong dal (split green gram)
½ tsp freshly grated ginger
1 tsp ghee/olive oil
½ jeera/cumin
1 ½ to 2 cups water
½ to ¾ cup chopped veggies (carrots, lauki, pumpkin, spinach)- optional
salt to taste
Method
Step 1
Heat ghee in a pressure cooker, add cumin.
Step 2
Once cumin begins to sizzle, add ginger and saute for about a minute.
Step 3
Add dal (washed and soaked) to the pressure cooker. Fry for 3 to 4 minutes.
Step 4
Insert the veggies and fry for about 2 minutes(optional).
Step 5
Pour water and cook on a low to medium flame for 1 to 2 whistles till the dal softens.
Step 6
Once the pressure releases, mash the dal and add the desired spice powders.
Nutritional Information
1 cup cooked
Calories
132
Sodium
300 mg
Total Fat
5 g
Potassium
0 mg
Saturated
3 g
Total Carbs
24 g
Polyunsaturated
0 g
Dietary Fiber
6 g
Monounsaturated
0 g
Sugars
2 g
Trans
0 g
Protein
8 g
Cholesterol
13 mg
Vitamin A
0%
Calcium
0%
Vitamin C
0%
Iron
0%
*Percent Daily Values are based on a 2000 calorie diet.
Your daily values may be higher or lower depending on your calorie needs.
Tip :For adults, you can add spices of your choice like Kasuri methi, ajwain, dry mango powder, pepper powder, etc. for improving the taste. Also, vegetables can be added to make the soup healthier but for babies, while introducing foods, it's better to add the vegetables one by one after the baby has been introduced to these veggies.