#MummasTouch Stuffed Brinjal in Spinach Gravy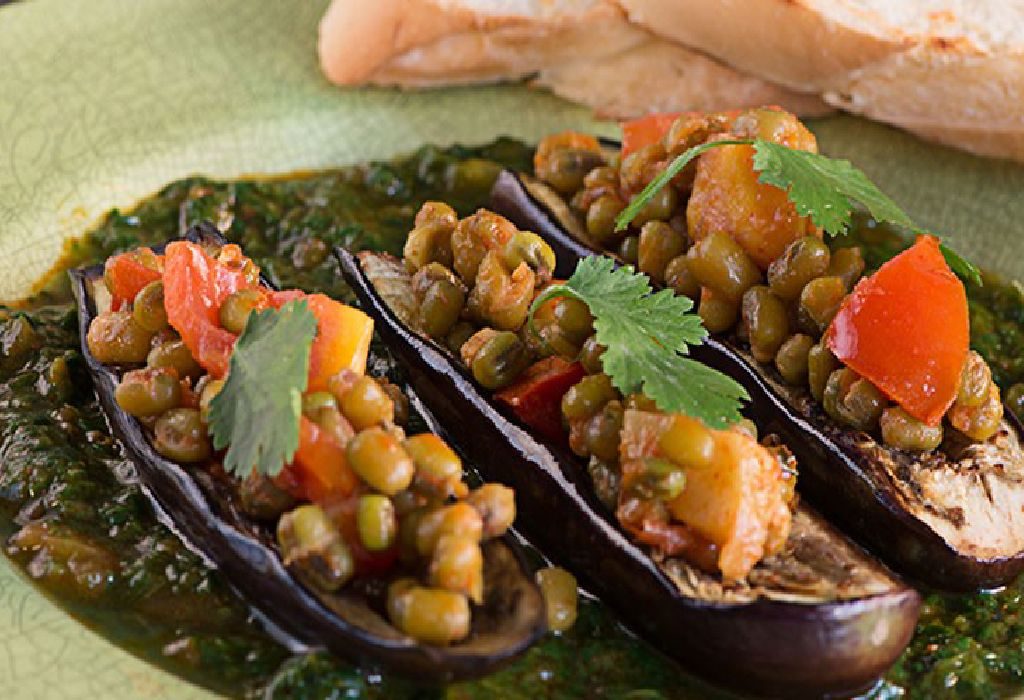 In this Article
A delicious and healthy recipe with stuffing of sprouted moong beans with roasted tomatoes on the bed of spinach based gravy. A true delight in all senses……Healthy and yummy….
| | | |
| --- | --- | --- |
| Serves | Preparation Time | Cooking Time |
| 3 People | 30 – 35 Minutes | 40 – 45 Minutes |
Ingredients
For Stuffing and Eggplants
100 g sliced onion
1 tbsp Saffola oil
2 cloves chopped garlic
Salt to taste
200 g Cherry tomatoes
200 g sprouts
2 Green chillies chopped
600 g Eggplants
Oil for brushing
For Gravy
Oil 1 tbsp
150 g Peas
300 g baby spinach leaves
2 tbsp tomato paste
150 ml skim milk
1 tsp Salt
1 tsp Red chili powder
1 tsp Cumin powder
Method
Step 1
Cut brinjal in half lengthwise.
Step 2
Using a coring knife, spoon out flesh from inside of each eggplant and leave a border along the skin which is about ½ inch.
Step 3
Brush eggplant halves with little bit of oil and keep aside.
Step 4
Heat oil in a pan and sauté onion and garlic for 2-3 minutes till they are fragrant.
Step 5
Add quartered cherry tomatoes, chopped flesh of eggplants, sprouts, chopped green chilies and coriander leaves.
Step 6
Cook for 4-5 minutes on medium heat, keep the stuffing aside.
Step 7
Heat a grill pan or normal non-stick pan, place the halved eggplants over the grill pan and cook from all sides, when it is about to be done, fill the stuffing in the hollow space and let it cook for a minute or two. Remove from heat and keep aside.
Step 8
To Prepare Green Gravy: Blanch the spinach leaves by immersing them in hot water and immediately after that in cold water.
Step 9
Boil peas for 5-6 minutes and keep aside. Heat 1 tbsp oil in a pan, add chopped onions and green chillies, cook for 3-4 minutes and add cumin powder. Add blanched spinach leaves and peas to the pan.
Step 10
Cook for 5-6 minutes and let it cool.
Step 11
In a blender jar, make a puree of the cooked spinach and peas and add skimmed milk to it.
Step 12
Transfer the puree to the pan once again and bring to a boil. Stir in tomato paste and garam masala powder.
Step 15
To serve, first pour a little gravy on a plate and then place stuffed eggplants one by one.