Checkerboard Cookies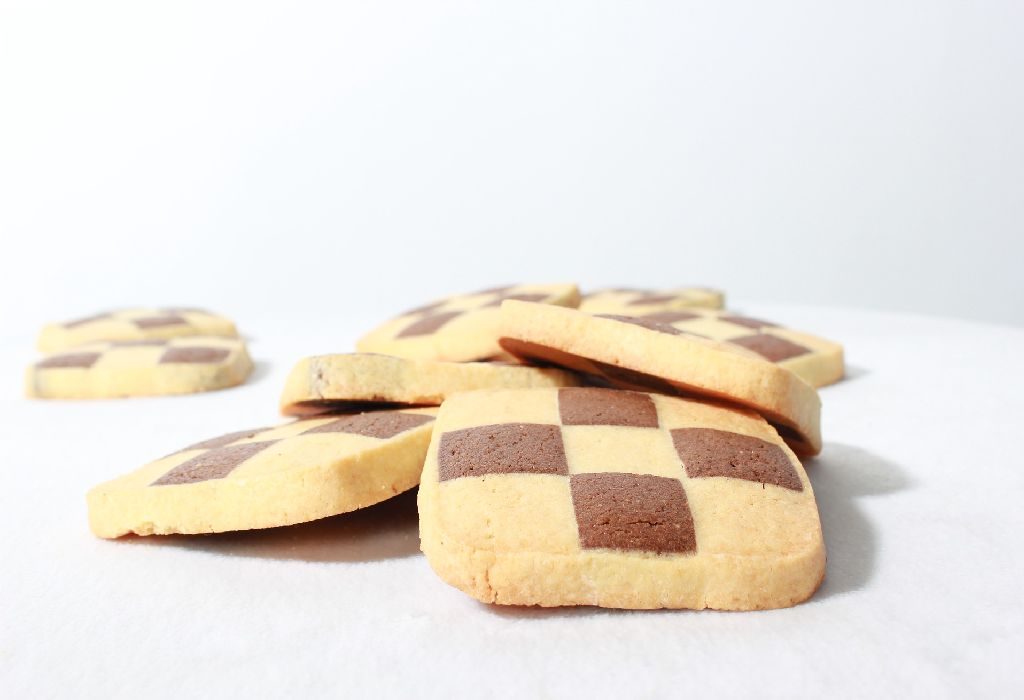 In this Article
These elegant looking cookies will have your kid's attention right away. They don't just look great, they taste great too – they are a perfect combination of chocolate and vanilla – the flavours kids love most. One look at them and you are likely to think that they are too complicated to make at home. But, with our full proof recipe and step by step process, they become quite easy. Check out the recipe now.
| | | |
| --- | --- | --- |
| Serves | Preparation Time | Cooking Time |
| 10 People | 10-15 Minutes | 15-20 Minutes |
Ingredients
200 gm all-purpose flour/maida
100 gm powdered sugar
100 gm butter
1 tsp vanilla essence
2 tbsp cocoa powder
1-2 tbsp Milk
Method
Step 1
In a bowl add butter and sugar and whisk well till it is creamy. Add the vanilla essence and mix again.
Step 2
Sieve maida and add it to the sugar-butter mixture. Add spoonful of milk as needed and knead the cookie dough.
Step 3
Divide the dough into three equal parts. Set aside two white parts and in the third half add the cocoa powder and tiny bit of milk to form chocolate dough.
Step 4
Place one white dough ball and one chocolate dough ball on separate plastic sheets. Cover them with another sheet of plastic and using a rolling pin, flatten the dough evenly. Remove the top plastic. This is done mainly to ensure that the dough does not stick to the surface and comes off easily.
Step 5
Next, using a pizza cutter, cut ½ inch strips of the dough. Remove any scrap from the sides.
Step 6
Now place one strip of the white dough, next to a chocolate dough strip and then again a white strip. Next, on top of the white strip, place a chocolate strip followed by white and again chocolate. Using your hands push the dough in together, such that the layers are sealed and you get a checkered log.
Step 7
To make it easier for you to understand the assembly of strips, lets say that white strip = 1 and chocolate strip = 2. So, to get a checkered design, you should place the strips as 121, followed by 212, followed by 121, on top of each other.
Step 8
Now roll the remaining white dough around the layered strips and use it to cover the prepared log. Wrap the log in cling film and keep it in the freezer for 20 minutes.
Step 9
Meanwhile, preheat the oven at 180 C and grease a large baking tray.
Step 10
Take the cookie log out from the freezer and slice it into 1/3" slices. Place them on the baking tray and bake them in the preheated oven for 12-15 minutes.
Step 11
When done take it out of the oven and let it cool down to room temperature before storing.
Nutritional Information
| | |
| --- | --- |
| Calories | 189 Kcal |
| Proteins | 2.5 g |
| Fat | 8.5 g |
| Carbohydrates | 26 g |
| Cholesterol | 22 mg |
| Sodium | 60 mg |
| Potassium | 53 mg |