Top 40 Birthday Wishes for Sister-In-Law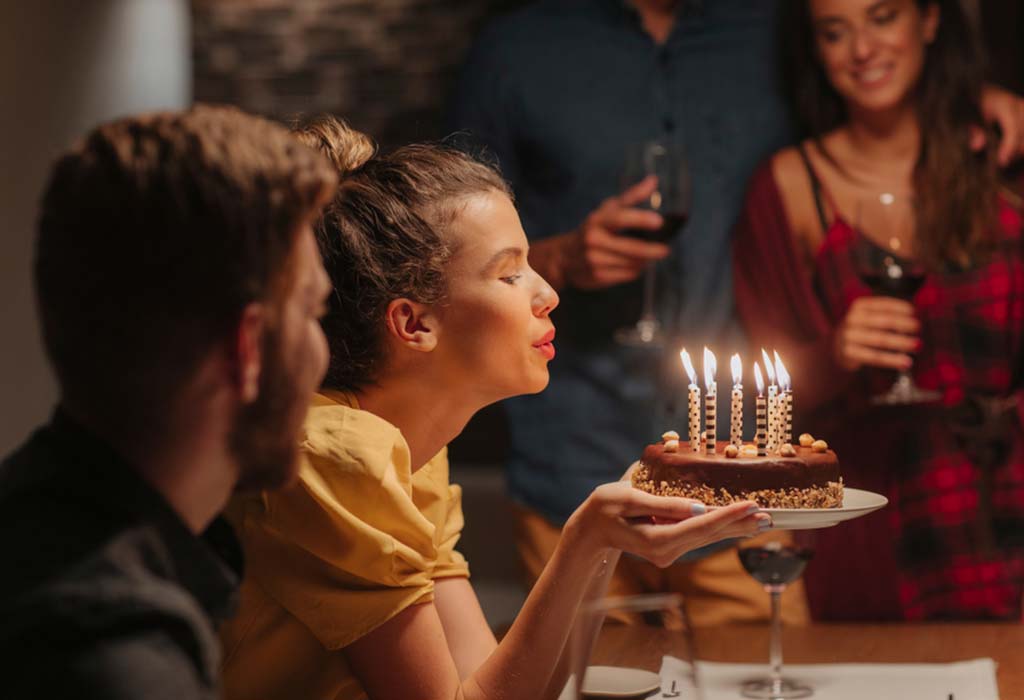 In this Article
Even if it comes as a surprise, a sister-in-law can be the best buddy. She brings great fun to any family get-together. An older and more experienced sister-in-law can guide you with the right advice when you're confused. She may lend a shoulder to cry and a hand to help. You can even count on her to save you from awkward household conflicts. A younger sister-in-law, on the other hand, can be your partner in crime, confidante, shopping partner, or a selfie partner. She can be the one with whom you can be yourself. Some sibling-in-law relationships may be frosty or complicated, too. However, it's important to communicate with them to keep cordial relations. Hence, on your sister-in-law's birthday, you can pay a touching tribute to this unique relationship by sending her the most sincere messages. Here are some heartfelt birthday quotes for sisters-in-law that will make your sister-in-law feel extra special on her birthday!
Beautiful Birthday Wishes for Sister-In-Law
Take an extra step to wish your sister-in-law on her special day with the most appropriate happy birthday message that would help her feel like an integral part of your life and family. Choose the best birthday wishes for your soul sister-in-law from this thoughtfully curated list:
Formal Birthday Wishes for The Sister-In-Law
Incase your sister-in-law is a few years older than you, here is a compilation of birthday wishes she would appreciate with all her heart.
1. Wishing my amazing sister-in-law a wonderful day filled with smiles and laughter. Happy Birthday, Sister in law!
2. Someone as wise and kind as you deserves the best birthday ever. Enjoy this special day!
3. Hope this year's celebration reaches new heights of happiness and brings wonderful things your way. Nobody deserves it as much as you. Happy Birthday!
4. You are the most beautiful blessing to our family. Happy Birthday to our shining star, may your brightness last forever!
5. Feel blessed to share an adorable and pure bond of sisterhood with a fabulous person like you. Wishing eternal happiness and endless glee for my sister-in-law!
6. Your incredible capacity for kindness and love amazes me beyond words can tell. Wish you endless luck and good cheer on your birthday!
7. Do you know how thoughtful, generous and awesome you are? I'm absolutely thrilled that such a remarkable person married into my family. May you have an enjoyable and magnificent birthday, year, and life!
8. I want to thank you for not only being a wonderful sister-in-law but a great friend too. Hope all your wishes come true this year. Happy Birthday!
9. As you complete another year, I hope life blesses you with all the happiness and love you deserve. Have a joyous birthday!
10. We share the loveliest relationship of all that blossoms each day! Enjoy your birthday!
11. Your impeccable wisdom and warmth have brought happiness and good luck to our lives. Sending lots of loving thoughts your way. Happy Birthday!
12. May you have success, happiness, and great memories to share. Happy Birthday, dear!
13. To the sparkling jewel of our family. I hope you have the happiest birthday ever!
14. You have a heart of 24 Carat gold, spreading light and joy around you. Happy Birthday to my sister-in-law!
15. The most heartfelt birthday wishes are coming your way. Many happy returns of the day, sister-in-law! Stay blessed.
Cute Birthday Wishes for A Sister-In-Law
Make your sister-in-law feel on top of the world on her birthday by wishing her the cutest quotes ever. She's sure to love them all.
1. You are the cutest, kindest, and most thoughtful person I know. May you enjoy your special day. Happy Birthday, sister-in-law!
2. Three Cheers for a fab sister-in-law who has made our family complete. Happy sweet birthday, my dear sister-in-law!
3. May my share of good luck and happiness shine on you. Have loads of fun on your birthday!
4. You are like the cool and gentle breeze on a warm summer afternoon. Long live the queen of our hearts!
5. Happy Birthday to my best friend and guide! Have a fantastic day!
6. You give us unending reasons to smile. Happy B'day to my sister-in-law, who we are all very proud of.
7. You are the greatest support to our family in times of need. Love you, dearest sister-in-law, and a very happy birthday to you!
8. You are the best sister-in-law in the world. Spread your charm all over the world and bag every success life offers you.
9. Your superwoman powers and unconditional love are inspiring. Thanks for everything, honey, and have a wonderful birthday today!
10. The best thing my brother ever did was to marry an enchanting and loving woman like you. Stay blessed and happy birthday!
11. Thank you for enriching my life with your compassionate and creative ways. I hope your birthday is as wonderful as you are.
12. Wishing you tons of luck, love, and laughter on this special day, my beautiful sister-in-law. Happy Birthday!
13. On this lovely occasion, wishing you happiness and success now and forever!
14. Your quick wit, adorable ways, and charming grace always brighten up our lives! Enjoy your special day; you deserve it.
15. You are the rarest of gems and one of a kind. May your birthday be a joyous and prosperous occasion to cheer.
Funny Birthday Wishes for The Sister-In-Law
Laughter can brighten up any day. Make your sister-in-law's birthday a day of fun and cheer by sending her the whackiest ever birthday messages.
1. I married your brother, and life threw another awesome package along with it – You! Wish you the moon and much more on your birthday.
2. Sister-in-law, I hope a million birthday wishes come true for you to match your age!
3. Thank you for being my best friend and keeper of my secrets.
4. Happy birthday to my dearest, craziest, sweetest, compassionate, cutest, funniest, coolest, and most gorgeous girl in the town and the most talented queen of hearts – my sister-in-law!
5. Hap, happy birthday to my brother's better half. Truly way better than him!
6. Like vintage wine, you get better with the years. Wishing you good health and happiness for your special day, sister-in-law!
7. Smile while you still have teeth. Just kidding. Happy Birthday!
8. You are the most honest, polite, witty, and unique person in this universe. Kindly accept my best wishes on your birthday, along with these little white lies.
9. What a remarkable intelligence, charm, and impressive style! But enough about me. Happy Birthday to the beauty with brains.
10. You look different today. Did you lose some weight or change your hairstyle? There is something different about you. I know what! You are one year older. Happy Birthday!
Apart from an appropriate gift fetched considering the recipients' interests, you can give her a personalised card that says "Happy Birthday, sister-in-law" to impress your bonus sister. This thoughtful gesture is sure to delight her and show how much you care. Remember, you can play a major role in making her Big Day memorable.