Popular and Trendy Braided Hairstyles for Women to Style Their Hair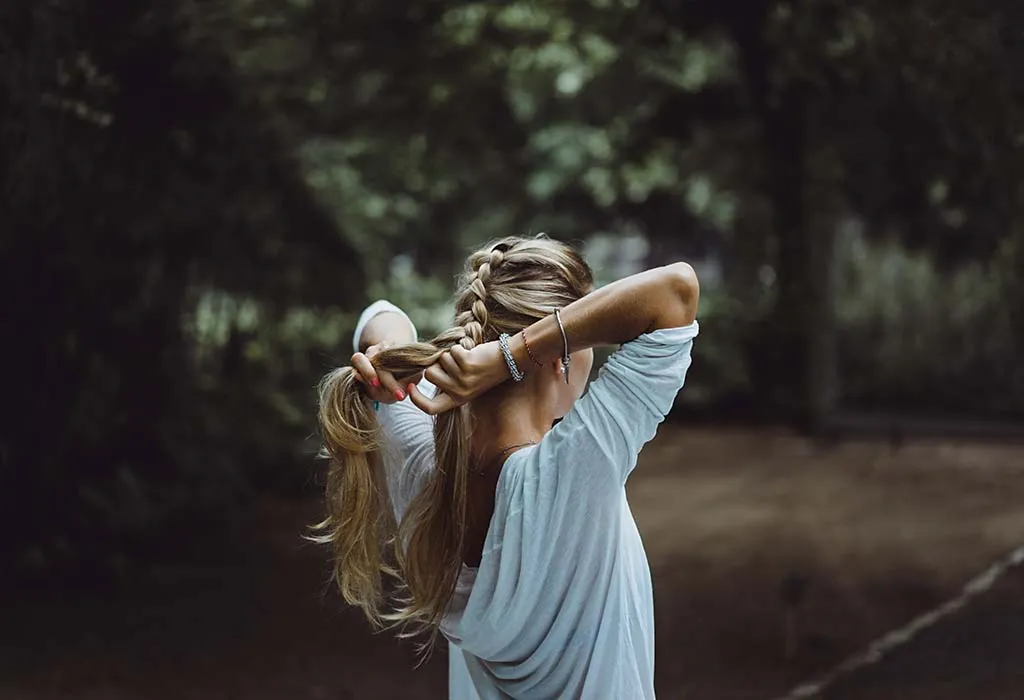 In this Article
Braids are a fashionable hairstyle that you should try whether you have long or short hair. You have the option of doing a full braid or a half braid with half-hair left open. Regardless of the style or the length of your hair, get ready to accomplish major hair goals.
Top Braided Hairstyles You Can Try
Are you looking for a hairstyle that is both long-lasting and attractive? If you're bored with your current hairstyle and want to try something new, regardless of your hair being long, short, voluminous, or thin, we've compiled a list of some of the most popular braided hairstyles for you to explore.
1. Knotless Braids
Knotless braids are a method of splitting the hair into square sections without using knots. It's a braid with three strands. These gorgeous braids will give your hairstyles a fresh take. You can style your braids into pop smoke braids, short, jumbo, ombre knotless braids, ponytails, and updo's, among others.
2. French Braids
Three equal sections of hair at the crown of the head are braided toward the back of the neck to form a French braid. The most famous of all, this classic and timeless braid looks great on everyone. Due to its stunning look and simple method, this style of braids is worn by everyone worldwide, including stars, who wear this on red carpets and at movie premieres.
3. Fish Braids
The small sections of hair in a fishtail braid make it appealing and festive. Fishtail braiding is done with sections smaller than a french braid. This style is becoming increasingly popular among athletes. A fishtail braid is versatile and comes in various forms, including fishtail ponytail braids, zigzag braids, and fishtail updos with crowns.
4. Dutch Braids
A reversed variation of the French braid is the Dutch braid. They are braided in a back-and-forth pattern. In this technique of braiding, the hair is crossed underneath the sections rather than over them. It goes well with casual and sportswear looks for people with a long, heart-shaped, or round face. If you have highlighted your hair, a Dutch braid hairstyle will complement your overall appearance. This makes it one of the ideal hairstyles for girls with medium-length hair.
5. Waterfall Braids
When it comes to stunning braids, the waterfall hairstyle is on top of the list. Among bridal hairstyles, this has gained a lot of popularity. The waterfall braid has long flowing waves and looks great with a gown, making you feel like a Disney princess. It looks best and most elegant with soft curls or loose waves, adding traditional movement and modern attractiveness to the hairstyle.
6. Rope Braids
We've got your back if you're in a rush but can't compromise on your hairstyle. Try the rope braid, which is the simplest of all braids. To create a unique style, separate the hair into two parts, twist each part, and place them on top of one another. You can experiment with several rope twisted hair variations, such as single-sided rope braids, two-rope braids, and Bridal rope braids. They may appear to be difficult, but they are the easiest of all.
7. Lemonade Braids
Lemonade braids remind us of the super talented Beyonce. This is the look for you if you like delicate and high-fashion hairstyles. This delicate, pulled-back hairdo is a smart technique to draw attention to your facial features. Incorporate hair extensions to create a statement look.
8. Milkmaid Braids
Milkmaid braids have a reputation for making brides look like angels. It's done with a simple updo technique that involves layering two braids on top of each other. Its gentle rustic vibe pairs well with various accessories, like pearls and flowers, among others.
9. Classic 3-Strand Braids
The original three-strand braid is the foundation for all other Braids. This is the most traditional braid, and practically everyone is familiar with it. The classic three-strand braid is made by dividing the hair into three equal sections.
10. Ladder Braids
Ladder braids are said to be the pinnacle of creativity. This style is best achieved by people with fine, long silky hair. The techniques used in this fancy braid are similar to those used in a waterfall braid.
11. Braided Buns
Braided buns are famous because of their versatility. Make a quick braided bun and look classy all night long for a cocktail party or a girls' night out. Braided buns can be sleek or messy, and they can be styled high or low, depending on your preference. Fishtail braid side bun, Cornrow bun, Dutch braid bun, Box braided bun, braided high bun, crown braid bun, Side to Side, Messy braided bun are some of the most popular braided buns.
12. Pull through Braids
Pull-through braids are a great option if you want a lot of volume and a slightly chaotic look. Pull through Braids are a must-try for those who like braids but don't like detailing; you'll need many small rubber bands and practice to master this. It's the ideal winter hairstyle!
That concludes our guide on the Most Popular and Trendy Braided Hairstyles for Women to Style Their Hair! While these styles may appear confusing at first, braided hairstyles are not time-consuming. So, if you want to try something new, these designs are incredibly stunning for any occasion and are equally easy to master!
Also Read:
How to Rock Perm Hairstyle in the Right Way
How to Get Beach Waves: Techniques & Tips
Best Curly Hairstyles for Long Hair