How To Rock Perm Hair Style In The Right Way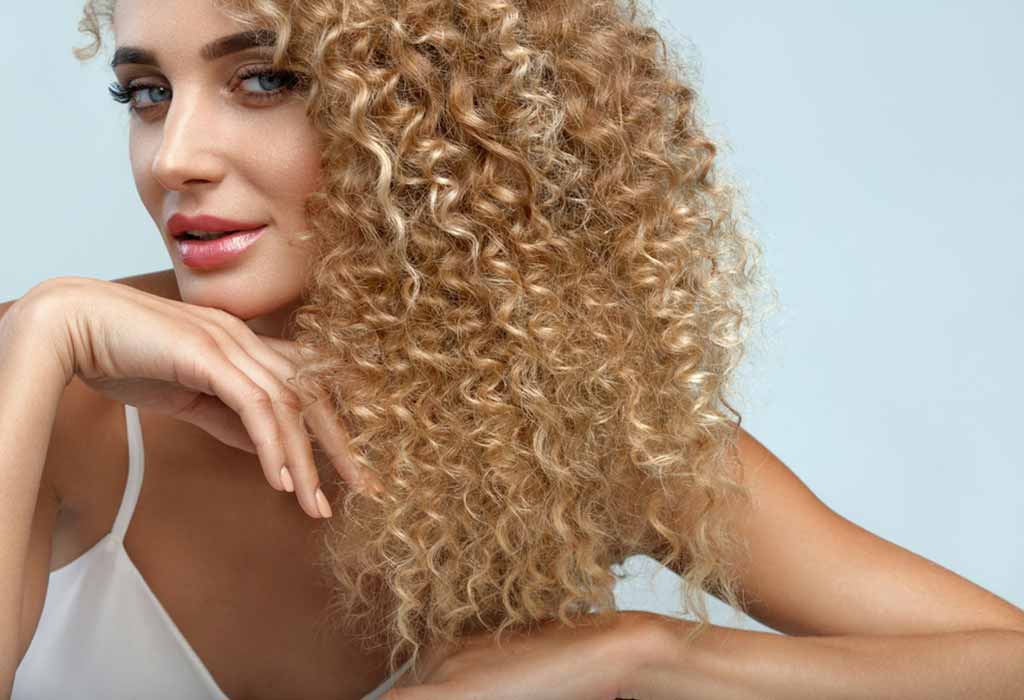 The iconic curly perm hairstyle has come a long way since its heyday in the 80s, with cultural icons popularizing the trend. However, modern hairstyling practices and tools have reinvented this fashion technique to beautify your mane in a more customized way. Take the perm plunge and achieve a gorgeously modern crown that you would never want to take off.
How Is Modern Perm Different From Traditional Perm?
The permanent wave, commonly known as 'perm,' consists of waves or curls set into the hair by artificial methods. Once considered the crinkly, crimped 'hairdo, the traditional perm hairstyle has evolved into a tailor-made style. No matter what type of hair you have, the modern-day perm is a reinvented hair trend that allows you to choose any curls you desire- wavy, loose, or coiled in a sleeker way. Hair perming is a coveted technique that alters the hair fibers using thermal or chemical means. Perming adds substantial volume, bounce, and texture to the hair that would normally be pin-straight and flat. Even a "straight perm" that will semi-straighten you're curly or wavy hair can be created with a perm solution. Ranging from wavy to tightly coiled, you can select different types of perms after consulting a stylist to know which perm type would suit your face, haircut, and lifestyle. The traditional perming technique involved larger plastic rods placed primarily at the root areas to roll up your hair and give it volume resulting in a crunchy, stiff, and harsh appearance. Pipe cleaners were also used on straight hair to create a highly textured bushy hairstyle. In contrast, the modern perm flow naturally to appear as softer loose beachy waves or bouncy curls. Now electrically heated rods are used to wrap the hair and different perm lotions to set the curls. After letting the lotion sit, rinse it out, dry the hair, and use a neutralizer to halt the perming process. Alternatively, flexible foam rods of different sizes, finger waves, or rollers are also used to make fewer uniform waves and look more natural and believable than ever before. Women today get perms done to enhance the natural texture of their hair, whether that's an S-pattern curl or an undone wave. Men's perm is also gaining attention, with curly hairstyles making a comeback with modern perming techniques. However, once your hair gets the structure of a permanent or semi-permanent wave or curls, you can sport a cool and flattering look with ease.
Hair Perming Techniques
Perming techniques have come a long way to style our tresses in the most exciting ways while representing the latest trends in hair fashion. Here are some of the most popular techniques that you can choose from to be the next talk of the town.
1. Root Perm
This technique creates wavy or broad loose curls with visible thickness cascading down from the roots to the tips. The process involves altering the hair shape into curls and waves with the involvement of chemicals and heat.
2. Spiral Perm
You can use various sizes of perm rods to spiral perm long hair with fun bouncy coils. These curls are created by wrapping the hair around long rods that are set vertically in the hair. Then, the chemical solution is applied to the hair to hold the tight curls when the rods are removed.
3. Pin-Curl Perm
This no-heat pin-curl perm technique works wonders to give your mane the right amount of volume. After a chemical solution is applied to your strands, pin curls will be created and set in place. Once you unravel the curls, you will have flirty strands that add a retro touch to your everyday looks.
4. Stack Perm
Ready to put the stack perm to your medium or long locks? With rollers of varying sizes, curls sitting at the middle and bottom sections of hair create an illusion of a textured curly look while adding volume to the layered lengths.
5. Multi-Textured Perm
Multi-textured perm adds character and volume to your hair and looks natural on hair types. It involves applying curling rods of different sizes distributed across the scalp to form varying curl patterns that are sure to turn heads.
6. Body Wave Perm
This method relies on long sponge rods to create luscious wavy perm long hair. This is a good option for people with straight hair that doesn't curl naturally. This style usually lasts between three to five months.
7. Spot Perm
Ideal for people with uneven hair, this technique helps to gain uniformity in all the strands. Perm rods placed strategically on a certain section of hair encourage curls in specific areas of your head, bringing up a unique hairstyle.
8. Digital Perm
Digital perm involves inducing heat from within and chemical treatment that changes the chemical makeup of your hair. Essentially, your hot rods are used to curl sections of hair, giving a rather natural look to your hair. A machine with a digital display regulates the temperature of the rods used.
What Hair Texture Is Good For Perming?
All hair textures are good for perms. However, different perm styles suit different types of hair. Perms enhance naturally wavy hair while they add definition and volume to straight hair. The hair is curled up or twisted like a corkscrew to form tight curls giving volume to each strand from the hair roots to their ends. If you have straight hair that does not hold curls, go for wavy, Afro style, loose curls, coiled, and beach waves to add body and bounce.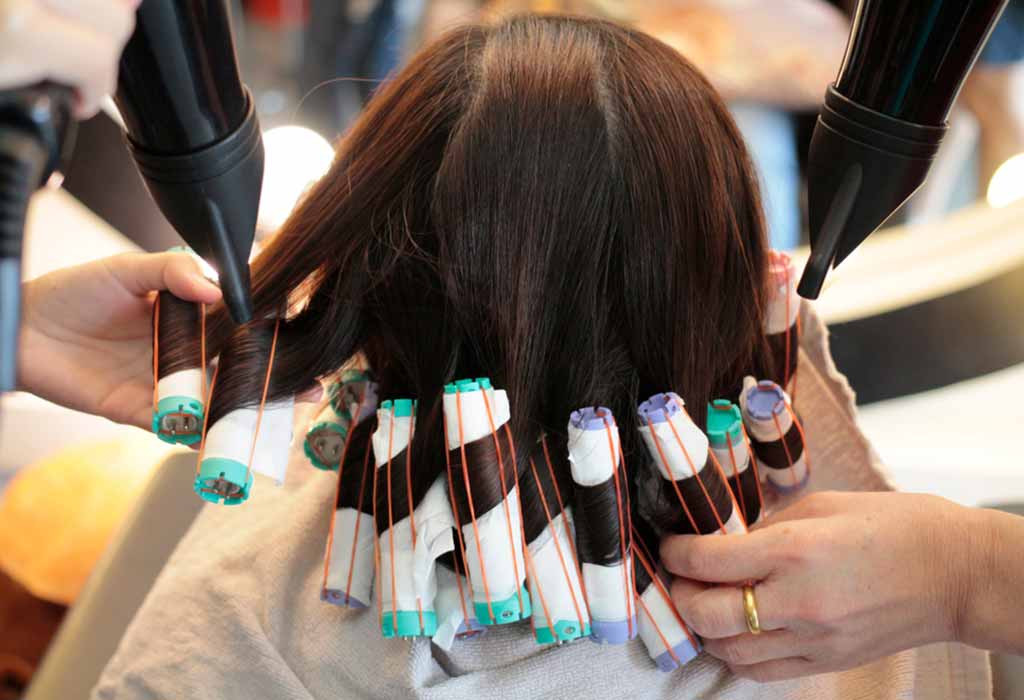 Perm Hairstyles
Wondering how to style permed hair to perfection? No need to worry. We've put together a curated list of a few favorite hair perm styles.
1. For Long Hair
Loose Waves Perm: Offering you a boho-beach look, this style produces a natural-looking coil that's full of volume and personality.
Spiral Perm: This style can enhance volume and texture to naturally straight or wavy hair. The added root lift can make your hair look less greasy.
Shaggy Layers: Those with longer hair can rock a beachy perm paired with shaggy layers that get styled in little to no time.
Wind-Swept Perm: A wind-swept perm is all about loose, messy curls that add a great amount of volume to your mane. It's best for those who want a natural, carefree head of curls.
Half up Loose Perm: If you have long hair and a loose perm with waves throughout, pull up the top layer of your hair and tie it into a ponytail for a cute half-updo.
2. For Medium Hair
Messy Bun: A simple hairstyle that looks truly romantic! Sweep your hair as far up as you can and tie it with a loose elastic band, clip, or a large hair clip. You can leave two strands hanging on the sides.
Medium Perm Hair with Highlights: Though this style may look heavy, you can pin curly bangs back to focus on your face.
Shrinking Curls: Shrinking curls start larger toward the root and gradually shrink to tighter curls at the ends.
Side-Parted lob: Shorter in the back and longer in the front, this side-parted hairdo allows your curls to frame your face without hanging down your neck.
S-Shaped Curl Up-Dos: If you like tight curls, S-shaped curls are for you. These spiral curls will add some serious texture to your medium-length mane.
3. For Short Hair
Afro-Textured Hair: If you get afro-textured hair, you will be able to retain all the bounce and movement of your natural hair with perming.
Bob: This chin-length cut pairs perfectly with a loose perm that gives you a messy, soft, and beachy vibe. Add a subtle side parting to your pretty, slightly messy chin-length bob for a more stunning finish.
Stacked Bob: Stack perms involve plenty of layers to amp up the volume and texture when styling your perm. They are done by creating curls from the mid-lengths to the ends. This perming style is perfect for layered haircuts.
Root Perm: A root perm is an easy way to achieve curly strands without perming the full hair. This type of perm is ideal for girls with fine and thin hair who crave to add more volume to their roots.
Off-Centre Curly Highlighted Hairstyle: This wavy perm sits nicely when kept at shoulder length. Part your hair a little off-center to let the loose curls fall freely.
Does Perm Cause Hair Damage?
Are perms bad for your hair? There's a preconception that perming leads to over-processed and damage-ridden tresses. But can you perm dyed hair? As perming uses chemicals to alter the hair texture, ones with color-treated or highlighted hair need to be more cautious as the hair can get damaged if the wrong treatment is used for the wrong hair type. However, there are perms now that are structured to work on both. So, it is important to get perming done professionally to avoid any hair damage and prevent expenditure on hair restoration treatments. It would be best to take proper care after a perm to minimize drying out and becoming brittle.
Tips To Care For Permed Hair
Perms need protection and after-care whether they're natural or chemically treated. Here are some tips that you can follow;
1. Stay out of the Sun
Exposure to UV rays can affect the longevity and look of your permed hair. Using caps, scarves, an umbrella, or leave-in sun protection products containing leave-in conditioner with zinc oxide can minimize UV damage on permed hair.
2. Space out your Touch-ups
Aim for a minimum gap of 8-10 weeks before you go in for a touch-up as permed hair does not need regular touch-ups.
3. Minimize Heat Styling
Heat styling your perm can reduce the essential moisture needed for your hair to hold the curl pattern. Opt for heatless hairstyles and avoid heat styling to minimize frying already damaged permed hair.
4. Right Haircare Products
Once your hair is permed, use deep-conditioning treatments to replace lost moisture and protein treatments to protect the curls. Choose products formulated with silk protein, collagen, aloe vera, and keratin that promote flexibility, hydration, and elasticity of wavy hair.
How Long Does Perm Stay?
Perms can stay for a duration of 4-6 months.
How Much Does a Perm Cost?
The cost for a perm will vary depending on the length, style, brand, and type of perm you choose. More complex perms involve time-consuming processes to achieve a dynamic look that inflates the price. The cost of a perm ranges between $60 to $250, but you should contact your local stylist or salon for a more accurate rate and consider the maintenance costs to make sure which style fits your budget. Like a dramatic haircut or change of color, getting a perm is the perfect opportunity to experiment. So take up the challenge and let your hair do the talking!
Also Read:
Hairstyles for Growing Out Bangs
Trendy Hairstyles you Need to Try