20 Gorgeous Hairstyles For Long Curly Hair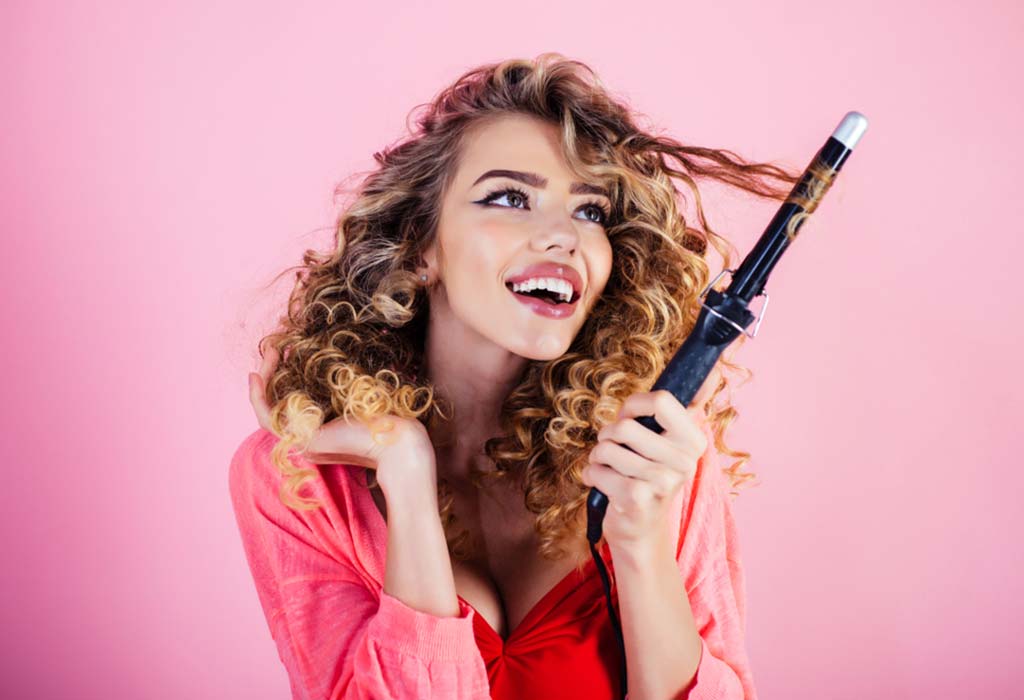 In this Article
If you have long curly tresses, you should consider yourself lucky because there is so much that you can do with your hair in terms of styling and achieving different looks! There is no doubt that a curly mane can get tricky to take care of, but when it offers you so much versatility in styling, you don't mind putting in little extra care! We are sharing some gorgeous hairstyles for long curly hair to perk up your day or party looks!
Lovely Long Curly Hairstyle Ideas
Here are some chic and on-trend curly hairstyles for long hair that you can try:
1. High Ponytail
If you are running short of time and want a quick fix for your curly mane, this style will do the trick for you. Brush your hair and tie them high on the crown using a rubber band for a simple yet stylish look.
2. Sleek Middle Parting
Looking to add a hint of style by keeping it simple and fuss-free? A sleek middle parting is what we would suggest for you! Just let your bouncy tresses flow on your shoulders from both sides to add more punk to your everyday look.
3. Deep Side Parting
This is one of the easiest hairstyles for curly hair that looks utterly sassy and chic! For those who do not like center or middle parting, deep side parting can be your style mantra! Apply some hair mousse and swoop away all your hair to either side for a fun look.
4. Low Ponytail
To keep your hair suave and elegant, apply some hair gel, pull your hair back, and neatly tie them down in a low ponytail. This is a perfect hairdo to escape lousy hair days or when your hair is just not behaving.
5. Partly-Pulled Back
A quick layered long curly hairstyle that can turn you into a diva in no time! Take a small section of hair from each side, secure it with bobby pins at the back of your head. Use a tail comb to pull out some bangs in the front, and voila, you have a groovy hairdo!
6. Bow-Tied Messy Ponytail
Perfect to compliment your breezy dresses and to lend you a chic, feminine charm; this long curly hairstyle will compliment your casual looks! Use a bow tie to tie your hair in a messy ponytail, and you have for yourself a perfectly imperfect style!
7. Straight Bangs
This is a combo that offers a hint of mystical charm and elegance to your look. Just rock your look with a straight bang and flowy curls, and you have a hairstyle that will compliment every look and style with sheer ease!
8. High Bun
If you are in doubt, especially if you are looking for long curly hairstyles for the wedding, do not think twice and go ahead with a high bun that sits high on your head. Use a good hairspray or gel to keep your tresses in place, and you have a sleek hairdo that you can flaunt!
9. Dual Cornrows
Just a couple of cornrows, and you have a long wavy curly hairstyle that you can flaunt with any look. For a neat front and no-fuss quick fix, this is a hairstyle that you should give a try!
10. Braided Ponytail
Now, this offers the best of both styles, as this braid and ponytail combo looks utterly chic and can be teamed up with formal and casual looks with ease. Brush your hair, weave the top section in a fish braid, and let the rest of the hair cast magic with curls and waves!
11. Curly Braid
The charm and grace of a braid are unmatched and can perk up even the most laid-back styles. For a sleek and chic style, apply hair gel to keep your curls in place and then braid them. Finish with some groovy accessories to accentuate your style!
12. Loose Braid
When it comes to braids, there are so many options that achieve a funky look. Tie your hair in an easy-breezy loose pony to create an utterly feminine and elegant look. Accentuate your style with a no-makeup look or by keeping it minimal!
13. Wet Curls
For a fresh and just out-of-shower look, you can try the wet curls hairstyle! This style is relatively easy to achieve and can make you look like a true beauty instantly! Apply wet hair gel generously through the length of your hair and part your hair in any direction!
14. Double Buns
If you'd like to try something quirky and different, this is one hairstyle that you should try, especially if you have long curly tresses. Part your hair in two sections from the center, then take a section of hair and tie it in a bun by leaving the rest of the tresses flowing!
15. Half-Up Bun
This is one hairdo that is very popular amongst the youngsters, but that should not stop anyone from trying this funky style! Take some section of hair from the front and crown of your head and tie is a messy half-bun and keep your hair down!
16. Style Up with A Headband
Don't know what to do with your mane? For this long curly hairstyle, grab any pop-colored headband and slip it in to jazz up your hair. Choose broader headbands for the added oomph and style!
17. Low Pigtails
If you think this is a hairstyle that best compliments little girls, well, try it to experience the chicness that this style can lend to your casual style. All you have to do is section your hair from the middle, make low pigtails, and secure them with a clear or muted colored band.
18. Loose Side Ponytail
Take your sultry curls and tie them in a low-lose ponytail on either side to exude some classy charm and grace. This style is ideally suited to flaunt your off-shoulder dresses!
19. Bouncy Afro
You don't have to do much for this style, but it can still add oodles of wild and fearless feel to your style. All you have to do is style your voluminous mane in an Afro style, and you are good to rock the world!
20. Low Side Bun
Running short of time to do your hair? Don't worry. Try making a low-side bun instead! Tie your hair in a side bun and clip in some hair accessories, and you are all set to make some heads turn!
If you keep wondering what all you can do with your long curly hair, we are certain that you will not fall short of ideas after reading this post. Try these gorgeous and straightforward styles and turn into a diva in no time!
Also Read:
Tips for Doing Rock Perm Hairstyle
Trendy Hairstyles you Need to Try
Summer Styles for Medium to Long Hair