Beautiful Rangoli Designs for Gudi Padwa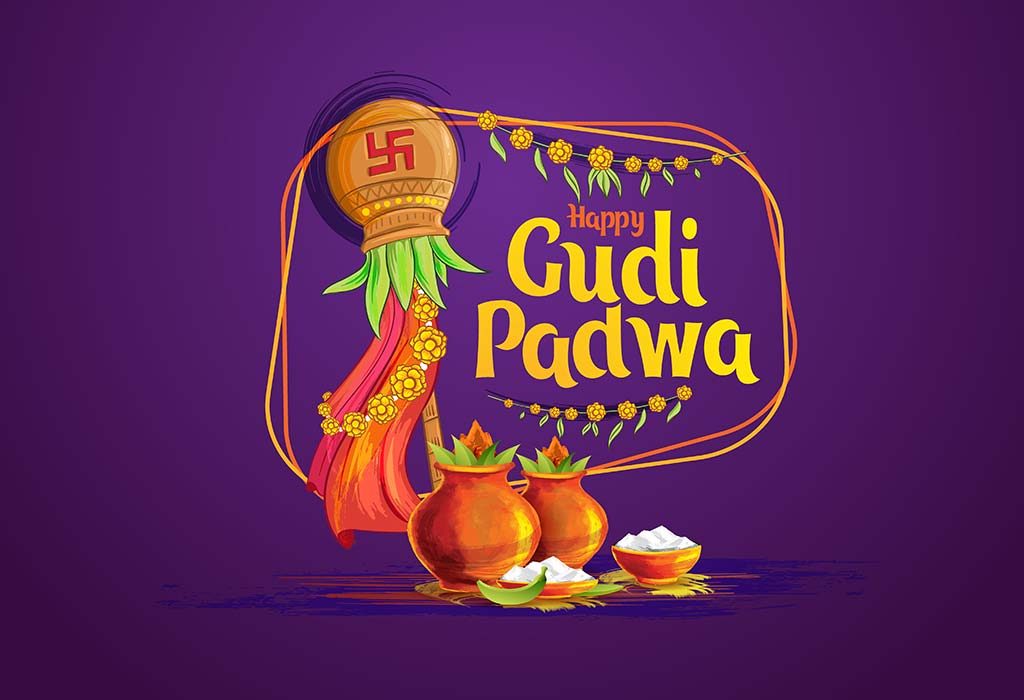 Gudi Padwa and rangoli go hand in hand. Gudi Padwa is an important festival for Marathi Hindus as it marks the beginning of the New Year for them. Most Marathi families celebrate this joyous occasion by making rangolis in their homes. If you are looking for some easy rangoli designs for Gudi Padwa, then you have come to the right page. We have some rangoli ideas for you that you can try on Gudi Padwa.
Significance of Making Rangolis During Gudi Padwa
As per mythology, once there was a king who had a priest. One day, the son of the priest died all of a sudden. The priest was grief-stricken and everyone in the kingdom was sad. The entire kingdom prayed to Lord Brahma to bring the child back to life. Bramha, the creator of the universe, was moved by the prayers of the people. He then asked the priest to paint a picture of his son on the floor, which the priest did. Lord Brahma then gave life to that painting and the boy came to life. Everyone thanked Lord Brahma, and since then the tradition of making rangolis started. Rangoli marks the essence of creation and new beginnings in this context, making it an important part of Gudi Padwa celebrations.
9 Rangoli Designs for Gudi Padwa
For all the creative minds out there who would like to try their hand at rangoli on Gudi Padwa, we have a list of some popular designs for you.
1. Floral Rangoli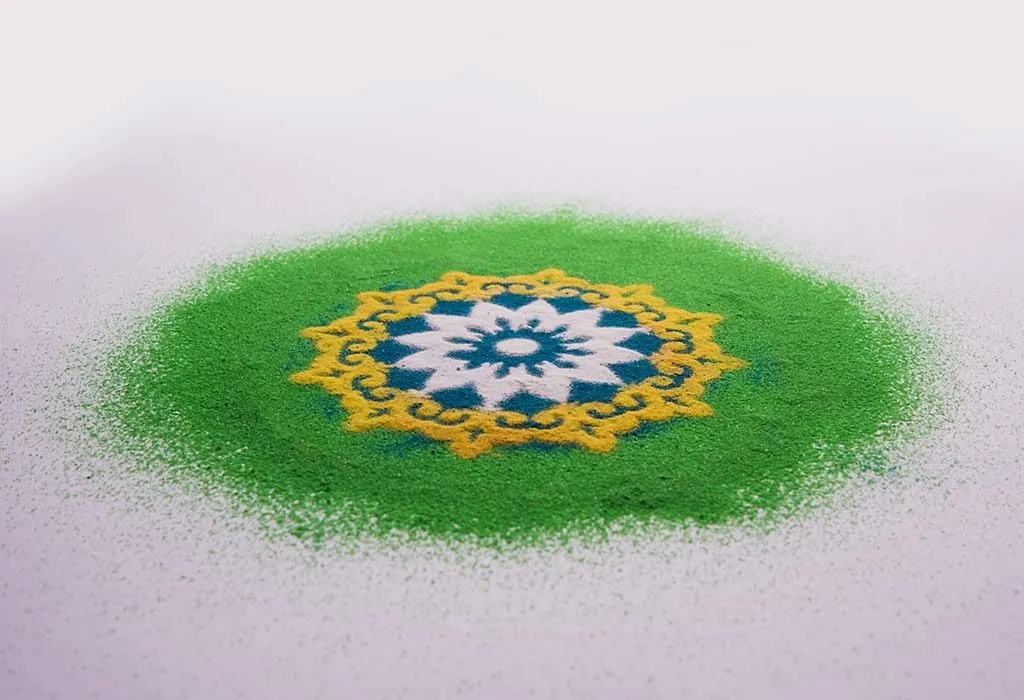 Flower rangoli designs are quite popular and a flower rangoli can be made in no time. Most women make flower rangoli during festivals – Gudi Padwa is one of them. You can make different flower designs at different corners of your home. Make flower patterns of your choice and don't forget to draw petals, as they complete a flower rangoli design.
2. Peacock Rangoli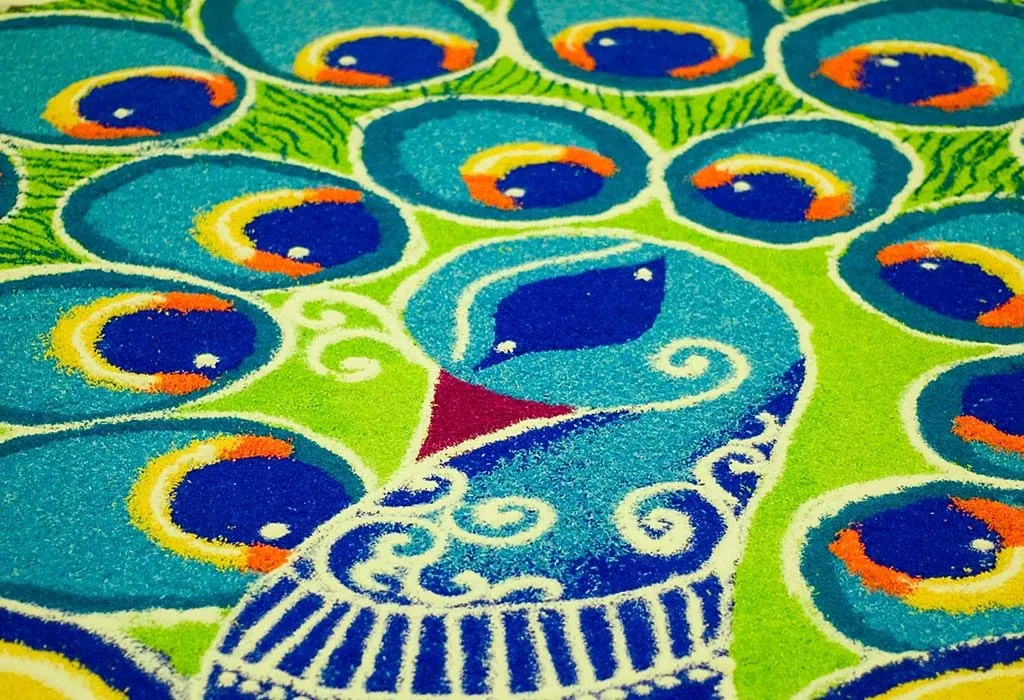 Peacock Rangoli is also tried by many people, but not all can make it. A peacock rangoli design may seem hard if you are making a rangoli for the first time, but if you practise, you can make flawless rangoli. You can make a rangoli design of peacock feathers too. Use blue and green colours as a base and experiment with other colours of your choice.
3. Sanskar Bharti Rangoli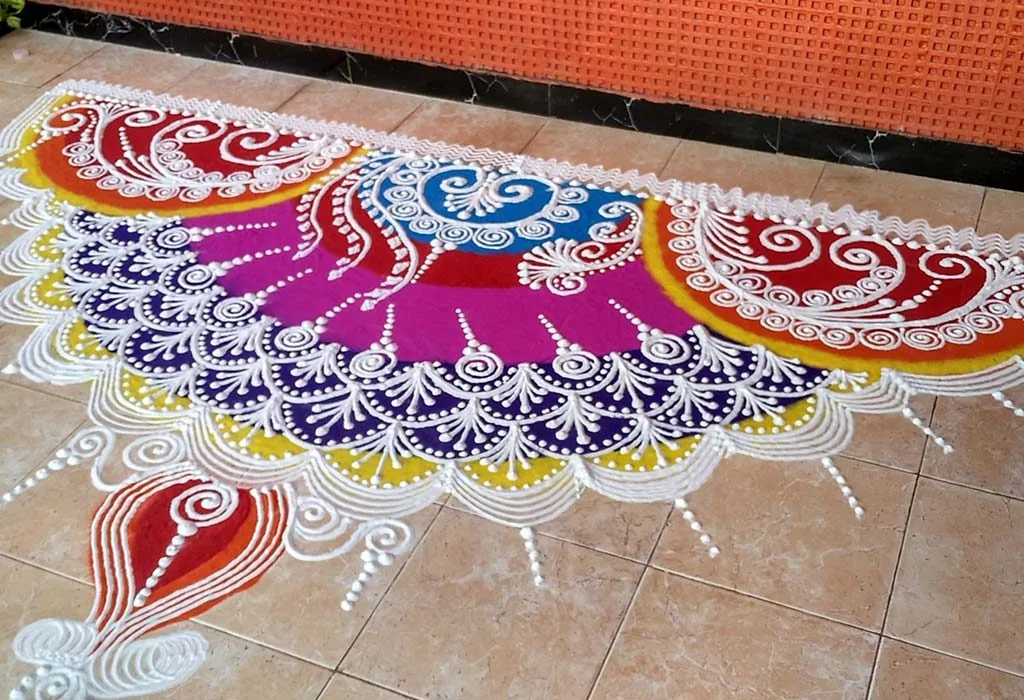 Sanskar Bharti rangoli is a rangoli making style popular in Maharashtra. In Sanskar Bharti rangoli, three to four fingers are used to form a pattern. Sanskar Bharti rangoli is very intricate and looks beautiful. If you like to draw intricate designs and love geometry, you should try Sanskar Bharti rangoli.
4. Glitter Rangoli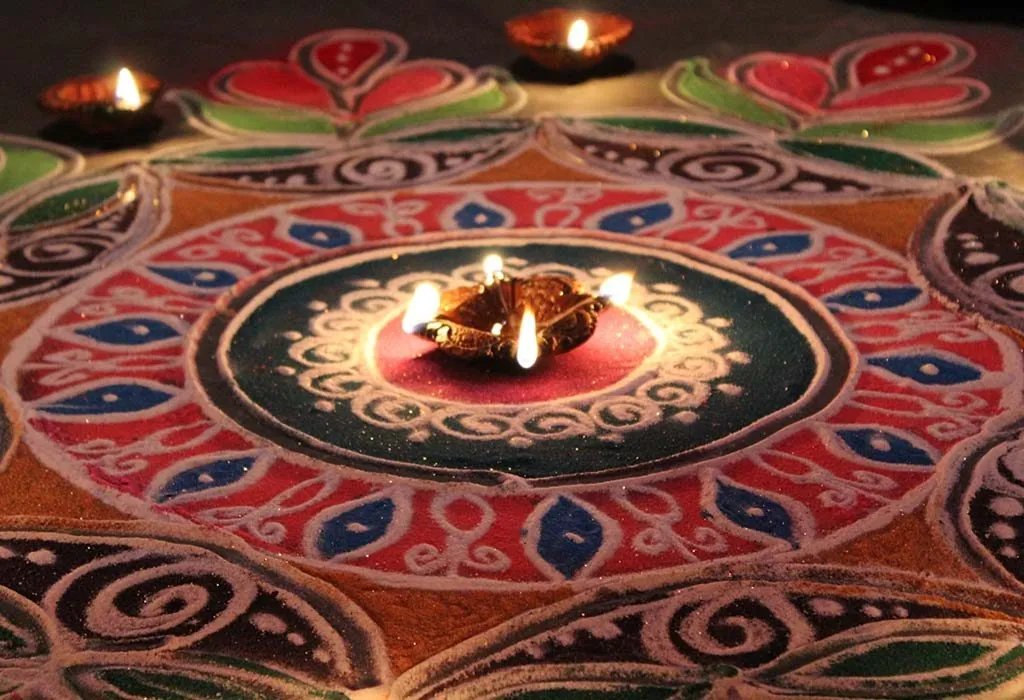 Gudi Padwa is a joyous occasion so you must ring it in with all things shiny and bright. Draw your favourite pattern and add some glitter to it. You could either add glitter to your rangoli powder itself or draw a normal design, which you can later make glittery by sprinkling glitter on it.
5. Dot Rangoli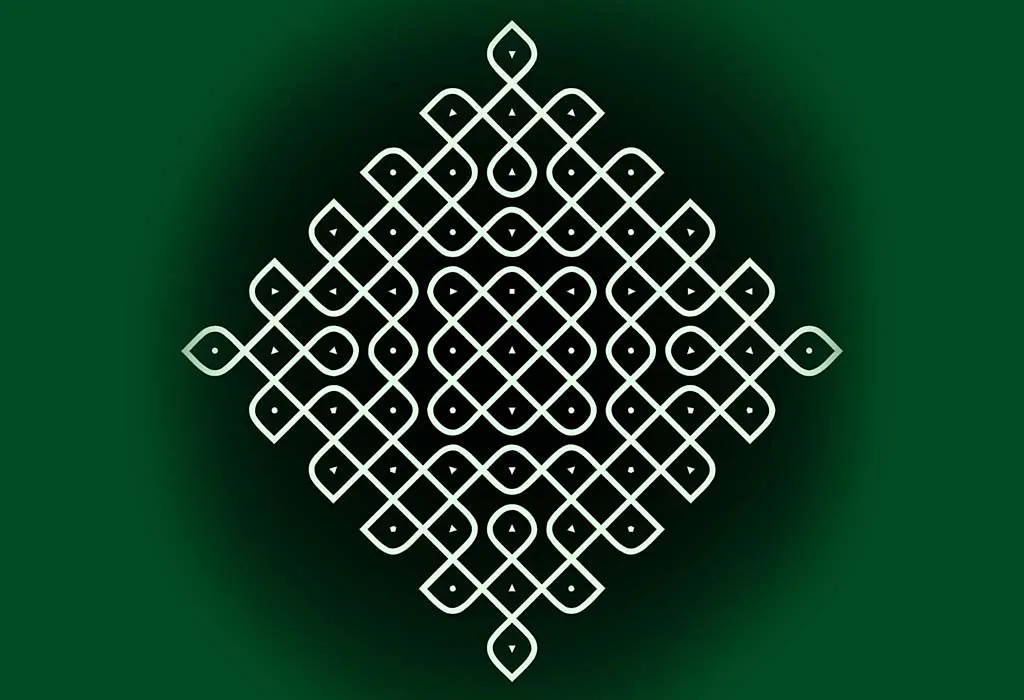 Go back to basics with dot rangoli. Dot rangoli is basically rangoli formed with dots. The dot rangoli pattern is the basic rangoli pattern that you can try if you don't know how to make rangoli. Dot rangoli is very easy to make, so try it out.
6. Swastika Rangoli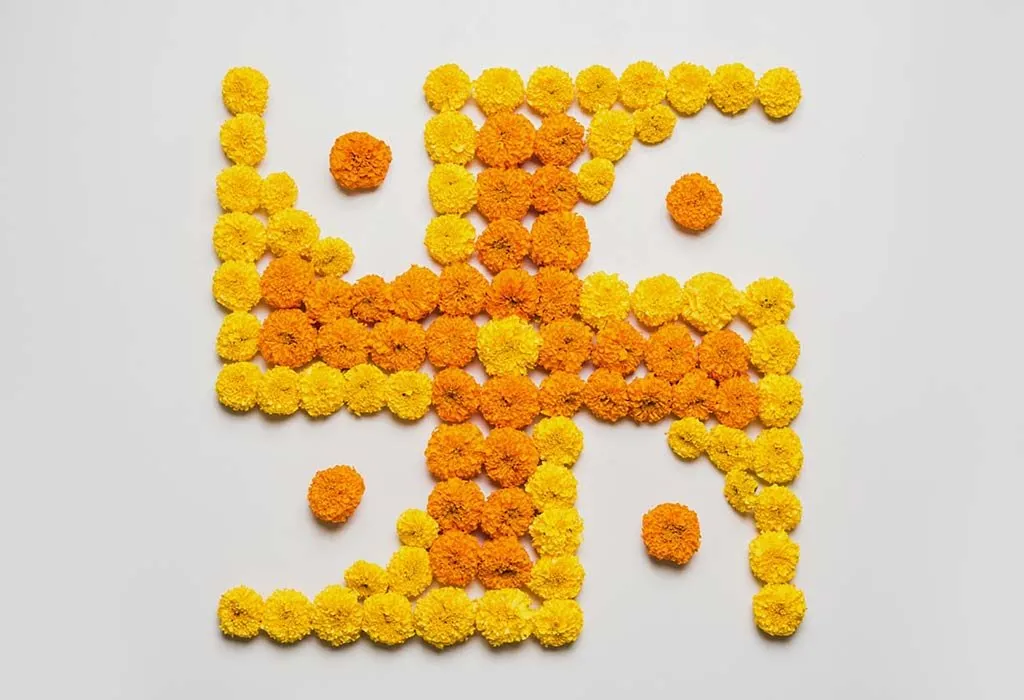 The Swastika symbol is considered a symbol of divinity and spirituality in our culture. You can make a Swastika rangoli too as it is considered auspicious. When using it as a rangoli design, you can add more flourish to the basic framework of the Swastika and allow it to evolve in a beautiful fan-like pattern by itself.
7. Rangoli With Mirror
If you like to give your rangoli design a unique touch, you can add small mirrors to it. Small mirrors go well with some specific rangoli patterns, especially the designs that are very complex. By using small mirrors in various shapes, you can truly make your rangoli design come alive.
8. Mandala Rangoli

This one is for all the Mandala enthusiasts out there. Pour out your love for this art form into a beautiful rangoli design. You can trace out some beautiful geometric designs, and choose between various colours to make this gorgeous art even better! Did you know that drawing mandala is an art therapy form that can reduce tension, anxiety, and overall stress? Another great reason to give this design a try!
9. Checkered Rangoli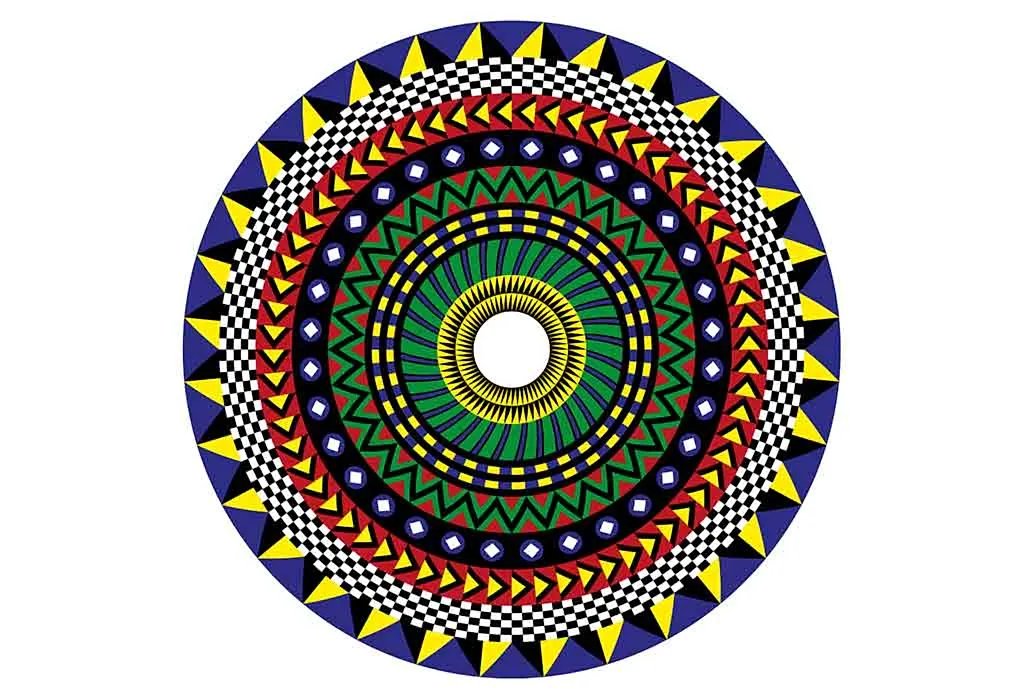 The checkered rangoli design makes for a stellar rangoli design for this Gudi Padwa. You can create a checkered pattern with outlines and spaces filled with marigold, rose, or any other flower petals. This rangoli design is a brilliant artwork and will surely earn you praise from family and friends.
Gudi Padwa is celebrated across some states of our country with much enthusiasm. This year, celebrate it by making rangolis in your home. Try the above-mentioned designs and explore your creative side.
Also Read:
Why Gudi Padwa Is Celebrated
Best Gudi Padwa Quotes, Wishes and Messages
How to Celebrate Gudi Padwa (Ugadi) With Your Family