Amazing Gift Ideas For Father-In-Law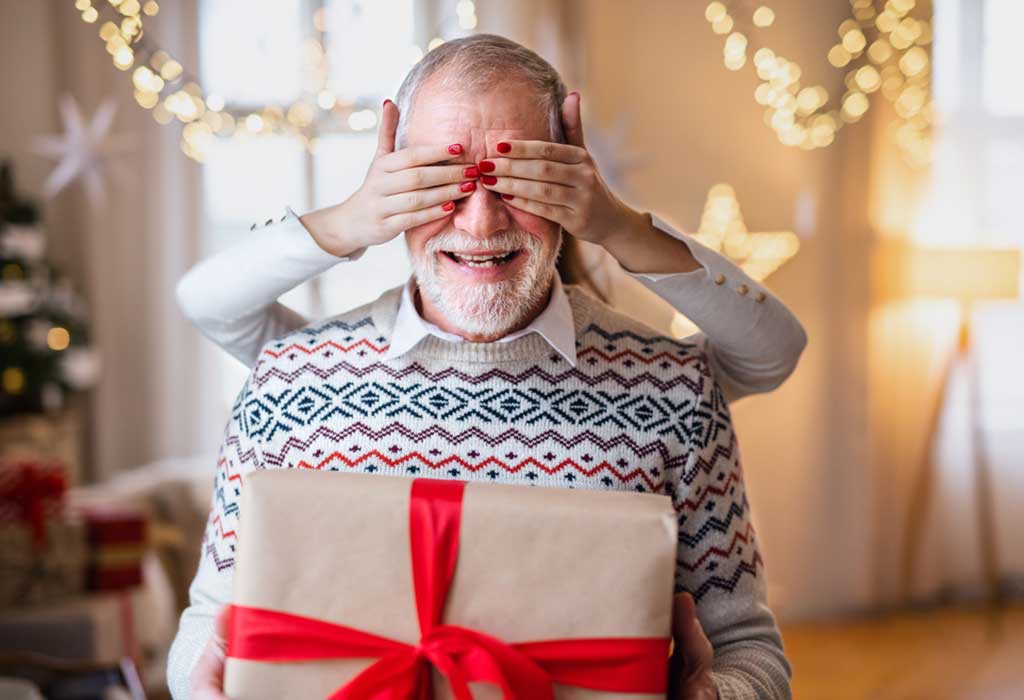 In this Article
Finding the perfect gift for your amazing father-in-law is a challenging task. Whether you are married for a few or many years, it's still confusing to shop for presents for your father-in-law. Selecting something based on his hobbies is an easy way to find a thoughtful gift. However, if your father-in-law is difficult to decipher and seems to have everything he wants, then finding the perfect gift for him becomes much more difficult. So to make your task easy, we have compiled a curated list of thoughtful gifts, which you can give your father-in-law on his birthday, Christmas, or just like that. You can find a diverse range of gift ideas in the list, from sentimental keepsakes to useful gifts. By gifting any of the below-listed presents, you will make your father-in-law feel special on any occasion.
Best Gifts For Father-In-Law to Make His Day Special
Since your father-in-law occupies a unique role in your life, a gift for him cannot be ordinary. To express your feelings for him, it must be special and thoughtful. Here's a list of unique gifts ideas for your father-in-law:
1. A Wooden Barrel Picture Frame
This rustic picture frame made from a wooden barrel can be an ideal birthday gift for your father-in-law. Display any of his favorite pictures, and be assured that he will keep this frame to admire it daily.
2. Portable Pizza Oven
For a father-in-law who loves picnics or outdoor grilling, this portable pizza oven is a great gift. He can use it for making pizza, cookies, flatbreads, and even for searing fish and meats. Quick to heat up, this oven can be used on BBQ or gas and is ideal for all outdoor get-togethers.
3. Personalized Cufflinks
No man can have enough cufflinks. A pair of personalized cufflinks made from full-grain leather and set in high-quality stainless steel will be treasured forever by your father-in-law. This elegant and durable gift is ideal for any occasion.
4. Handcrafted Wood Watch
Looking for a Christmas gift for your father-in-law? Then this hand-crafted wooden watch is ideal for your amazing father-in-law. This one-of-a-kind timepiece made from natural wood with a leather strap will stand out whenever he wears it. With an engraved, personalized message on the back, this gift will make sure your father-in-law knows how much you adore him.
5. Personalized Calendar
With this customized calendar, take your father-in-law on a trip down memory lane. You get to choose 12 of his favorite pictures as well as the font to be used during the year. The brass easel and premium paper combine to create a stunning and high-quality gift that will make him smile every time he sees it.
6. Bluetooth Beanie
Don't just give your father-in-law a normal beanie to keep him safe and warm. This one connects up to 33 feet away to any Bluetooth-enabled smartphone, allowing him to listen to his favorite podcast or workout playlist at any time. Not to mention the fact that a fully charged battery lasts for several hours.
7. Premium Leather Holdall
This holdall, made of fine leather, is a truly sophisticated choice for weekend getaways. Give it to your father-in-law who enjoys traveling and discovering new places; he'll enjoy carrying it around with him.
8. Bow Tie and Pocket Square Set
With a handmade premium cotton bow tie for your father-in-law, it is sure to add personality to all of his suits. He won't have to spend 15 minutes perfecting the loops and form because it comes pre-tied. Available in a variety of colors and patterns, you can pick the one as per his preference. You can even have one made to your specifications in any color or style.
9. Cheeky Father-In-Law Mug
Looking for funny gifts for your father-in-law? A father-in-law ceramic mug with a cheeky message is perfect for a young at heart father-in-law.
10. Baseball Bat Turned Wine Rack
Nothing can triumph a handmade wine rack from a baseball bat for a baseball fan. Crafted from a 100% maple baseball bat with three aluminum spirals, this unique wine rack is ideal for holding his favorite wine bottles.
11. Leather Hip Flask
For an outdoorsy father-in-law, a leather hip flask is a good gifting option. He can carry his favorite drink in his jacket as he goes out fishing, skiing, or any other hobby. With a striking design, this brilliantly crafted hip flask with a leather outer body is sure to be envied by his friends.
12. Personalized Fishing Lure
A gift that makes him cry with joy while celebrating his love of fishing! That's a win-win situation. Gift your father-in-law a personalized fishing lure with a message engraved for him or just his name. This personalized fishing lure serves as a playful reminder that he's a fantastic father-in-law.
13. Vinyl Memento With Song Lyrics.
Even though records aren't as common as they once were, they still have a devoted following. This gift is perfect for your father-in-law if he prefers listening to music on a record player. You can even make the shop owner print the lyrics of his favorite song, along with a small note for him or his name, and have it beautifully framed.
14. Family Tree Picture
Get a family tree print of your father-in-law's family up to six generations. With beautiful artistic illustrations and an elegant frame, this print can also be used as a piece of art.
15. Laser Keyboard Projector
This nifty gadget is an ideal gift for a tech-savvy father-in-law who loves to work on the move. This little gadget turns any flat surface into a laser keyboard and makes a mobile work like a computer.
16. Trunk Organizer
Simply the easiest way to clear clutter and mess from your father-in-law's car trunk, backseat, house, or garage! This vehicle organizer expands up to 3 feet long and has plenty of compartments for car tools and appliances, groceries, emergency tools, and cleaning supplies.
17. Back Massager
This invigorating massager for the neck, shoulder, and back targets soreness and gives a deep tissue massage—an ideal gift for your father-in-law that can relax and rejuvenate him after a hectic day.
18. Plush Bathrobe
Integrate a touch of luxury into his daily routine. Your father-in-law would appreciate a super-soft terry cotton bathrobe that will help him get out of bed on chilly mornings. Plus, it'll help you build a hotel-like atmosphere at home.
19. Noise Cancelling Headphones
Noise-canceling headphones may seem like a pricey gift, but they are a worthy gift for your father-in-law. With amazing sound quality and wireless connectivity, your father-in-law can listen to his favorite music while doing other tasks. A single charge gives several hours of listening.
20. Vintage Turntable
For the music-loving father-in-law, a vintage-style record player is one of the best gifts! It'll assist him in re-discovering all of his old favorites, as well as some exciting new musicians. Plus, it means you'll be able to buy him a new vinyl for every occasion from now on—now that's a bonus gift idea.
21. Grill Set
This high-quality grill kit includes everything your father-in-law needs for a great cookout. Use the basting brush to season steaks, the spatula or tongs to turn hot dogs or burgers, the corn holders to eat corn and, the skewers to barbecue kabobs. It becomes convenient to carry the grilling tools for picnics, camping, or any other outdoor activity with a case.
22. Nightstand Organiser
A sleek organizer tray will help keep your father-in-law's nightstand, desk, or dresser clutter-free, reducing tension in his life. If he has this six-tray catch-all organizer, he won't have to desperately search for his keys, wallet, watch, or even phone. Its velvet material safeguards his possessions as well as the furniture on which he puts it.
A gift for your father-in-law should show your gratitude and affection for him. So, rather than just getting something generic, it's best to give something useful. So when your father-in-law uses the gift, it will remind him of you.
Also Read:
Birthday Wishes and Quotes for Father-In-Law
Gift Ideas for Mother in Law
Father-Daughter Quotes