All-Time Favorite 4th of July Movies to Watch With the Family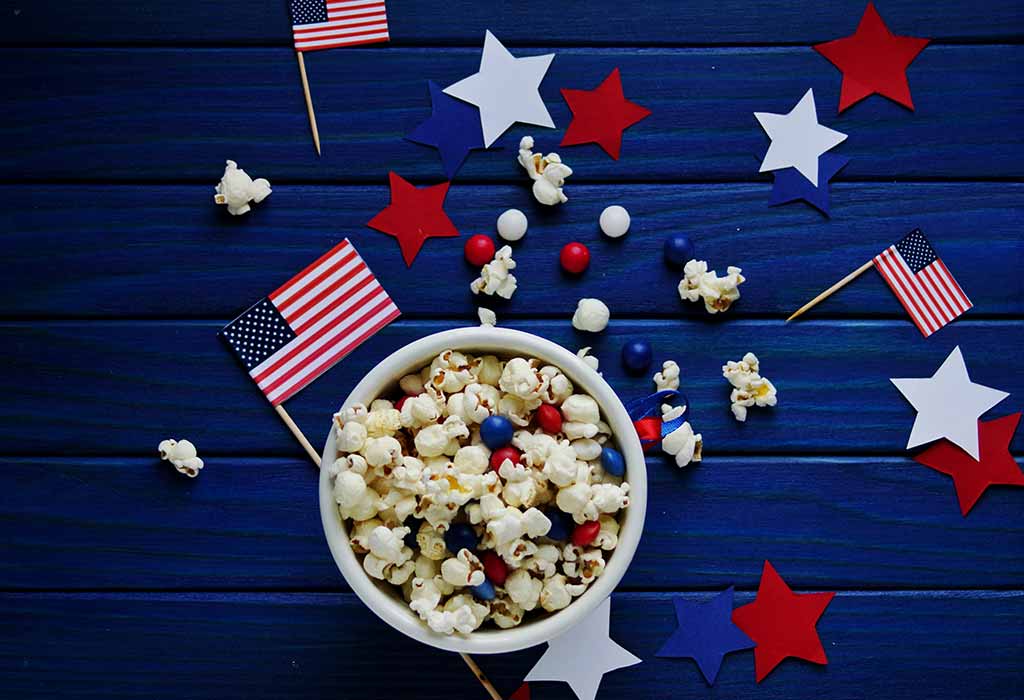 In this Article
There's nothing quite like the 4th of July, a fun holiday filled with parties, parades, colorful decorations, and backyard barbeques complete with summer drinks, desserts, and, of course, brilliant fireworks!
But sometimes, a meaningful Fourth of July celebration calls for something a little more understated, like movie time with the folks. Thankfully, there are more than a couple of patriotic movies to select from to help you celebrate what it truly means to be an American. Celebrate the country's independence, and entertain yourself and your family with one or more of these 4th of July movies perfect for the occasion!
Top 25 Fourth of July Movies
From tales of long-lost love to gut-wrenching war dramas and monumental sporting events, these 4th of July movies will leave you feeling proud and sentimental in all the best ways.
1. Hamilton
Year of Release
2021
Cast
Lin-Manuel Miranda, Phillipa Soo, Leslie Odom Jr.
About the Movie
This Tony Award-winning show, produced, written, and composed by the amazing Lin-Manuel Miranda, narrates the story of Alexander Hamilton, America's first Secretary of the Treasury and Founding Father. With a score that combines R&B, hip-hop, and jazz with a Broadway flair, it has never been more fun to learn history!
2. Apollo 13
Year of Release
1995
Cast
Tom Hanks, Bill Paxton, Kevin Bacon
About the Movie
America's space program is an immense source of national pride, so we just had to include Apollo 13 as one of our must-watch Fourth of July movies! The movie plot centers on NASA's attempt to chart a way to bring the Apollo 13 spacecraft back to Earth after experiencing damage that threatened the lives of the three astronauts on board.
3. Air Force One
Year of Release
1997
Cast
Harrison Ford, Gary Oldman, Glenn Close
About the Movie
Harrison Ford essays the role of President James Marshall, who finds himself in the crisis of fighting it out with a group of hijackers to protect his family and advisory board without compromising the country's ideals.
4. Yankee Doodle Dandy
Year of Release
1942
Cast
James Cagney, Joan Leslie, Walter Huston
About the Movie
Iconic actor James Cagney stars in this movie about the life of music composer George M. Cohan. It's a phenomenal look at the man behind the music and even highlights the occasion when the brilliant composer received a presidential medal for his contributions to the country.
5. Hidden Figures
Year of Release
2016
Cast
Taraji P. Henson, Octavia Spencer, Janelle Monáe
About the Movie
In this movie, the incredible female African-American mathematicians who played a significant role at NASA during the space program's preliminary years finally get their time in the spotlight. This amazing story reminds us that heroes are present among us everywhere, and each of their stories should be told.
6. The American President
Year of Release
1995
Cast
Michael Douglas, Annette Bening, Martin Sheen
About the Movie
In this movie, we get to watch the dating life of a POTUS as he falls in love with an environmental lobbyist. This one is definitely for rom-com enthusiasts, as it has everything from romance to politics!
7. Saving Private Ryan
Year of Release
1998
Cast
Tom Hanks, Matt Damon, Tom Sizemore, Vin Diesel
About the Movie
This Steven Spielberg war drama revolves around the Normandy landings during World War II. When two brothers are killed during the war, a team led by Captain Miller is sent over enemy lines to find Private Ryan, break the news about his brothers' deaths, and escort him home.
8. Independence Day
Year of Release
1996
Cast
Will Smith, Bill Pullman, Jeff Goldblum
About the Movie
When alien forces begin to take over major cities in the United States of America in hopes to destroy Earth on the 4th of July, mankind's best bet to win is the will to survive. Plus, Will Smith striking aliens to save the country just screams patriotism!
9. Forrest Gump
Year of Release
1994
Cast
Tom Hanks, Robin Wright, Gary Sinise
About the Movie
Forrest Gump is one of the most iconic movies of all time. It follows the title character throughout the Vietnam War, becoming an international ping pong star, captaining a shrimp boat, running the length of the country, and more.
10. Flags of Our Fathers
Year of Release
2006
Cast
Adam Beach, Ryan Phillippe, Jesse Bradford, Barry Pepper, Joseph Cross, Paul Walker
About the Movie
This Clint Eastwood-Steven Spielberg drama gives us a glimpse into the lives of the six men who would go on to raise the American flag at the Battle of Iwo Jima. This event was a major turning point in World War II.
11. Captain America: The First Avenger
Year of Release
2011
Cast
Chris Evans, Hugo Weaving, Samuel L. Jackson
About the Movie
It may be a superhero movie, but no one personifies patriotism perfectly like Steve Rogers, aka Captain America. A skinny man transforms into a super soldier to fight in World War II; what more could you ask for?
12. National Treasure
Year of Release
2004
Cast
Nicolas Cage, Diane Kruger, Justin Bartha
About the Movie
Nicolas Cage plays the role of historian Benjamin Franklin Gates in this heist film. On his quest to steal the Declaration of Independence, he decodes the encrypted map hidden inside the document, leading to a valuable treasure.
13. Young Mr. Lincoln
Year of Release
1939
Cast
Henry Fonda, Alice Brady, Marjorie Weaver
About the Movie
This biopic takes you through Abraham Lincoln's early years before he was given the responsibility of piecing back together a country that was torn apart. The movie is a moving portrait of a young gentleman who was destined for greatness.
14. Miracle
Year of Release
2004
Cast
Kurt Russell, Patricia Clarkson, Nathan West
About the Movie
Kurt Russell stars in this real-life narrative of Herb Brooks, the legend who coached the 1980 U.S. Olympic hockey team to participate against the intimidating Soviet Union team. With all the odds against them, Brooks provides a deep level of inspiration that will give you all of the patriotic chills.
15. American Sniper
Year of Release
2014
Cast
Bradley Cooper, Sienna Miller, Kyle Gallner
About the Movie
American Sniper takes us into the life of Chris Kyle, a U.S. Navy SEAL who was sent to Iraq to protect his fellow servicemen and women. While his brilliant accuracy, when doing his job, saves numerous lives, his four tours of duty completely change him.
16. Jaws
Year of Release
1975
Cast
Roy Scheider, Robert Shaw, Richard Dreyfuss
About the Movie
This classic movie about a man-eating great white shark takes place during the 4th of July holiday when the beach town of fictional Amity Island is at its busiest. The thrilling Jaws soundtrack is one that will forever be etched into your mind!
17. G.I. Jane
Year of Release
1997
Cast
Demi Moore, Viggo Mortensen, Anne Bancroft
About the Movie
When Jordan O'Neill, played by Demi Moore, enrolls in the Navy's Combined Reconnaissance Team Training, no one expects her to make the grade. In fact, she's surrounded by many waiting for her to fail. But with a steely determination and a desire to serve her country, the recruit surprises even herself! Is there anything more American than that?
18. Mr. Smith Goes to Washington
Year of Release
1939
Cast
James Stewart, Jean Arthur, Claude Rains
About the Movie
This Frank Capra classic sees a visionary young senator played by actor James Stewart take on corruption in the capital.
19. Stripes
Year of Release
1981
Cast
Bill Murray, John Candy, Harold Ramis
About the Movie
Bill Murray and Harold Ramis star as two unmotivated friends who join the Army and find themselves in a troop of misfits.
20. Red Dawn
Year of Release
1984
Cast
Patrick Swayze, C. Thomas Howell, Lea Thompson
About the Movie
This action film imagines the idea of World War III through the eyes of a group of rebellious teens defending Midwest America from Soviet invaders.
21. Pearl Harbor
Year of Release
2001
Cast
Ben Affleck, Kate Beckinsale, Josh Hartnett
About the Movie
This epic blockbuster movie from 2001 tells the story of two best friends, and the nurse who steals their hearts, as they experience war, particularly 7th December 1941, a date which will forever live in infamy as the day of the attack on Pearl Harbor.
22. The Right Stuff
Year of Release
1983
Cast
Sam Shepard, Scott Glenn, Ed Harris
About the Movie
Based on the 1976 novel by Tom Wolfe, this movie follows the stories of the Project Mercury astronauts who were selected for the U.S. space program.
23. The Patriot
Year of Release
2000
Cast
Mel Gibson, Heath Ledger, Joely Richardson
About the Movie
Mel Gibson stars as a peace-loving South Carolina farmer who joins the American Revolution after his son is captured and murdered by a sadistic British officer.
24. Glory
Year of Release
1989
Cast
Matthew Broderick, Denzel Washington, Cary Elwes
About the Movie
This movie is based on a true story about the first Black regiment in the Union Army and stars Morgan Freeman and Denzel Washington. The acclaimed actors play former slaves who strive to prove themselves and work towards the freedom of those still enslaved.
25. Superman II
Year of Release
1980
Cast
Christopher Reeve, Gene Hackman, Margot Kidder
About the Movie
Before Captain America came to the big screen, we had Superman from the planet Krypton, and in the franchise's second film, the red-caped superhero returns an American flag to the White House.
You can set up a movie screen in your backyard to keep your friends and loved ones entertained, or simply move the party indoors. And even if you're not hosting a party, these Independence Day movies will be enjoyable for you and the kids to watch together. They narrate the stories of American history, significant victories, and overcoming hardships, making them a perfectly patriotic choice for your 4th of July movie night.
Also Read:
4th July (US Independence Day) Facts for Children
US Independence Day – Patriotic 4th July Instagram Captions
4th of July Quotes, Wishes and Messages to Celebrate America's Independence