US Independence Day Facts and Activities for Kids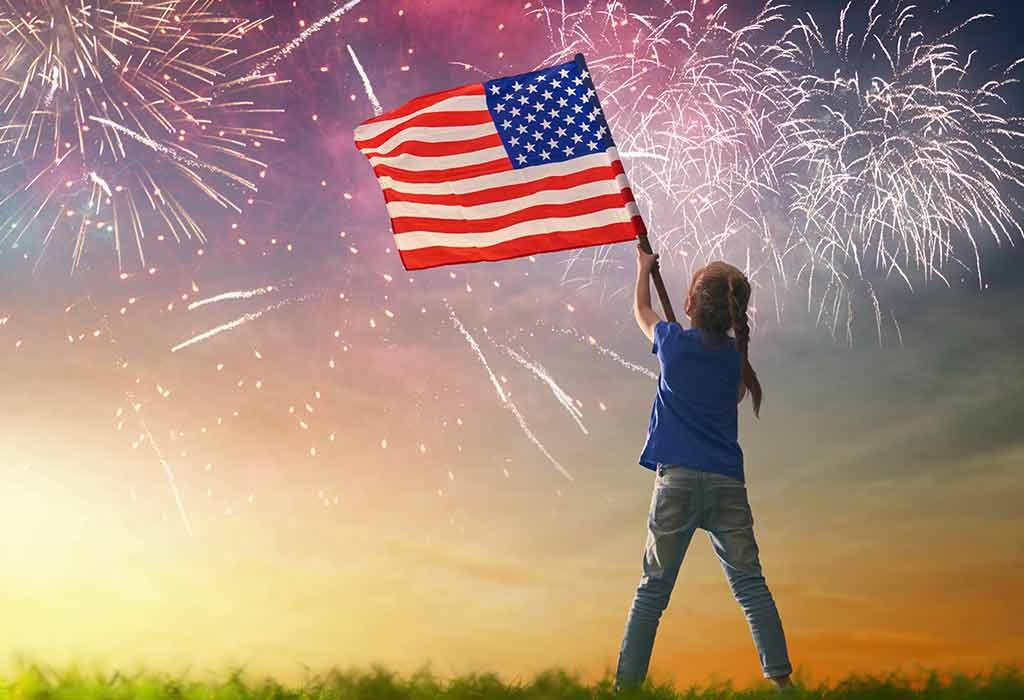 The parades, carnivals, fireworks, fairs, festive food, etc. are some of the many attractions that fascinate kids about the 4th of July – The US Independence Day! If you are looking for some fun facts and activities for kids for the upcoming federal holiday, reading this post may prove to be fruitful!
When Is US Independence Day Celebrated?
Every year on the 4th of July, people of the US celebrate their Independence Day with full festive fervour and zest. This federal holiday is also known as the Fourth of July or July Fourth.
History of US Independence Day
The history of this important day goes back to the eighteenth century when America was in the Revolutionary War with Great Britain. On 4th of July 1776, the 2nd Continental Congress of The United States approved the declaration of this day as the Independence Day of the country. Since then this day was celebrated as Independence Day in the country, however, it was 100 years later that this day was declared an unpaid holiday for the Federal Government employees. In the early 20th century, Congress declared this federal holiday as a paid holiday.
Is This Day a National Holiday?
The 4th of July is a national federal holiday and all the citizens of the US celebrate this special day in many special ways.
How Do the People of the USA Celebrate This Day?
The people of the USA celebrate this special federal holiday in various special ways. One of the most popular ways of celebrating Independence Day is to have special meals with family and friends. Some people also love to cook holiday-themed delicacies to add more feel to this important day.
Fireworks hold special importance on this day, when most people attend a large public gathering to enjoy the fireworks display, others buy their own fireworks and have cosy celebrations with their loved ones.
People are overladen with patriotic feelings. There are many formal and informal flag hoisting ceremonies that people attend. People also love to dress up in the national flag colours blue, red and white to showcase their love and pride for the nation.
There are also many other ways of celebrating Independence Day that includes attending concerts, games, parades, and other such kinds of events. Because this national holiday falls during the summer holidays, people enjoy most of these celebrations outdoors!
Other Interesting Facts About the 4th of July for Children
Here are some interesting and fun facts on the 4th of July for kids that you should share with your children:
Every year on this day approximately 500,000 people from all over the country assemble on the famous Capitol lawn in Washington DC to enjoy the fascinating display of fireworks and to listen to some fine patriotic melodies.
The entire nation celebrates this day to commemorate the Independence Day of the country, however, the famous Bristol Fourth of July Parade that is held in Rhode Island every year is the longest-running celebration in the country. This parade has been taking place every year on this day since 1785.
The famous hot dog eating contest in Coney Island, New York is held every year on this day that is attended by almost 40,000 people and millions watch this fun contest on television.
The 30th US president, Calvin Coolidge was the only US president to date to be born on the 4th of July. The president was born on the 4th of July 1872.
The Liberty Bell used to be rung thirteen times till 1846 on Independence Day, however, now it is only tapped and not rung these many times because of the fear of damaging the bell that holds great historic value and significance.
There was a total of 56 people (8 of them were from Britain) who signed the Declaration of Independence. The youngest person to sign the Independence declaration was 26 years old Edward Rutledge and the oldest was 70 years old Benjamin Franklin.
Best 4th July Activities for Kids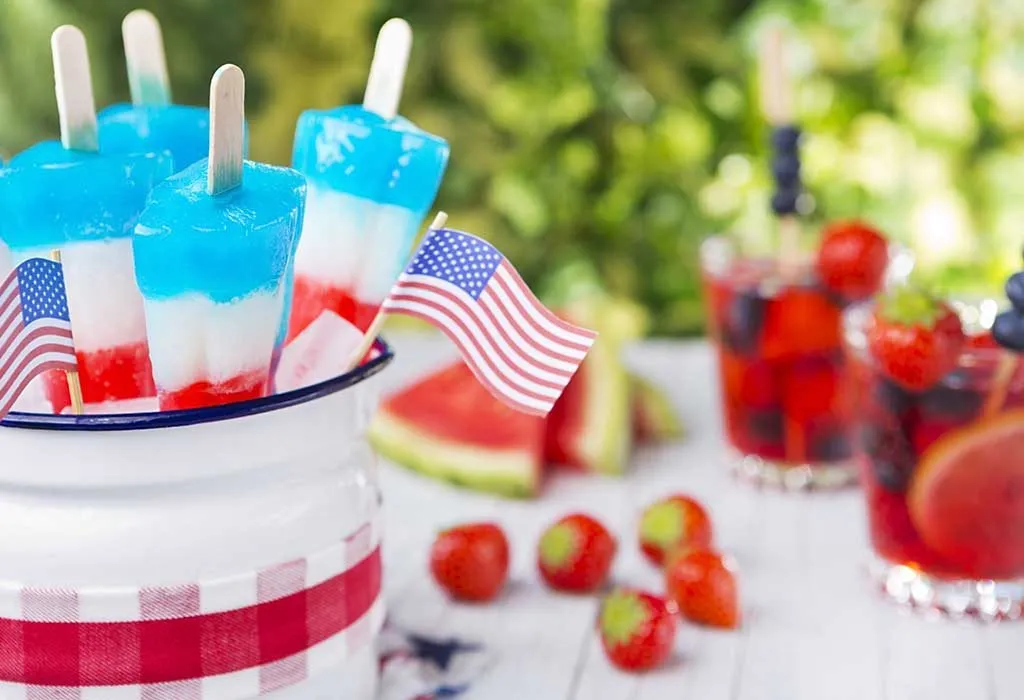 Here are some fourth of July activities for preschoolers and toddlers that can make this day more special for them:
1. Pop the Balloons
Have you seen the thrill and adventure that kids feel when it comes to balloons? Well, this activity will do that and much more! Simply inflate patriotic coloured (blue, red and white) balloons and stick them on a board. Now, hand over the darts to your little ones and ask them to pop the patriotic balloons.
2. The Patriotic Hairdo
It will be fun to do up your kiddo's hair in fun ways as they get soaked up in the patriotic spirit. You can use blue, white and red-coloured beads, ribbons, or bows to braid or tie your little angel's hair in various fun ways and for boys, you can use bands and ribbons and experiment by tying them around their forehead or head. Believe us, it will be so much fun!
3. The Festive Food
One thing that punks up the festive celebrations are festive food! Create some magic with simple food items and see how thrilled your kids get. Bake a tri-coloured cake, decorate the cupcakes with colourful frostings or sprinklers, make tri-coloured sandwiches, etc.
4. Make a Wreath
Decorating your home with stuff that you make with your kids is surely a special way to celebrate Independence Day. How about making a festive wreath as one of the interesting Fourth of July activities for toddlers? If it sounds like a plan, you simply need to grab some blue, red, and white ribbons and an old sewing ring. Use these ribbons in creative ways to decorate the ring! Place a USA cardboard cutout in the centre of the wreath decorated with blue glitter!
5. Paint the Face
Kids enjoy playing with colours and painting faces is something that most kids would love to experiment with! Take skin-friendly white, blue, and red colours and paint your kid's face by drawing the US flag or simply drawing some stars.
6. Play the Patriotic Bingo
If you are looking for some exciting and engaging 4th of July games for kids, well, Bingo can be hands down one of the toppers on the list! Get a tad bit experimental and design your own bingo tickets by choosing some festive-themed pictures that can be placed next to the numbers.
7. The Festive Art
If your kid loves to paint or draw, this 4th of July preschool art activity will surely win his heart! Your kiddo can create this very own festive fireworks in his drawing file. Well, you just need a few empty toilet paper rolls, cut a few fringes on one side, dip the fringed side in a pool of assorted colours and place it flat on a drawing sheet and lift. Create a few more patterns to get more spectacular fireworks art!
8. Make a Wand
Young kids love to be in their own sweet la-la land and imagine all sorts of beautiful magical things, be superheroes, fairies, elves and other such characters. Create a small magical festive wand for your little one and let him enjoy the festival in his own magical way. You can make the wand using a cardboard cutout, covering it with glitter paper and then decorating it with blue, white, and red ribbons and glitters!
9. Write a Thank-you Note
This is a special day to thank people who help in protecting the nation. You can make your kid write a thank you note or letter to any military personnel in his own special way. Ask your kid to decorate the special message in patriotic colours for a more festive feel.
10. Decorating Bikes
If your family is a part of any parade, you are attending a patriotic event in the neighbourhood, or even otherwise, kids love to decorate their belongings like bikes. Take glittery tassels, ribbons, and other such decorative items and make this festive day more vibrant for your little one.
11. 4th of July Drinks
Get ready to toast to the Grand Old Flag and all it represents! If you are thinking of inviting guests over on 4th July, drinks are a must. Mix up some patriotic-themed non-alcoholic drinks and raise a toast with your friends, family, and kids.
12. Red, White, and Blue Treat
Make some delectable stars and stripes-themed dessert. You can make simple, kid-friendly desserts for your little ones like cupcakes, mini pies, and meringues that won't melt. You can also take your kid's help with frosting the cupcakes and decorating them with red, white and blue sprinkles.
Teaching kids about special events and days are an important part of teaching them about the history, culture, and values of the country. We hope some of these facts and activities will make this Independence Day more memorable and special for your child.
Also Read:
Easy and Fun US Independence Day Crafts for Children
4th July Quotes, Wishes and Messages for Celebrating US Independence Day