56 Unique Dussehra Wishes, Messages and Quotes for Family and Friends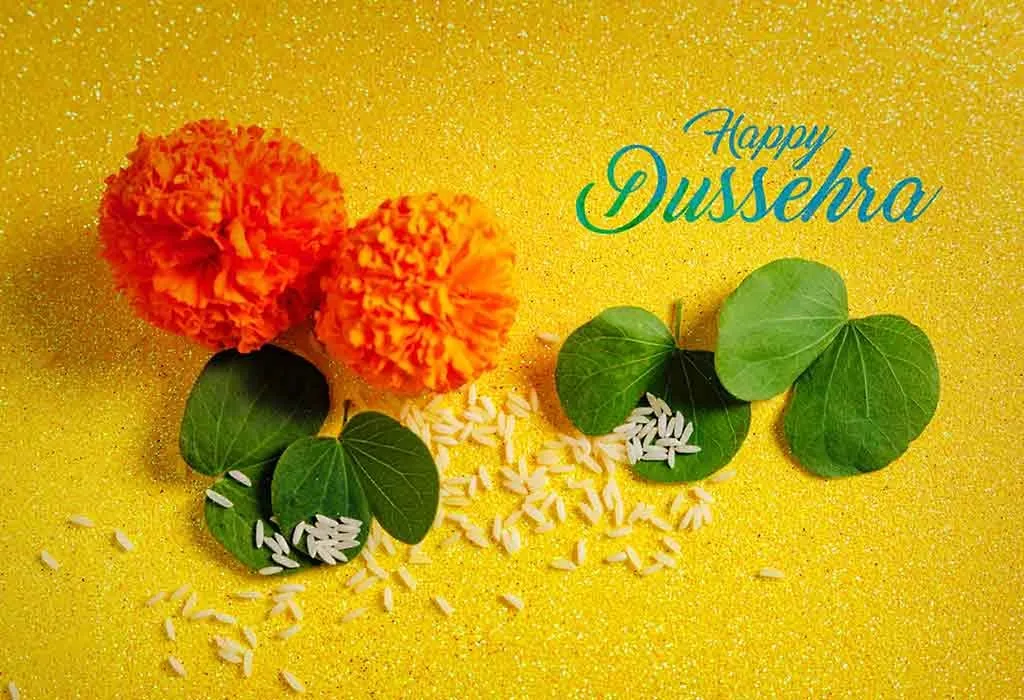 In this Article
After the nine-day celebration of Navratri, comes the auspicious festival everyone eagerly looks forward to celebrating – Dussehra. It's on this day that people remember Lord Rama, who bravely fought against Ravana for ten days and defeated him to save his beloved wife, Sita. This year, Dussehra falls on October 15th.
The word Dussehra is derived from dasha, which means 'ten' and hara, which means 'defeat' in Sanskrit. Dussehra or Vijayadashami is widely celebrated all over India with great enthusiasm and fanfare. In many places, the effigies of Ravana, Meghnath and Kumbhkaran are burnt to celebrate the triumph of good over evil.
The festival marks the beginning of the preparation for Diwali and is also considered to be an auspicious day to commence anything new and meaningful. So if you're looking to embark on a new chapter of your life, there could be no better day than Dussehra!
But what's also important is to share the blissful joy the festival brings. This Dussehra, multiply the happiness with these Dussehra greetings, messages, and quotes. Share them with your loved ones and make their day!
Happy Dussehra Wishes and Messages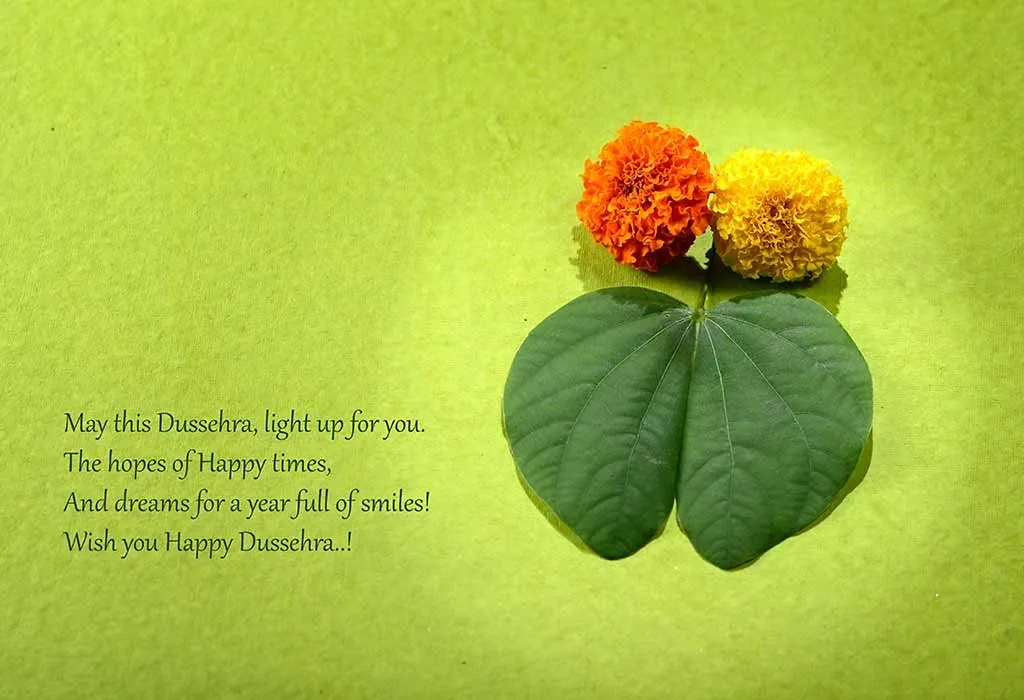 These wishes and messages for Dussehra are surely going to be a hit in your family circle!
This is the day that reminds us that in the end, goodness triumphs and evil comes to an end. Happy Dussehra!
May your worries burn with Ravana's effigy. May you be happy and feel fulfilled always. Happy Dussehra!
May all the obstacles and troubles in your path disappear this Dussehra. Greetings of this auspicious festival.
May Lord Rama shower his finest blessings on you and your family. Wishing you all a very Happy Dussehra!
Let your anger burn away today, just like the effigy of Ravana. Have an amazing Dussehra!
It's time to commemorate the victory of good over evil. Let's walk ahead in life with the same spirit. Happy Dussehra 2021!
May all your sorrows burst away like the fireworks on this night. May your happiness multiply a thousand-fold this Dussehra. Have a great one!
Sending my choicest wishes to you and your family on Dussehra. May you always walk on the right path like Lord Rama. Wish you a Happy Dussehra! Stay blessed!
May this Dussehra bring a whole lot of prosperity, joy, and success for you. Best wishes for all that you do!
Let's make this day all the more special by removing all negativity from our lives. Happy Dussehra!
Today is the time to celebrate. This is the time for the victory of everything that is good! This is when the world will see the power of good and positive energy! Wish you and your loved ones a very Happy Dussehra!
May your path of success always be lit up, and hope you achieve victory in each and every phase of life. Wish you a Happy Dussehra!
Just like the colours and lights of the festival, may your life be filled with all the joy and prosperity in the world. Happy Dussehra and Vijayadashami to you!
May Maa Durga remove all the evils from your life. We wish you and your loved ones a very happy Dussehra.
Wish this festival of Dussehra brings devotion, dedication and determination into your life.
On this pious and auspicious occasion, I pray that you're blessed with dignity, honour and success.
May the truth always triumph; may the good always win over evil. May you be blessed with infinite wisdom.
May the demon in you get defeated forever, and the good in you always triumph.
May this Dussehra enlighten in you the hopes of merry times and dreams for a year full of surprises and smiles. Happy Dussehra!
Let the joy of this festival embrace you and your family on the occasion of Dussehra!
Spread joy and happiness by conquering all the negativity within you. A very Happy and Blessed Dussehra to you and your family!
On the auspicious occasion of Vijayadashami, here's sending my best wishes to you and your family. Happy Vijayadashami! Stay blessed, healthy and happy!
May this auspicious festival brighten up your future and may you have an awesome life ahead. Happy Dussehra!
Open the doors and welcome all positivity into your home. It's Dussehra! Have a blessed one!
Hello, my dearest friend! I wish you and your loved ones a happy Vijayadashami!
I wish that the brightness and happiness of Dussehra fill your life with fortune, joy and success!
The truth shall always triumph; goodness shall always reign! This here is the true essence of Dussehra. Let us all celebrate and welcome Lord Rama!
Learn to praise, not to get jealous. Have a holy Dussehra 2021!
Every Dussehra we are taught that light always prevails. So, let's follow this rule and enjoy the festivities. Sending best wishes to you and your family.
Let's begin a new life by triumphing over our eternal enemies. We shall now take an oath to give a new dimension to our life on this day. Wishing you a very happy Dussehra!
Happy Dussehra to you all! Hope this auspicious and festive season brings lots of happiness to your life!
I pray that your life takes a new turn this Vijayadashami. Happy Dussehra from mine to yours!
Vijayadashami is a combination of two words – Vijaya, which means 'victory' and Dashami, which means 'tenth'. So let us now mark this day by celebrating the victory of good over evil.
May you get the power to fight the evil energy and replace it with the goodness in you! May you get everything that your heart desires. Happy Dussehra 2021!
Happy Dussehra 2021 to you, your friends and your family. May you be blessed with enormous strength and courage to be righteous and successful.
I pray that you get all of Lord Rama's qualities; and be an ideal son, the perfect brother and the perfect husband. Happy Dussehra!
On the occasion of Dussehra, I hope that you are showered with happiness and success. Happy Dussehra!
To my sweet family, I wish you a very happy Dussehra. Celebrate this festival by eating lots of sweets and staying positive!
May the splendour and warmth that are a part of this festival fill you with happiness and cheer for the whole year. Happy Dussehra!
May the fire of Dussehra warm up your heart and burn all your grief and sorrows. Happy Dussehra!
Dussehra marks a new beginning. May you make good decisions and set forth on a happy and successful life. Happy Dussehra!
May this Dussehra bring wisdom, fortune and happiness to your life. Happy Vijayadashmi!
On this special day, as you celebrate the triumph of good over evil, I wish you success and happiness in everything you do. Happy Dussehra!
A time for celebration, a time for victory of good over bad, a time when the world sees the example of the power of good. Let us continue the same true spirit. Blessing of Dussehra.
Best Dussehra Quotes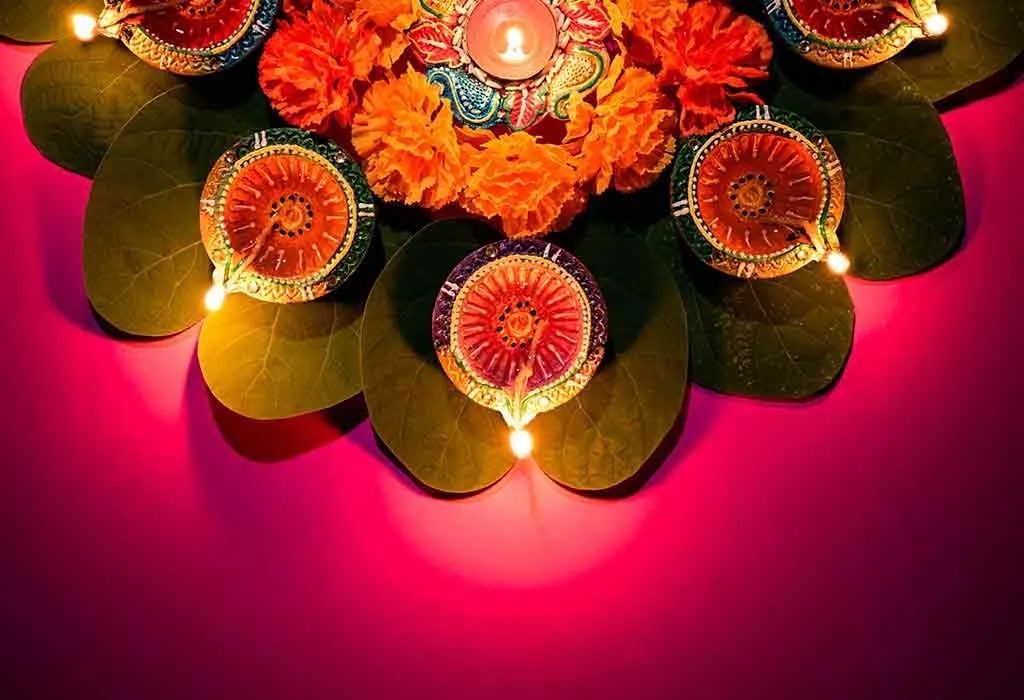 Spread the joy and love with your family and friends by sending them these beautiful Vijayadashmi quotes, which signify the triumph of good over evil.
"Don't kill, but conquer the Ravana in you."- Vikrmn, Corpkshetra
"Shooting arrows at the multiple heads never kills the problem, one head replaces another, killing it will take just one focused shot at the heart of the problem."- Shahenshah Hafeez Khan
"I hope that real love and truth are stronger in the end than any evil or misfortune in the world."- Charles Dickens
"There is no denying that there is evil in this world but the light will always conquer the darkness."- Idowu Koyenikan
"When I despair, I remember that all through history the way of truth and love has always won."- Mahatma Gandhi
"The important thing is to teach a child that good can always triumph over evil."- Walt Disney
"Good must triumph over evil. It usually does in life and in any case it's bad for young people to believe it doesn't."- Barbara Cartland
"As a parent, I want my kids to have an optimistic outlook, and one that has hope, and that makes sense, where good does triumph over evil and it's not cynical, and it's not snarky."- Dee Bradley Baker
"Light can devour the darkness but darkness cannot consume the light."- Ken Poirot
"I learned that courage was not the absence of fear, but the triumph over it. The brave man is not he who does not feel afraid, but he who conquers that fear."- Nelson Mandela
"You are the light of the world, and it is your duty to save the darkness."
―
"Even the darkest night will end and the sun will rise." – Victor Hugo
These lovely wishes and quotes are sure to multiple the joy of Dussehra for you and your loved ones. We wish you a happy Dussehra, filled with love and happiness!
Also Read: Navratri and Dussehra Facts and Information for Children