Good Friday 2023 – History, Traditions, and Other Interesting Facts for Kids
Easter Sunday is right around the corner, but there's another holiday right before Easter that's widely recognized and celebrated all over the world. It's Good Friday! Good Friday marks the day when Jesus Christ was crucified on the cross, and it's an important day for Christians as they commemorate the Crucifixion of Jesus. While Easter gets the most attention from kids (they love Easter bunny and eggs, and everything associated with it), it is important that they learn about Good Friday too. From the history of Good Friday to customs and facts associated with it, here's everything you need!
History of Good Friday
On Good Friday, Christians all over the world remember Jesus' sufferings and death, as he sacrificed his life for everyone and redeemed people from their sins. As per the Bible, it was on this day that Jesus was crucified for having claimed to be the son of God and King of the Jews, a claim that was seen as punishable by the leader of the time, the Pontius Pilate.
To understand Good Friday's story, let us take you to the Wednesday before Good Friday, also known as Holy Wednesday. As per the Christian scriptures, Judas Iscariot, one of Christ's most trusted disciples agreed to betray Jesus Christ by turning him to Jewish high priests for thirty pieces of silver.
The next day, now known as Maundy Thursday, Jesus and his disciples gathered together to celebrate the Jewish festival of Passover. During the meal, which is referred to as 'The Last Supper', Jesus said to his disciples that one of them would betray him. And his prediction was right; Judas betrayed him and Jesus was arrested. The next day, which came to be known as Good Friday, Jesus was sent before the Roman governor Pontius Pilate. He told the Jewish priests to punish Him as per the Jewish laws. The priests insisted that Jesus had broken Roman law for calling himself the son of God, refusing taxes to Caesar, and claiming himself as a King. A crown of thorns was placed on Jesus' head, then he was beaten and crucified. As per the Christian gospel, Jesus suffered on the cross for six long hours and during his last three hours, darkness fell over the entire land, despite it being afternoon.
Why Is Good Friday Called Good Friday?
The story behind Good Friday is not really uplifting, then why is it called Good Friday? It's because the story doesn't end with Christ's crucifixion. Three days later, Christ rose from the dead, triumphing over death; this day is celebrated as Easter/Resurrection Sunday. Easter is the festival which commemorates the resurrection of Jesus from the dead.
Another reason why Good Friday is called 'good' is that despite the sufferings and death of Jesus, people were saved from their sins. It was all a part of God's plan. With the sacrifice and resurrection of Christ, came the promise of eternal salvation.
When Is Good Friday Celebrated?
Good Friday is celebrated on the Friday before Easter Sunday. In 2023, Good Friday will be observed on April 7, i.e., two days before Easter Sunday on 9th April
How Is Good Friday Celebrated?
Christians around the world observe Good Friday by attending special church services. This day is believed to be the day of reflection for Christians – to remember the sacrifice made by Him. In many churches, the services last for three hours, which is the amount of time Jesus spent on the cross. It's a day of mourning; in many churches, people practice Veneration of the Cross on Good Friday. It means they bow or kneel before the cross and kiss it. Good Friday church services also include reading of the 'Passion', the story of Jesus' death.
Each country has its own set of Good Friday customs and rituals. In Spain and several other countries, people who feel sorry for their wrongdoings walk through the streets in long robes with hoods, carrying a big cross made of wood. In Belgium and Mexico, churches are draped in black in memory of Jesus' sufferings on the cross. In many countries, including the UK, a single person or a group of church people carry a large wooden cross around the streets near the church before the church services begin. In Germany, this day is referred to as 'Sorrowful Friday', and people abstain from dancing on this day. People of Bermuda observe this day by flying handmade kites. Kites here symbolise the cross that Jesus died on. Processions are also a part of Good Friday celebrations in several countries such as Italy, the Philippines, and Spain. Many Christians from around the world observe this day by fasting and praying.
Interesting Facts About Good Friday
Now that your child knows the history about Good Friday, share these interesting Good Friday facts with him. These facts might pique his interest in finding out more about this holiday.
Good Friday is not an official holiday in the US or around the world. Some schools and banks remain shut on this day, but it's not an official holiday. Only 12 states in the US consider it an official holiday.
Good Friday falls between March 20 and April 23.
Hot cross buns are considered to be packed with good luck. It is believed that buns baked on Good Friday never get spoiled and can protect your home from fire.
In Ireland, it is believed that eggs laid on this day never get rotten. The Irish also have a tradition of marking eggs with a holy cross and having each family member eat one on the Easter Sunday. By doing so, they believe, they will have good health and luck in the following year.
Good Friday is known by different names across the world. Some of the names include Easter Friday, Holy Friday, Great Friday, and Silent Friday.
The very first Good Friday was observed on Friday, April 3, A.D. 33.
The Thursday before Good Friday is known as Holy Thursday or Maundy Thursday and the following Saturday (before Easter Sunday) is known as Holy Saturday.
In Germany, dancing is prohibited on this sacred holiday.
As per a superstition, getting a haircut on this day prevents headaches for the rest of the year.
In many churches across the world, bells are tolled 33 times in succession to mark Christ's years on Earth and to commemorate his death.
Good Friday Activities for Kids
Here are some activities you can engage your child that will make him understand the importance of Good Friday.
1. Read Books
Get age-appropriate children's books on Good Friday or Easter for your child and read them to him. In order to teach your child about Good Friday in a kid-friendly way, get a picture book which leads up to the story of Easter too. A book on Easter with beautiful illustrations in it is sure to interest your child. Colourful illustrations will keep him enthralled and he will be more than eager to learn about the two holidays!
2. Plant a Sapling
While telling your child about the story of Good Friday, you can also engage him in an activity like planting or gardening. Your child may feel anxious while listening to you talk about Jesus' death – ease his anxiety by engaging him in an activity that symbolizes life. Planting a seed on Good Friday is a symbol of Jesus' resurrection and the miracle of life. Explain this to your kid by helping him plant a seed or sapling in a pot or your backyard or terrace garden. Let him water it daily and watch it grow into a beautiful plant/tree.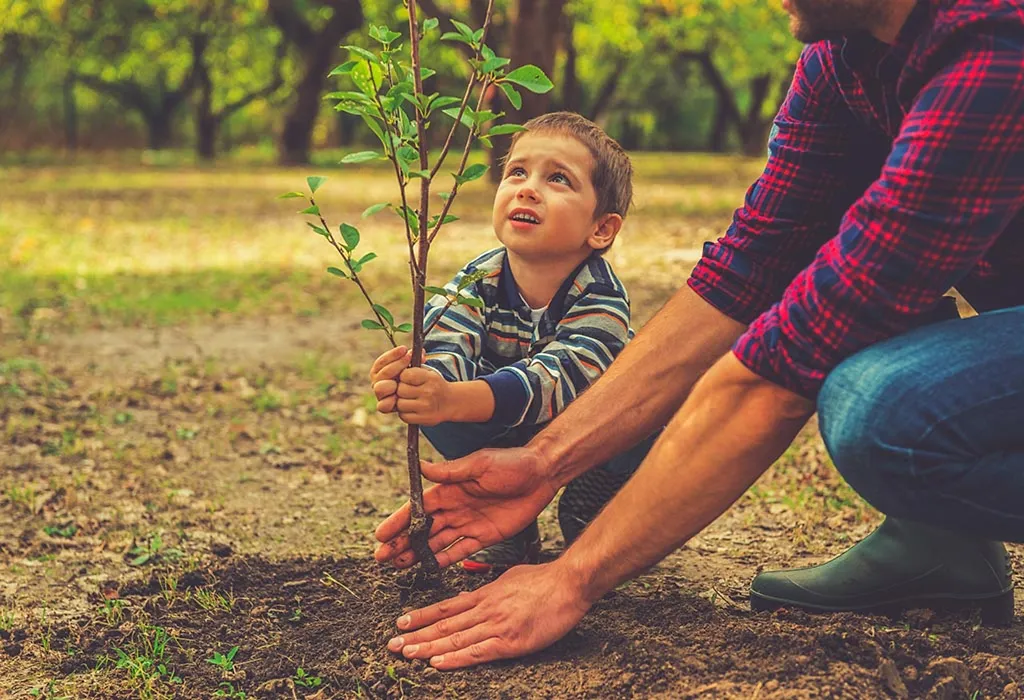 3. Get Your Child to Cook a Good Friday Meal With You
In many countries, people abstain from eating meat on Good Friday. If you follow this custom too, you can make a scrumptious vegetarian meal on this day. And while you're at it, ask your child to help you with dinner preparations. It's a wonderful way to get him to cook healthy and tasty vegetarian meals. Plan the meal together and take his opinions so that he feels involved. You can ask him to make a salad or something simple that does not involve cooking with fire!
4. Other Activities
Some other activities that you can keep your child engaged in on this day include art and craft activities, flying kites, and more. You can download colouring pages with crosses, flowering vines and bread on them, and other pictures associated with Good Friday, and let your child colour them.
Good Friday Meal Ideas
Here are some yummy dishes that you can make on Good Friday for your kids and family members!
1. Honey Garlic Glazed Salmon
Salmon forms a major part of Good Friday dinner. If you're planning to make fish, try this honey garlic glazed salmon. The combination of honey and garlic will impart a distinct flavour to this dish and without a doubt, your child will relish it!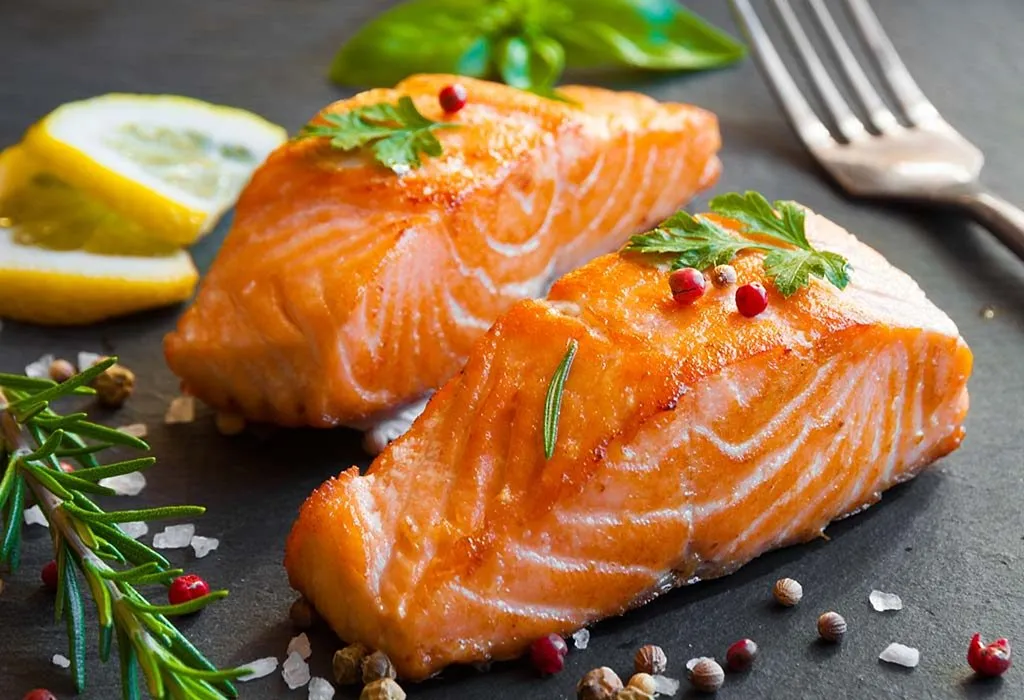 Ingredients
Salmon fillets – 200gms (4-6oz), patted dry with a paper towel
Extra virgin olive oil – 3 tbsp
Honey – 2 tsp
Soy sauce – 1.5 tsp
Lemon juice – 2 tbsp
Red pepper flakes – 1 tbsp
Kosher salt – as per taste
Ground black pepper – 2 tsp
Lemon, sliced – 1
Minced garlic cloves – 3
Recipe
In a medium-sized bowl, take some honey, soy sauce, lemon juice and red flakes, and mix well.
Heat two teaspoons of oil in a pan or a skillet on medium flame.
Place the salmon, skin-side up in the pan. Top it with salt and pepper. Cook the salmon in the pan until it turns golden.
Once it turns golden from one side, flip and repeat the above step and add 1 tbsp of oil, and allow it to cook.
Add minced garlic and cook for about 1-2 minutes.
Next, add in the honey and soy sauce mixture and sliced lemons. Cook until the sauce is evaporated by 1/3. Keep on pouring the sauce.
Once it is cooked properly, transfer it to a dish, place some sliced lemons on top and serve warm!
2. Asparagus and Pea Risotto
Asparagus and pea risotto is a healthy and filling dish that will be enjoyed by your family at dinner. Here's a simple recipe of the same. Give it a try and let us know how it turned out for you!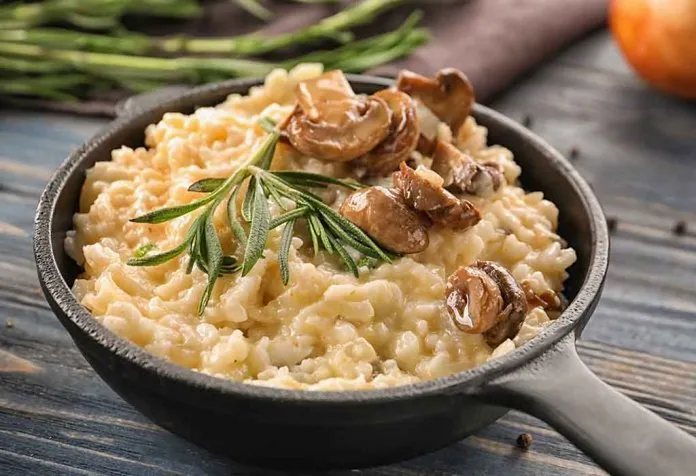 Ingredients
Rice – 1 cup
Chicken stock – 5 cups
Asparagus spears (cut into thirds) – 5
Chopped garlic – 2 tbsp
Peas – 1 cup
Parmesan cheese – ½ cup
Butter – 1 tbsp
Pepper to taste
Salt to taste
Recipe
Heat some oil in a pan and place the asparagus spears in it. Add in the chopped garlic and mix well.
Cook until the asparagus turns soft.
Add in the rice and cook it for 2-3 minutes.
Add 1 cup of chicken stock and mix until the stock is absorbed.
Once the chicken stock is completely absorbed, add another cup of chicken stock. Repeat this step until you have added all five cups of stock.
Add in the peas and stir well. The rice should be cooked well by now.
Next, add the Parmesan cheese and butter and stir again.
Garnish with pepper and serve hot.
3. Hot Cross Buns
It's a tradition to make (and eat) hot cross buns on Good Friday. If you were planning to skip it this time, don't – it's the tradition, after all! If you don't know how to make hot cross buns, quickly learn how to make them. It's not that hard!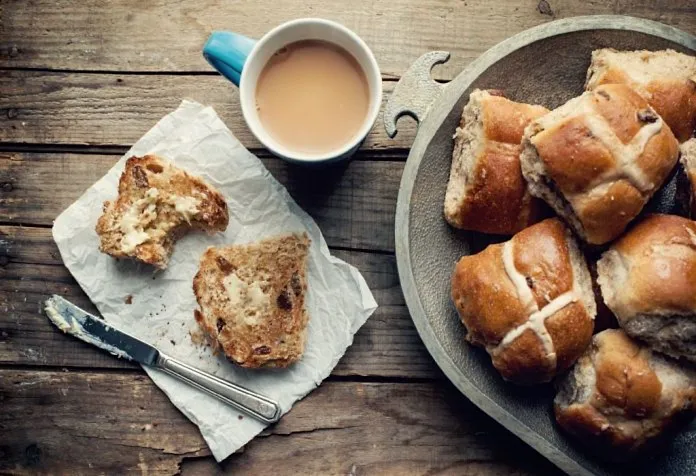 Ingredients
For the Buns
Whole milk – 1 cup
Granulated sugar – 1/2 cup
Melted butter – 1/3 cup
Dry yeast – 2 packets or 4-5 tsp
Egg yolk – 1
Vanilla extract – 1 tsp
Kosher salt – 1 tsp
Ground cinnamon – 1/2 tsp
Ground nutmeg – 1/2 tsp
Dried currants – 1/2 cup
Egg wash for brushing
For Glazing
Powdered sugar – 2 cup
Milk – 2 tbsp
Lemon zest – 1/2 tsp
Recipe
In a medium bowl, combine milk, yeast, and a pinch of sugar. Let it sit for about 20 minutes or until it turns foamy.
Whisk in the butter, egg yolk, and vanilla essence into the above mixture.
In another bowl, whisk together the flour, remaining sugar, salt, cinnamon powder, and nutmeg powder. Make a well in this mixture and pour in the yeast mixture, stirring it well such that you get a thick dough. Add in the currants and stir again.
On a large chopping board, sprinkle some flour and knead the dough on it until it turns soft and elastic.
Grease a large bowl and place the dough in it. Cover it with a plastic wrap and let it rise at room temperature. It should double in size in 1-2 hours.
Grease a baking pan or tray with butter.
Transfer the dough on to a floured chopping board and shape it into a rectangle. Divide the dough into equal portions using a sharp knife.
Shape them into rolls tucking the edges under, such that they look like buns.
Place them in the baking pan or tray and cover with a plastic wrap and keep aside for an hour. The buns should double in size.
Preheat an oven to 375°F and brush the top of buns with egg wash.
Bake for about 25 minutes or until they turn golden and puffy.
For glazing, whisk together powdered sugar, milk, and lemon zest until smooth.
Transfer it to a piping bag and pipe a thick cross shape on hot buns.
Serve warm.
With this Good Friday information for kids, your little one is sure to learn the importance of this day. He may not remember it all, but that's alright! For now, you can involve him in several Good Friday activities like colouring, planting, and cooking. He will enjoy them, and these activities may even help him remember this information by next Good Friday. Happy celebrating!
Also Read: