50 Perfect Happy Birthday Wishes and Messages for Husband
Every wife wants to make her husband's birthday very special. The first step is creating some awesome birthday wishes for your husband with love. Wishes stay in our memories forever, and they make our bond stronger. Nothing is more powerful than the perfect choice of words, especially when you wish your loved ones. So, you should take some time and put some extra thought into your birthday wishes. To help you do that, we have come up with some unforgettable and amazing wishes for your husband's special day! Read on and choose a wish that expresses what you feel best!
Romantic Happy Birthday Wishes for Your Hubby
Nothing could be better than some romantic wishes for your husband on his birthday. It will brighten his day and make him fall in love with you again. Because romance is what keeps a marriage alive and young forever, even if we grow older with each passing birthday. Here are 10 best romantic wishes that you could text, add on social media, put on a birthday card, stick onto a gift or just call and say it!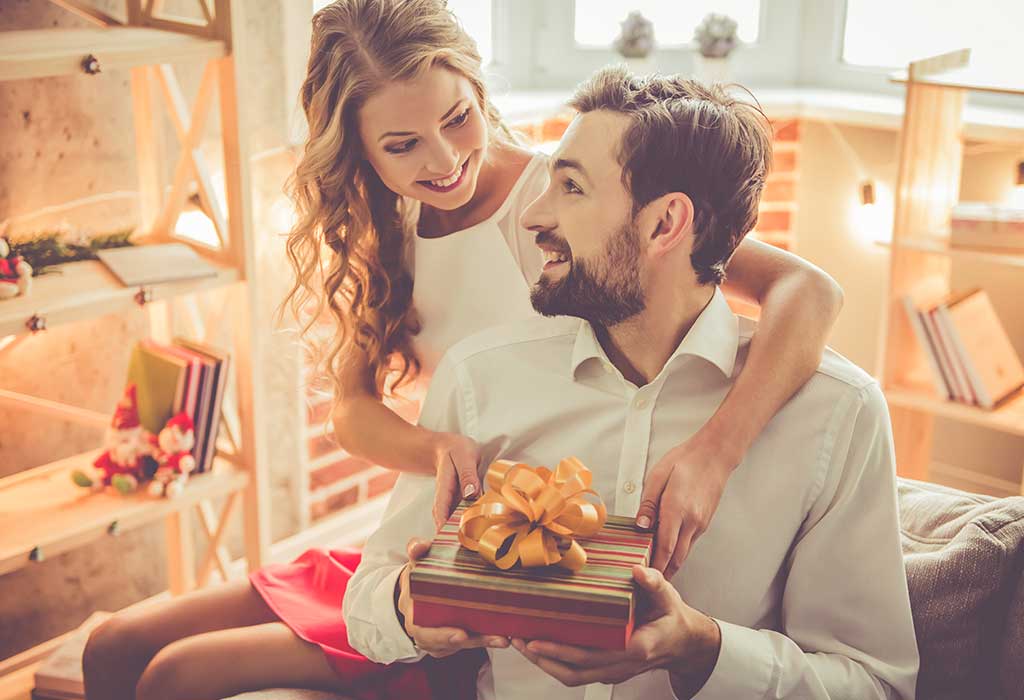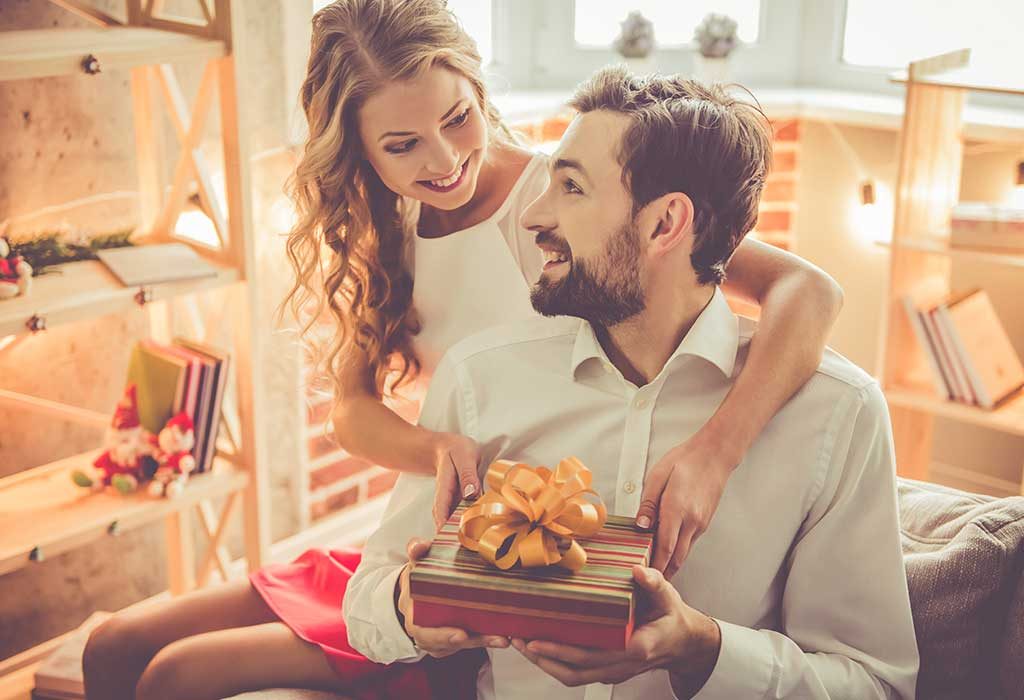 Your passion, love, kindness, wit, candour, and vivacity are one-of-a-kind, my dear husband. I am ecstatic that I get to spend the rest of my life with such an outstanding person. So, on your birthday, I wish you the best of everything and togetherness forever!
My love for you grows and grows forever. I am always discovering new reasons to love you every single day. You're an amazingly affectionate husband, and I feel so lucky. Have a great birthday, dear.
To My Wonderful Husband, Hap Happy Birthday! You deserve the best of everything, and I hope you'll get it, too, as you're beginning with a birthday that is just as wonderful as you! I am all set to make it just fantabulous and unforgettable.
You have a way of bringing light and joy with you wherever you go, and that's the reason I married you. Happy birthday and thank you for always bringing a spark into my life. I light many candles today to celebrate that undying spark. Blow them off and spread the fumes of love.
If I could travel back in time, I would do everything all over again but only with you. Our love is timeless and eternal. Happy birthday, my husband, for all the times to come and even in my next life!! We are inseparable every passing birthday of our lives!
All these years of our marriage, you take such good care of me. Today, let me take care of you and pamper you with everything you like: good food, friends, family, kids and a perfect party with them all!! Happy Birthday to the loveliest, fun- and family-loving husband!
Darling, you mean so much to me and it is a reminder to you how much I love you, now and forever. Thanks for being my perfect partner through thick and thin. I take this birthday as an opportunity to thank you for the years of partnership we have shared. You are ageing with grace and I am there to make every moment of it more gorgeous! Let's say cheers to your super birthday!
I want to remind you how very special you are to me. I may not say it enough, every day or all the time but I love you and you mean the world to me. I am an introvert and I may not show it a lot but I adore you and you are the beat to my heart. Happy birthday, darling, may you rise and shine!
You've given me so much more than I ever hoped for in this life. Thank you for making me feel loved and cared for. Thank you for sticking with me through all the ups and downs of life. Happy birthday! May another year of your life take us together to new heights.
You complete me, you fill up my senses, you make my day and you are the One forever. I am grateful that you came into this world and became my husband and will forever be my companion in this life and after. Happy birthday my groom, get set for another year of companionship and care!
Birthday Wishes for Husband for Social Media
Wishing your hubby on his birthday on social media is something you can't miss. After all, that's the primary social space we live in these days. You can send these wishes on WhatsApp or on groups, on Twitter, Instagram etc. Finally, can we forget that must-have set of birthday wishes for husband for Facebook?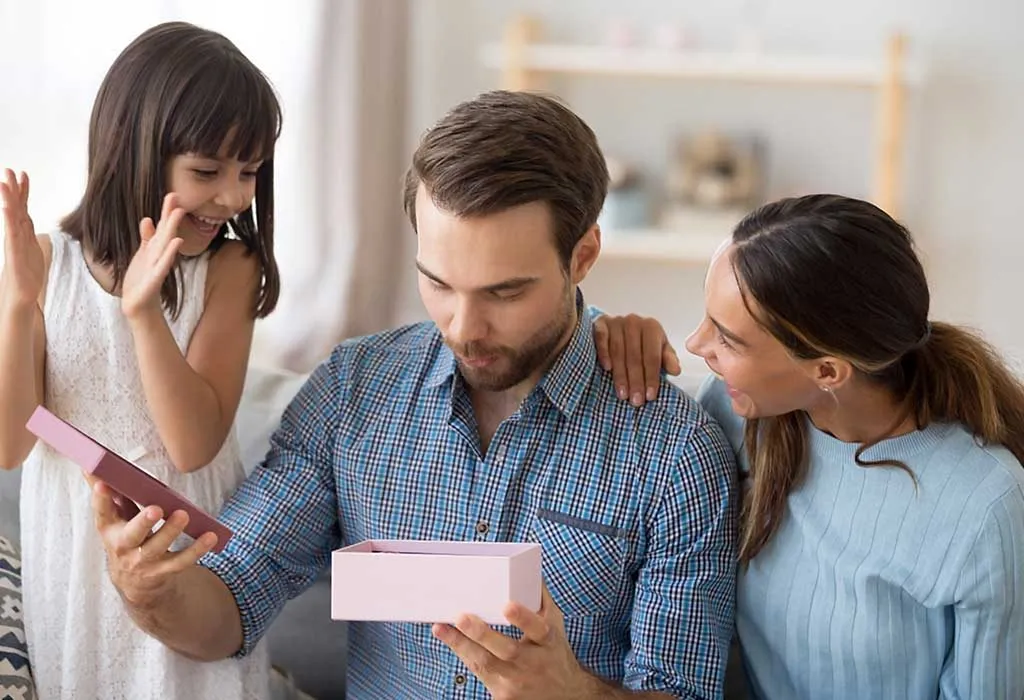 When I was a little girl, I always dreamt of a prince charming coming my way and sweeping me off my feet. That's what happened when you arrived, hubby dear. I feel very lucky because I've found you in my life. Wishing a happy birthday to my smartest prince in the world!
The world is moving very fast and things change often. But darling, I know that I can count on you to never change. With every passing year, I feel the undying love we share. With this eternal feeling, here's wishing you a wonderful B'day and many, many more to come.
Darling, tonight will be your night. Me, with our kids, are decorating the house, making some delicious foods and waiting for you to come home from office. We have the best ever birthday party waiting for you. Happy B'day, my love!
I'm so lucky that my best friend is also my husband and life partner. I always thank God for giving me the chance to stay with the finest man in the world who is my friend for life. Happy birthday and let's enjoy a lot on this special occasion.
You complete me. I am grateful that you came to this world and that you became my husband and will forever be my closest companion in this life. Happy birthday my gorgeous groom!
Your frown, your smile, your jokes, your quirks, your talents, your vices, good and bad: I love everything about you and every bit of you. Everything you do makes me feel the togetherness of our life! Happy birthday my sweetheart!
You are my world. You are my sun that shines every morning and the moon that brightens the night sky. You are my breeze that blows in the afternoon and the shade in the scorching noontime. You are my peace when I fall asleep in your arms every night. Love you and wishing you a wonderful birthday.
You light up my world, my dear hubby! You have a way of spreading light and joy with you, wherever you go and that's the reason I married you. Ever since, life has been fantastic with you. Happy birthday and thank you for always bringing a spark into my life.
To My Wonderful Husband, Happy Birthday. You deserve the best of everything, and hope you'll have it, too, beginning with a birthday that is just as wonderful as you! Here are my best wishes for a Birthday boy who becomes more wonderful every passing year!
To My Wonderful Husband, Happy Birthday. You deserve the best of everything, and hope you'll have it, too, every day and every year, beginning with a birthday that is just as wonderful as you! Happy Birthday with the best wishes ever!
Funny Birthday Wishes for Hubby
Some husbands like birthday wishes that tickle their funny bone on their special day. This is especially true for men who are themselves witty, humorous and fun-loving. Here are some wishes that will make your husband grin, guffaw and ROFL on his birthday!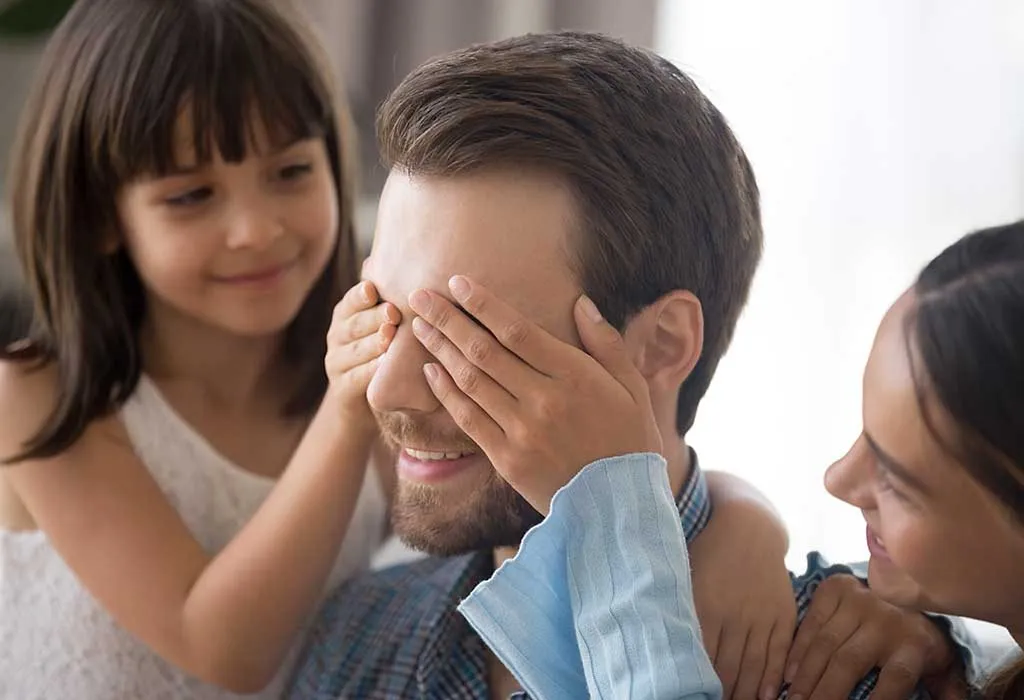 You are my candy crush, my chocolate charm and outdoor breeze! Let's celebrate your birthday with the essence of all this and make your day super fun!
Another year, another page in our fairy tale world. I couldn't have met a better Prince Charming than you, my darling husband, who transported me to wonderland from day one when our eyes met. On your birthday, I wish the best for you and want to take you on a journey to undiscovered places in our wonderworld. Hold my hand, sit back and enjoy this birthday with me like never before!
My cute and cuddly husband, I always cherish your positive attitude and loud laughter every day of my life. It fills my world! Let us add more laughter, joy and cuddles on your birthday! Here is a big bear hug and a bounty of love to start with.
Really, people should be congratulating me on your birthday, since it marks one more year that I get to spend with the love of my life. Isn't that a dream come true? Happy Birthday my sweet baby and hope you keep your dreams alive every year!
Dear hubby, I love how you always keep yourself well-groomed. With your totally clean shaven and cool look, you look younger every birthday that passes by. Keep looking young and keep looking forward to my shower of love!
Happy Birthday to my Husband. You really are too good to be true. My life wouldn't be the same without you. So here's to you! To your brilliance, your kindness, your strength, and your everlasting charm-I love you so much. Happiest of birthdays, my love!
In my list of favourite people, you occupy at least the first four spots. It's just no contest. But on your birthday, you are my entire list of favourite people and steal the show out and out. So, stand up and shine while I shower you with love, wishes and oodles of kisses!!!
Dear hubby, every birthday I look at you and see you another year older, and then I think "he is getting as charming and younger as ever!" Wow! Now, where is he getting all that charm and youth fullness from?!!! Of course, from me, his loving and caring wife! Never mind, as long as you are happy, honest and high on me, all that charm can get unlimited every birthday. I just want to add to that charm every birthday with loads of fun, laughter and joy!!! Let's celebrate!
Like the refreshing, hot coffee I enjoy every day, you, my hubby, add refreshing feelings of love to my mind, heart and soul on every birthday of yours. You steam into my life every birthday! So, here is your brimming cuppa of care and cuddles! Together, let us brew another birthday with a bang!
Happy birthday, my dear husband. I am all ready to totally cake you up and drown you in showers of cream. Get set for a super merry and messy birthday bash. Keep loads of wet wipes handy, for here I come with the messiest merrymaking on your special day! Don't run, don't hide, I am gonna find you and the kids will join me too!! Let the fun begin!!!
Short Birthday Wishes For Your Husband
Here are some short amazing birthday wishes you can send to your dear hubby
Each day is blessed and gifted, and I am happy to share them all with you. Happy birthday, my sweet pie!
Here's to counting endless happy days with my dear hubby! Happy birthday.
Here's to the man who will always have my heart. Happy birthday, darling!
Another year older and another year wiser. Happy birthday my favourite!
May God bless you with everything you wish for in this world. Happy birthday, baby!
Happy birthday to the man I'm so lucky to have. You are an epitome of a gentleman!
You're proof that not all heroes wear capes. Happy birthday, my favourite superhero!
You deserve the world, baby. Happy birthday.
You are an amazing person and the most wonderful husband on the planet. I love you! Happy birthday, hubby!
You are just like cheese; ageing and still pretty! Happy birthday, my mozzarella!
Long Distance Birthday Wishes For Hubby
Here are some long amazing birthday wishes you can send to your dear hubby
No matter wherever we are, my love for you is plenty, and it grows stronger with every single day. Happy birthday, darling!
You don't always have to make big gestures for me or be with me to make me feel loved. A simple thought of you can make me glee in pleasure. Happy birthday, love!
It's ok if we can't celebrate this special day together. I hope that you enjoy yourself and know that I miss you. Happy birthday, dear!
I had poured tonnes of love into this birthday wish before sending it to you. Wishing you feel my love no matter how far apart we are. Happy birthday!
Days without you are the hardest, but I will always wait for you with wide open arms! Happy birthday!
Even though your absence makes me cold, your deep love keeps me warm. Happy birthday, love!
Another year wiser. My heart is forever there with you, no matter where you are now. Happy birthday!
Wish I could fast-forward the time so we can be united and I could stay in your warm presence. Today, I'll settle for knowing that you are having a blast. Happy birthday, my favourite person!
When two people deeply love each other, distance can never make them apart. Happy birthday, love!
Distance only makes our love deeper every passing day. I know you are feeling it too. Happy birthday, dear hubby!
Now, that we have provided you with so many wonderful birthday messages for your dear husband, take your pick according to your husband's personality traits, his likes, and his dislikes. He will be delighted with your creativity and thoughtfulness. Plan a memorable birthday party for your husband! We are also sure you will be expecting your hubby to come up with some amazing birthday wishes to wife from husband. So, look out for our article on that!
Infographic: Happy Birthday Wishes for Husband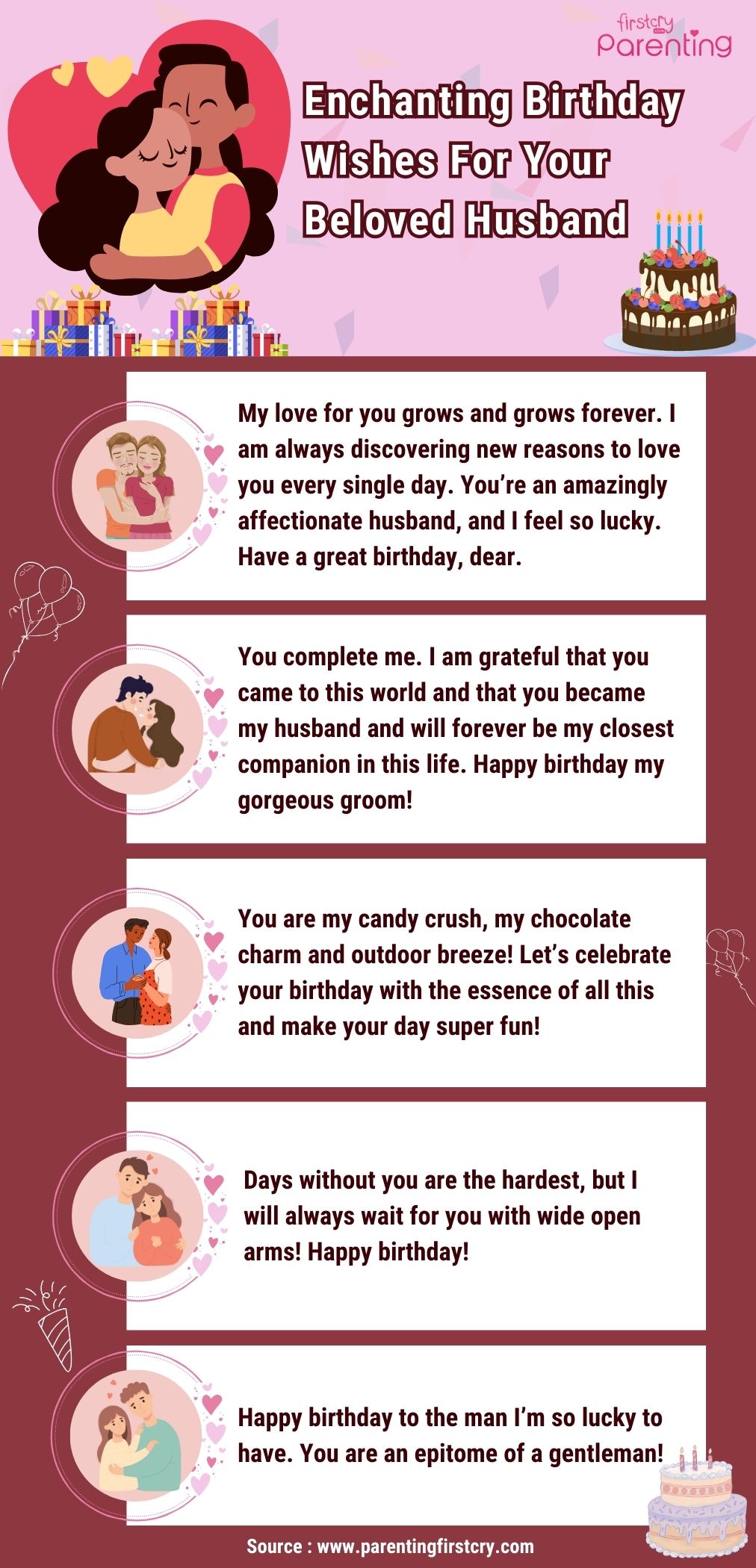 Also Read:
Most Unique Birthday Surprises for Your Husband
Fascinating Birthday Celebration Ideas for Your Husband
Unique Birthday Gifts Ideas for Your Husband