20 Awesome Thanksgiving Games Perfect For The Whole Family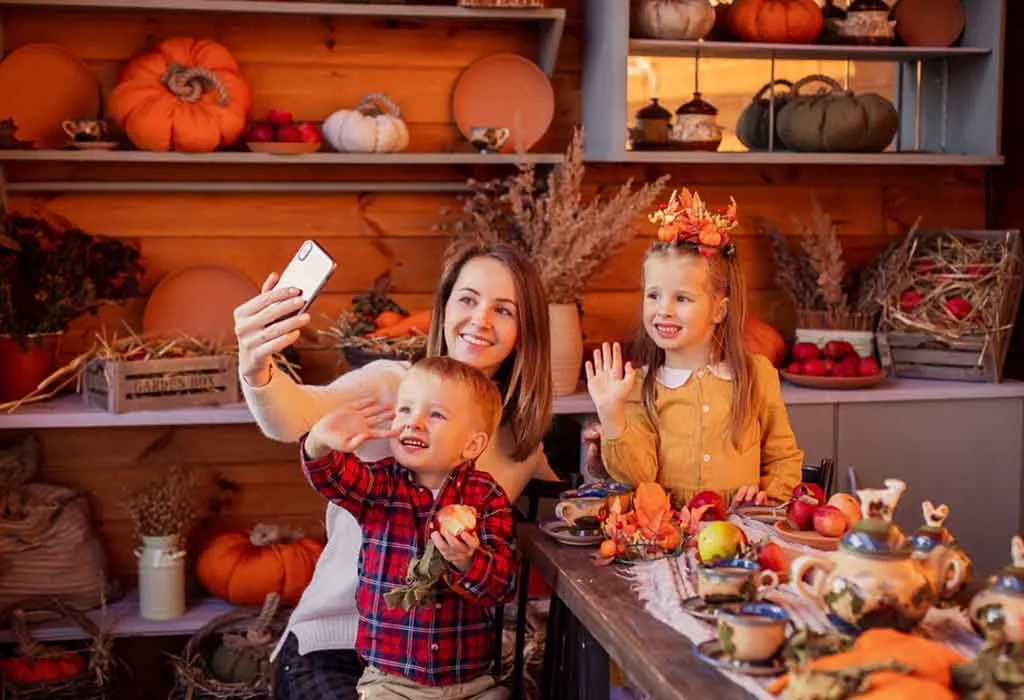 Apart from being a celebration of the fall harvest, Thanksgiving is a national secular holiday to express gratitude for the blessings that have been bestowed upon us the previous year. A virtue that most of us have either forgotten or won't do enough of these days. Historically, this annual holiday began in 1621 with the celebration by the Pilgrims, who called it their "First Thanksgiving." This day is important as it reflects a sense of interconnectedness among people and cultures. It reminds us to appreciate all that's joyful in our lives, including our family, friends, and colleagues, along with our good health. While enjoying the traditional Thanksgiving feast with turkey and pie, we should also focus on reconnecting and spending time with our loved ones. When you have a house full of guests, finding the right games to play on thanksgiving can be a real challenge. A great mix of activities and classic games with a new makeover act as an ideal ice-breaker for starting a conversation while making kids run around and be active. Thanksgiving games for adults help unwind, relax and vocalize thoughts on things that one is thankful for. Although due to the ongoing pandemic, it may not be possible to meet in person on Thanksgiving. However, there are many ways to connect with people worldwide through digital portals. Virtual thanksgiving games that are suitable for all ages present an opportunity to teach children about the important values of this joyous occasion. Here is a compilation of some of the most exciting thanksgiving party games entertaining and keeping the festivities going all night long.
Thanksgiving Games for Kids
When gadgets have taken over, it is important to engage with kids and indulge in Thanksgiving games that reflect upon what they're thankful for and create ways to express their gratitude. So let's take a look at some of the best Thanksgiving games for kids:
1. Turkey Tag
In this game, each kid wears a clothespin tag featuring a bird painted and decorated by them. Anyone "tagged" with the bird has to pin it to someone else without letting them notice, or everyone can run around trying to remove the clothespin from everyone else's back.
2. Thanksgiving Puzzles
You can keep printable crossword puzzle worksheets and word search with fall harvest-themed Thanksgiving puzzle games and let kids drift over to work on it while dinner is getting ready to be served.
3. Thanksgiving Scavenger Hunt Game
For the thanksgiving scavenger hunt, each child writes down the list of fall-related items on a sheet of paper that you can hide in the backyard of your home. Then, another copy of the list is given to each player who has to find the hidden items within a specific time. The kid who finds the most number of items will be the winner.
4. Thankful Jar
This activity combines a fun game and craft. Kids get to make and decorate a jar, in which they put notes of what they are thankful for. Reading the responses can help take a trip down memory lane and show how grateful we are for everything we have.
5. Stuffed Glove Turkey Puppet Show
You can transform the old winter gloves into turkey props for a post-meal puppet show. Each family kid can build a story or develop their own stories with puppets as a protagonist to their tale.
6. Turkey Shooter Game
While one kid becomes the target posing as a turkey, the 'turkey' can either stand still or move to make the game more challenging. Others try hitting the 'turkey' by putting marshmallows or pom-poms into their shooters. The player who manages to shoot the maximum number of times becomes the winner.
7. Thanksgiving Photobooth Prop
Making hilarious photo booth props and streamers for a candid photo moment can make this year's Turkey Day special. Add a fun caption to each of the faces with comical expressions to provoke laughter and giggles among kids.
8. Pumpkin Toss
You can use the pumpkin base as cutouts with point values assigned to them out of thick poster board or cardboard. Then, as balls or bean bags are used to toss them through the cutouts, the one who wins can be offered an extra slice of pie as a prize.
9. Online Memory Game
While you give thanks and tuck into your delicious dinner, play Thanksgiving-themed memory games. These are versatile activities for kids of all ages and can be played on the PC, tablet, and smartphone. Matching Old Maid, Pilgrim Hats, picture grid, and Go fish are a few of them to help improve memory and attentiveness in kids.
10. Pumpkin Photo Display
This activity creatively engages kids on Thanksgiving. First, they need to brush the mini pumpkins with a primer and make a hole on top of each pumpkin with a hammer and nail under supervision. Then, after painting it with bright acrylic paint, they need to loop a 12-inch long floral wire around a marker and make a coil at one end. Post inserting the other end of the wire into the pumpkin, kids can attach a family photo to the coil.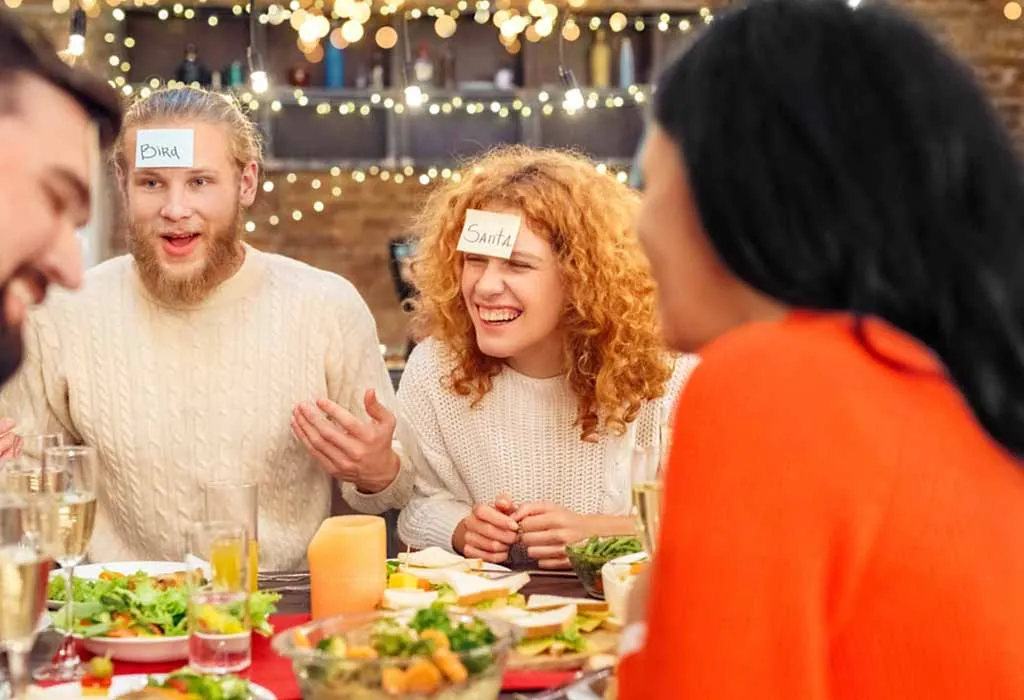 Thanksgiving Games for Family Members
With most of us leading a hectic life, festivals like Thanksgiving provide a perfect day to rest, unwind and engage in fun family time. Apart from the rituals and customs, meaningful and creative Thanksgiving games for family members uplift the spirit of the occasion and create wonderful memories together. So, set aside your differences and start playing these games with your family members;
1. Turkey Waddle
This silly Thanksgiving game packed with laughter gets the entire family out for a relay race to shake off all inhibitions and complacency. You can use balloons between the legs and try to get to the finish line first.
2. Board Games
Regardless of age or tabletop experience, board games are a no-brainer. Choose one based on the age groups, and you're sure to have them spend several hours on an epic strategy game. Rhino Hero, Ticket to Ride: New York, Detective Club are favorite quick and easy to play games for adults.
3. Thanksgiving Charades
The game's object is to make others guess what an actor is describing with actions without speaking. Only this time, it has to be words and phrases that are seasonal and festive for taking this game up a notch. Acting out "cranberry sauce" and "pumpkin pie" might be hard, but that adds to the fun.
4. Conversation Starter
When we struggle to socialize with our family and extended members over a Thanksgiving dinner, this game can spark conversations effortlessly. Guests can either write a few of their own questions or write them yourself before. Each participant has to pick them from a bowl and go around the table, taking turns answering them. Questions can range from "What is your least favorite food?", "Where have you always wanted to travel but haven't yet."
5. Turkey Hunt
This game keeps your family active before and after a Thanksgiving meal. But, first, guests need to race around the yard to find the numbered turkeys. The first person who finds all of the turkeys and marks them off on their game card is the winner.
6. Thanksgiving Jokes and Fun facts Printable
You can lighten up the mood of the family get-together before dinner with this activity. Scatter these jokes and fun facts about Thanksgiving across the center of the table or keep them in a bowl to let the guests take turns telling the jokes and share facts on this festival to enlighten others.
7. Thanksgiving Would You Rather Game
Games don't necessarily have to have complicated instructions to be fun… This game can reveal some interesting characteristics of your family members that you probably didn't know before. Some questions on the card can be like, "Would you rather walk around with mashed potatoes" or "stuffing in your pocket?" "Pull the wishbone or eat a drumstick?"
8. Macy's Parade Thanksgiving Drinking Game
Watching the televised parade may be your family's annual tradition on Thanksgiving Day but make it more fun by mixing it up with a drinking game ( not necessarily alcoholic, though!). "Drink every time a musical performer messes up the lip-syncing" offers a moment of a laugh as everyone takes turns to goof it up.
9. Online Kindness To-Do List
This game boosts morale and motivates team members to perform random acts of kindness. To launch the challenge, give each teammate a list of tasks to accomplish within a particular timeframe set by you. They can check off every item on the list. Ask teammates to share and reflect on the experience after the activity and give points to the kindest deeds.
10. Virtual Thanksgiving Trivia
This game can spice up your holiday party as you can quiz your cousins on little-known nuggets of trivia. But, of course, the one who actually knows most about this Thanksgiving festival gets bragging rights for the rest of the year! From the president refusing to declare Thanksgiving as a holiday to what inspired the first TV dinners. These Thanksgiving facts will provide the perfect antidote to politics and petty arguments that always seem to crop up during a family get-together.
As we all know, Thanksgiving Day can be a long one with the customary turkey and desserts to be cooked, playing football, volunteering to serve food at homeless shelters, breaking Turkey's wishbone, or watching the Thanksgiving parade on TV. You can plan this day well so that every member of your family can feel happy to be involved in this celebration. Creating a DIY craft and fun thanksgiving games can reinforce verbal, listening, social, fine motor, math, reading skills, and imagination. While celebrating this day as an acknowledgment of our blessings helps us be more positive in our attitude, relish good experiences, deal with adversity, and build better relationships with people around us to stave off feelings of isolation and restlessness.
Also Read:
Thanksgiving Quotes and Messages for Family and Friends
How to Say Thanks to Your Mother on Thanksgiving
Thanksgiving Leftover Recipes You Should Try