10 Best Father's Day Brunch Ideas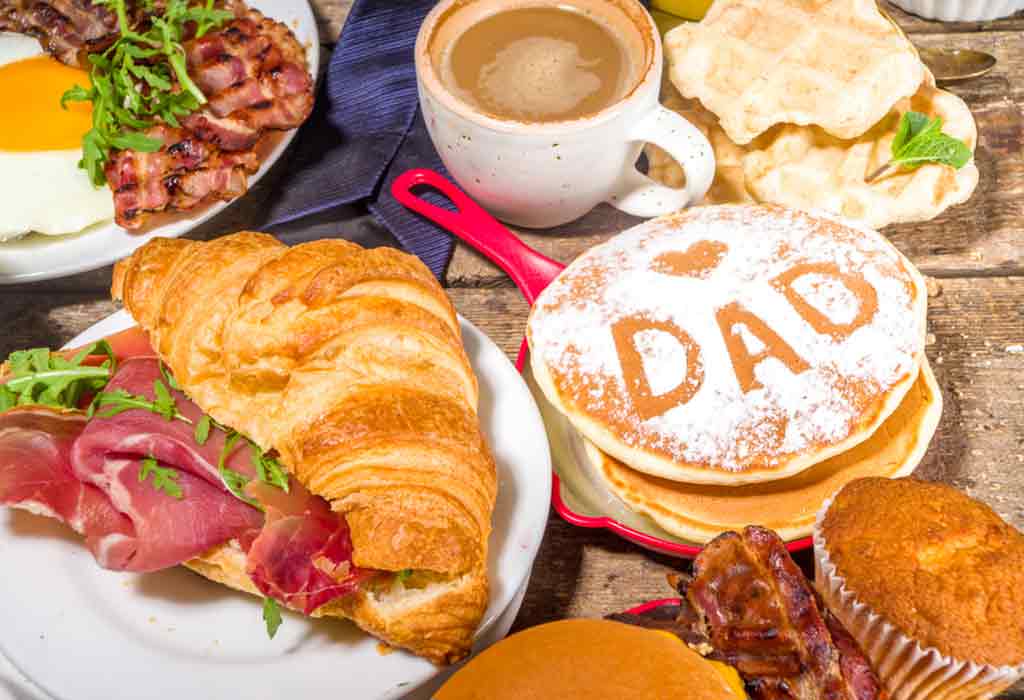 In this Article
Our fathers are the heroes who care for us, guide us, and support us in every way. Father's Day is celebrated worldwide to recognize all fathers and father-figures who make an invaluable contribution to the lives of children and families. You can invite your family to come together to kick back and relax over a hearty meal. The best way to help your father start his day right is by serving the most delicious brunch recipes that would cater to his taste buds and make him feel extra special.
Easy Father's Day Brunch Recipes Your Dad Will Love
No matter how successful we become, our first identity is that we are someone's son or daughter. Fathers inspire us, teach us the right values, and give us the strength to fight back against all adversities. They might have been the bread winners for your family, and maybe, some of their sacrifices have gone unnoticed. Hence, we need to acknowledge the precious and unconditional bond between a father and his children by celebrating Father's Day in a meaningful way.
There are a million ways to celebrate this day! You could arrange for a backyard picnic brunch, accompanied by sunshine and some fun outdoor games. You can go fishing, take a splash together at the pool, talk about your family history and share stories, play favourite board games, or go out on a hiking trail if the weather is fine. And while a handmade card, flowers, or a gift may be super thoughtful, nothing quite matches up to waking up on a lazy Sunday morning to the aroma of mouth-watering brunch. With Father's day around the corner, you should not be left wondering how to impress your awesome dad!
You can never go wrong with a solid Father's day brunch menu, followed up with a scrumptious Father's day lunch. It is important to prep up for the day ahead of time, so that you can enjoy this day with your loved ones instead of toiling in the kitchen. Here are some of the best brunch ideas that your father is sure to love, and can satisfy even the manliest of appetites!
1. Baja Fish Tacos
Fried fish with sharp cabbage and some gooey, creamy spiciness stuffed in soft tortilla shells make the perfect Mexican meal for lunch at home without booking a trip to Baja!
Total Time Taken – 45 Minutes
Servings – 4-6 Servings
Ingredients for Filling
Shredded cabbage – 2 cups
Garlic – 1 small clove
Sour cream – 1/2 sour cream
Fresh lime juice – 1 tbsp
Tomato – 1 small, diced
Cilantro – 2 sprigs
Jalapeno – 1/2 small
Kosher salt – 1/2 tsp
How to Prepare
Make the cabbage slaw.
Stir together the cabbage, garlic, sour cream, tomato, cilantro, jalapeno, salt, and lime juice in a large mixing bowl.
Cover and refrigerate.
Ingredients for the Fish and the Tacos
Vegetable oil for frying
Cod, haddock fillets or tilapia fish – 1 pound
Kosher salt – 1 tsp
Garlic powder – 1/2 tsp
Cayenne pepper – 1/8 tsp
Egg – 1
Cold beer or ice water – 1 cup
Fish fry mix – 1 cup
Corn tortillas – 20
Garnish – lime wedges, finely chopped cilantro
How to Prepare
Heat oil in a skillet. Cut the fish into long strips.
Stir together the salt, garlic powder, and cayenne in a small bowl. Sprinkle the mixture on the fish.
Beat the egg lightly with beer or water. Add the tempura mix, and stir.
Dip the fishes in the batter, and cook for 5 minutes in the skillet. Remove onto a paper towel once done.
Warm the tortillas in an oven.
Then, assemble a taco with a tortilla, a few pieces of fried fish, and coleslaw. Sprinkle with chopped cilantro.
Serve immediately with lime wedges!
2. Peanut Butter Pancakes with Chocolate Chips
In case your father has a sweet tooth, these deliciously decadent peanut butter-infused pancakes studded with chocolate chips will definitely cater to his cravings and serve well as a dessert.
Ingredients
Multigrain pancake mix – 1 cup
Egg – 1
Peanut butter – 1/2 cup
Milk – 1 cup
Vanilla extract- ½ tsp
Semisweet chocolate chips – 1 cup
Unsalted butter – 1 tbsp
Baking powder – 2 tsp
Total Time Taken – Under 30 minutes
Servings – 4
How to Prepare
Mix the milk, egg, and peanut butter in a bowl. Set aside.
Combine the flour, salt, and baking powder in a separate bowl. Add in the chocolate chips, and mix thoroughly.
Pour 1/4th cup of the pancake batter on a hot skillet over medium-high heat.
Cook the bottom side until bubbles pop on the surface of the pancake. Then, flip over to cook the other side.
Serve warm with honey or syrup!
3. Pimiento, Cheese, and Ham Scramble
This safe recipe brings out the flavours of a favourite Southern Staple. It's super quick to make, and tastes great!
Ingredients
Eggs – 8
Hot sauce – 1 tsp
Kosher salt – 1/2 tsp
Pepper
Olive oil – 1 tbsp
Thinly-sliced deli ham – 3 oz
Medium-roasted red pepper – 1
Scallions – 2
Extra sharp cheddar – 2 oz
Cream cheese – 2 tbsp
Water – 1 tbsp
Total Time Taken – 15 minutes
Servings – 4
How to Prepare
Whisk together the eggs, hot sauce, water, salt, and pepper.
Heat olive oil in a skillet over medium heat. Add in the ham, and toss for 2 to 3 minutes.
Add the roasted red pepper, and cook for 1 minute. Transfer to a plate.
Add the egg mixture to the skillet, and cook for 3 minutes till they're medium soft.
Fold in the ham, peppers, scallions, Cheddar, and cream cheese.
Serve hot with buttered toast and juice or coffee!
4. Smoky Red Pepper Hash Browns
If you have an eye on your father's health, this classic home-style recipe lightens up the classic hash browns a little by baking them in the oven instead of frying them.
Ingredients
Russet potatoes – 2
Eggs – 2
All-purpose flour – 2 tbsp
Butter – 2 tbsp
Salt – 1 tsp
Small red pepper – 1
Small red onion – 1/2
Smoked paprika – 1/2 tsp
Total Time Taken – 1 hour
Servings – 6
How to Prepare
Preheat the oven to 450 degrees F. Spray a large cookie sheet with non-stick cooking spray.
Mix all the chopped and grated ingredients together in a large bowl. Divide evenly into 12 mounds on the prepared sheet, and flatten them into patties. Spray their tops with the cooking spray.
Bake the hash browns for 20 minutes until golden-brown. Turn them over for another 15 minutes.
Serve immediately. Alternately, you can make up to 2 hours in advance, and reheat them at 350 degrees F.
5. Buttermilk Waffle Bacon and Egg Sandwich
This perfect brunch sandwich is easy to make, and keeps your family full for a long time.
Ingredients
All-purpose flour – 3/4 cup
Baking powder – 1½ tsp
Baking soda – 1 tsp
Kosher salt – 1/4 tsp
Eggs – 10
Buttermilk – 1¾ cup
Unsalted butter – 3 tbsp
Cooked bacon – 16 slices
Baby spinach – 2 cups
Maple syrup
Total Time Taken – 25 minutes
Servings – 8
How to Prepare
Heat the oven to 200 degrees F. Whisk together the flour, baking powder, baking soda, and salt in a large bowl.
Beat 2 egg whites until they form stiff peaks. Set aside.
Whisk together the 2 egg yolks, buttermilk, and butter. Add the flour mixture, and stir. Gently mix in the whites.
Cook the batter in a waffle maker until golden brown. Transfer the waffles to a foil-lined baking sheet, and place them in the oven to keep warm.
Cook the remaining 8 eggs. Then, cut the waffles into half, and make sandwiches with eggs, bacon, and spinach.
Drizzle with maple syrup, and serve!
6. Sunny Side Up Pizza
If your dad happens to be a pizza fan, this can be the right brunch option.
Ingredients
Cornmeal
Flour
Pizza dough -1 lb, thawed if frozen
Dijon mustard – 1 tbsp
Coarsely grated Gruyere – 1 cup
Thinly sliced deli ham – 1 packet
Spinach – 1 bunch
Large eggs – 4
Green salad
Total Time Taken – 25 minutes
Servings – 4
How to Prepare
Heat oven to 450 degrees F. Dust a large baking sheet with cornmeal.
Shape the pizza dough into a 16″ circle on a lightly floured surface. Place it on the prepared sheet.
Spread mustard over the pizza dough. Sprinkle with 3⁄4 cup of cheese. Top with ham, spinach, and the remaining 1⁄4 cup of cheese.
Crack the eggs into a small bowl, one at a time. Slide them onto a pizza. Bake for 15-17 minutes until the egg whites are set and the crust becomes golden brown.
Serve with a salad!
7. Huevos Rancheros
This Mexican staple recipe for mid-morning hunger pangs ensures that you can be out of the kitchen in no time.
Ingredients
Pink beans – 1 can
Chopped cilantro – ¼ cup and 4 tsp
Salsa – 10 tbsp
Cooking spray
Large eggs – 4
Corn tortillas – 4
Total Time Taken – 25 minutes
Servings – 4
How to Prepare
Reserve ¼ cup of beans. Mash the remaining beans with ¼ cup chopped cilantro and 2 tablespoons of salsa.
Coat a 12-inch non-stick skillet with cooking spray.
Crack the eggs into the skillet. Cover and cook on medium heat for 4 minutes until the whites set.
Now, spread the bean mixture on warm corn tortillas.
Top each tortilla with eggs, 2 tablespoons salsa, 1 tablespoon reserved beans, and 1 teaspoon chopped cilantro.
8. Blueberry Quinoa Muffins
Moist, gluten-free, and heavenly to taste, these fluffy muffins contain the healthiest of ingredients.
Ingredients
Oat flour – 1¼ cup
Cinnamon – 1 tsp
Baking powder – 1½ tsp
Salt – 1/4 tsp
Large egg – 1
Vanilla extract – 1 tsp
Greek yogurt – ½ cup
Almond milk – 3/4 cup
Maple syrup – 1/4 cup
Blueberries – 1 cup
Brown sugar – ½ cup
Quinoa flakes – 1 cup
Total Time Taken – 30 minutes
Servings – 10 muffins
How to Prepare
Preheat the oven to 350 degrees. Combine the dry ingredients in a large mixing bowl.
Combine the liquid ingredients in a separate bowl.
Slowly pour the liquid ingredients into the dry ingredients, and mix.
Once the batter is smooth, add in the blueberries, and mix lightly.
Pour the batter into a lined or lightly oiled muffin tin.
Bake for 30 minutes until the muffins are of a dome shape. Insert a toothpick to check if it comes out clean to ensure that the muffins are baked through.
Serve warm or cool!
9. Mediterranean Chicken Salad
Give your father's morning a fresh start with this perfect summer delight bursting with the savoury, herbaceous flavours of the Mediterranean.
Ingredients
Olive oil – 3 tbsp
Red wine vinegar- 2½ tbsp
Dijon mustard – 1 tbsp
Kosher salt and freshly ground black pepper
Thinly sliced scallion – 2
Chopped flat-leaf parsley – ¼ cup
Pitted green olives, roughly chopped – ¼ cup
Chopped roasted almonds – ¼ cup
Boneless, skinless poached chicken breasts – 1 ½ lb
Total Time Taken – 35 minutes
Servings – 4
How to Prepare
For the poached chicken:
Fill a medium-sized saucepan halfway with water, and boil it. Add chicken breasts and salt, and simmer until cooked for 12-15 minutes.
Transfer to a plate. Shred the chicken into pieces after cooling completely.
For the salad:
Whisk the oil, vinegar, and mustard in a bowl, and season with salt and pepper.
Add the scallions, olives, almonds, parsley, and chicken, and toss well to combine.
Serve with a baguette!
10. Crepes with Strawberries and Lemon Curd
Remind your dad of that European vacation when he loved those homemade crepes served with tart lemon curd and fresh strawberries!
Ingredients
All-purpose flour – 1 cup
Whole milk – 3/4 cup
Large eggs – 2
Unsalted butter, melted – 3 tbsp
Sugar – 1 tbsp
Sliced strawberries and lemon curd for serving
Total Time Taken – 1 hour 30 minutes
Servings – 6
How to Prepare
Put the flour, milk, eggs, sugar, butter, and 1/2 cup water in a blender. Blend for 10 seconds until mixed thoroughly.
Refrigerate for 1 hour, or up to 2 days
Melt 1 teaspoon of butter in a non-stick skillet over medium heat.
Add 3 tablespoons of batter, and spread it evenly to cook for 30-40 seconds until golden.
Lift one edge of the crepe with a spatula, and gently flip it over.
Cook for another 30-40 seconds.
Remove from the skillet, and repeat the same for the remaining batter.
Serve warm with strawberries and lemon curd!
Traditionally, Father's Day has been celebrated since the early 20th century. In the US, Father's Day has been celebrated since June 1908. On such a significant day, toast and tea are not going to cut it! While the endless list of recipe options can get overwhelming, this curated list of yummy Father's Day breakfast ideas, fit for a king, is sure to surprise and cheer up your dad. He will love this gesture, and it will create priceless memories that he can look back on for years to come!
Also Read:
Fathers Day Gifts You Should Avoid
Last Minute Father's Day Gift Ideas
Ways to Honour your Dad on Father's Day