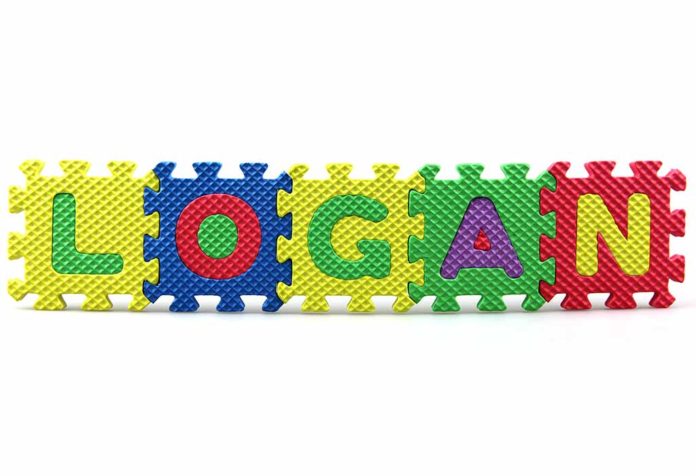 Logan is a name that has appeared numerous times in pop culture, be it in movie franchises, TV Series, or books. While these factors may inspire you to choose this name for your son, there are many more reasons why Logan can be the perfect choice for your child. Keep reading to know more!
What Does Logan Mean?
The meaning of Logan can be stated to differ with its place of origin. The name means "hollow" or "little hollow." This is also the most common meaning that is known regarding the name. However, as per its Irish origin, the meaning of Logan can be translated as the "descendant of Leochán'" from the Gaelic personal name Ó Leocháin.
Origin
The origins of Logan have been traced back to Scotland as well as Irish roots. As per its Scottish and Northern Irish origins, Logan is derived from the Gaelic lagan, a habitational name mainly famous near Auchinleck. On the contrary, as per the Irish roots of the name, Logan is the Anglicized form of Ó Leocháin.
Gender
Male
Pronunciation
Syllables
2 Syllables
Length/Letter
5 Letters
Name Variations/Spellings
Different spellings for a common name often reflect cultural connotations and cultural elements of different places and regions. Similarly, Logan name variations can also help you do the same, presenting such varying cultural influences on the spelling and pronunciation of the name. Here are some other spellings for Logan:
| | |
| --- | --- |
| Name | Origin |
| Logen | Scottish |
| Logyn | Scottish |
| Logon | Scottish |
| Logun | Scottish |
| Loghan | Scottish/Gaelic |
| Lohan | French |
| Loughan | Irish |
| Login | Celtic |
How Popular Is the Name Logan?
Logan is a considerably popular name in the current scenario. As identified through the SSA data on baby names each year, the name has consistently stayed within the top 40 names for boys since 2000. The Logan popularity index was especially high in 2017 when it ranked five. Following this, while the ranking of the name dropped down to rank ten in 2018 and at rank 16 in 2019 and 2020, the overall Logan baby name ranking seems incredibly optimistic. This implies that the name is bound to stay consistently popular, and your baby will be named one of the most trendy names currently.
Interest in Logan – Worldwide
The highest popularity for the name Logan was recorded in the middle of the decade. It recorded a popularity score of 100 in March 2017, while the lowest score of 14 was recorded multiple times within this period.
Interest in Logan – the US
The interesting trend for Logan in the US has stayed consistently low, except for small bursts of increased interest since 2017. The highest popularity score was recorded recently in June 2021, with a score of 100. On the contrary, the lowest score was in February 2012, with a score of just 12.
Popularity of the Name Logan
URL: https://www.ssa.gov/cgi-bin/babyname.cgi
Where Is the Name Most Searched?
Search Trends of Logan – Worldwide
Despite the name having Irish, Scottish, Celtic, and Gaelic roots, Romania's highest search trends were generated. Romania is followed by Australia, the United States, New Zealand, and Canada to complete the top five countries with the most searches.
Search Trends of Logan – the US
Among the sub-regions of the US, Utah is the one that has generated the highest search results over the last ten years. Following Utah, West Virginia, Massachusetts, Idaho, and New Hampshire are the other four sub-regions that make up the top five sub-regions for Logan.
Middle Names That Go With Logan
Choosing a middle name for your child is as crucial and critical as choosing the first name for your child. This is because it is meant to enhance the overall name, and your child can use it as a preferred name instead of the first name given to them. So, to prevent any embarrassing episodes, here are some stunning double names with Logan that sound smooth and sweet:
| | |
| --- | --- |
| Asher | Anthony |
| Antoine | Ezekiel |
| Isaiah | Isaias |
| Charles | Devon |
| Elliott | Garrett |
| Tristan | Scott |
| Cole | Zachary |
| Vincent | Duke |
| Mitch | Jude |
| Seth | Josh |
Famous People Named Logan
Famous people called Logan can be an inspiration for parents to name their children Logan as well. By hoping that their children will also achieve the same heights of success as such celebrities, celebrity names have become a popular choice. Here are some celebrities named Logan to inspire you:
| | |
| --- | --- |
| Celebrity Name | Profession/Famous For |
| Logan Lee Mankins | NFL Football Player |
| Logan Couture | Canadian ice hockey player |
| Hayes Logan Costner | Son Of Kevin Costner |
| Logan Lerman | Actor |
| Logan Miller | TV Actor |
| Logan Marshall-Green | Actor |
| Logan Paul | Social Media Influencer |
| Logan Green | CEO of Lyft |
| Logan Browning | Actress |
| Logan Whitehurst | Musician |
Similar Names & Last Names
Baby names like Logan that have the same meaning can be a wonderful substitute for this name, especially if you are looking for an entirely different name phonetically. Along with some suitable family names for Logan, here are other names for you to choose from:
Names That Sound Like Logan
Apart from names that mean the same as Logan, many names also mimic the name phonetically. So, if you like the sound of Logan but do not like what it means, then here are some names that rhyme with it for you to choose from:
| | |
| --- | --- |
| Rowan | Vaughan |
| Roland | Clayton |
| Teagan | Boden |
| Johan | Keagan |
| Johann | Ronan |
| Bolin | Eoghan |
| Lucas | Ethan |
| Leighan | Lucian |
| Lexi | Callum |
| Ewan | Sean |
Sibling Names Related to Logan
Sibling names that go with your child also need to be selected carefully. This is since all your childrens' names need to match each other, whether regarding sister names for your son or brother names for Logan. So, here are a few sibling names to choose from:
| | |
| --- | --- |
| Sister Names for Logan | Brother Names for Logan |
| Emily | Dylan |
| Amelia | Jacob |
| Rory | Owen |
| Siobhan | Mason |
| Ava | Carter |
| Leah | Aiden |
| Harper | Jackson |
| Olivia | Hunter |
| Lisa | Austin |
| Quinn | Finn |
Nicknames for Logan
Nicknames are often the product of our creativity, especially with parents calling their children various names based on their personality, a spin-off of their formal names, or whatever they feel like calling them. If you are looking for names similar to Logan, then here are a few suggestions:
| | |
| --- | --- |
| LoLo | GoGo |
| Logie | Log |
| Logi Bear | Loki |
| Granola | Lozenge |
| Lo-bear | LuLu |
| Nagol | Logo |
| Lego | Loguini |
| Wolverine | Logster |
| GaGa | Logi |
| Lo-fi | Logang |
Logan has been a consistently popular name in recent times, and the beautiful phonetic sound of the name and the cultural references make it worthy of it. So, if you are looking for names for your child, then considering Logan is not a bad idea. After all, there are so many fun nicknames you can derive from it, and with the many alternatives in terms of meaning and the way the name sounds, this name is sure to increase your affection for your child.
Sources/References
Social Security Administration: https://www.ssa.gov/cgi-bin/babyname.cgi
Logan Name Popularity in the United States: https://trends.google.com/trends/explore?date=2011-11-28%202021-11-28&geo=US&q=Logan
Logan Name Popularity Across The World: https://trends.google.com/trends/explore?date=2011-11-28%202021-11-28&q=Logan
Logan Name Interest in the United States: https://trends.google.com/trends/explore?date=2011-11-28%202021-11-28&geo=US&q=Logan
Logan Name Interest Across The World: https://trends.google.com/trends/explore?date=2011-11-28%202021-11-28&q=Logan