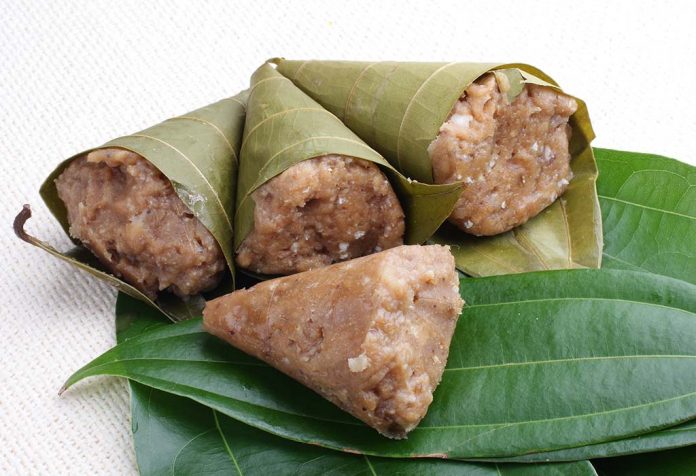 Last Updated on
Kumbilappam is an authentic snack of Kerala and has got a variety of names – vazhanyappam, chakka(jackfruit) appam and so on. Rice flour is mixed with jackfruit, coconut and jaggery to form a smooth dough, which is then wrapped in bay leaves. The yummy taste of jackfruit and the aroma of bay leaves give this dish its unique taste. This easy to cook preparation can be a perfect breakfast or an evening snack.
| | | |
| --- | --- | --- |
| Serves | Preparation Time | Cooking Time |
| 10 People | 25-30 Minutes | 35-40 Minutes |
Ingredients
1 cup rice flour, roasted
1 cup ripe jackfruit, finely chopped
1/2 cup jaggery
1/2 cup coconut, grated
1/4 tsp cumin powder
1/4 tsp cardamom powder
10 – 12 bay leaves
Water as required
Salt to taste
Method
Step 1
Melt jaggery in 1/2 cup water.
Step 2
Combine jaggery, jackfruit pieces, grated coconut, cumin powder, cardamom powder and rice flour in a vessel. Combine well to form a smooth dough.
Step 3
Take each bay leaf and make cone out of it. Add a small portion of dough depending on the size of the leaf. Bend the upper edge of the leaf to close the cone. Repeat this procedure with remaining dough and leaves.
Step 4
Place a steamer with enough water on medium flame. Steam these cones for 30 – 35 minutes. Serve these hot kumbilappams with tea.
Nutritional Information
| | |
| --- | --- |
| Calories | 128 K cal |
| Proteins | 1.4 g |
| Fat | 1.6 g |
| Carbohydrates | 27.3 g |
| Cholesterol | 11 mg |
| Sodium | 504 mg |
| Potassium | 488 mg |