Ideas For Daddy to Bond With Baby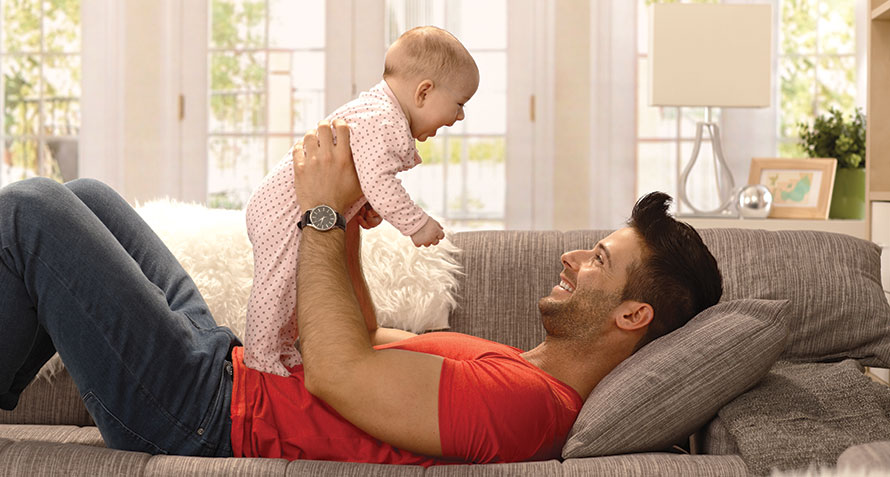 It is a fact well acknowledged – Moms have a special bond with their baby as they carry them for 9 months in their womb. But Dads are nevertheless an integral part of mom's pregnancy and baby's life as well. Thus, it is equally important for dads to build a strong bond with their babies right from the time of birth.
Here Are a Few Ways Through Which Dads Can Bond with Their Babies
1. Babies Love When They Are Soothed
Babies are constantly in need of seeking love and attention, especially when they are crying. Whenever your baby is with you, you can stroke his forehead and head. Kiss your baby on the forehead with love. One important thing here- when your baby is in your arms and starts crying, try and soothe your baby by rocking him slowly and cuddling him rather than handing over the baby to mom. This will build a special comfort feeling in your baby for you.
2. Bathe Your Baby, Especially During Weekends
Having fun with your baby while bathing him is an excellent way to build bond between father and child. You need to be careful as your baby is still fragile, however learning bathing techniques for kids is not so difficult and for sure it is worth the effort.
3. Spend Quality Time
While you are in the process of building that strong bond with your baby, one of the key essentials is to spend quality time with your baby. Spending time every day with your baby talking, playing and being a part of the feeding process will surely help you with a strong and everlasting bond with your baby. ||
4. Singing and Reading to Your Baby
Singing songs, lullabies and reading stories to your baby before bedtime is a sure shot way to building a strong bond with your baby. Your baby will get attached to your voice, to your smile, to the way you sing and eventually with your presence every night. Psst, if you are tired of the same old songs and lullabies, check out these cool new ones your little one is sure to love!
5. Baby Walk Time
Agreed that some dads work till late during weekdays and talking your baby for a walk everyday can be challenging. All said and done spending time outdoors with your baby is essential. So plan for some outdoor time like walking with your baby in a garden during weekends. This helps babies associate pleasant memories with you and in turn build a strong bond with you.
6. Hold Your Baby Close
Physical closeness is essential in building a bond with your baby. Each time you take your baby in your arms, hold your baby close to your body. Let him feel your skin, let him feel your presence. In case you are bottle feeding your baby, then hold your baby close to your chest and feed. This process creates a very positive psychological impact on your baby and helps create a strong bond.
These are just a few ideas you should try when looking to build a strong bond with their baby. Obviously, you can be more creative and do fun things to build that everlasting relationship with your child. Good luck!