Hot Soups to Help Your Baby Battle the Cold Weather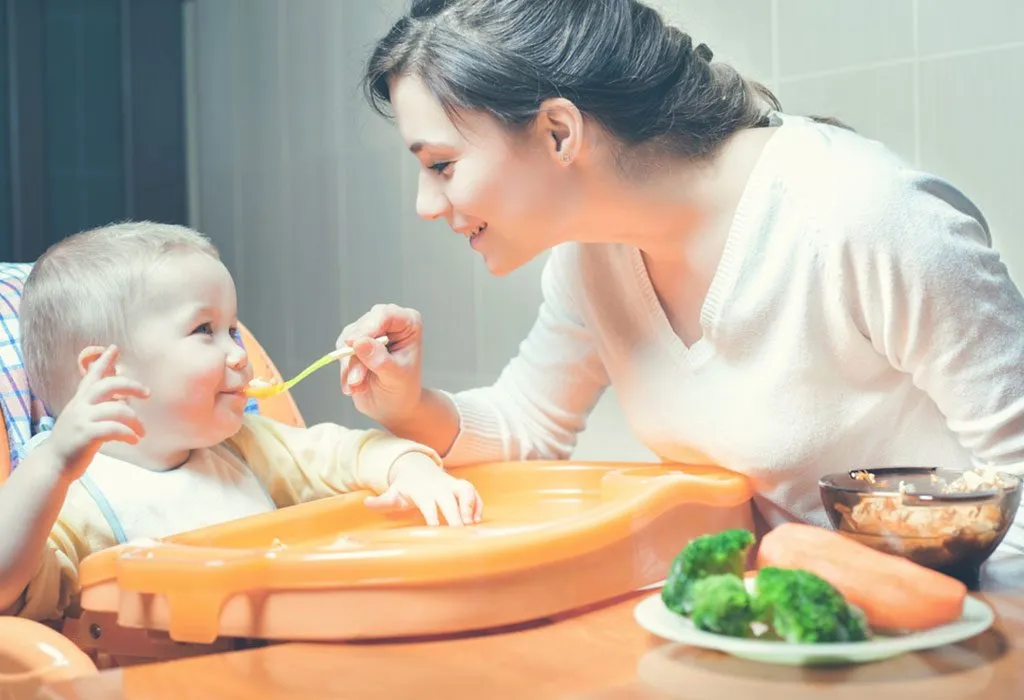 Winter is here and the weather is chilly. It's time to bring out the snuggly sweaters and wrap up your little bundle of joy. Apart from that, hot and hearty beverages are another way to prevent them from common colds and retain heat in their body. Soups are packed with nutrients and taste heavenly when fed lukewarm. They are also easily digestible and a worry-buster for parents with fussy kids.
Soups can be introduced to babies in stages from the age of 6 months to 1 year. Here are some recipes that are healthy and quick to prepare.
Hot Soup Recipes for 6-8 Month Babies
1. Carrot and Moong Dal Soup

Ingredients
1/2 cup chopped carrot
1 tbsp yellow moong dal (split yellow gram), washed and drained
A pinch of kalimirch (black pepper) freshly ground
How to Make
In a pressure cooker, pour water and add chopped carrots, and moong dal to it.
Cook upto 2 whistles.
Once cooled, add 1/2 cup of warm water to a mixer and blend into a smooth paste.
Dilute with water if required.
Season with black pepper and boil it for 2 minutes in a saucepan.
Serve when lukewarm.
2. Rice Soup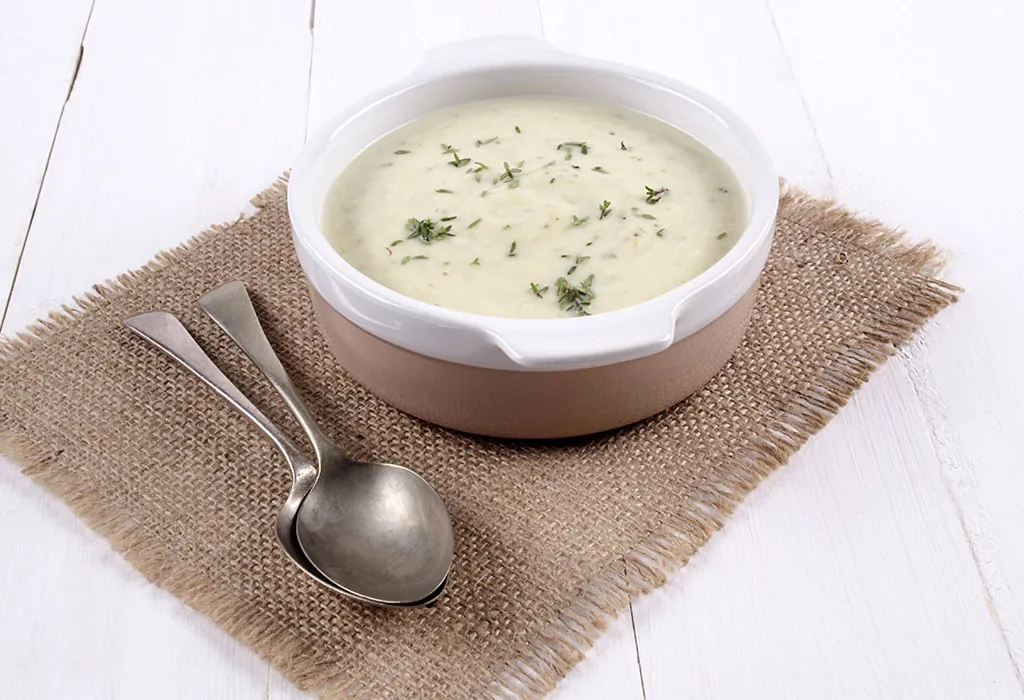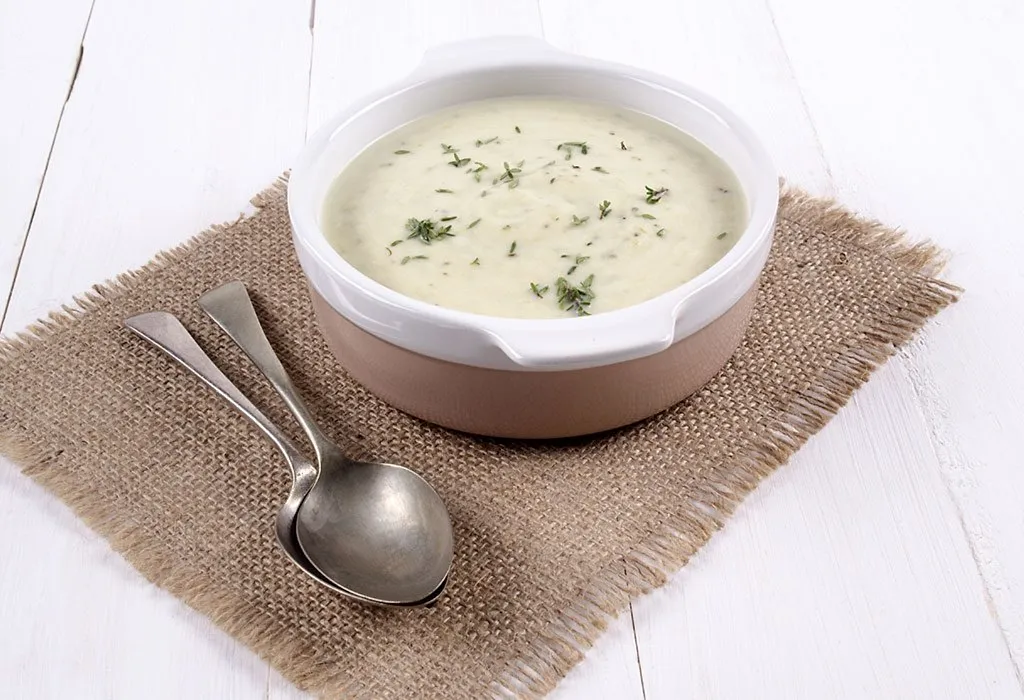 Ingredients
How to Make
Sterilise your baby's bowls and spoons in a vessel with hot water for five minutes before use.
Soak 3 tbsp rice in water for about 15 minutes before draining the water.
Add the rice and 3 times the water to a saucepan.
Cook with or without lid.
Switch off the flame when the rice is fully cooked.
While it's still hot, grind the rice to a fine paste.
You can feed only the soup water or also add in little bit of boiled and mashed rice.
Hot Soup Recipes for 8-10 Month Babies
1. Tomato Soup/ Tomato Rasam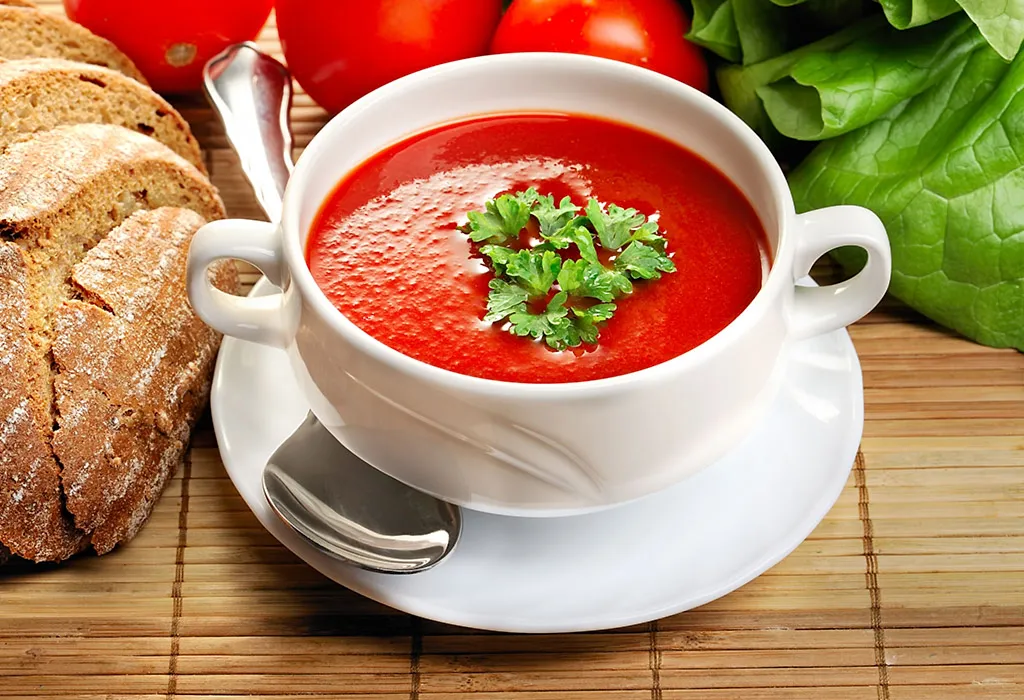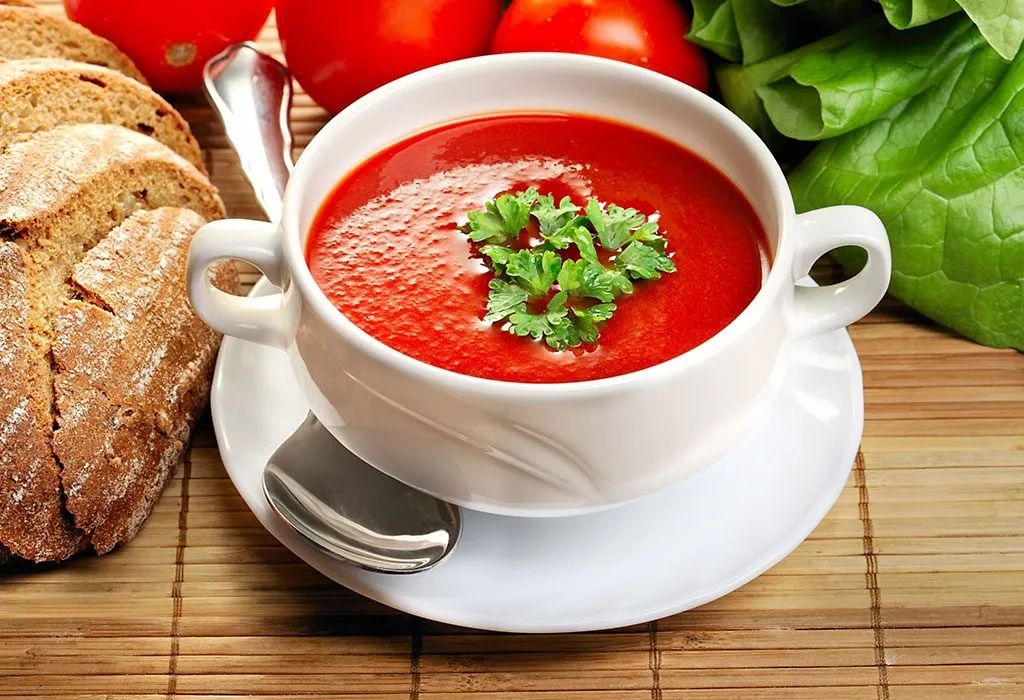 Ingredients
4 red and sweet tomatoes
Pinch of salt (optional)
1/2 tsp butter
1/2 cup water
How to Make
Wash the tomatoes and boil them in water till they're cooked.
Remove the skin and add the boiled tomatoes to a blender.
Add a little water and grind to a puree.
Set a saucepan on the flame and add a little butter.
Add the puree and let simmer for 1 minute.
Butter already has salt in it so additional salt may not be necessary.
2. Chicken Soup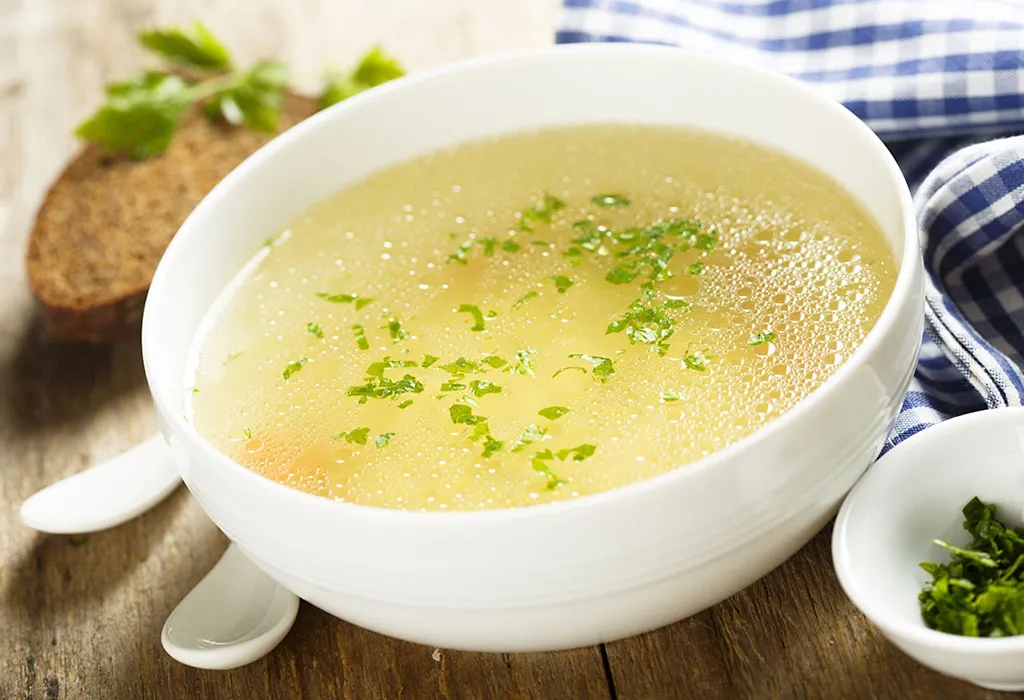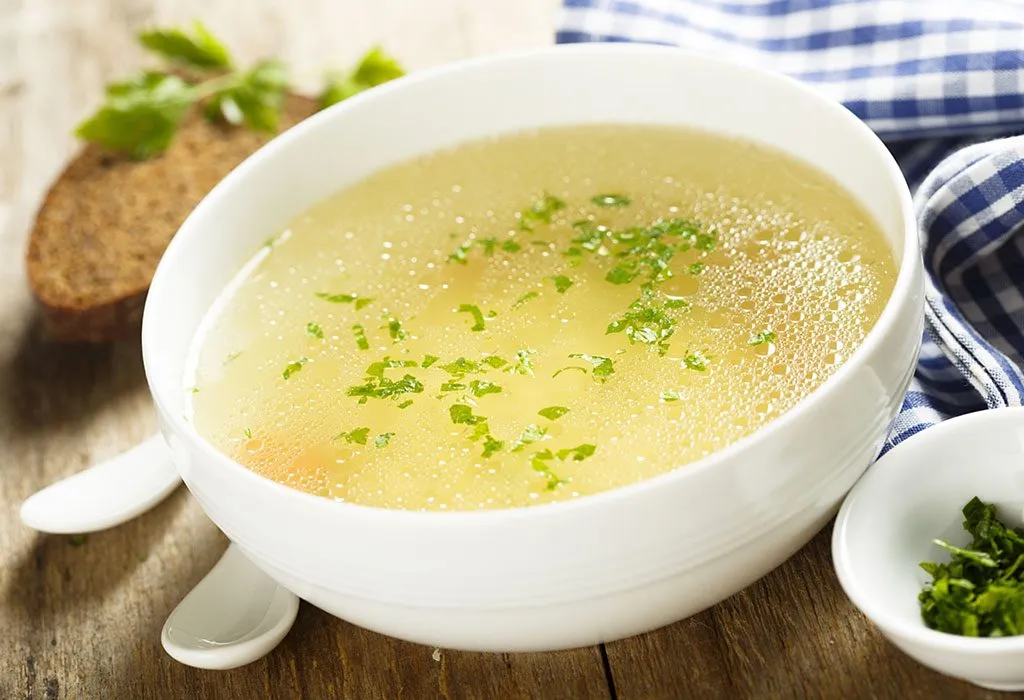 Ingredients
2 Chicken thigh pieces
1 small onion
1 small cup of vegetables (carrot, potato, beans)
1 cup water/ chicken stock
1 spoon butter
How to Make
Wash the chicken and make sure it's clean.
Cut the veggies and onion to small pieces.
Add butter and sautéed onions to a pressure cooker.
Next add the veggies and chicken.
Pour in adequate water and cook for 2 whistles.
Once cool, transfer the contents to a mixer and blend.
Use a sieve to strain out the clear watery chicken soup.
Hot Soups for 10 -12 Month Babies
1.Spinach Soup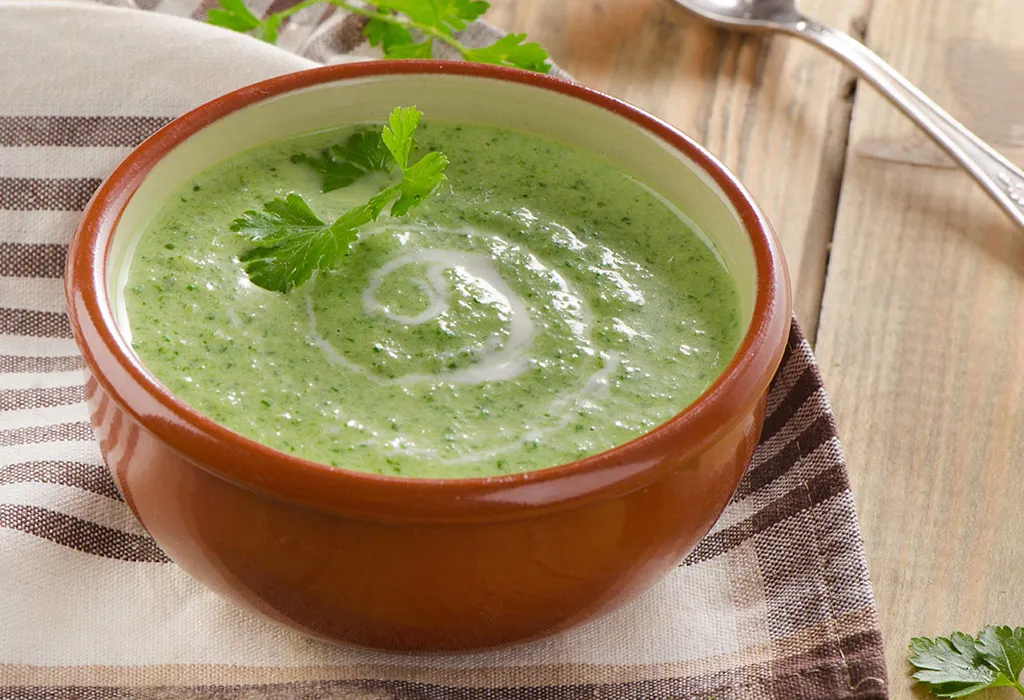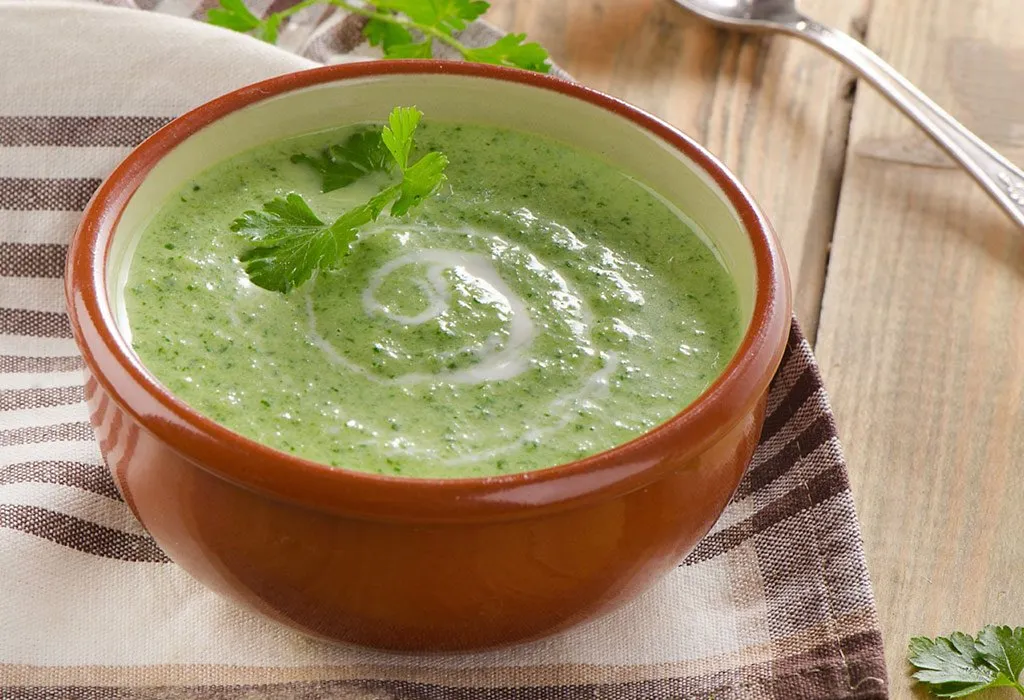 Ingredients
1 cup tightly packed spinach leaves
1 tbsp finely chopped small onions
3 small finely chopped garlic cloves
Pinch of turmeric powder
1/2 tsp butter
1/2 tsp cumin seeds
1/4 tsp pepper powder (optional)
2 cups water
Salt as required
How to Make
Wash the spinach at least twice in running water to remove any dirt and impurities.
Chop the garlic and onions finely.
Heat a pan and add butter and cumin seeds. Let them crackle.
Add the chopped onions and garlic and fry till golden brown.
Now, add the chopped spinach and a pinch of turmeric powder and salt. Mix the contents well.
Pour in 2 cups of water and bring it to a boil for around 7-10 minutes on medium flame.
Set it aside to cool.
Grind the contents to a smooth puree in a mixer.
Filter the spinach soup. This is often optional but recommended for infants.
Hot Soups for Babies Above 1 Year
Cream of Mushroom Soup

Ingredients
1/4 cup mushrooms
2 tbsp finely chopped onions
4 small garlic cloves finely chopped
1 tbsp whole wheat flour
Salt as required
2 tsp ghee
1/2 tsp pepper powder
3/4 cup whole milk
1 tbsp fresh cream
How to Make
Wash the mushrooms in running water and remove their outer layer and stems.
Heat a thick bottomed pan and add finely chopped onions and garlic along with a tsp of butter. Sauté for 2 minutes.
Next, add chopped mushroom and wheat flour and fry them until they leave water. This may take upto 4 minutes.
Pour the whole milk you've kept ready and a pinch of salt and pepper powder.
Boil on a medium flame until the mixture turns slightly thick.
Lastly, add fresh cream and mix it well.
Boil for 2 minutes and set aside to cool.
Tips for Making Soups for Your Baby
Wash the veggies well for mud or dirt.
Feed the soup warm and within 1 hour of preparation.
Start with a spoonful of soup and increase quantity if your baby likes it.
You can add cooked rice to the soup.
It's best to introduce spices after 8 months and one spice at a time.
If the recipe is to be made with formula milk, first prepare the soup with water and then
add the formua milk.
You should take a call on adding salt till the age of 1 year.
They're great for introducing dal, vegetables and fruits to your baby.
Also Read:
Delicious Kheer Recipes for Babies
Easy and Healthy Poha Recipes for Babies
Easy and Delicious Apple Recipes for Infants