Onion for Babies – When and How to Introduce
Onions are used in almost every dish that is prepared around the world. Therefore, many parents wonder if it is safe to feed onions to their babies. The digestive system in your baby will develop as he grows. He, therefore, needs to be weaned on to every food slowly and steadily. This article will provide you with some essential information about the right time to introduce onion into your little one's diet and how to do it safely.
When to Introduce Onion to a Baby
It goes without saying that you should introduce onion into your baby's diet after he or she starts successfully consuming solid foods like fruits and vegetables. Typically, it should be introduced only after the baby is 6 months old, but it is best to introduce it at around 8 months of age, especially if your baby has a sensitive digestive system and experiences bloating after consuming onions, in which case you should wait another year.
How to Give Onions to a Baby
Like with other solid foods, you should introduce onions gradually in small quantities. It should always be cooked to make it easier for your baby to digest it. You can add cooked onion to vegetable purees along with rice, peas or carrots. Make sure you always cook the onions well, so they do not interfere with your baby's digestion and gain as much health benefits as he can.
Health Benefits of Onions for Babies
There are several health benefits of onions for babies. Here are some of them:
They are excellent sources of antioxidants which are essential nutrients that can help your baby fight off diseases.
If your baby has symptoms of asthma, onions have anti-inflammatory properties, which can help reduce the symptoms.
Onions are heart-healthy and can help lower the cholesterol levels in later life.
They are good sources of Vitamin C and can prevent bacterial infections and enhance your baby's immune system.
Your baby's ability to absorb iron from other foods will be enhanced by eating onions.
Onions are great sources of polyphenols (plant nutrients).
Onions are good for a baby's stuffy nose, and people also use onions for curing cough in babies.
How to Choose and Store Onion for Baby Foods
Pungent onions and shallots are the best when you consider their health benefits, but babies have sensitive tongues, so it is better to choose sweeter varieties. Green onions are good for baby teething. Make sure to choose onions which are papery and dry on the outside and don't feel soft. At home, you can store them in a hanging basket so that air can circulate around them. Avoid cutting and storing or freezing onions as they lose their nutritional value.
Important Tips to Remember While Preparing and Cooking Onion for Your Baby
While preparing onions for your baby, always remember that the healthy parts of the onion are in its outer layers. So be careful to just take out the papery skin and not the first few layers as well just because it's easier. Here are some tips to peel an onion:
Place the onion in the freezer 30 minutes before cutting it.
Chop the entire onion and leave the root for the last. It releases the most gas.
Chop onions while aiming a fan at your face
Use a sharp knife. The theory goes that this lessens damage to the onion's cells, releasing less gas.
You can cut onions under running water, but this can make them mushy and cause some nutrient loss.
Below are tips for cooking onions for your baby:
Sauté chopped onions over low heat in some olive oil or any vegetable oil till they become golden and tender.
Cut them into wedges and roast at 350 deg F for 50 minutes to bring out their sweet flavour.
Onions can add flavour to rice as well. Saute them in homemade stock and mix them with barley or rice.
You can use onions as stock for your baby's soups and stews as well.
Tasty Baby Food Recipes With Onion
Below are some tasty onion recipes for your little one:
1. Garden Pea Onion Soup Recipe
This is a delicious and hearty onion soup recipe, perfect for your baby's mid-morning or evening meals.
Ingredients:
½ cup fresh, cooked or frozen peas (thawed)
1 medium-size onion, thinly sliced
1 tsp butter (unsalted)
1 clove
A pinch of cinnamon
½ cup of water
¼ cup milk (you can also use cream or soy milk)
Method:
Heat butter in a pan and saute the sliced onions in it for around 2 minutes. Add the cinnamon and cloves and cook until the onions are tender. Take out the clove.
Add the peas and continue cooking while stirring for 3-4 minutes.
Put the mixture in a blender and puree it until it becomes smooth.
Return it to the pan and add water into it (as much as you desire) while stirring, until it becomes the texture of the soup. Better to add less water so that it stays more of a puree.
Bring the mixture to boil, lower the heat and add the cream/milk. Warm the mixture gently and serve.
2. Baked Sweet Onion Recipe
Baked sweet onions can be added to other recipes, too, to enhance their taste.
Ingredients:
1 onion
1 pinch of black pepper (freshly ground)
1 tsp butter (unsalted)
1 tsp balsamic vinegar
Method:
Preheat oven to 350 deg F.
Peel the onion and after that, cut the top and bottom parts.
Cut the onion in half, along its width, and place both halves on a greased baking sheet. The cut side should be facing up.
Sprinkle pepper on them and put butter on both halves.
Cover with a foil and bake the halves for about an hour until they become completely tender.
When your baby is slightly older, you can try sprinkling some balsamic vinegar on the onion halves to bring out the sweet flavour even more.
3. Onion Rings Recipe
This is a healthy recipe for babies who can bite and chew properly.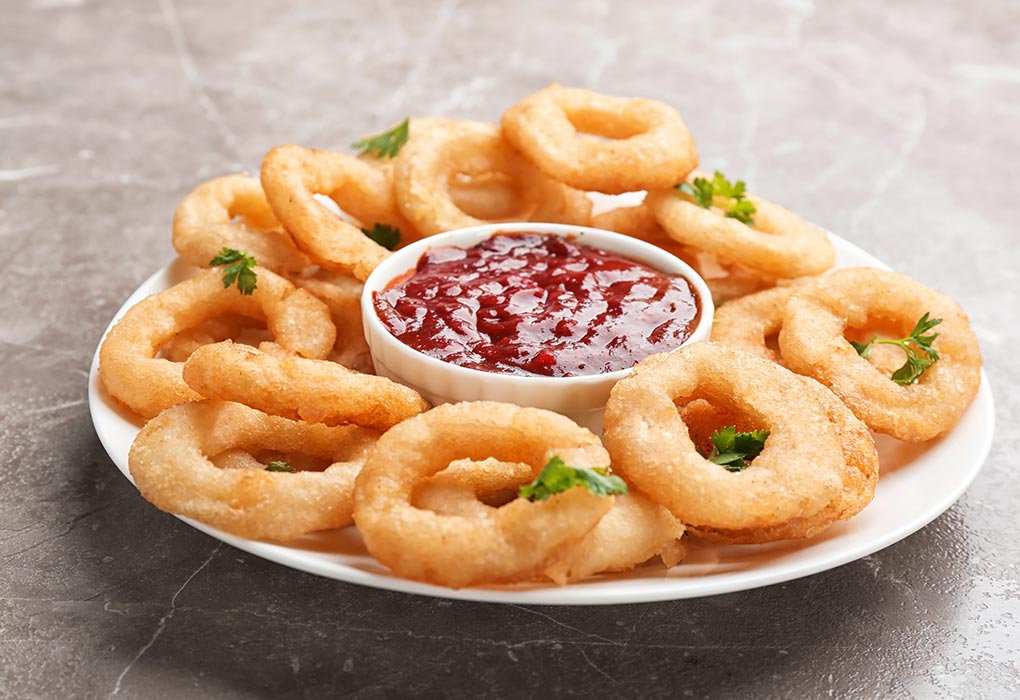 Ingredients:
1 onion (large)
¼ cup yoghurt
¼ cup whole wheat flour
½ cup whole wheat breadcrumbs (dried)
1 tsp oregano (dried)
1 tsp wheat germ
Method
Cut the onion into rings.
Mix the flour, oregano and the wheat germ in a bowl.
Transfer the flour into a clean bag and add the rings.
Close the bag's top tightly with both your hands and shake well, until the flour coats all the onion rings.
Put the bag in the freezer and freeze for 20 minutes.
Mix the oregano and wheat germ into the breadcrumbs.
Take out the onion rings from the freezer and then dip each of them in the yoghurt.
Following that, coat each one in the breadcrumbs.
Place the rings on a greased baking sheet and bake at 400 deg F for around 10 minutes. Turn them and then cook for another 10 minutes, until they become golden brown.
Cut the rings into baby bite-sized pieces and serve them to your baby.
The best thing about cooking with onions is that their water-soluble nutrients will never go to waste. Try the above recipes and make your little one a fan of onions.
Also Read:
What Health Benefits and Safety Measures Ginger Provide to Babies?
Arrowroot – An Ideal Baby Weaning Food for Babies
A Definitive Guide to Give Corn to Babies