Homemade Dahi Wada Recipe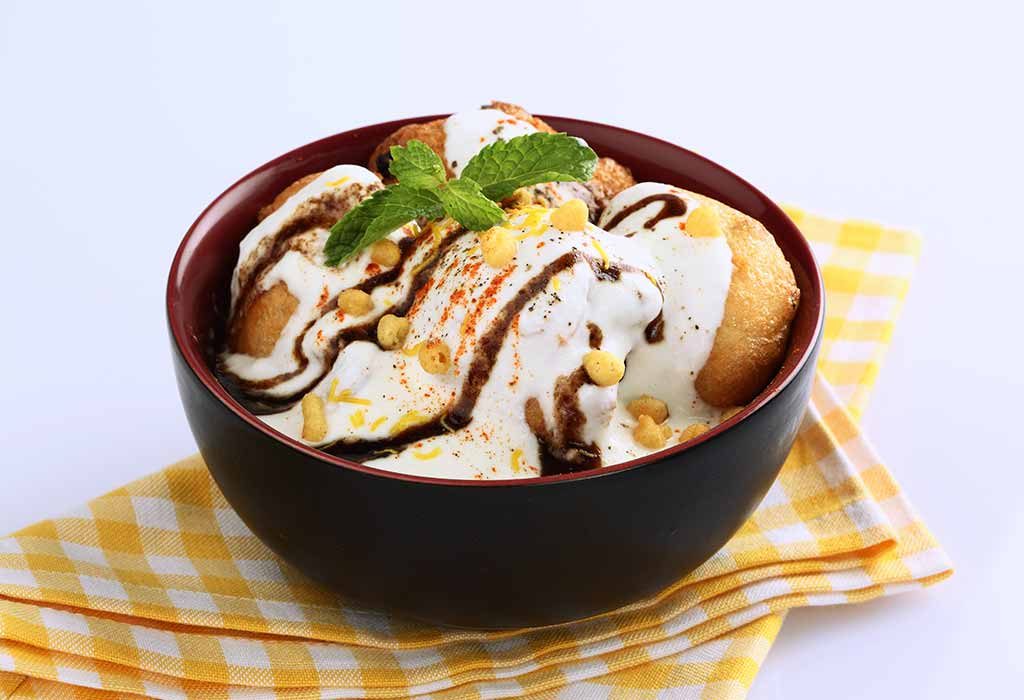 In this Article
Dahi vada for toddlers might sound like a complicated dish but it is pretty simple to make. It just needs to be thought of a little ahead of time. A delicious side dish for even adults, Dahi vada would find its way into your child's heart with its tangy-sweet taste. Made with pulses, it is a nutritious dish with all the protein that they provide. Curd adds the flavor and enhances the taste. This delicious bowl goes by many names like "Dahi Bhalla" or "Doi Bora". A treat on many festivals like Holi, this recipe has been little modified to suit the palate and delicate system of babies. Nonetheless, it guarantees a happy child after eating this savoury snack. We hope your little ones will enjoy this delicious and nutritious recipe. Happy Cooking!
Cooking Time
| | |
| --- | --- |
| Type | Time (hh:mm:ss) |
| Preparation Time | 00:10:00 (soaking time is separate) |
| Cook Time | 00:20:00 |
| Total Time | 00:30:00 |
Cooking Method
Gas stove
Type of Meal
Vegetarian
Suitable For
Any baby above 22 months of age
Meal Schedule
Breakfast and Dinner
Recipe Type
Sweet Dish
Ingredients
| | |
| --- | --- |
| Ingredient | Quantity and Volume |
| Urad dal | 1 cup |
| Moong dal | ½ cup |
| Asafoetida (Hing) | ¼ tsp |
| Curd | 3 cups |
| Buttermilk | 2 cups |
| Jaggery | ½ cup |
| Tamarind | ½ cup |
| Salt | As per taste |
| Cumin seeds | 1 tsp |
| Fresh Coriander | For garnishing |
| Coriander powder | ¾ tsp |
| Jeera powder | ½ tsp |
Instructions
Let's get into how to make Dahi vada for kids so that they turn out soft and succulent with an apt sweet taste.
Remove the seeds from tamarind.
Heat ghee in a pan and pour some water in it and heat.
Put the tamarind and jaggery in water and let them boil till tamarind turns soft.
Mix coriander and jeera powder and let them all cook for 2 minutes till you get the aroma from spices.
Take the pan off the heat and let it cool.
Wash urad and moong dal and keep them soaked for a minimum of 5 hours.
Drain water and grind the lentils and keep them covered for 4-5 hours to ferment.
Add salt and hing to the lentil batter.
Heat oil on medium flame in a kadhai or deep pan.
Make balls with the batter and drop them in oil.
Fry vadas till they turn golden brown.
Soak vadas in water for 2-3 minutes.
Squeeze out water from vadas and put them in buttermilk.
Whisk curd with some salt and pour them on the vadas.
Pour sweet chutney on top and garnish with coriander leaves to serve.
Recipe Tips
Apart from the preparation part of soaking and fermenting, it is an easy Dahi vada recipe to make. These soft dumplings with sweet chutney and spices are going to be your little one's next favorite dish.
It is best to use homemade curd as it is going to be fresh and sweet.
Wash dals carefully before soaking them, water should run clear.
Use drinking water for all cooking purposes.
Do not add water to lentils when grinding, add them later if the consistency is too thick.
The batter should not be runny for making vadas.
Do not heat the oil too much before frying vadas in them, else vadas will look brown or brunt from outside while still uncooked inside.
You could use hands to make vadas before dropping them in oil or 2 spoons, one to scoop and the other to push them into the kadhai.
Nutrition Information (Per 100 grams)
| | |
| --- | --- |
| Nutrient | Value |
| Energy | 199 Cal |
| Protein | 13.6 g |
| Carbohydrates | 29.5 g |
| Fat | 1.8 g |
| Sodium | 673 mg |
| Potassium | 532 mg |
| Cholesterol | 8 mg |
Health Benefits
Though this home-made Dahi vada baby food recipe involves frying, it has immense nutritional values due to the lentils and curd in it.
Lentils are a great source of protein.
Curd is rich in calcium and probiotics which are needed for good bone development and to maintain good gut flora.
Very light and good in aiding digestion.
Buying Guide
Try to make curd at home but if you want to buy from outside then buy organic and make sure it is sweet.
Buy organic lentils and spices for avoiding all the toxins that come with inorganic ingredients and mess with your little one's system.
We hope this step by step procedure of making Dahi vadas for babies is easy to follow and you would be tempted to try this soon. Give your baby a healthy and nutritious dish to enjoy!