Homemade Baby Care Products – Benefits and Recipes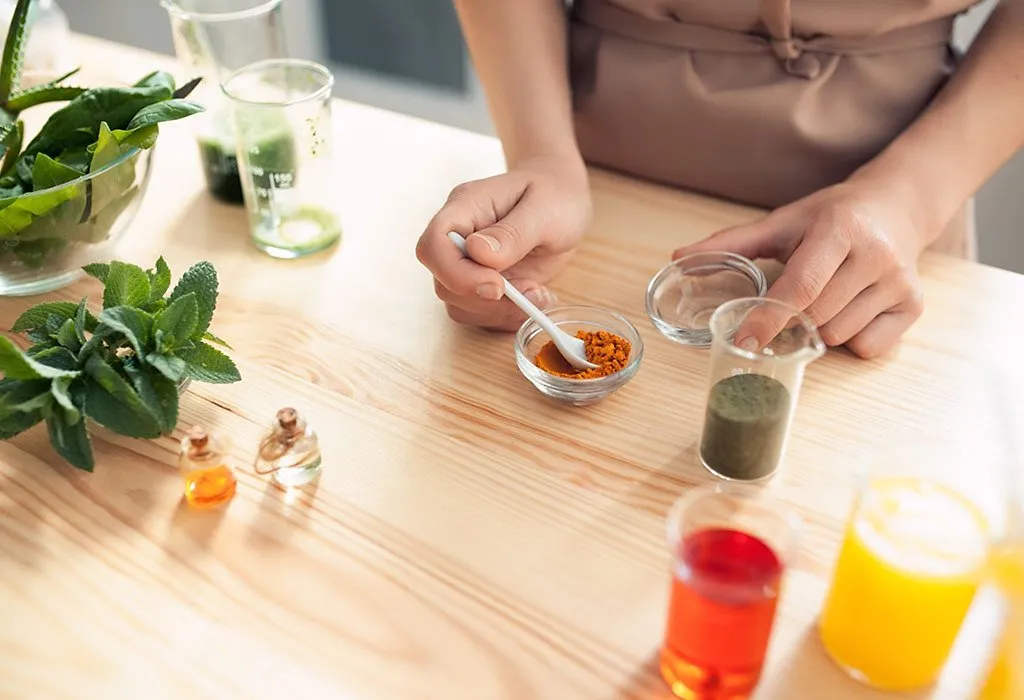 No parent would ever want there to be any shortcomings in the care and love their child gets. When going to buy diapers or any other baby care products, you would prefer letting your pockets loose and get the best for your little one, even if it might be at a premium cost. Most parents have heard that some baby care products can be made directly at home using the basic ingredients but very few are aware of any DIY baby lotion recipe or a stepwise understanding of how to go about it. Well, now you don't. Right from baby powder to massage oil to lotions, you can make all of those right in your home with a few ingredients and some easy preparation steps.
Why Use Homemade Baby Care Products?
You might be wondering why to go through the trouble of procuring the ingredients and then going through the entire steps to make the baby care products when clinically-tested and readymade commercial products are already available in the market. True as that might be, it is necessary to know that what's out there in the market, may not be the best your baby can get.
1. Presence Of Chemicals
Most of the baby care products you see in the stores are produced in bulk and make use of numerous chemicals to keep their formulas effective and last longer in the packaging. Clinical testing makes sure these are not fatal for the child, but certain chemicals used in it could be toxic for your little one's skin. Your baby will tend to absorb anything that comes in his vicinity and exposing his hair and skin to chemicals at an early stage can affect their well-being later on in life.
2. Natural Protection
Making homemade babycare products provide you with a significant advantage since you would be using natural products to make them. All the ingredients that are utilised in creating the lotions and oils at home tend to put together the natural properties of the constituents and give your baby's body a lot of nutrition in that manner. The protection these ingredients offer is safe and not toxic like other artificial chemicals.

3. Fragrances And Aromas
You might want to keep things unique for your baby. As pleasing as the smell of the commercial babycare products might be, your baby might not like them, putting you in a problem of sorts. While making baby care products at home, you can customise and choose how you'd want it to smell like, and most natural aromas are rather pleasing for babies. This can help personalise the oils and lotions for your baby and make him feel like your own.
4. Cost-Effective
Believe it or not, the costs of making baby care products at home are substantially lower than purchasing the commercial babycare products on a longer run. Homemade babycare products manifest a lot of benefits in the matters of safety and personalisation, which can not be ignored. A little effort goes a long way in keeping your budget good and your baby safe.
How To Make Baby Care Products At Home?
To get you started with your process of making products for your little one at home, we have put together a bunch of recipes for that can help you prepare the products appropriately.
1. Baby Bath Powder
Starting off with homemade baby bath powder, this one works wonders in protecting your baby from reactions as well as keeping his skin flawless.

What You Will Need
Rice
Green gram
Chana dal
Multani mud
Fenugreek leaves
Betel leaves
Neem leaves
Rose petals
How To Prepare?
Take a grinding bowl and add the same quantities of chana dal, green gram and rice in it. Use a pestle to grind it as finely as you can.
Follow up with some turmeric and dry Multani mud, and continue grinding it well. Separate this in a bowl.
In the same grinding bowl, add some neem leaves and rose petals, all of which have to be dried in the sun beforehand to remove any trace of moisture. Grind them all well together to form a powder.
Add this powder to the first mixture and mix both well.
Store this in an airtight box. While bathing your child, rub this powder on his body and scrub the skin gently to remove any dead cells.
Benefits
Combining this bath powder after applying coconut oil on your baby's body can be quite relaxing for him and will protect him from common infections that cause a cough and cold.
Most babies have a light covering of hair all over the body that usually falls off by its own. By using this powder and rubbing gently, you can support the process and consequently make the skin healthy as well.
At times, the face and the body of your baby can have different complexions. The powder can help even it out and grant your baby a wonderful glow overall.
2. Baby Massage Oil
This homemade baby massage oil is a blessing in disguise since it can do a great job in elevating the skin-to-skin contact between you and your child.

What You Will Need
Baby specific essential oil blends
A spoon
A glass bottle or jar
Coconut oil
How To Prepare?
Make sure the jar has a mouth wide enough for you to mix all the ingredients.
Start by adding coconut oil into the jar and follow it up with numerous drops of the essential oil blend. Choose the aroma your baby prefers and mix it to a level where it starts smelling good enough for you.
Use a wooden stick or a spoon to mix all the oils within the jar itself. Once done, screw it tight and keep it in a safe place.
After your baby has had his bath, rub a little oil all over his body and massage him well to strengthen his muscles.
Benefits
The presence of essential oils and coconut oil works magic in keeping the skin moisturised and prevents problems that might arise from dry skin.
This oil can be great for you as well and you can make a larger quantity of it to be used both by you and the baby.
You can add certain flower extracts to this oil as well to infuse it with some vitamins and make it a healing oil of sorts for your baby.
3. Diaper Rash Cream
Homemade nappy cream as an alternative for the usual diaper creams in the market is not only easy to make but keeps your diaper clothes clean and smell-free.

What You Will Need
Zinc oxide powder
Coconut butter
Calendula flowers
Coconut oil
How To Prepare?
Take a pan and heat some water in it. Place a glass bowl in the middle of the pan and add coconut oil to it.
Follow up by adding the flowers to it as well and let them heat properly on low heat for about an hour or so as the aromas will start rising.
Strain this solution keeping the flowers out and add the butter and powder to it, mixing it all properly until a creamy texture is formed. Store this cream in a glass jar.
Benefits
Coconut oil has potent anti-fungal properties that take care of any diaper rash.
The flowers have anti-bacterial properties which prevent infection or any inflammation.
The butter and the powder keep the skin and soft and dry any rashes immediately.
4. Baby Lotion
Making a homemade baby lotion with essential oils is the perfect way to achieve a balance between great fragrance and a natural moisturising effect.

What You Will Need
Coconut butter
Bee Wax
Coconut oil
Jojoba oil
How To Prepare?
Place a glass bowl in a pan with water and add bee wax, coconut oil and jojoba oil to it. Stir it while heating to mix it well.
Once they melt together, add the essential oils and stir for a few more minutes.
Pour this solution into a jar. It will thicken when it settles. Use only a little lotion since it is more oily than the usual ones.
Benefits
The essential oils provide all the nourishment your baby's skin requires.
Bee wax and jojoba oil also work in prevent eczema in babies.
Try using vanilla extract instead of essential oils for a different scent.
An array of baby care products that are made at home can be a delight for the child as well as you. A personal touch and the feeling of homeliness is essential during the early months of the child, making him feel loved and secure in the presence of all these aromatic products.
Also Read: Natural Remedies for Baby Skin Care