Green Puree (boiled Brocolli + spinach + peas)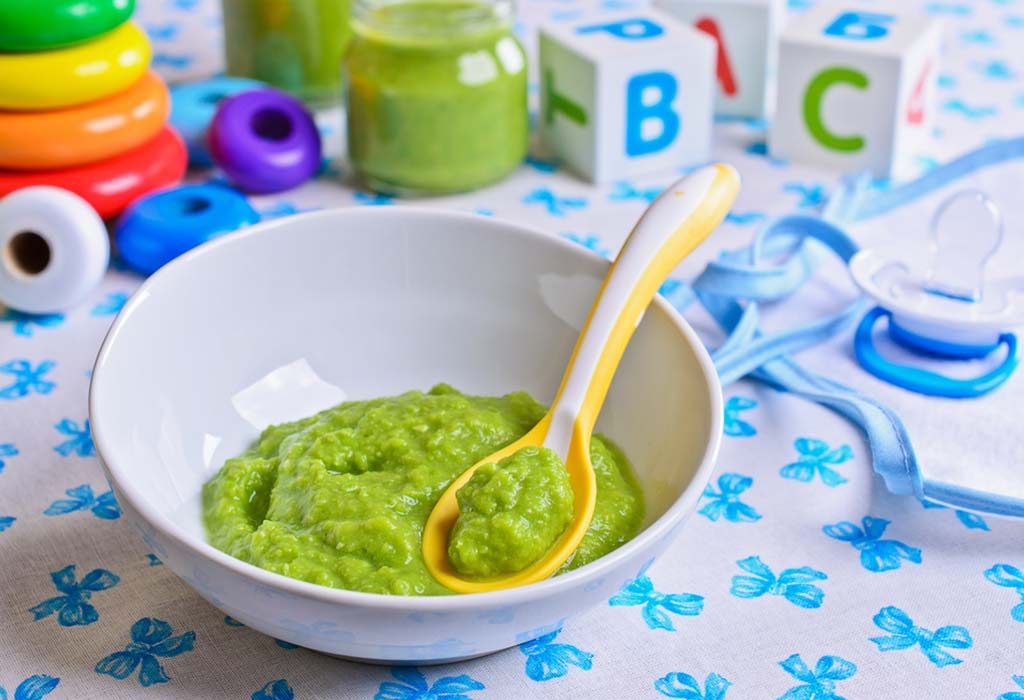 In this Article
Introduce your baby to the flavour of green vegetables early on. However, if they find the taste of some vegetables too strong, mix the stronger tasting vegetables like broccoli together with sweet fresh peas or potato or sweet potato. It's also fine to use frozen peas to make your baby's purées. This homemade baby food recipe is a yummy combination of sweet and savoury, more likely to appeal even to those little ones who are less than enthusiastic about eating up their green veggies! This recipe is packed with vitamins, fibre, iron, protein and even some calcium!
| | | |
| --- | --- | --- |
| Serves | Preparation Time | Cooking Tme |
| 4 People | 10 Minutes | 25 Minutes |
Ingredients
1 medium onion, peeled and chopped
1 tbsp (tablespoon) unsalted butter
250g potatoes, peeled and diced
1 1/2 cup unsalted vegetable stock or water
1/2 cup broccoli florets
1/2 cup fresh peas or frozen peas, thawed
5-6 spinach leaves, washed and chopped
Method
Step 1
Heat butter in a pan.
Step 2
Sauté the onion in the butter, just until softened, about 5 minutes.
Step 3
Add the potato, pour over the vegetable stock or water.
Step 4
Cover and bring to the boil, cook for 10 minutes.
Step 5
Add the green vegetables- broccoli florets, fresh or thawed frozen peas and spinach and cook for 6 minutes.
Step 6
After all the vegetables have softened, remove from flame.
Step 7
Allow to cool a little, puree in a food grinder.
Step 8
Serve warm.
Nutritional Information
Serving Size 26.9 g
Calories
67
Calories from Fat
45
Total Fat
5g 10%
Trans Fat
0.0g
Cholesterol
0mg 0%
Sodium
7mg 0%
Potassium
78mg 2%
Total Carbohydrates
2.2g 1%
Dietary Fiber
0.8g 3%
Sugars
0.7g
Protein
0.9g
Vitamin A
10%
Vitamin C
24%
Calcium
1%
Iron 2%
* Based on a 2000 calorie diet .
Nutritional details are an estimate and should only be used as a guide for approximation.
Tip :
To reduce the gas producing properties of brocolli, try adding some raw, peeled ginger to the pot as you cook the dish and remove it before blending.
Alternatively, add a little ground ginger to the cooked puree. Ginger can do wonders in aiding digestion!
Another tip that can help is to avoid using the broccoli stems – the dark green florets are more nutritious anyway!