Monster Cupcakes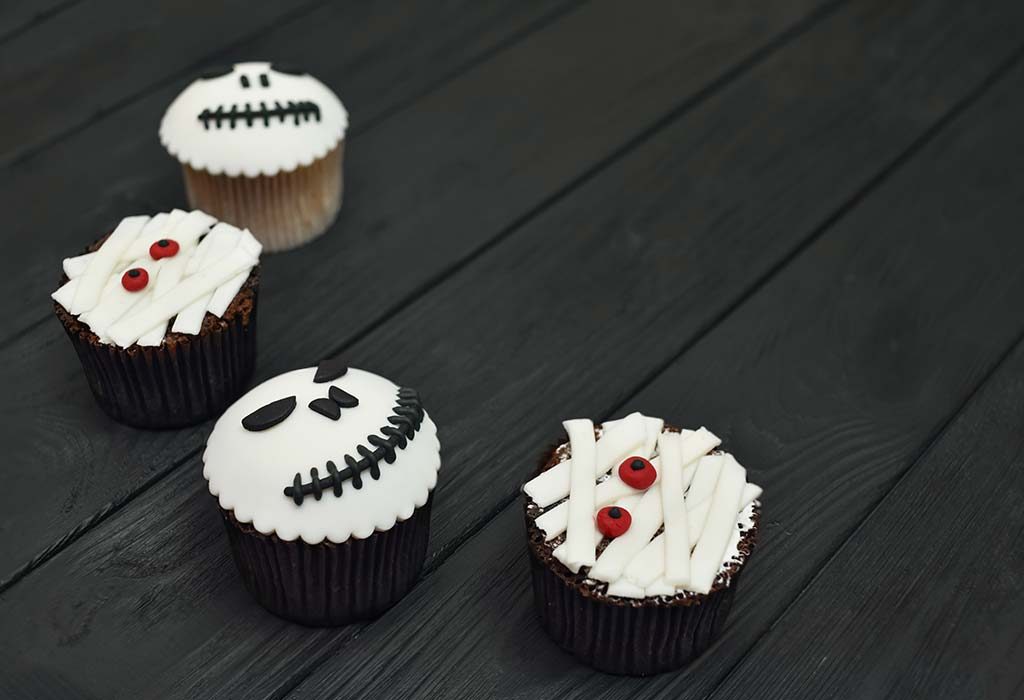 In this Article
Themed cupcakes are a great hit among kids and that is the reason we are here with a quick and easy cupcake recipe. This one is quite easy to make – so if you are planning a kid's party make sure that you include these in the menu. They are sure to delight your preschooler and his amigos. Leaf through the recipe to know how it's made.
| | | |
| --- | --- | --- |
| Serves | Preparation Time | Cooking Time |
| 6 People | 10-15 Minutes | 15-20 Minutes |
Ingredients
1 cup all-purpose flour
½ tsp baking soda
1 tsp baking powder
4 tbsp cocoa powder
½ cup + 2 tbsp powdered sugar
80 ml oil
¼ cup hot coffee concoction (1 tsp instant coffee in ¼ cup hot water)
80 ml whisked yogurt
1 tsp vanilla
For the Decoration
½ cup whipped cream – add color (we have used blue and yellow)
Cadbury gems
1 tbsp melted chocolate.
Method
Step 1
Preheat the oven at 180 degree Celsius. Line a six cup muffin pan with liners and set aside.
Step 2
In a large bowl, sift the flour, baking soda, baking powder and cocoa powder. Mix well so that they are uniform.
Step 3
In another bowl, add yogurt and powdered sugar and beat till the sugar dissolves. Add oil and whisk well.
Step 4
Now add the dry ingredients to the wet ingredients and whisk. Add the coffee concoction and vanilla. Whisk well to form the batter. If the batter looks thick, add a spoonful of milk or water.
Step 5
Pour the batter equally into the prepared muffin pan and bake it in the preheated oven at 180 C for 15-18 minutes. When done take it out and let it cool down to room temperature.
Step 6
Fit a piping bag with a star nozzle and fill it with whipped cream. Use the melted chocolate to design the eyes on the gems.
Step 7
Now pipe the whipped cream on the cooled cupcakes. Decorate with gems. Enjoy!
Nutritional Information
| | |
| --- | --- |
| Calories | 321 K cal |
| Proteins | 3.9 g |
| Fats | 16.7 g |
| Carbohydrates | 41.4 g |
| Cholesterol | 12 mg |
| Sodium | 120 mg |
| Potassium | 246 mg |