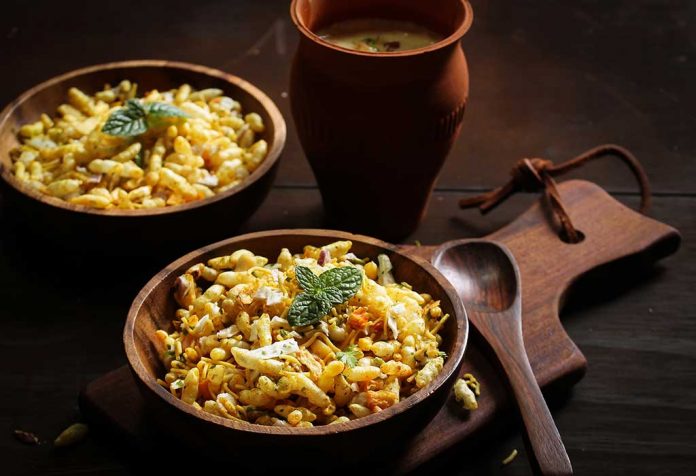 Last Updated on
All of us have surely heard about the famous Mumbai roadside snack- bhel. There is a burst of flavor in every spoonful because of the delicious chutneys and the mystifying masalas. This tasty dish makes up as a wholesome snack if one avoids the puri and sev or just add them as a garnish. Plus, if you make it at home, its surely going to be a healthy dish as you will make it in your home's safe and clean environment. Still don't believe that a bhel can be a healthy snack, go through the recipe so that you are convinced.
| | | |
| --- | --- | --- |
| Serves | Preparation Time | Cooking Time |
| 3 People | 15 Minutes | 00 Minutes |
Ingredients
For (measuring cup used, 1 cup = 250 ml)
2 cups puffed rice
2 tbsp mint-coriander chutney
2 tbsp tamarind dates chutney
1 tsp red chili chutney(Optional)
1 large boiled potato, peeled and chopped (optional)
½ to ¾ cup boiled moong beans or sprouts
1 medium size tomato. finely chopped
1 small onion, finely chopped
1 tsp(teaspoon) roasted cumin powder
1 tsp chaat masala
½ tsp red chili powder
¼ cup chopped coriander leaves
¼ or ½ cup sev (optional)
5-6 papdis, broken into pieces (optional)
2 tbsp (tablespoons) roasted peanuts
1 tsp lemon juice
black salt as required
Method
Step 1
To begin with, dry roast the puffed rice in a kadhai or pan till they become crisp.
Step 2
Let them cool and take them all in a large mixing bowl.
Step 3
Add all ingredients to the puffed rice except sev and coriander leaves.
Step 4
Quickly mix everything.
Step 5
Garnish bhel with some coriander leaves and sev (optional).
Step 6
Serve bhel puri immediately to prevent it from being soggy.
Nutritional Information
Calories
176
Calories from Fat
2
Total Fat
0.2 g 0%
Trans Fat
0.0 g
Cholesterol
0 mg 0%
Sodium
654 mg 27%
Potassium
638 mg 18%
Total Carbohydrates
41.4 g 14%
Dietary Fiber
1.1 g 4%
Sugars
19.6 g
Protein
2.3 g
Based on a 2000 calorie diet
Nutritional details are an estimate and should only be used as a guide for approximation
Tip :Adjust the salt, chutneys and spice powders in the bhel puri as per your liking. You can use ready made chutneys too. Baked puris can be used to replace the fried ones.