Fun Pictionary Words For Kids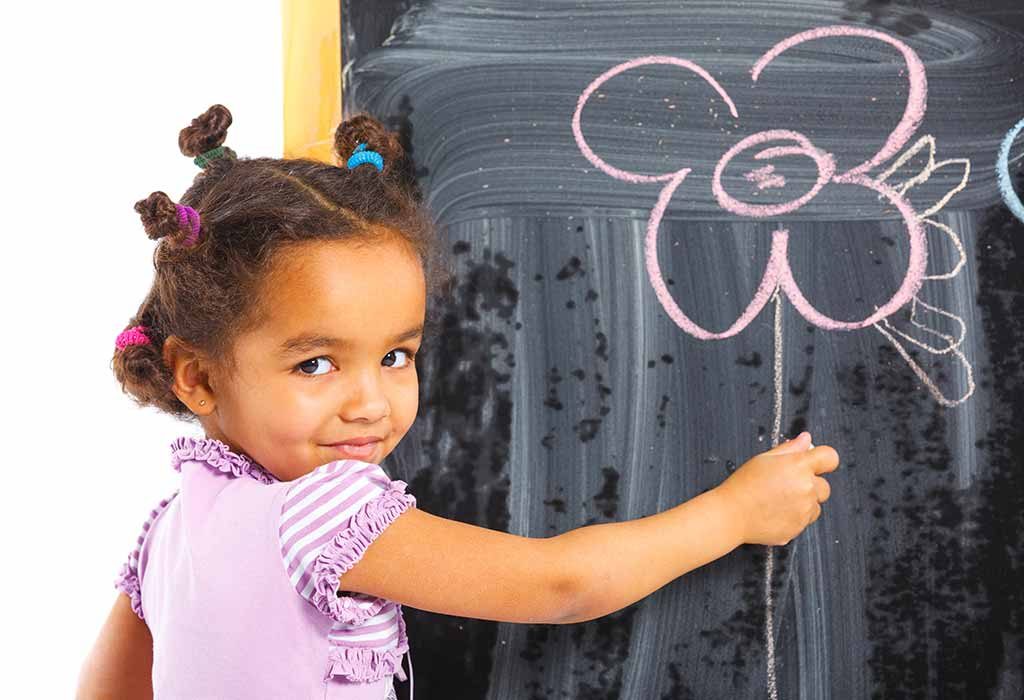 An extremely fun and exciting game for kids of almost all age groups; a Pictionary can be played in classrooms, parties, picnics and on many other such occasions with friends and family! Well, if you haven't played this interesting and enriching game with your kiddo then you are surely missing out on some mind-boggling fun of playing an excellent game. Here is all that you need to know about this game!
Why Should You Play Pictionary With Kids?
Apart from being a fun game, Pictionary is also great for developing better communication, imagination and teamwork skills in kids. Great as an ice-breaking game on the first day of school, playing this game can make kids feel comfortable in new surroundings.
How To Play Pictionary Game With Children?
Pictionary is available as a board game in stores, however, you can easily make one at home too! The following are some of the things that you need to play this exciting game!
Things You Will Need To Play Pictionary
Here's what you need:
A board to draw (notebook can work too)
Marker pen
Timer
Players (6 or more)
Q-cards
Instructions
Here are the instructions that players and judge need to follow:
Choose a few categories and write words on one category on a single card.
You can mix and match the words of varying difficulty.
Shuffle the cards nicely and hand over to the judge.
For The Players
Divide all the players into two teams. Ask the first team to choose a player to draw a card from the stack.
The assigned player will be asked to draw the image on the board and the teammates can start guessing the word. The player is not allowed to give any Pictionary clues by speaking, by doing any actions, by drawing numbers or drawing alphabets to the teammates.
The teammates have to guess the right word in the stipulated time to get a point.
All teammates from both the teams will take a turn to earn points by drawing images. The team with maximum points will be the winner.
For The Judge
Assist the players from both the teams to draw a card.
In case the player does not know the word, the judge can help draw another card.
Keep a tab on the time limit.
Keep a tab on the score of each team.
List of Pictionary Word Ideas For Kids
Here are some Pictionary topics for kids of varying difficulty and categories that you use to make cards:
Simple Pictionary Words
Here is a list of some fairly simple Pictionary words for children:
Star
House
Spider
Smile
Moon
Bed
Trash can
Butterfly
Bird
Cup
Bubble
Candy
Television
Fish
Camera
Bucket
Ladybug
Starfish
Rainbow
Sun
Toast
Tire
Pumpkin
Giraffe
Flower
Medium Pictionary Words
Here are some medium level words of Pictionary for kids:
Owl
Piano
Castle
Brain
Dragon
Crib
Flag
Mermaid
Magnet
Raindrop
Kitten
Lollipop
Telescope
Lobster
Tricycle
Pillowcase
Laptop
Turkey
Gummy bears
Sunglasses
Baseball
Rice
Sleeping bag
Watch
Pancakes
Hard Pictionary Words
Here are some words that can increase the difficulty level of the game or some hard words for the game:
Detention
Afraid
Laugh
Alarm
Eraser
Imagination
Ice-skating
Panda
Closet
Dark
Magic
Tourist
Seat belt
Photo
Mask
Hotel
Hockey
Deodorant
Chandelier
Dance
Mechanic
Birthday
Light
Frame
Blizzard
Movie-Themed Pictionary Words
Here we have some movie-themed words that can double up your Pictionary fun:
The Incredible
Winnie the Pooh
Guardians of the Galaxy
Beauty and the Beast
The Lion King
Lord of the Rings
Finding Nemo
The Lego Movie
Despicable Me
Captain Underpants
Locations-Themed Pictionary Words
If you are hunting for some location-themed words to make cards, we have you covered, here are some words that you can try:
The library
Playground
Disneyland
The Zoo
Backyard
Bathroom
The White House
The Beach
Church
Kitchen
People-Themed Pictionary Words
The following list of words comprises of people-themed Pictionary words that can punk up your fun:
Thomas the Tank Engine
Harry Potter
Teenage Mutant Ninja Turtle
Wonder Woman
President Donald Trump
Captain America
Mr. Incredible
SpongeBob
Superman
Batman
Things Pictionary Words
Take a look at some of the Things-themed words:
Airplane
Cereal
Bus
Nail polish
Headphones
Electricity
Car
Kite
Earthquake
Hot Dog
Video Game-Themed Pictionary Words
Here are some interesting video game-themed word ideas for kids:
Call of Duty
Pac-man
Pikachu
Sonic
Minecraft
League of Legends
World of Warcraft
Mario
Yoshi
Clash of Clans
Food & Drinks-Themed Pictionary Words
Following list includes some food and drinks-themed words:
Cheese
Cotton candy
Popsicle
Orange juice
Butter
Ketchup
Eggs
Beans
Bacon
Doughnut
Verbs Pictionary Words
Try some of these 'Verbs' as Pictionary words:
Trade
Unplug
Drive
Cook
Swim
Read
Call
Drink
Catch
Skip
Other Ways To Play Pictionary Game
No doubt playing this game in the traditional way is loads of fun, but adding some variations to it will punk up the excitement quotient of this game. Here are some Pictionary ideas for kids that can be added to add extra zing to the game:
If the team is unable to guess the word, it can be tossed on to the other team for guessing.
The judge can draw one card for both the teams. One member from each team comes to draw the same word. The team that guesses correctly will get the point.
Different points can be given based on the difficulty level of the words.
Dice can be used to assign numbers to the cards.
A variation can be added where every player has to draw with their left hand (or lesser dominant hand) to increase the difficulty level of the game.
The teams can be segregated based on gender, which means the game can be played as girls versus boys.
The difficulty level of the game can be increased by blindfolding the players who are assigned for drawing the images.
Many options and possibilities are associated with this game. You can make your own rules and enjoy this fun game with your kids! Get comfy with your family or friends, grab some mouth-watering treats and get ready to have some rollicking fun with Pictionary!
Also Read:
Effective Ways for Teaching Your Child How to Spell Words
Interesting Reading Games and Activities for Kids
Writing Games and Activities for Children