Fruit Yoghurt Recipe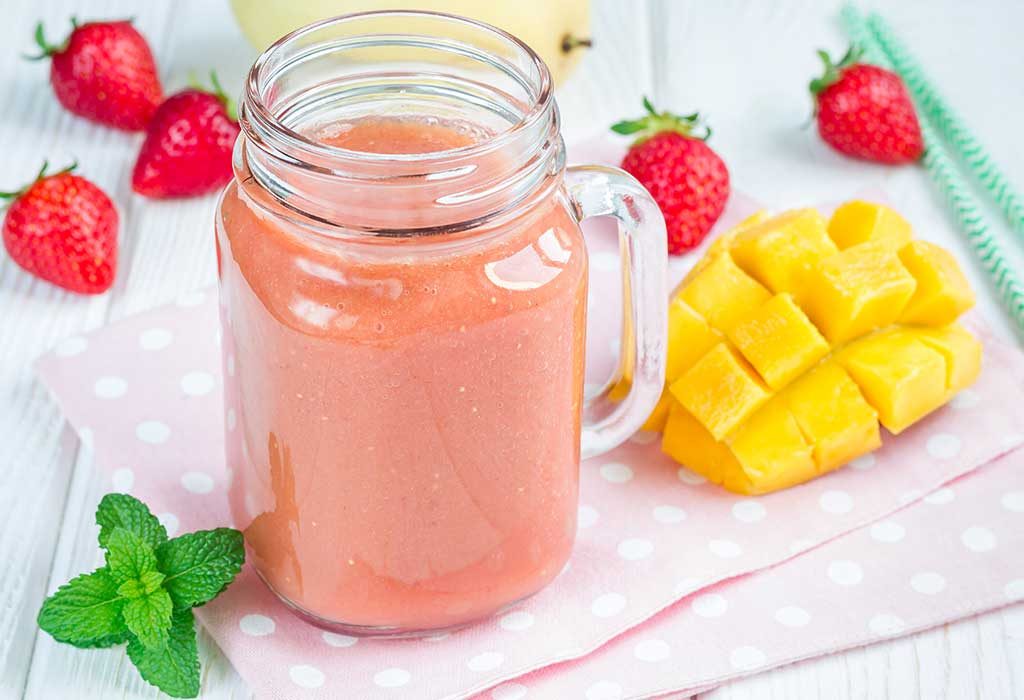 If you are planning to introduce yoghurt to your baby, then simple fruit yoghurt recipes are just awesome. The idea of adding fruit puree to yoghurt is interesting and is definitely a healthier option for your baby compared to sugar-loaded readily available packaged yoghurt. If you are introducing yoghurt for the first time, then wait for a couple of days before introducing another food item for your baby to digest better. You can customise this recipe by adding any fruit that fancies your baby's taste buds. Since yoghurt is one of the safest foods for your baby, you can introduce it to your little one as early as 7 months. Let us learn how to make fruit yoghurt in a simple and delicious way below:
Video : Healthy Fruit Yogurt Recipe for Babies (Above 1 Year of Age)
Cooking Time
| | |
| --- | --- |
| Type | Time(hh:mm:ss) |
| Preparation time | 00:05:00 |
| Cooking time | 00:05:00 |
| Total Time | 00:10:00 |
Cooking Method
Gas stove
Type of Meal
Vegetarian
Suitable for
Babies above 12 months
Meal schedule
Mid-morning snack, snack
Recipe Type
Appetiser and dessert
Ingredients
| | |
| --- | --- |
| Ingredient | Quantity and Volume |
| Strawberry | 4 nos |
| Mango (medium-sized) | 1 |
| Yoghurt | 1/2 cup |
Instructions
Adding yoghurt to your babies diet can't get better than fruit yoghurt recipes, so get started with the step by step directions below:
Wash the strawberries, remove the stalk and chop them.
Wash, peel and chop the mango and keep it aside.
Steam strawberries and mango slightly or until they are mashable.
Blend the steamed fruits in a blender.
Add the fruit puree to a bowl of yoghurt and serve.
Recipe tips
This homemade fruit yoghurt is a nutritional snack for babies, but to make it a breezing task, read on the recipe tips below:
You can cut the fruits in advance and store it in the refrigerator to save time.
You can use mangoes without steaming, also given that the mango you choose is sweet and ripe.
Fruit yoghurt can be made with other seasonal fruits available like apple, banana, pear, and blueberry.
Feel free to add in a fruit that your baby enjoys into this recipe instead of strawberries or mangoes.
It is better to serve the fruit yoghurt fresh than storing it in a refrigerator for better nutritional benefits.
Nutrition Information (Per 100 Grams)
| | |
| --- | --- |
| Type | Value |
| Calories | 90 Cal |
| Fat | 0.1 g |
| Protein | 5.1 g |
| Carbohydrates | 14 g |
| Potassium | 200 mg |
| Sodium | 80 mg |
| Dietary fibre | 4 g |
| Vitamin B6 | 0.1 mg |
| Vitamin C | 30 mg |
Health benefits
The loaded health benefits of yoghurt make this simple fruit yoghurt recipe a hit amongst the babies. Find below some of the interesting health benefits of this recipe to your munchkin:
Yoghurt contains lactobacillus that reduces stomach irritation by neutralising acidity in your baby's tummy.
The lactic acid present in yoghurt can boost the immune system and thus preventing infections to a large extent.
All the essential nutrients like Vitamin A. B, C and D are present in yoghurt to help in the overall development of your baby.
Strawberries are a factory of antioxidants and vitamin C that are vital for babies in their growing period.
Low calories of strawberries make it a super snacking option for babies.
Strawberries are also a good source of potassium and manganese, which are essential for the better development of teeth and bones.
The carotenoids present in mangoes are known to ward off the common cold.
Buying Guide
Now, that you know learned to make delicious fruit yoghurt for babies with the instructions above, read on the buying guide below before you head towards the market:
Select the mangoes which are bright yellow and ripe, instead of the green ones.
To be on a safer side and to stay away from chemicals, buy organically grown fruits.
If you are buying yoghurt, choose plain yoghurt instead of flavoured ones as the latter is prone to have loads of sugar and artificial flavours which are not at all good for your munchkin.
Choose whole milk plain yoghurt with 4 % fat to ensure your baby gets all the nutrition essential for brain development.
Check for the expiry date of the yoghurt as milk products have a low shelf life.
You know the abundance of nutrients yoghurts brings to your baby's health. So, start planning to feed your little one with a homemade fruit yoghurt baby food recipe than depending on store-bought yoghurts filled with artificial flavours. Create your own funky combination with yoghurt and fruits to make your babies snacking time more joyful and healthier.