Facts and Information About Rosa Parks for Kids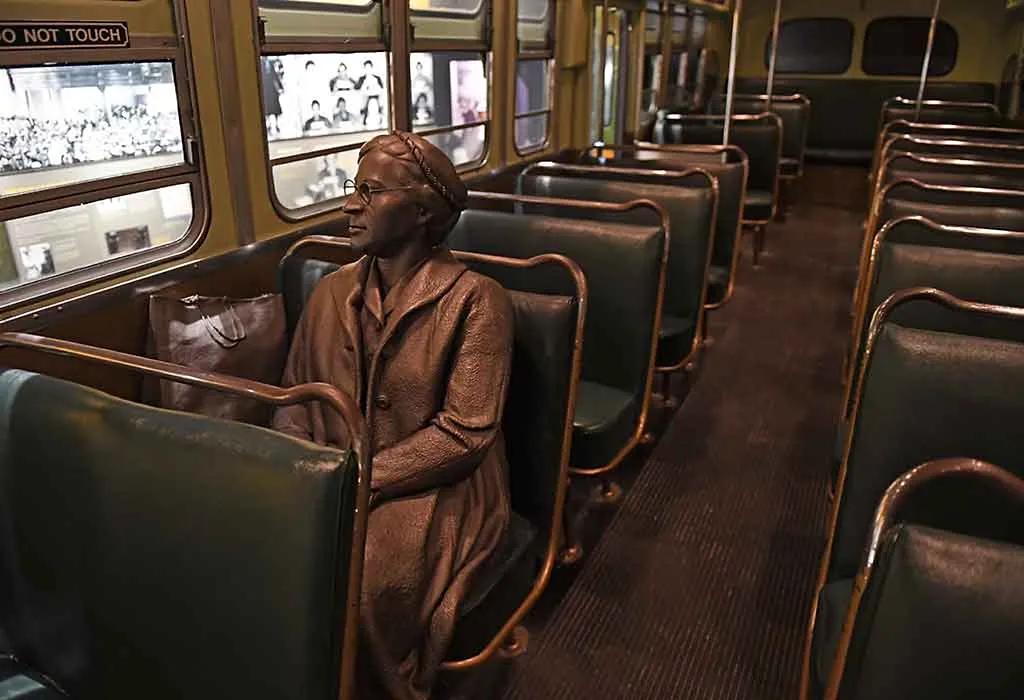 Slavery and apartheid had been a closely ingrained part of American society until people like Rosa Parks took a stand against it in the simplest but rebellious way. Keep reading and get to know more about Rosa Parks.
Who Was Rosa Parks?
Rosa Parks was a civil rights activist born in Tuskegee in Alabama on February 4, 1913, and lived up to October 24, 2005, when she died in Detroit, Michigan. She was an American and the person behind the Montgomery Bus Boycott, a significant civil rights movement in the USA. On December 1, 1995, Rosa Parks denied giving up her seat on a bus to a white passenger as the country's law dictated. This event led to her arrest and, eventually, court trial. Such an incident sparked a nationwide outrage called the Montgomery Bus Boycott. The movement got such recognition and stature that it was believed to be the prime reason behind eliminating segregation.
Rosa Parks Family, Early Life, and Marriage
Early Life and Family
Rosa did not have a very easy childhood. She spent most of her childhood on farms.
Her maiden name was Rosa Louisa McCauley, and her parents were Leona McCauley and James McCauley.
Her father was a carpenter, and mother was a teacher at a school.
Her parents had a divorce and were separated when Rosa was just two years old.
Her mother took her and her brother Sylvester to their grandparents' place in Pine Level, Alabama.
Her grandparents had a farm where they lived.
Marriage
Rosa had a great marriage and a loving husband, who loved her dearly and encouraged her to complete her education.
Rosa McCauley became Rosa Parks after her marriage to Raymond Parks in the year 1932.
She got married early, at the tender age of 19.
Raymond was a barber, and he was also a member of the National Association for the Advancement of Colored People (NAACP).
Raymond always encouraged Rosa to complete her education. Rosa completed her high school after her marriage.
She also went on to join the NAACP and became their youth leader. Later, she became the Secretary to the President of the NAACP, E. D. Nixon.
Rosa Parks Education
Rosa Parks was always drawn towards education; she ensured that she completed her higher secondary education. Details about her education are given below:
Rosa used to go to a rural school in Pine Level.
When she turned 11, she started attending the Montgomery High School for Girls.
She completed her secondary education from a laboratory school run by the Alabama State Teachers College.
However, due to the deteriorating health conditions of her grandmother and mother, she had to leave school mid-way to look after them.
She completed her education and received her high school diploma in the year 1934 after her marriage.
Rosa Parks and the Bus Boycott
Rosa Parks was responsible for one of the biggest civil rights movements. Below are the details about the bus incident and the bravery of Rosa Parks for preschoolers to know and take inspiration from.
Rosa was 42 years old when she got on the Cleveland Avenue bus on December 1, 1955, to return home after a hectic day of work as a seamstress.
Like every day, she paid for her ticket and sat on the front row. The front row was specially assigned for people of color.
The bus slowly got filled up. A white passenger was standing on the aisle next to the front row as no seat was vacant in the bus.
The driver noticed this and asked the four passengers seated on the front row to vacate their seats.
All the passengers obliged except for Rosa Parks. When the driver asked her again if she would give up her seat, she disagreed sternly.
Rosa Parks' Arrest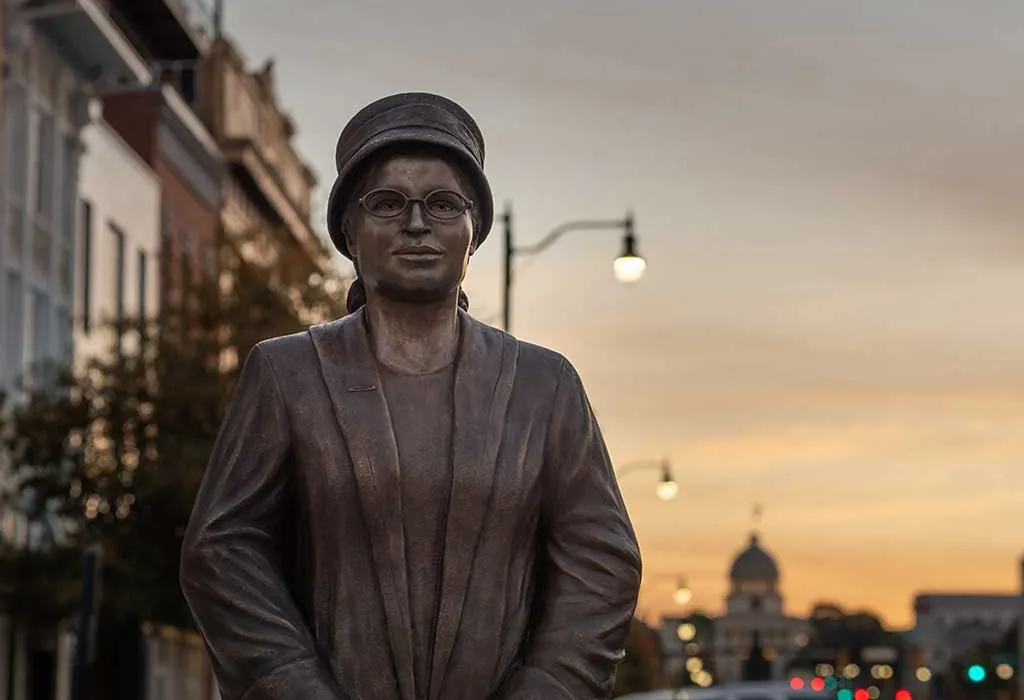 It wasn't expected that Rosa Parks' arrest would have such wide repercussions and be written in the history books for years to come.
The law at that time dictated that people of color would have had to offer their seats to the white passengers if there were no other vacant seats on the bus.
The driver then went on to call the police, lodged a complaint, and got her arrested for public disobedience.
Her arrest sparked a wide outrage, and African-Americans boycotted the city bus service from December 5, 1955, when Rosa's trial commenced.
People walked, took cabs, and even stayed home to boycott the bus service.
Around 90% of the Black citizens of Montgomery city participated in the boycott.
The boycott finally ended when the Supreme Court ruled that the segregation laws in Alabama were unconstitutional. It was ruled that the public transit should be desegregated.
The boycott lasted for 381 days and finally ended on December 20, 1956. It is one of the longest and most successful boycotts in history.
It is one of the greatest civil rights movements against segregation.
Other Interesting Facts About Rosa Parks
There are so many fun facts about Rosa Parks that would interest your kids. Some interesting facts about Rosa Parks are discussed below:
Despite becoming a face for the civil rights movement, Rosa and Raymond faced great difficulties in their professional life and even lost their jobs.
They had to move to Detroit In Michigan, and Rosa worked as a secretary and receptionist for John Conyer.
Rosa established the Rosa and Raymond Parks Institute for self-development, which teaches youngsters about their civil rights on bus tours. These bus tours are called "Pathways to Freedom."
Rosa was awarded the Congressional Gold Medal, Marti Luther King Jr. award, and the Presidential Medal of Freedom. The Presidential Medal of Freedom is also the highest award that can be given to any civilian.
Rosa used to work as a seamstress whenever she faced a financial crisis or needed some extra money.
The bus that Rosa Parks was arrested in is still preserved in the Henry Ford Museum, Michigan.
Rosa Parks has written an autobiography titled "Rosa Parks: My Story." The book was published in the year 1992. She has written a total of four books during her lifetime.
Rosa Parks completed her high school education when it was uncommon among African-Americans. During the period, less than 7% of African-Americans were known to have had completed their high school. Rosa Parks' dedication and will to complete education has been an inspiration to children then and continues to be an inspiration to date.
Rosa's grandparents had even served as slaves during their lives and were strong supporters of racial equality.
Rosa Parks believed strongly in faith and even went on to write a memoir in the year 1995. Her memoir was titled "Quiet and Strength." In the book, she explains how her faith kept her going during her tough times.
The city of Detroit has even named a street after her, called the Rosa Parks Boulevard. Many stations are also named after her.
The driver that got her arrested was named James F. Blake. It was not the first time he had unjustly treated Rosa. Once he had taken the fare from Rosa but did not allow her to board the bus.
On December 1, 2005, the bus authority paid tribute to Rosa on the 50th anniversary of her arrest by keeping a seat vacant as a mark of respect.
The boycott did not go down well with many sections of the society. Even after the court granted bail to Rosa after she was fined $14 in total, she was again arrested for participating in the boycott and the protests. Rosa Parks even received death threats during the boycott. The violence had escalated to such an extent that some civil rights leaders' houses were bombed.
Mike and Marian Ilitch used to pay the rent for Rosa Parks' apartment in Detroit for more than 10 years.
In her honor, a statue was built and was unveiled by President Barack Obama in the Capitol Building in 2013.
The influence of Rosa Parks was recognized, and she was named in the Times Magazine's "20 Most Influential People of the 20th Century" in the year 1999.
Many states across the USA celebrate Rosa Parks' Day on either the 4th of February, which is her birthday, or the 1st of December, which was the day of her arrest.
Rosa Parks was laid down in the US Capitol when she breathed her last on 24th October 2005, at the age of 92. She was the first woman to have been laid at the US Capitol. She was paid homage on her death by over 50,000 people.
Almost everyone has heard of Rosa Parks and how her actions led to the end of segregation in the USA. Not only did she suffer a lot during her lifetime due to her race, but she was also arrested and tried in court for refusing to give up her seat to a white passenger. This event ignited the Montgomery Bus Boycott. Now that you know about her contribution to racial equality in the USA, you are one step ahead towards becoming more knowledgeable about the country's glorious history.
Also Read:
Facts About Abraham Lincoln for Children
Facts About Christopher Columbus for Children
Interesting Facts About Isaac Newton for Children