Eggplant salad with tomato and feta cheese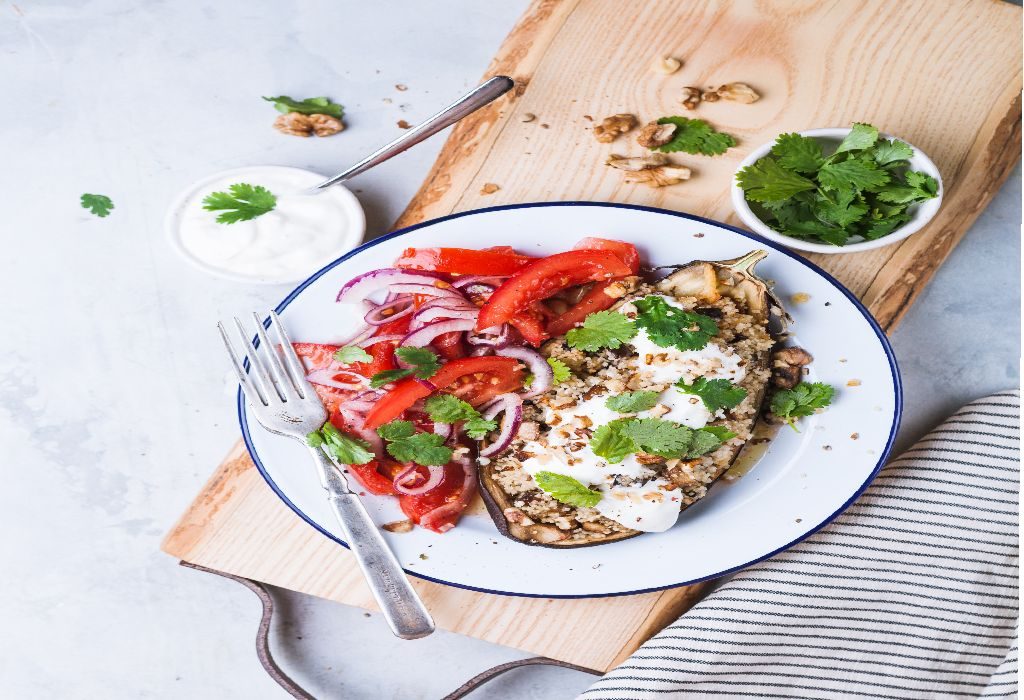 In this Article
This Italian dish is easy to make and is a flavourful recipe that makes good use of fresh vegetables and summer herbs. Roasted eggplant with a garlicky kick makes up a superb healthy salad with tomatoes and feta cheese. All those who run away from an eggplant will surely find this lip-smacking.
| | | |
| --- | --- | --- |
| Serves | Preparation Time | Cooking Time |
| 4 People | 5 Minutes | 20 Minutes |
Ingredients
2 medium eggplants, cut into thin slices.
2 tbsp (tablespoons) rosemary, minced.
3 clove garlic, crushed.
2 large tomatoes, sliced.
¼ cup chopped fresh basil.
1 tbsp olive oil.
1 squeeze lemon juice.
4 tbsp low fat feta cheese cubes.
salt and pepper to taste
Method
Step 1
Combine rosemary, two cloves garlic and olive oil in a bowl.
Step 2
Spread over eggplant slices.
Step 3
In a frying pan, roast eggplant for 15 – 20 minutes until just tender. Flip halfway through to brown both sides. Remove from the oven and allow to cool.
Step 4
On a plate, add the eggplant slice with the remaining ingredients.
Step 5
Garnish with basil leaves.
Step 6
Chill for 20 minutes, then serve. You can serve it at room temperature also.
Nutritional Information
| | | | |
| --- | --- | --- | --- |
| Calories | 145 k cal | Saturated fatty acids | 1.16 g |
| Monounsaturated fatty acids: | 5.04 g | Polyunsaturated fatty acids: | 1.00 g |
| Total fat: | 7.20 g | Calories from fat: | 64 |
| Cholesterol: | — | Carbohydrate, by difference: | 20.06 g |
| Total dietary fiber: | 9.82 g | Protein: | 3.51 g |
| Total lipid (fat) | 7.65 g | Water: | 319.34 g |
| Ash | 2.27 g | Total sugars | 8.87 g |
| Calcium | 58 mg | Iron | 1.41 mg |
| Magnesium | 47 mg | Phosphorus: | 88 mg |
| Potassium: | 792 mg | Sodium: | 11 mg |