Paavakkai Varuval / Bittergourd Chips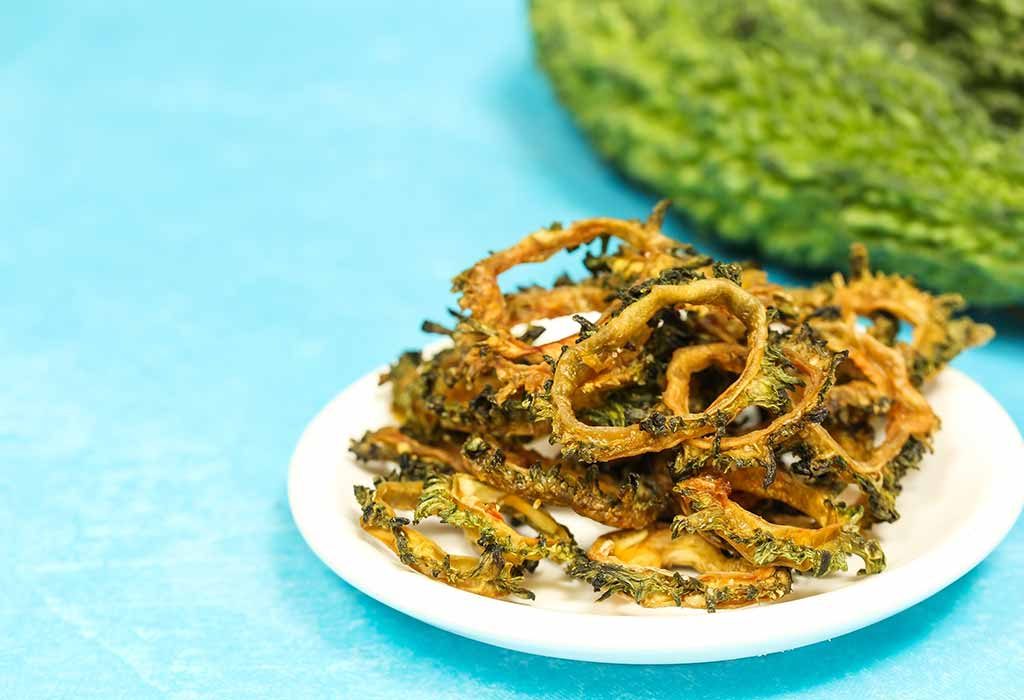 In this Article
Bitter gourd – the name itself is enough for people to condemn this vegetable. However, there are some who like it and can eat it in any form, but for the rest we've put together this wonderful recipe. It'll not only make them down bitter gourd with ease, but also will drive them to come back for more. These crispy eats are spicy, crunchy and totally addictive! So much so that even the kids will love eating these often.
| | | |
| --- | --- | --- |
| Serves | Preparation Time | Cooking Time |
| 3 People | 10 – 15 Minutes | 20 – 25 Minutes |
Ingredients
1 large bitter gourd
1/2 tbsp cornflour
1 tbsp coarse rice flour
1 tbsp gram flour
1/2 tsp raw mango powder
1 tsp coriander powder
1 tsp cumin seeds powder
1 tsp fennel seeds
1 tsp chilli powder
A pinch of asafoetida powder
1/2 turmeric powder
Oil to deep fry
Salt to taste
Method
Step 1
Wash bitter gourd & discard both ends. Cut bitter gourd in ¼ inch thick slices. Remove seeds from each ring.
Step 2
Take a bowl and add all the spices & flours mentioned above to the bittergourd slices. Add salt to taste. Mix well.
Step 3
Due to addition of spices & salt, bitter gourd slices will release water. This will help to hold the spice-flour mixture on the slices. If required, sprinkle a few drops of water (be careful, we don't want slices to get too soggy) or a few drops of oil.
Step 4
Heat oil in a pan. Deep fry the masala-coated slices to crispy & crunchy on a medium flame. The hissing sound will stop once the water content in slices is over, it indicates slices are crisp now.
Step 5
Remove slices from oil & put on kitchen tissue paper to soak excess oil. Fry bitter gourd masala coated pieces in batches.
Nutritional Information
| | |
| --- | --- |
| Calories | 158 K cal |
| Proteins | 4.3 g |
| Fats | 3.0 g |
| Carbohydrates | 30.5 g |
| Cholesterol | 29 mg |
| Sodium | 56 mg |
| Potassium | 67 mg |
*For frying, add approximately 10 grams of fat per serving, at 9 K cal/gram of fat.
Tip: Size of bitter gourd slices should be even, so that all the rings get fried on the same level. If slices are not even, then until the thick slices get fried properly, the thin slices will burn and lose taste.