Consuming Tomatoes During Pregnancy – Is It Safe?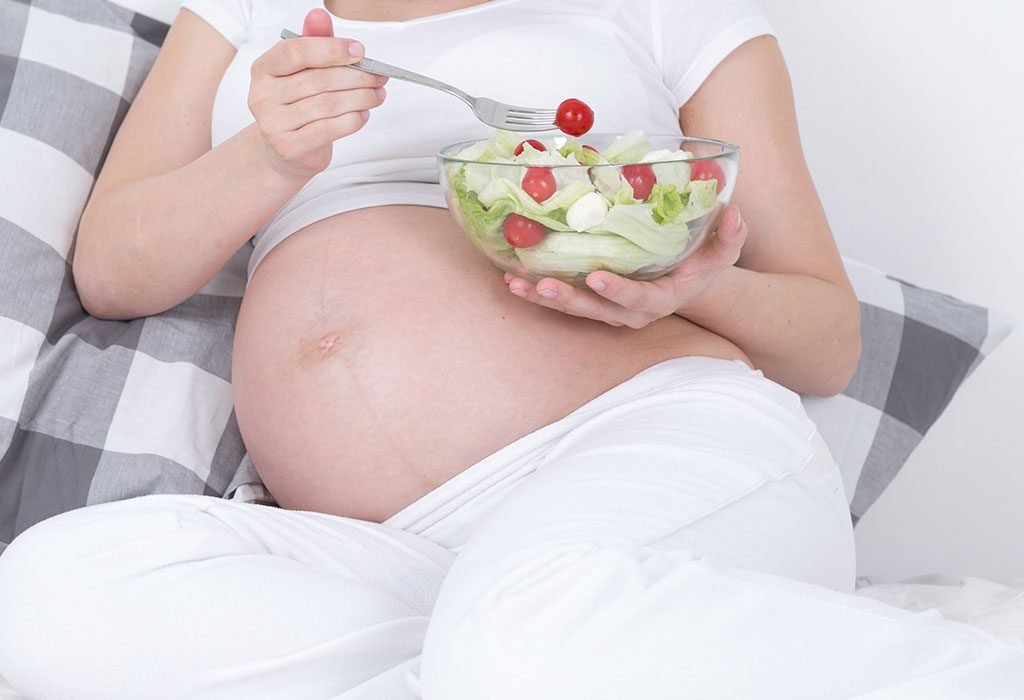 Pregnant women are told to be careful about what they eat to ensure the health and well-being of both the mother and the developing fetus. Their diet should consist of colourful fruits and vegetables, nuts, and lean meats. But, many pregnant women wonder whether they can eat certain foods. Among the many foods commonly enjoyed, tomatoes often find their way into various dishes. However, there's a pertinent question that arises: Is consuming tomatoes during pregnancy safe? In this article, we'll delve into the nutritional benefits, potential risks, healthy recipes, and common questions regarding the consumption of tomatoes during pregnancy.
Can You Eat Tomatoes During Pregnancy?
Not only are tomatoes safe, but they also have several health benefits. Pregnant women, however, should keep in mind that too much of anything could affect their health. Same goes for tomatoes as well. If you can manage to control the consumption of tomatoes, you will reap its health benefits. Let's take a look at the nutritional value of tomatoes.
Nutritional Value of Tomatoes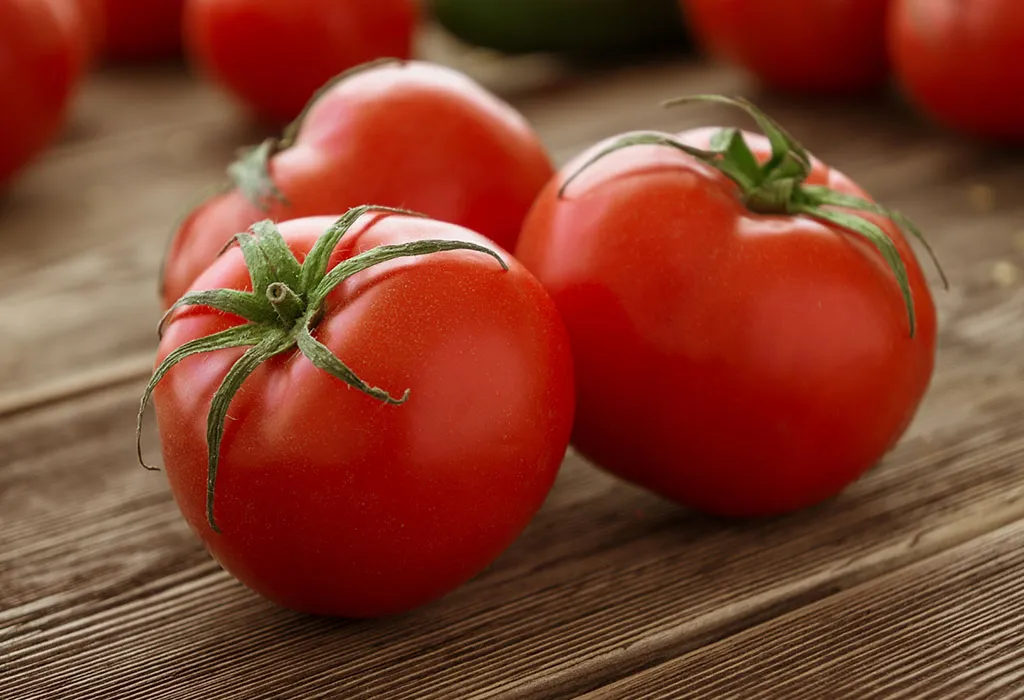 Tomatoes are loaded with vitamin C, vitamin K, Folate & Potassium. Below is a breakup of the nutrients a cup of this fruit (100 grams of ripe hybrid tomato) consists of:
Energy – 19 kcal
Protein – 0.76 gms
Fibre – 1.58 gms
Carbs – 3.2 gms
Cholesterol – 0 gms
Vitamin C – 25 mg
Calcium – 8.9 mg
Potassium – 167 mg
Phosphorous – 15.4 mg
Vitamin A – 252 mg
Other than these nutrients, tomatoes also have Lycopene, Beta-carotene, Naringenin, and Chlorogenic Acid.
All these nutrients benefit in ways given below.
Health Benefits of Consuming Tomatoes During Pregnancy
1. Improves Immunity
As mentioned above, tomatoes contain vitamin C and vitamin A. Vitamin C aids iron absorption, while vitamin A strengthens the immune system, fights infections and gives a boost to tissue repair after childbirth.
2. Prevents Blood Loss
Sun-dried tomatoes contain Vitamin K, which prevents blood loss and reduces the risk of haemorrhage.
3. Improves Digestion
The fibre content of tomatoes keeps the digestive system healthy and robust.
4. Prevents Congenital Deformities
Lycopene, a powerful antioxidant found in tomatoes, prevents cell damage, preeclampsia and congenital deformities in babies.
5. Keeps the Heart Healthy
Nicotinic acid (Chlorogenic acid) reduces bad cholesterol and keeps the heart healthy during pregnancy.
6. Improve the Blood Circulation
Tomatoes can purify the blood and improve its circulation to various body parts. The Lycomato extract in tomatoes also reduces the blood pressure in people suffering from untreated hypertension.
7. Prevents Cancer
Lycopene can also fight cancer-causing radicals, thus preventing pregnant women from cervical cancer, rectal cancer, etc.
8. Helps to Manage Gestational Diabetes
Consuming tomatoes regularly lowers the oxidative stress of gestational diabetes.
9. Promotes Healthy Development of the Foetus
The high vitamin C content in tomatoes aids the formation of the foetus' skin, bones, gums and teeth.
10. Prevents Anaemia
The high content of vitamin C enhances the body's ability to absorb iron from plant-based foods, helping prevent anaemia—a common concern during pregnancy.
11. No Birth Defects
Folic acid in tomatoes supports the development of the baby's neural tube and reduces the risk of birth defects.
Why Do Many Women Crave Tomatoes While Pregnant?
While there's no single explanation for why certain foods become irresistible during pregnancy, researchers believe a combination of hormonal and psychological factors play a role. During pregnancy, many women tend to crave sour and tangy foods to alleviate nausea. Another reason could be the body's way of signalling a need for certain nutrients. For example, the high vitamin C content in tomatoes could indicate a nutritional deficiency or increased demand for this vitamin during pregnancy.
If the craving for tomatoes goes over the board and seems abnormal, it could be linked to iron deficiency, which is related to Tomatophagia. If you have strong cravings for tomatoes, do inform your doctor about it.
When Should You Avoid Eating Tomatoes When Pregnant?
You should avoid excess consumption of tomatoes during pregnancy in the following cases:
If you tend to experience heartburn or indigestion, it's advisable to moderate or reduce your consumption of tomatoes.
Due to their potassium and water content, individuals with kidney concerns should refrain from eating tomatoes unless authorized by a medical professional.
Risks of Consuming Tomatoes During Pregnancy
While moderate consumption of tomatoes is safe for pregnant women, these complications can arise if they're consumed in large quantities.
Heartburn
Acid reflux
Bladder issues
Migraine
Different Types of Tomato And Their Safety During Pregnancy
Tomatoes exhibit remarkable versatility, appearing in a multitude of forms. Here's a quick overview of the most common types and their suitability for pregnant women:
Green tomatoes: While green tomatoes are often fried, resulting in a potential increase in unhealthy fats and calories, they are safe for consumption during pregnancy.
Cherry tomatoes: Pregnant women can enjoy cherry tomatoes, but it's essential to wash them thoroughly before consumption.
Sundried tomatoes (also known as semi-dried or 'sun blush' tomatoes): These are considered safe if obtained from canned or jarred sources. However, exercise caution with those purchased from open containers at delis or stores, or at buffets, due to potential risks of listeria and cross-contamination.
Yellow, purple, black, or other tomato varieties: All these tomato types are safe during pregnancy. Treat them as you would red tomatoes, ensuring proper washing.
Heirloom tomatoes: All varieties of heirloom tomatoes are safe for pregnant women. If consuming them raw, remember to follow the usual guideline of washing them before consumption.
Tips for Choosing Tomatoes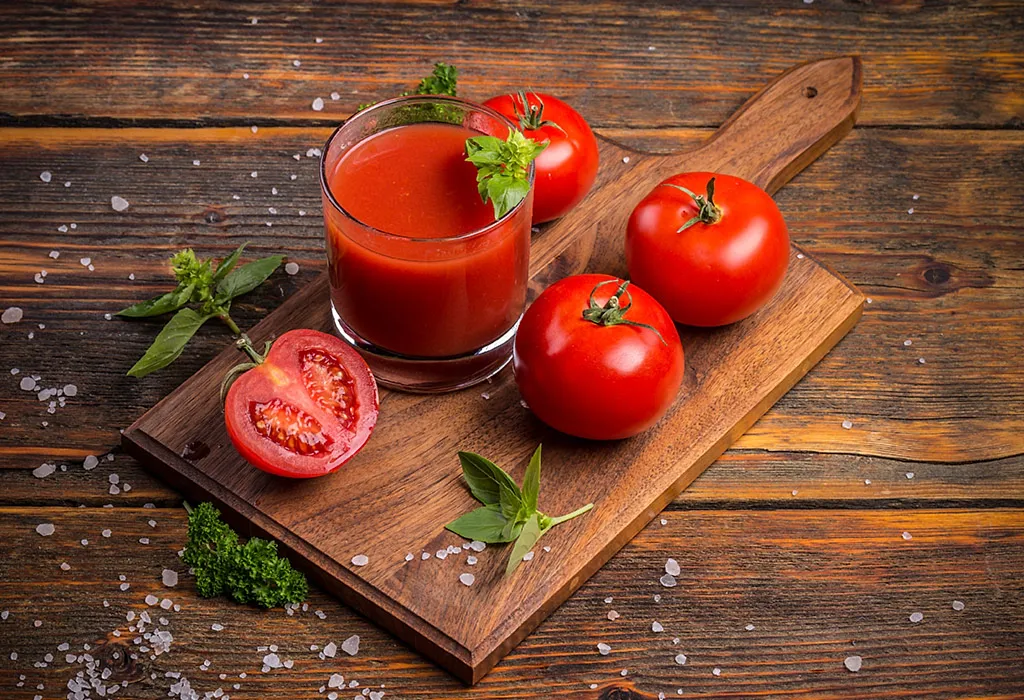 Always buy loose tomatoes rather than those packed in boxes.
They should be plump and bright red.
Avoid buying tomatoes with bruised or blemished skins.
Ripe tomatoes emit a strong smell when squeezed; unripe tomatoes are hard and can't be squeezed.
The best place to buy these fruits is at a farmer's market.
Precautions to Take While Consuming Tomatoes When Pregnant
Because tomatoes come with slight mercury content in them, it is essential that pregnant women exercise precautions before consuming them. Here are some precautions to look forward to:
1. Opt for fresh tomatoes instead of canned ones
Fresh tomatoes typically have lower mercury levels than their canned counterparts. If you opt for canned tomatoes, seek out certified brands with minimal mercury content.
2. Exercise moderation in consumption
Consuming an excessive amount of tomatoes can potentially elevate your mercury levels. Limit your intake to a maximum of two cups (approximately four medium-sized tomatoes) per week.
3. Steer clear of processed foods
Processed tomato products like sauces and ketchup often contain higher mercury levels than fresh or canned tomatoes. If you opt for processed items, choose brands with certification for low mercury content.
4. Consider removing the skin and seeds
The skin and seeds of tomatoes tend to contain higher concentrations of mercury. Removing these parts before consumption can help mitigate your exposure.
5. Maintain hand hygiene
After handling tomatoes, thoroughly wash your hands, especially if you've touched the skin or seeds.
By adhering to these uncomplicated safety precautions, you can savour tomatoes during your pregnancy while minimizing any potential mercury exposure.
Ways to Include Tomatoes in Your Pregnancy Diet
Tomatoes bring a distinct and delightful flavour to various dishes. Here's how you can incorporate them into your diet to enhance both taste and well-being:
Enhance salads with the addition of raw tomatoes.

Make your Indian curries and purees tastier than ever with tomatoes.

Opt for a nutritious tomato soup as a meal alternative if you are looking for something light yet fulfilling.

Revive yourself with tomato juice, an excellent choice for snacks or breakfast.

Add them to sandwiches.

Since store-bought tomato ketchup is to be avoided, make your own batch of organic and hygienic homemade tomato ketchup.

Explore the continental culinary realm with sun-dried and grilled tomatoes as integral ingredients.
Recipes
Try these yummy tomato recipes today!
1. Tomato and Split Yellow Gram Soup
On rainy and chilly days, nothing comforts like warm, creamy tomato soup. Easy and quick to make, try this simple version of tomato soup when you don't want to have anything fancy-schmancy!
Ingredients:
4 cups chopped tomatoes
¼ cup split yellow gram
½ cup finely chopped onions
1 teaspoon low-fat butter
½ cup low-fat milk
2 teaspoons sugar
1 teaspoon freshly ground black pepper
Salt to taste
Method:
Combine four cups of water, chopped tomatoes, and split yellow gram in a non-stick saucepan.

Cook over medium heat for about eight to ten minutes until the tomatoes become soft.

Remove from heat and set the saucepan aside.

Blend the cooked mixture to create a smooth liquid. Set aside.

Melt the low-fat butter in the same non-stick saucepan and add finely chopped onions.

Sauté the onions until they turn a light brown colour.

Add the blended tomato and split yellow gram mixture to the saucepan with sautéed onions.

Pour in the low-fat milk, sugar, freshly ground black pepper, and a pinch of salt.

Mix all the ingredients thoroughly.

Bring the mixture to a boil while stirring continuously.

Once it starts boiling, reduce the heat and let it simmer for about five minutes.

Your tomato soup with split yellow gram is now ready.

Serve the hot soup with toasted whole wheat bread croutons for added crunch and flavour.
2. Tomato Salsa
This Mexican dish is generally safe during pregnancy when the heat level is kept moderate. Whip up some nachos and have a Mexican fiesta right in the comfort of your home with this delicious tomato salsa.
Ingredients:
3 medium ripe tomatoes, finely chopped

1/2 cup red onion, finely chopped

1/4 cup fresh cilantro, chopped

1 small jalapeno pepper, seeds removed and finely chopped

1-2 tablespoons lime juice (adjust to taste)

Salt to taste
Method:
Wash and finely chop the tomatoes, red onion, fresh cilantro, and jalapeno pepper.

Remove the seeds from the jalapeno pepper for a milder salsa, or keep them for a spicier version.

In a mixing bowl, combine the chopped tomatoes, red onion, cilantro, and jalapeno pepper.

Squeeze fresh lime juice over the mixture. Start with 1 tablespoon and adjust according to your taste preference.

Gently stir the ingredients to combine, then add a salt pinch. Adjust the salt as needed.

Allow the salsa to sit in the refrigerator for at least 30 minutes to allow the flavours to meld.

Once chilled, serve your tomato salsa with whole-grain tortilla chips or whole-wheat pita.
3. Tomato Chutney
This tangy and zesty chutney provides a burst of flavour and goes perfectly well with dishes like idli, dosa and vada.
Ingredients:
Tomatoes – 2
Ginger – 1/2 inch, chopped
Dried red chillies – 2 to 3 nos
Urad dal – 1 tsp
Black pepper – 4 to 5 nos
Cloves – 2 to 3 nos
Hing – a pinch
Water (for grinding) – 2 tbsp
Oil – 1/2 tbsp
Salt – as required
For Tempering:
Oil – 1/2 tbsp
Dried red chillies – 1
Curry leaves – 7 to 8
Mustard seeds – 1/2 tsp
Methi seeds – 1/2 tsp
Hing – a pinch
Method:
In a pan, roast the urad dal until it turns brownish.
Add red chillies, cloves, pepper and ginger.
Add the chopped tomatoes, hing and salt.
Stir until the tomatoes soften.
Once the mixture cools down, grind it to get a smooth paste.
Add water if required.
To another pan, add mustard seeds. Let them crackle.
Add the tempering ingredients and saute.
Add the tomato paste and stir.
Add more salt if required.
Serve.
4. Tomato Dal
This delicious recipe is from the state of Andhra Pradesh and can be a great accompaniment with rotis or rice.
Ingredients:
Arhar dal – 1/2 cup
Oil/ghee – 2 tbsp
Mustard seeds – 1/2 tsp
Cumin seeds – 1/2 tsp
Onions – 1/2 cup, chopped
Curry leaves – 10 to 12
Green chillies – 1, chopped
Ginger-garlic paste – 1 tsp
Tomatoes – 2, chopped
Red chilly powder – 1/4 tsp
Turmeric powder – 1/4 tsp
Hing – a pinch
Water – as required
Salt – as required
Method:
Soak the arhar dal for 15-20 minutes. Drain the water and keep it aside.
Heat oil or ghee in a pressure cooker.
Add the mustard seeds, and let them crackle.
Add the cumin seeds, and let them splutter.
Now, add the chopped onions, curry leaves and green chillies, and saute.
Add the ginger-garlic paste and saute until the raw aroma goes away.
Add the tomatoes, red chilli powder, turmeric powder, hing, salt and saute.
Then, add the lentils and water. Mix well.
Pressure cook for 5 to 6 whistles.
Serve.
FAQs
1. Can you have raw or unwashed tomatoes during pregnancy?
Are tomatoes good for pregnancy if they are raw or unwashed? Absolutely no! Raw tomatoes are okay to consume, but unwashed – certainly not. Unwashed tomatoes are covered with dirt, pesticides, and chemicals sprayed over them, hence they should not be consumed.
2. Is it safe to consume canned tomatoes in pregnancy?
Consuming canned tomatoes while pregnant is not a safe option are they are prone to bacterial contamination. Additionally, the linings of food cans may contain a harmful substance called bisphenol A (BPA), which holds risks for both expectant mothers and their developing foetuses.
3. Is it safe to consume tomato ketchup or sauce while pregnant?
Tomato ketchup or sauce should only be consumed in moderation during pregnancy at they contain MSG. Excessive consumption can be harmful for both the mother and the baby.
4. Can you drink tomato juice during pregnancy?
Tomato juice made at home is safe and free from any contamination. However, fresh tomato juices at restaurants, outside vendors, or farmer's markets are not pasteurised and may risk a pregnant woman; therefore, they should not be consumed as there are chances of bacterial contamination. When buying tomato juice from shelves, make the label mentions pasteurisation. In a study, it was found that consumption of unsalted tomato juice improved blood pressure and serum LDL cholesterol levels in local Japanese residents who were at risk of cardiovascular conditions.
5. Can pregnant women eat fried tomatoes?
Yes, pregnant women can eat fried tomatoes. However, anything fried should be consumed in moderation to keep nausea and vomiting in check. Excessive consumption of fried foods during pregnancy can bring on pregnancy complications, like gestational diabetes.
6. Can consuming tomatoes cause miscarriage during pregnancy?
Tomatoes do not cause miscarriage. Careful handling of tomatoes and washing them thoroughly before eating is essential to maintain health and keep illnesses and complications at bay.
While there isn't a definitive answer to why tomatoes become a go-to craving, the combination of nutritional benefits, hormonal fluctuations, and psychological factors likely contribute to this intriguing aspect of pregnancy. Tomatoes help pregnant women deal with the stress of pregnancy. They also benefit the foetus in your womb. So, the next time you feel like adding some tomatoes to your meals, go ahead and do it, but always limit the consumption as excessive intake can cause health issues.
References/Resources:
1. Protect your baby from BPA (Bisphenol A); Mass.gov; https://www.mass.gov/info-details/protect-your-baby-from-bpa-bisphenol-a
2. Osorio-Yáñez. C, Gelaye. B, Qiu. C, Bao. W, et al.; Maternal intake of fried foods and risk of gestational diabetes mellitus; Ann Epidemiol; PubMed Central; https://www.ncbi.nlm.nih.gov/pmc/articles/PMC5578760/; June 2017
3. Tabassum. N, Ahmad. F; Role of natural herbs in the treatment of hypertension; Pharmacogn Rev.; PubMed Central; https://www.ncbi.nlm.nih.gov/pmc/articles/PMC3210006/; January 2011
4. Odai. T, Terauchi. M, Okamoto. D, Hirose. A, Miyasaka. N; Unsalted tomato juice intake improves blood pressure and serum low-density lipoprotein cholesterol level in local Japanese residents at risk of cardiovascular disease; Food Science & Nutrition; Wiley Online Library; https://onlinelibrary.wiley.com/doi/full/10.1002/fsn3.1066; May 2019
5. Willcox. J. K, Catignani. G. L, Lazarus. S; Tomatoes and cardiovascular health; Crit Rev Food Sci Nutr.; PubMed; https://pubmed.ncbi.nlm.nih.gov/12587984/; 2003
6. How to Treat Iron Deficiency During Pregnancy; American Pregnancy Association; https://americanpregnancy.org/healthy-pregnancy/pregnancy-health-wellness/treat-iron-deficiency-naturally-pregnancy/
7. Schagen. S. K, Zampeli. V. A, Makrantonaki. E, Zouboulis. C. C; Discovering the link between nutrition and skin aging; Dermato Endocrinology; https://www.ncbi.nlm.nih.gov/pmc/articles/PMC3583891/; July 2012
8. Stoller. R; Tasty Tomatoes: Anti-Cancer Attributes & A Healthy Recipe; NCFR; https://www.nfcr.org/blog/tasty-tomatoes-anti-cancer-attributes-healthy-recipe/; January 2017
9. Symptoms & Causes of Indigestion; NIH; https://www.niddk.nih.gov/health-information/digestive-diseases/indigestion-dyspepsia/symptoms-causes
Also Read:
Eating Potatoes in Pregnancy
Can we Eat Onions during Pregnancy
Eating Curry Leaves (Kadi Patta) During Pregnancy