Eating Plums (Aloo Bukhara) During Pregnancy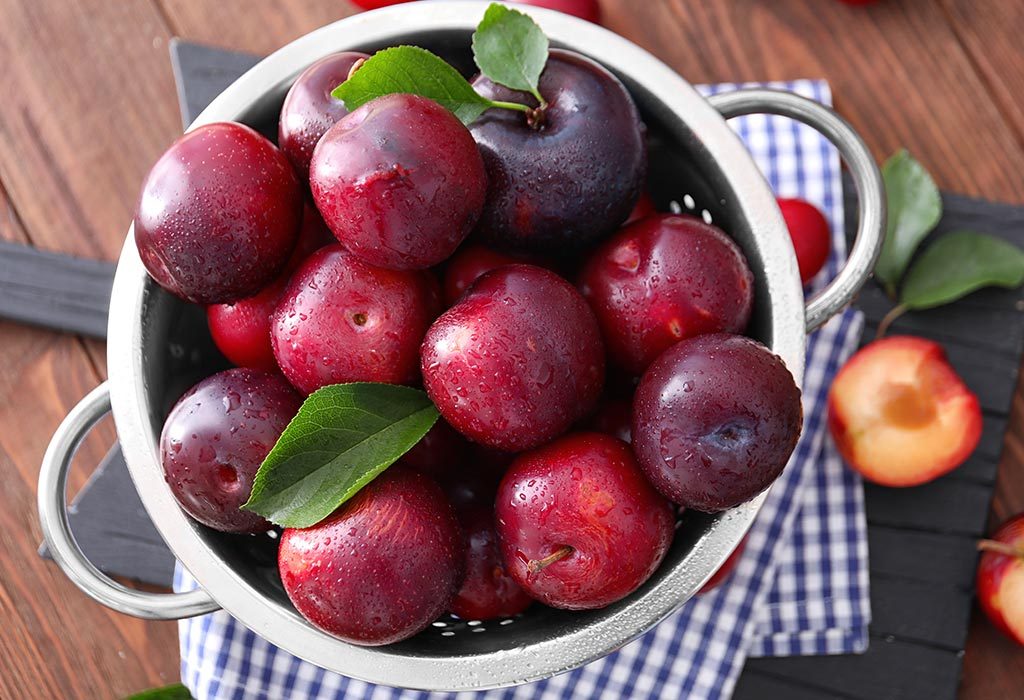 Plums are extremely nutritious and can be very beneficial for our health. There are more than a hundred varieties of plums found across the globe. Aloo bukhara is one of the varieties of plums that is native to the Indian subcontinent. The taste of aloo bukhara ranges from sweet to sour, i.e., it has a tangy taste – but this fruit is enjoyed by all. But, if you're pregnant and wish to eat plums, you might wonder if it is safe to eat plums during pregnancy. Let's find out! Read about the nutritional value of plums, their benefits during pregnancy, and more!
Nutritional Value of Plums
The nutritional value of fresh plums is considerably high compared to most other fruits. The chart below provides the nutrient content in a hundred grams of plums.
| | |
| --- | --- |
| Nutrient | Amount |
| Energy | 46 kcal (60 kcal) |
| Carbohydrates | 11.4 g |
| Protein | 0.7 g (0.6 g) |
| Fat | 0.28 g |
| Fibre | 1.4 g |
| Folate | 5 mcg |
| Pantothenic Acid | 135 mcg |
| Niacin | 417 mcg |
| Pyridoxine | 29 mcg |
| Riboflavin | 26 mcg |
| Potassium | 157 mg |
| Thiamine | 28 mcg |
| Vitamin A | 200 mcg |
| Vitamin C | 9.5 mg |
| Vitamin E | 260 mcg |
| Vitamin K | 6.4 mcg |
| Calcium | 6 mg |
| Iron | 170 mcg |
| Magnesium | 7 mg |
| Manganese | 52 mcg |
| Zinc | 100 mcg |
| Phosphorus | 16 mg |
Source: https://nutritiondata.self.com/facts/fruits-and-fruit-juices/2032/2
Health Benefits of Eating Plums During Pregnancy
Eating aloo bukhara can be very beneficial for a pregnant woman. Listed below are some health benefits of eating plums during pregnancy.
1. May Help Fight Anaemia
Anaemia, especially iron-deficiency anaemia, is a common problem during pregnancy, and most pregnant women develop this condition. However, if it is not treated in time, it may lead to premature birth or low birth weight in a baby. Hence, it is best prevented in the first place. To prevent this condition, eating iron-rich foods is recommended. While pregnant, you can eat plums as they are rich in iron, which is essential for making red blood cells. Include them in your diet and keep anaemia at bay!
3. May Provide Energy
Vitamin C helps in the absorption of iron through the digestive system, thereby lowering the risk of anaemia. It is also a powerful antioxidant, which means it protects our cells from oxidative damage. Vitamin C is also essential for the synthesis of L-carnitine, an alternative amino acid required for the breakdown of fatty acids and energy production.
3. Helps With Constipation
The rich fibre content in plums makes them very beneficial for the digestive system. This fruit can stimulate the digestive tract to pass stools easily, reducing the effects of constipation by exerting a laxative effect.
4. Prevents Preterm Labour
The relatively high concentration of magnesium in plums can lower the risk of early contractions by playing a role in the relaxation of cervical muscles.
5. Helps in the Development of Bones
Plums are rich in Vitamin A, which is known for its propensity to improve bone development and growth. Further, plums also contain potassium, Vitamin K, calcium, and phosphorus, all of which are essential for the maintenance of bone health.
6. Helps With Stress and Fatigue
Stress and fatigue are common complaints during pregnancy. Eating plums can lower these effects due to the presence of vitamins, minerals, and antioxidants that work in tandem to support various body processes and increase energy levels.

How Many Plums to Eat Daily While Pregnant?
The daily amount depends on factors like gender, health status, age, and so on. When pregnant, a woman can eat 150-200 gms of fresh plums in a day. You must make sure that you eat only fresh plums and not the dried ones, and that too in moderation. Although plums are delicious and nutritious, they should not be consumed in excess as they can lead to certain side effects.
When Should You Avoid Eating Aloo Bukhara?
Although plums are very nutritious, they can lead to few side effects if consumed in excess. Here are a few potential situations in which you can and should avoid eating aloo bukhara during pregnancy.
1. When You Are Trying to Gain Healthy Weight
However, calories are quite important for metabolism, and all the more so during pregnancy. Please ensure you get 1800 kcal per day during the first trimester, 2200 kcal per day during the second trimester, and 2400 kcal per day during the third trimester from a wide variety of foods.
2. If You Have a Kidney Problem
People who do not have a kidney problem can consume plums without fear. However, if you are prone to conditions like kidney stones, you should strictly avoid eating plums. This is because they contain oxalates, which can combine with calcium in the kidneys and form stones.
How to Select and Store Prunes
When you go shopping for red plums, it is best to choose those, which are brightly-coloured, fresh, average in size and juicy. Please avoid wrinkled, damaged, bruised, or unripe plums. You can store ripe plums in a plastic bag in a crisper drawer to extend its shelf life.
Plums are a nutritious fruit, and you can include them in your pregnancy diet if you don't have a kidney problem or any other health complication. However, it is best that you consult with your doctor or nutritionist first before including them in your diet. Have a healthy and safe pregnancy!
Also Read: Importance of Fruits in Pregnancy