Easy and Tasty Soup Recipes for Baby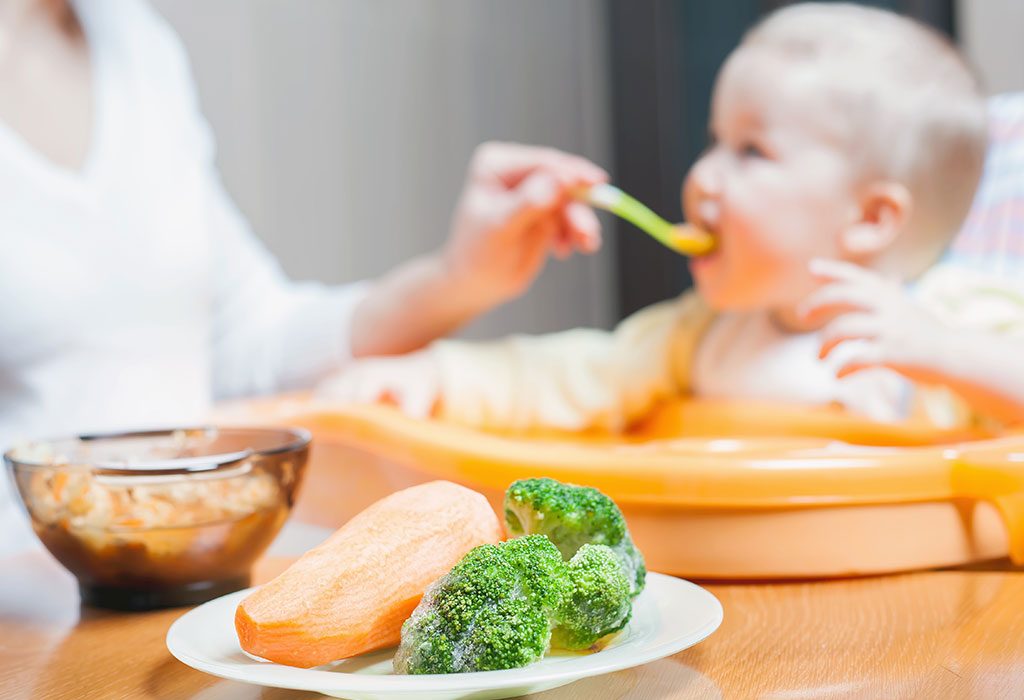 In this Article
One of the best dishes that you can serve your little one is soup. Warm and liquidy, they won't have any issue gulping it down and asking for more. It's also healthy when you add vegetables and tasty if made the right way.
10 Yummy Soup Recipes for Your Infant
There are many baby soup recipes – Indian, Western as well as Oriental – that you can try out at home:
1. Corn Soup Recipe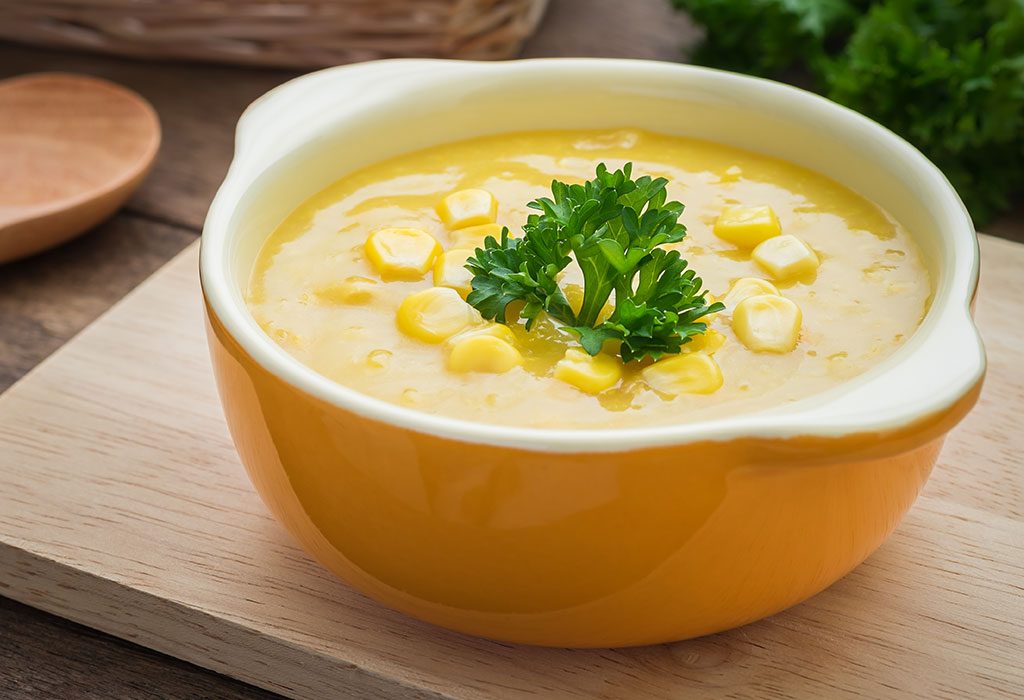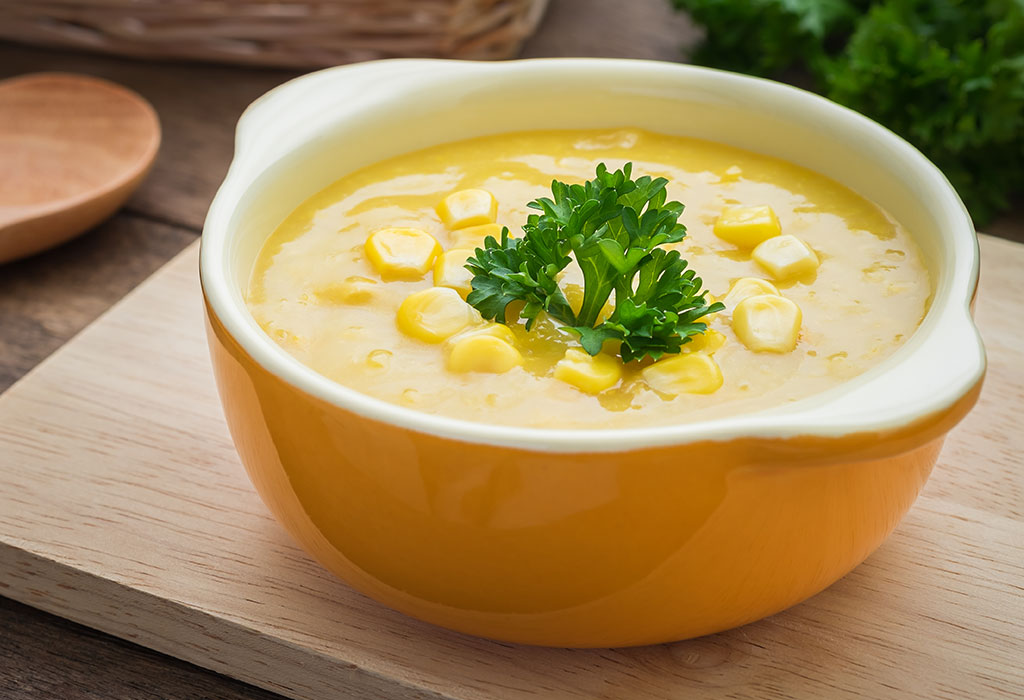 Ingredients
2 corn on the cob/2 cups corn kernels
1 cup mixed veggies (Carrot, beans, peas etc.) in small cubes
1/4th teaspoon turmeric powder
½ tsp butter or clarified butter (ghee)
Pinch of pepper and salt (optional)
¼ tsp grated garlic and ginger
Water
How to Prepare
To make this soup, take the corn and pressure cook it with the turmeric powder, salt and water for 3 whistles. Once the pressure reduces, remove the corn and puree it smoothly. You can adjust its consistency with the help of water.
Steam veggies in the meantime that you can add to the side. If it mashes when you squeeze it, its steamed well.
Heat up butter or ghee and add minced garlic and ginger once it's hot. Then, add the veggies and stir it.
Add the pureed corn for a little boil and season it with salt and pepper.
2. Mixed Vegetable Soup Recipe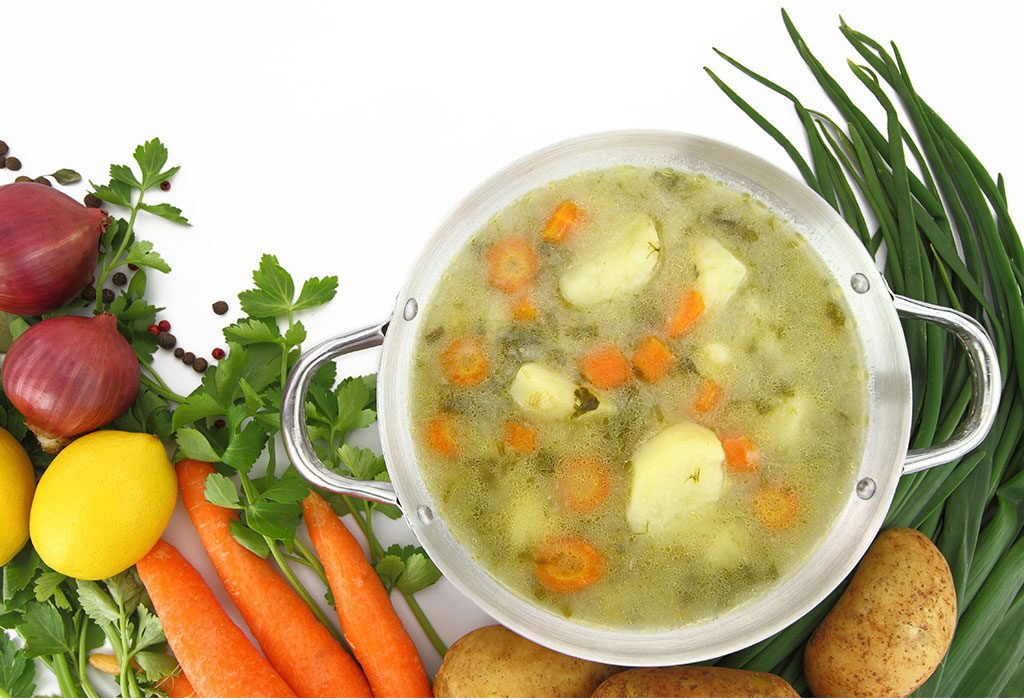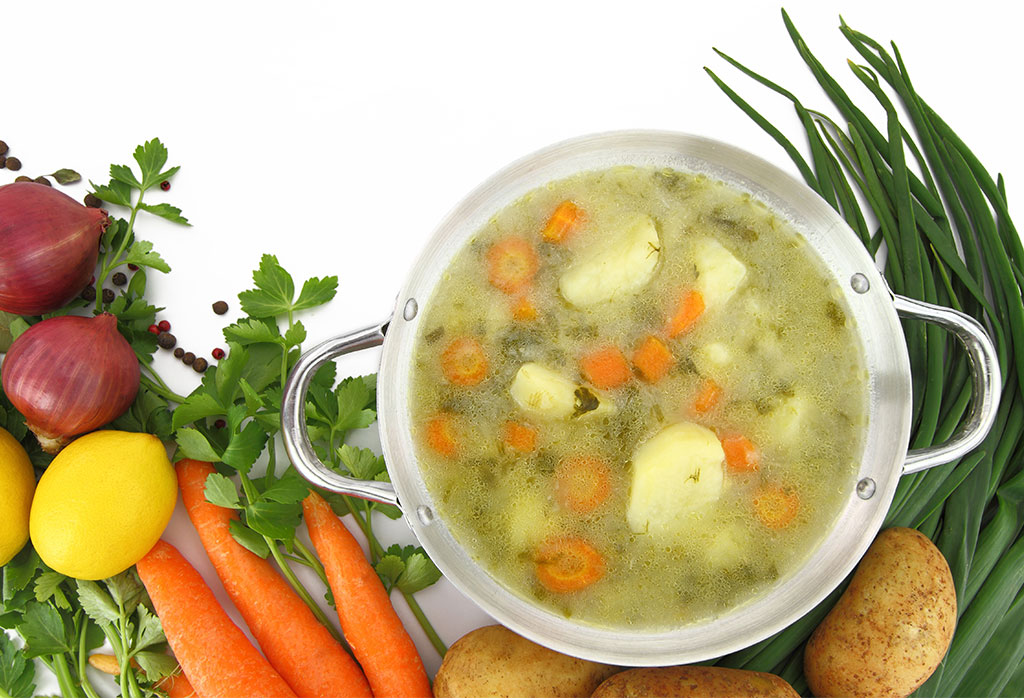 Ingredients
1 onion and carrot, finely chopped
French beans (7-8 in number)
2-3 broccoli florets and 3-4 button mushrooms, finely chopped
1 tsp grated ginger
2 tsp butter
Salt
Black pepper or jeera powder
1 tbsp milk
½ glass of water
Other veggies (optional)
How to Prepare
Add butter and some oil in a pan
Saute onions till they are light pink
Add grated ginger and cook it till the smell leaves
Add all veggies and stir-fry for around two minutes
Boil it with water
Add salt and black pepper powder and let the water simmer on low flame
Add milk and boil it for a bit
Serve with coriander and pepper garnish
3. Chicken Soup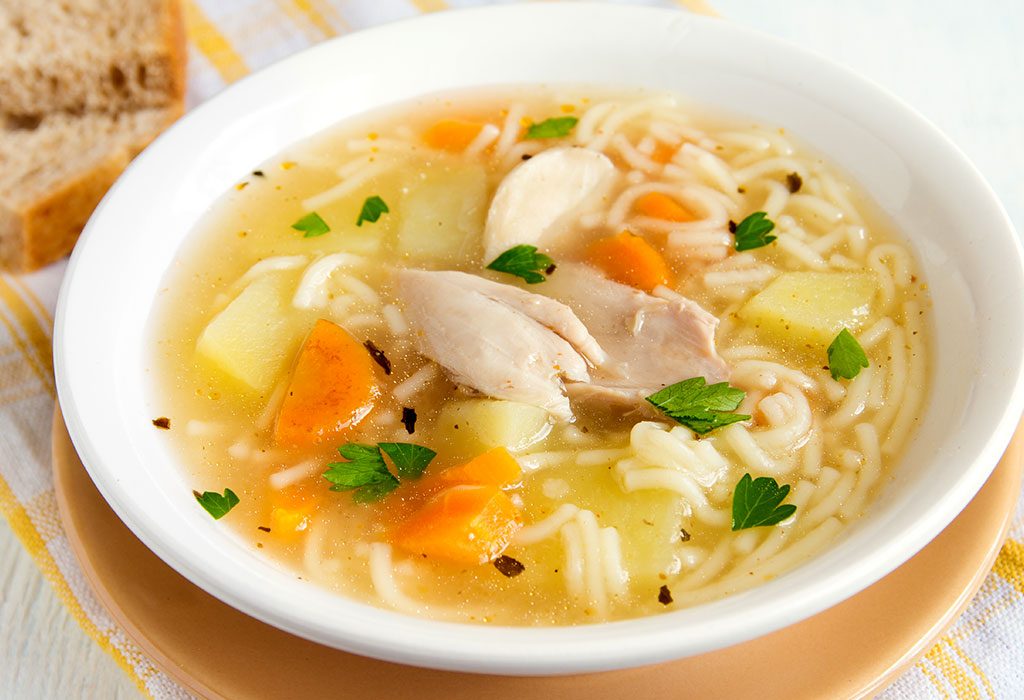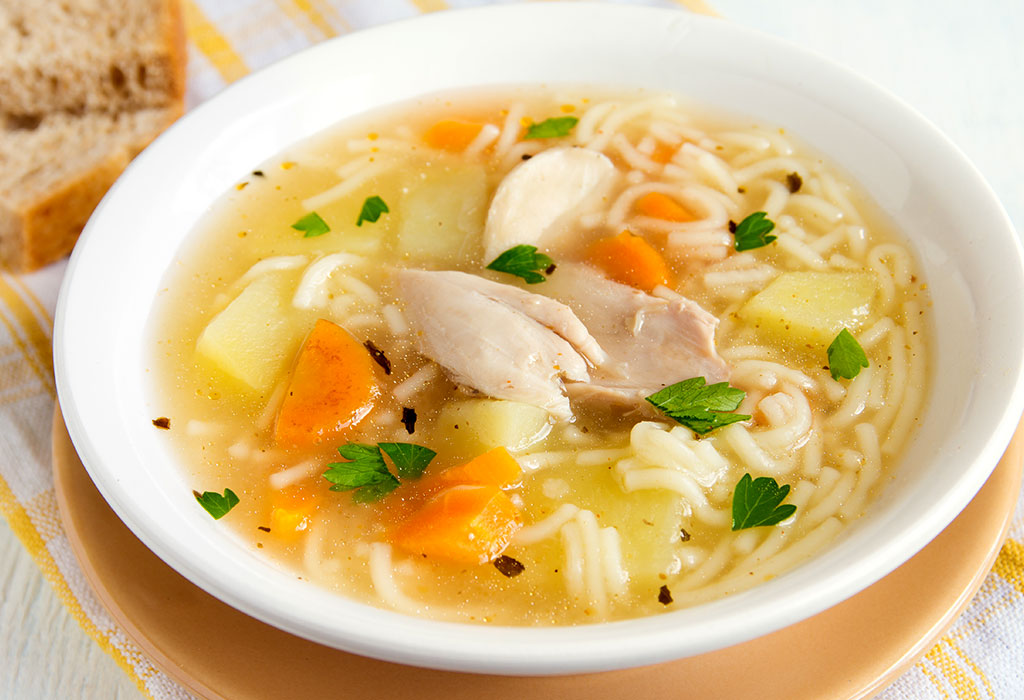 Ingredients
1 chicken breast (boneless and diced)
1 carrot
1 small onion, finely chopped
¼ teaspoon of ground dried thyme
¼ teaspoon basil
¼ teaspoon pepper
2 shakes of garlic powder
4 cups (water)
How to Prepare
Add all the ingredients in a saucepan and boil
Once it begins boiling, reduce the heat to low and let it simmer for an hour. Check the water level
When the chicken is cooked, turn the heat off and allow it to cool for 15 minutes. Transfer the ingredients the food processor or blender to make it a puree
You can substitute the basil and garlic powder with coriander, cardamom, ginger or cinnamon
Garnish and serve
4. Egg-Drop Soup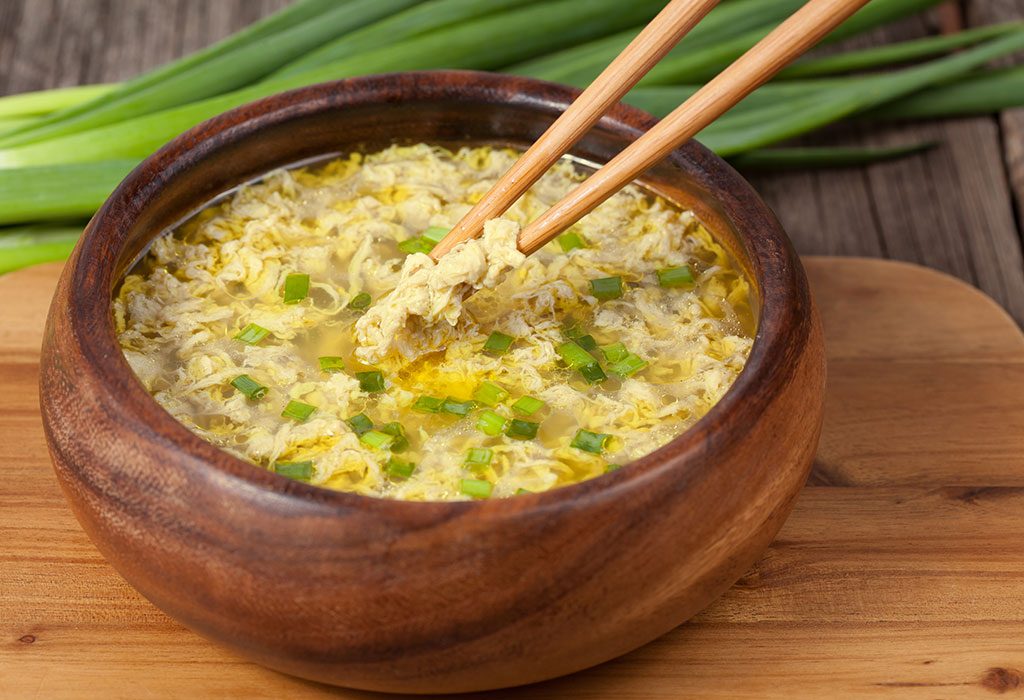 Ingredients
4 cups of broth
3 egg yolks
1 shake of garlic and pepper
How to Prepare
Boil the broth and let it simmer. Beat the egg yolks and add them slowly to the broth.
Keep whisking as you add the yolks. You can have nice little "threads" of yolk throughout. If you want it lumpy, you can add the yolks quicker.
Add the pepper and garlic and let it cool before you serve it to your baby.
5. Beefy Barley Soup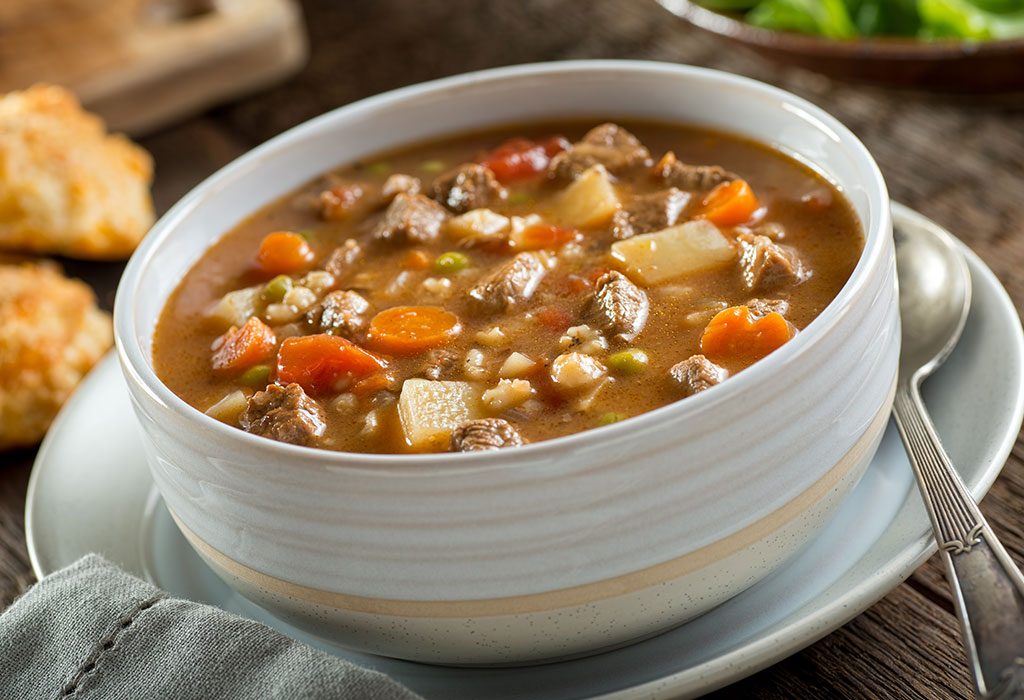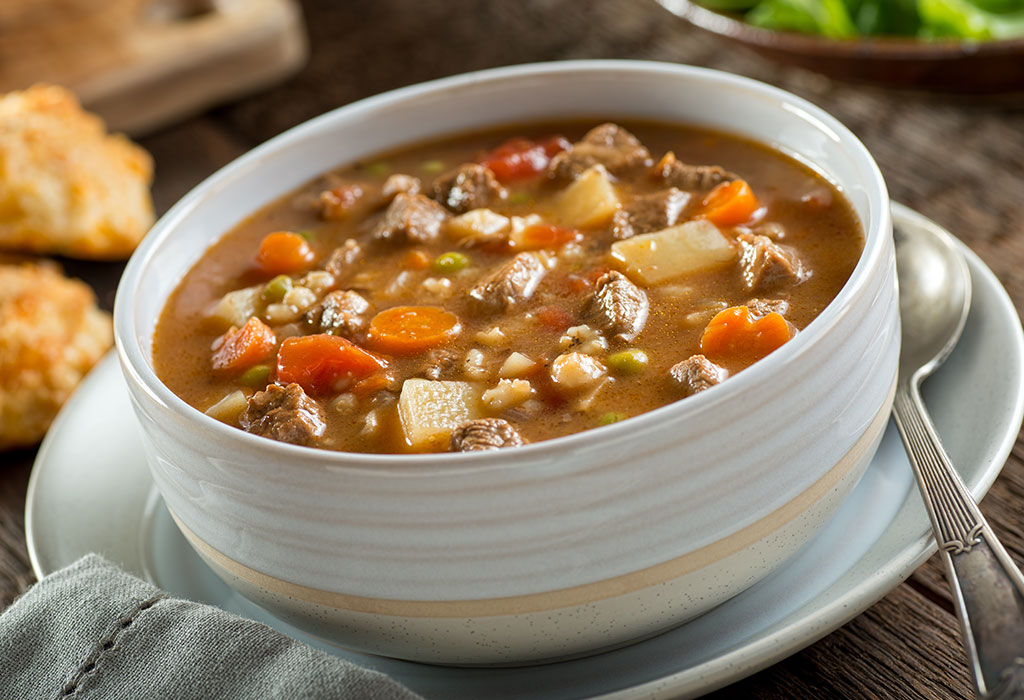 Ingredients
½ pound of stew cubes of beef (uncooked and diced)
2 carrots (peeled and diced)
1 small onion, finely chopped
1 parsnip
½ clove of garlic, crushed
¼ teaspoon each of basil, rosemary and pepper
6 cups of water
½ cup barley
How to Prepare
Add the ingredients and bring them to a boil. Make sure you use a large enough saucepan
Once it begins boiling, you can turn down the heat to low and let it simmer for around an hour. Check the water level and add more to maintain the consistency
Once the beef and barley are cooked, turn the heat off and allow it to cool for around 15 minutes before you transfer the ingredients to your food processor and puree it into a soup.
6. Quick Pumpkin Soup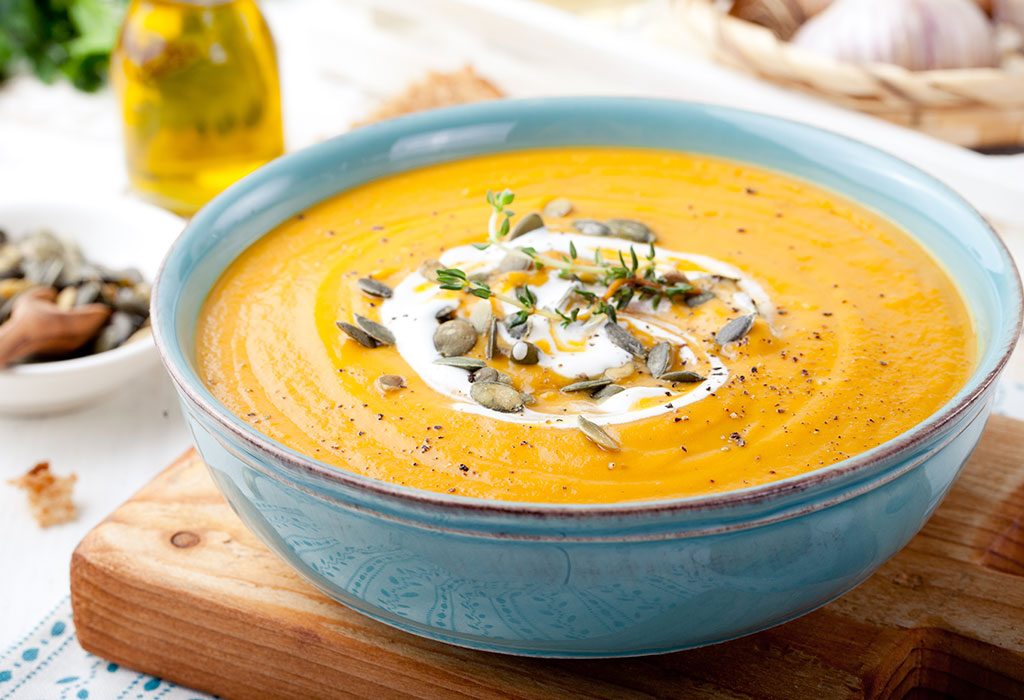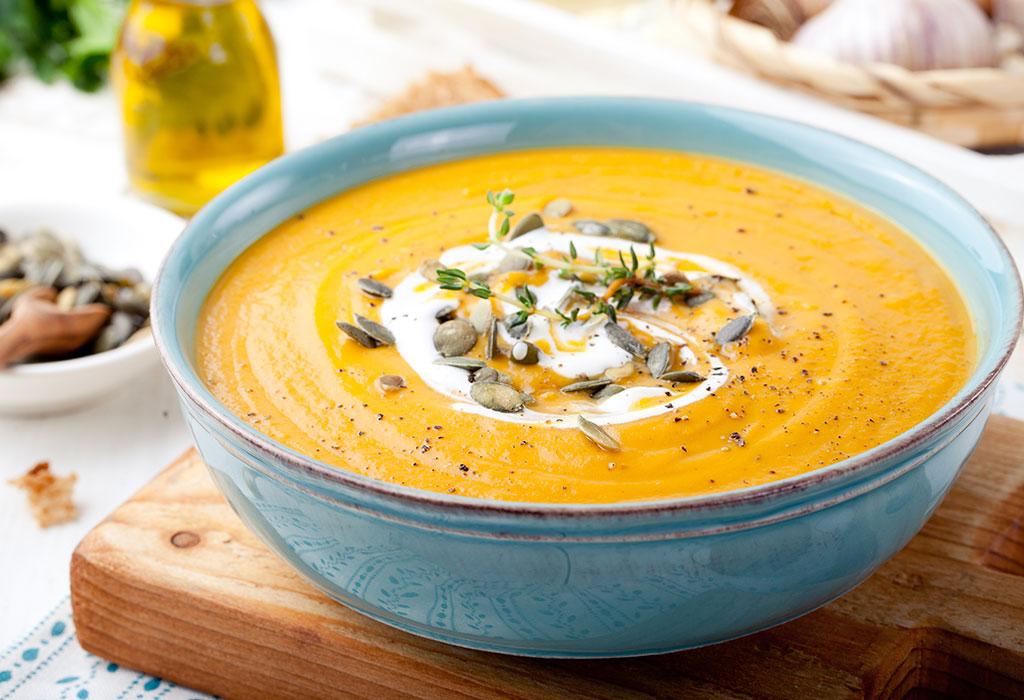 Ingredients
Pumpkin puree
Chicken broth – 2 parts broth and 1 part pumpkin spice (Nutmeg, cinnamon, ginger)
How to prepare
Whisk all the ingredients into a pot and let it simmer for around 20-25 minutes.
Ensure that the heat is not too much as you could overcook the chicken and veggies.
Once done, put it in a blender/processor and serve it to the baby.
7. Asparagus Creamy Chicken Soup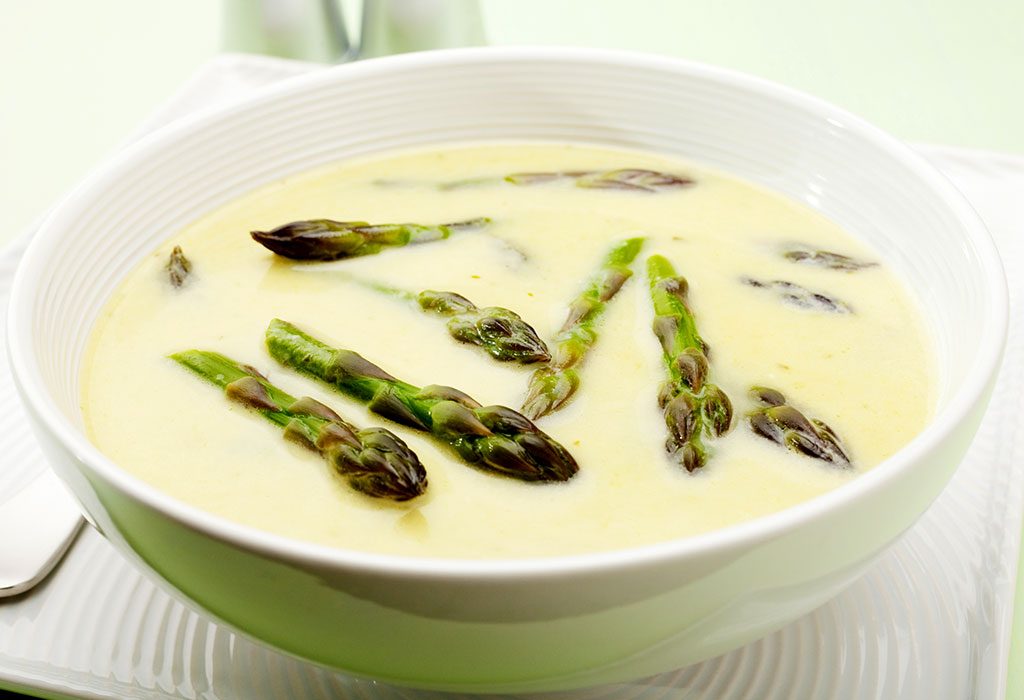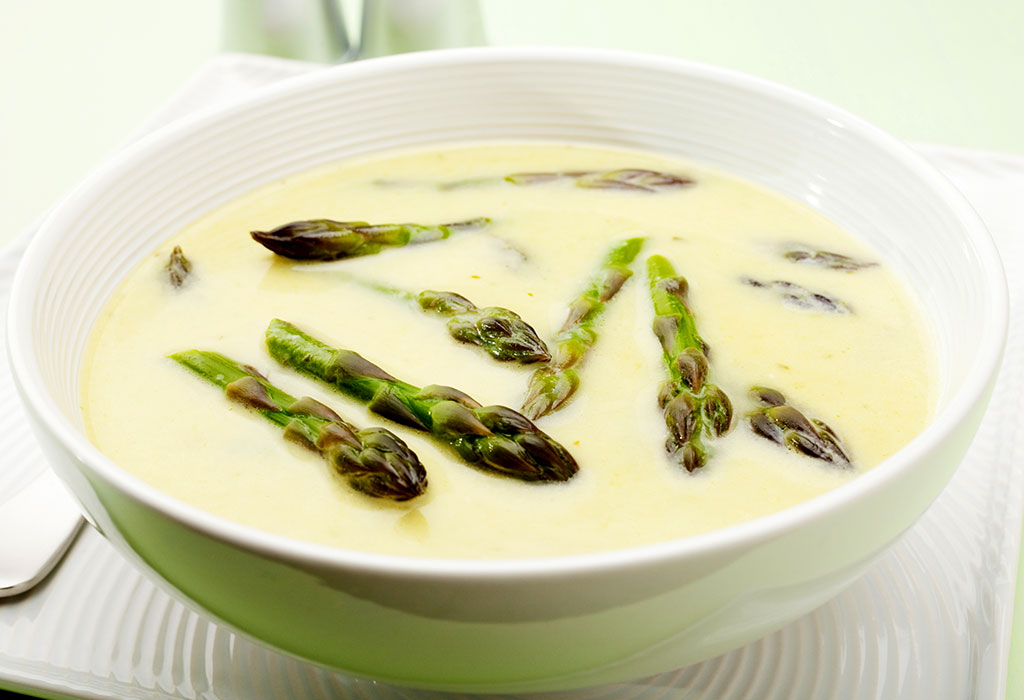 Ingredients
2 teaspoons of olive oil
onion, chopped
1 pack of frozen asparagus
½ cup chicken broth
¼ teaspoon of basil and garlic powder
1 cup of fat-free plain yoghurt
½ cooked and diced breast of chicken
How to Prepare
Heat oil over medium heat in a large skillet and add onion and saute it until its tender
Add the asparagus, chicken broth, basil as well as garlic powder and bring it to a boil over a medium-high heat.
Reduce the heat to a medium-low and let it simmer till the asparagus is tender. Remove the heat and insert the chicken and yoghurt and puree the same.
8. Brocolli Soup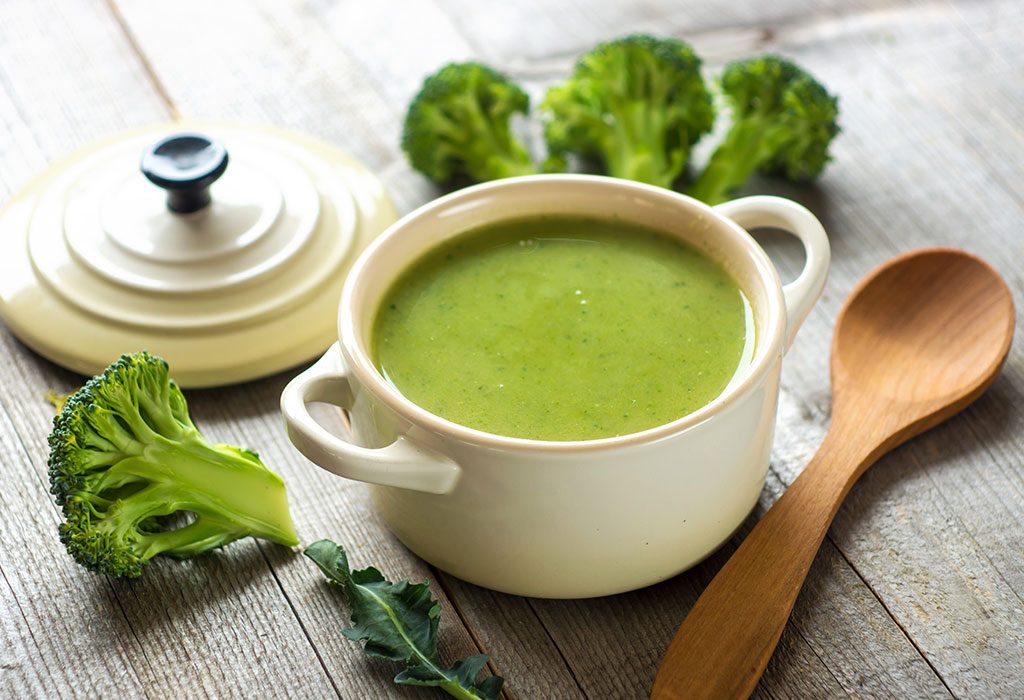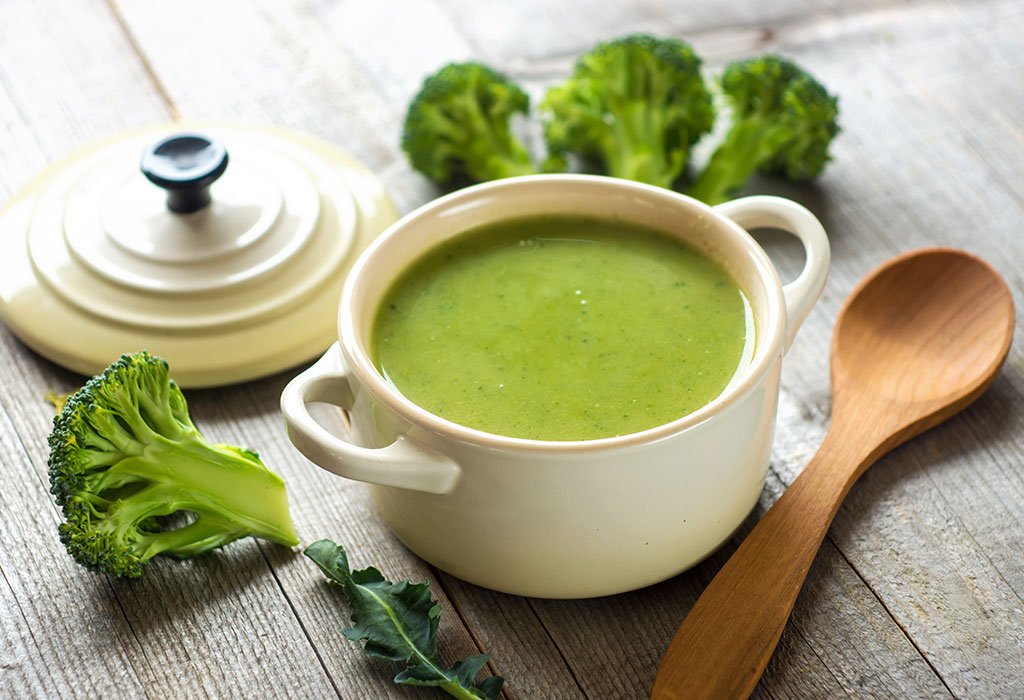 Ingredients
1 head of broccoli florets
½ medium onion (chopped)
1 tablespoons of olive oil
½ teaspoon of salt (only if the baby is above a year)
1/8 teaspoon of pepper
Water and baby carrots, chopped
How to Prepare
Saute the onions and carrots with olive oil for about 5 minutes
Add the broccoli and enough water.
Cover the pan and boil. Reduce it to a simmer until the broccoli is tender but green
Remove the pan and puree it until it is smooth with an immersion blender. Add salt and pepper.
9. Tomato Soup Recipe for Baby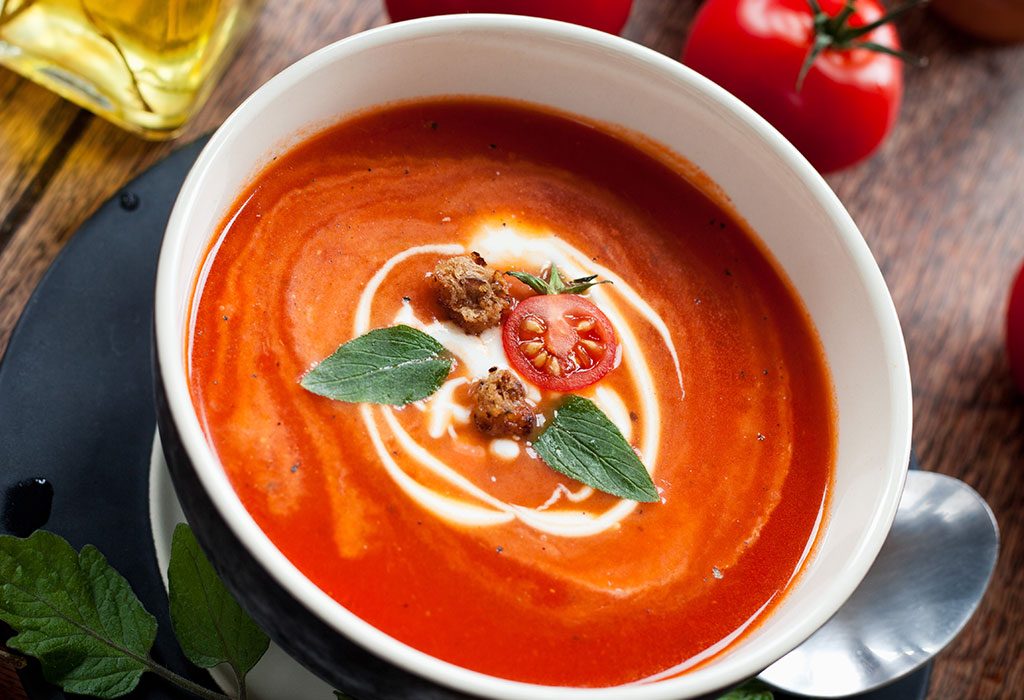 Ingredients
1 red tomato
½ teaspoon of butter
1 pinch of pepper powder
1 cup of water
How to Prepare
Wash the tomatoes and cut them into small pieces. Place them in a pressure cooker with half a cup of water.
Add pepper powder and close the cooker for 2 whistles
Open the cooker and transfer the cooked tomatoes to a blender and blend them into a puree
Heat a pan and transfer the tomato puree and heat it with butter.
10. Carrot Soup Recipe for Baby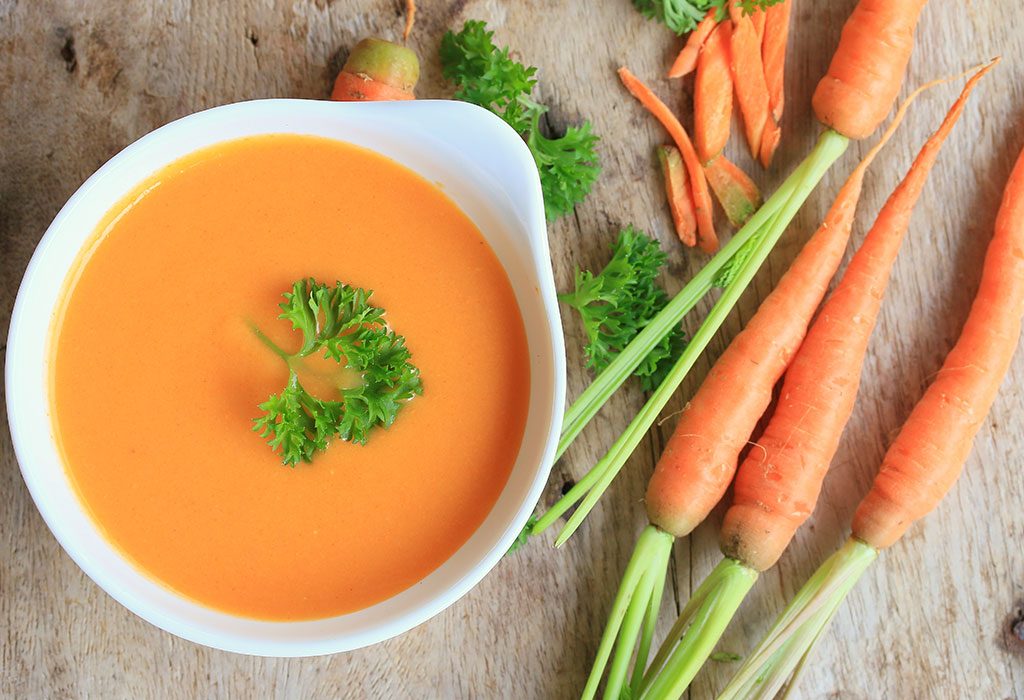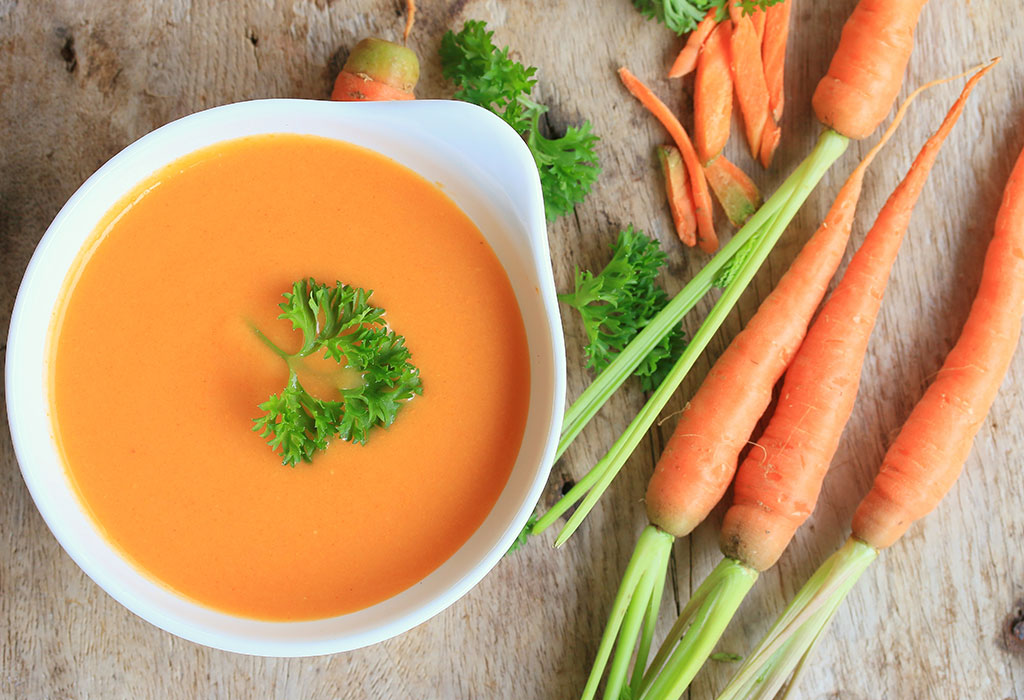 Ingredients
Carrot (chopped or big)
Onion (2 tbsp chopped)
Ginger and garlic (3 cloves)
Salt
Butter (1 tsp)
¼ tsp Cumin seeds
Pepper powder
Water
How to Prepare
Wash and peel the carrots and chop onions, garlic and ginger
Heat a pressure cooker with a tsp. of butter and add cumin seeds till they crackle
Add the onions, ginger and garlic and stir for 2 minutes and then add the carrot along with salt and pepper
Add the required water till it boils and pressure cook everything on a medium flame. Once the carrots become soft, transfer them to a blender.
Strain the soup and serve.
You can try multiple soup recipes for 6-month-old baby and older kids. Make sure it's not too hot when you serve them!
Also Read: 15 Finger Foods for Your Babies
?>