Dinosaur Themed Baby Shower Ideas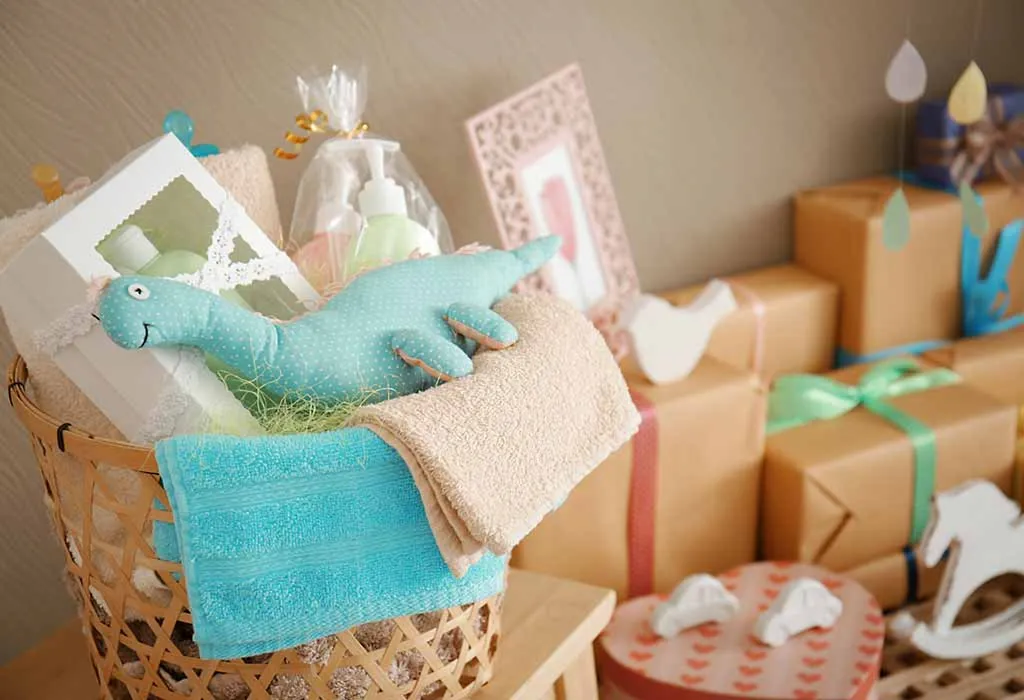 In this Article
Your world is about to change because a baby is all set to bounce his or her way in your life! To celebrate their arrival, if you are finding for some quirky and out-of-the-box ideas to host a baby shower, we have a theme that will excite you and make for a fantastic baby shower idea.
Ideas To Throw A Dinosaur Themed Baby Shower
This is a great theme for parents looking to create a prehistoric ambiance that will enthrall the guests. Here are some invitations, décor, food, and other ideas that can help you plan a Dino-themed baby shower!
Dinosaur Baby Shower Invitations
The first thing you need to plan for the party is to send invites to the guests. If you like to add some personal touch to the invites, you can make them yourself. If craft activities are not your forte, you can download any dinosaur-themed template from the internet and creatively write an invite. Add more zing to the invites by accentuating it with some glitter pens, sticking some cutouts, etc. For a baby boy shower invitation, you can use blue or green color, and for a baby girl shower, you can use shades such as pink, purple, etc.
Alternatively, you can opt to buy online dinosaur-themed invitations. You can also send digital invites via mail or messages. This is a great way to cut costs on invites!
Dinosaur Baby Shower Decorations
Here are some décor ideas that you can consider:
Dinosaur Banner: Use different colored construction papers to cut out dinosaur shapes. Stick these shapes on a ribbon, and your dinosaur baby shower banner is ready. You can make a couple of such banners and decorate your dining, living, or staging area.
DIY Trees: To create a jungle feel and look, you can fashion 3D trees to brighten the entrance or the food area. Alternatively, you can cut out tree shapes using brown and different shades of green craft papers and cut out different sizes of trees. Stick these trees at various corners of the house.
Create a photobooth corner: Use cardboard to create a photo booth and use craft paper to cut leaves and flowers to decorate the cubicle for a prehistoric jungle feel. Grab some fun dinosaur masks and props to capture fun pictures!
Dino Centerpiece: You can place any stuffed Dino toys on the table for dinosaur baby shower centerpiece ideas and place a vase with some greens to create a jungle feel!
Dinosaur Baby Shower Food Ideas
Food is the essence of any party. When it comes to quirky baby shower party ideas, the food has to be memorable. Here are some options that you can consider;
Cake: Well, a baby shower is incomplete without a cake, and for a dinosaur-themed party, you can make a dinosaur baby shower cake. Use tiny dinosaur figurines to decorate the cake. Choose colors such as green, blue, orange, brown, etc., for an earthy feel. However, if it's a girl dinosaur baby shower theme, you can opt for purple, pink, and other such colors!
Deviled Dino Eggs: This is a great savory option! You can have any yummy filling in different colors that are in sync with the theme. And for a more authentic feel, you can also dye the eggs!
Fossil Cookies: Use any cookie dough sitting in your fridge and use any tiny dinosaur figurine you have to cast its footprint on the cookies. Sprinkle some cinnamon or cocoa powder on the prints for more definition and bake as usual!
Dinosaur Baby Shower Games
Here are some fun games you can consider;
Dinosaur-themed Bingo: One game that you can never go wrong with that never falls short of entertaining people is bingo! And for your baby shower, you can plan bingo but with a slight twist. To lend the game a more prehistoric feel, you can find Dino-printable bingo tickets online, or you can also make them at home!
Guess the number of eggs: Place M&Ms in a glass jar and call it Dino eggs and ask each guest to guess the number of eggs in the jar. Every guest should write their name with their guess on a piece of paper. The host will look at all the slips and announce the correct answer, and the closest guess will bag a surprise gift!
How Big is the Bump: Another fun guessing game that will be a great baby shower game. Take plastic eggs and place a tiny ball of yarn in each one of them. Hand over one egg to each guest. Ask the guests to guess the size of the mommy's bump, cut the yarn in the length they think will wrap perfectly around the bump, and put it back in the egg. Guests should write their names on the eggs using a marker pen. The mommy will then open each egg, and the one with the most accurate guess will be the winner!
Dinosaur Baby Shower Favors
Your guests are the ones that make your baby shower unique, so it's only fair to send them away with favors! If you want your guests to go with tasteful dinosaur-themed baby shower favors, we have some fun and exciting ideas for the same:
Dinosaur Glass Jars: Grab some glass jars with lids, tiny dinosaur figurines from a toy store, some paint, and a glue gun, and you are all set to transform the ordinary into extraordinary. Stick a dinosaur figure on the lip using the glue gun and let it dry. Once dry, paint the lid using any bright paint. Make all jars like this and fill them with some homemade chocolate, cookies, or other such treats!
Potted Succulents: What better than a potted plant to give a nature-inspired feel to the baby shower favors too. You can get tiny succulents, place them in bight earthen pots, and stick a personalized thank-you note on each pot!
Dino-themed favor boxes: You can make small boxes and place gifts that go well with the theme. You can place homemade dinosaur-shaped cookies, candles, soaps, or other such goodies in the box! For an added touch, you can decorate the boxes by pasting some dinosaur cutouts!
The Dino theme is adorable for a baby shower, and your guests will enjoy it too. However, if time is a constraint, then you can grab the supplies from the stores too. We hope this post helped you make decisions regarding your dinosaur-themed baby shower. Now that you have your ideas in place, it's time to get started…
Also Read:
Diaper themed Baby Shower Ideas
Unicorn Themed Baby Shower Ideas
Rainbow Themed Baby Shower Ideas