Dal Palak Recipe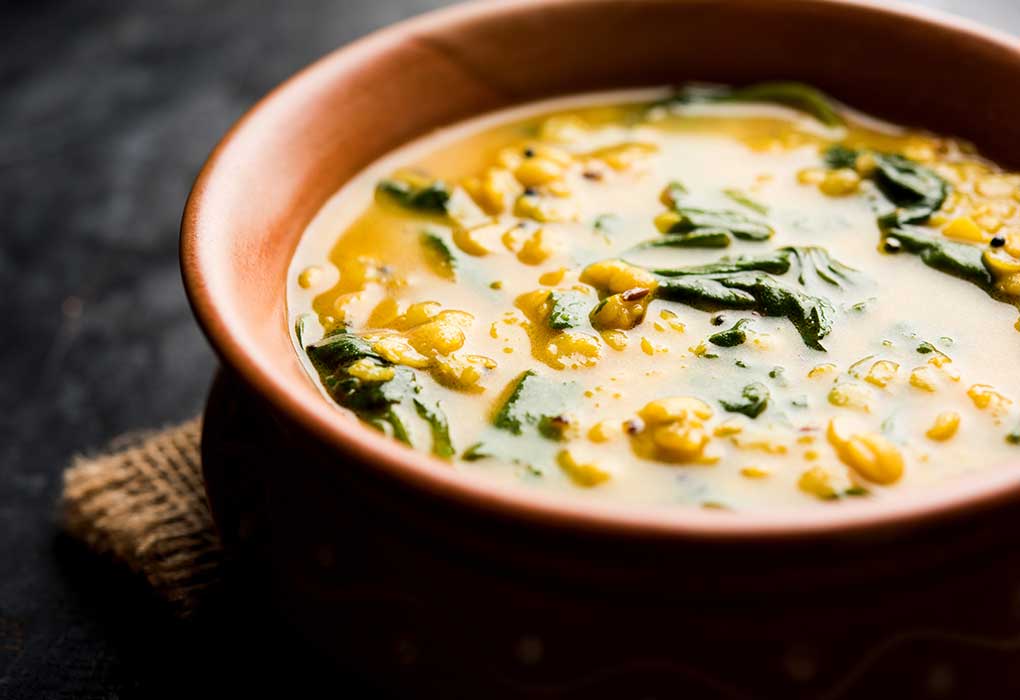 Lentils are an essential part of Indian meals. Dal palak is a delicious lentil-based dish that brings together the goodness of spinach, garlic, and spices as a humble accompaniment with your steamed rice or hot chappati. When moong dal and chopped spinach are cooked together, they make a protein-rich gravy that meets the daily nutrition needs of your child. Moreover, the subtle aroma of ghee and creamy soft texture tickles the developing taste buds of babies and offers an easy way to add greens to your child's diet. Considered as one of the best vegetarian super foods, it is light, easy to digest and can be prepared using only a few ingredients in your kitchen shelf. Bookmark this recipe of how to make dal palak and get complimented for your culinary skills every time you make it.
Video: Dal Palak (Spinach) Recipe for Toddlers – A Health Dish for Your Baby
Cooking Time
| | |
| --- | --- |
| Type | Time (hh:mm:ss) |
| Preparation Time | 00:10:00 |
| Cook Time | 00:20:00 |
| Total Time | 00:30:00 |
Cooking Method: Gas
Type of Meal: Vegetarian
Suitable For: Babies older than 9 months of age
Meal Schedule: Lunch or dinner
Recipe Type: Side Dish
Ingredients
| | |
| --- | --- |
| Ingredient | Quantity |
| Toor Dal | 1/4th Cup |
| Moong Dal | 1/4th Cup |
| Water | 3 to 4 Cups |
| Ghee/ Clarified Butter | 2 tbsp |
| Salt | As Per Taste |
| Ginger | 1 tsp |
| Cumin | 1/2 tsp |
| Hing | 1 Pinch |
| Turmeric Powder | 1/8th tsp |
| Tomato | 1, medium-seized |
| Red Chillies | 1, medium-sized |
| | |
| --- | --- |
| Spinach leaves | 1 cup, chopped |
Instructions
This step-by-step direction of making dal palak will help mothers make the dish finger-licking good every single time.
Wash the lentils and cook them in a pressure cooker.
Add turmeric powder, 2 to 2.5 cups of water and cook it for 2-4 whistles in medium heat until it softens.
When the pressure releases naturally, mash the dal well and keep it aside.
Heat ghee in a pan. Add red chillies and cumin.
As the cumin splutters, add the chopped ginger and fry it till the raw smell of ginger disappears.
Saute well and add a pinch of hing.
Add the chopped spinach and fry it on medium flame till it becomes soft and stops releasing water.
Now, add the cooked dal and some salt. Give it a good mix.
Add some water if required to adjust the consistency.
You may add another tablespoon of ghee.
Simmer for 5 minutes and serve hot.
Recipe Tips
This simple dal palak recipe can be made spicier by adding some green chillies or chilly powder. A spicy version of the dish is apt for older children.
Add lemon juice or dry mango powder for making the dal tangy.
Wash the palak well to remove any soil and dust on it.
You can put some salt to the palak leaves and boil it in advance to remove its raw smell.
This homemade dal palak baby food recipe can be made tastier by adding coriander leaves.
You can use any dal (arhar, pigeon pea, masoor) to make this recipe.
Mashing the well-cooked dal ensures faster digestion for your child.
Garlic cloves can be added along with ginger.
Tempering with different spices or adding radish or fenugreek leaves along with palak will add variation to this recipe.
Dal palak is a perfect accompaniment for your meals. It's not only tasty but healthy too. Read on to know the nutritional value per serving of the dish and its health benefits.
Nutrition Information (Per Serving)
| | |
| --- | --- |
| Type | Value |
| Carbohydrates | 24 g |
| Calories | 184 g |
| Protein | 9 g |
| Sodium | 77 g |
| Fibre | 11 g |
| Fat | 5 g |
| Potassium | 579 g |
| Calcium | 47 g |
| Vitamin C | 36 g |
| Vitamin A | 2360 IU |
| Iron | 3.9 mg |
| Cholesterol | 12 mg |
| Sugar | 3 g |
Health Benefits
Dal Palak is one of the healthiest choices you can make for providing maximum nutrition to your baby. Here are some of the health benefits of eating dal palak :
As pulses are high in protein, it helps in the physical development and growth of your baby. Its iron content revitalizes the body and keeps the baby active for the entire day.
The Vitamin K in spinach keeps the immunity level high. Its high dietary fibre acts as a natural laxative for easy bowel movements.
Spinach protects the liver from infections and helps gastric problems in children.
Cumin seeds regulate digestion, fights cold and promote food-borne illnesses.
The fatty acid present in ghee is beneficial in the development of your child's brain. It also warms the body and provides energy.
Along with the health benefits, you must also know how to choose your ingredients to ensure utmost health. Here's a buying guide that will help you the next time you want to make this recipe.
Buying Guide
Here's some key information you should keep in mind before heading out to purchase the ingredients for dal palak.
Buy fresh tender and leafy palak from an organic store to ensure that it's grown naturally without the use of pesticides.
Whole spices stay fresh longer. Check for a strong fragrance and vibrant colour to determine its quality.
It is always better to use homemade ghee or clarified butter for cooking. Refined oil can also be used.
Buy pulses from a reputed grocery store and sift through it before washing them to remove stones or tiny insects in them.
For packaged dal, ensure the dal is within the expiry date.
Homemade dal palak for babies is one of the most healthy traditional recipes that you can feed your child. This flavourful combination of dal and palak is sure to tempt your entire family and become their all-time favourite dish.