Cute Tea Party Ideas for Kids and Ways You Can Organise One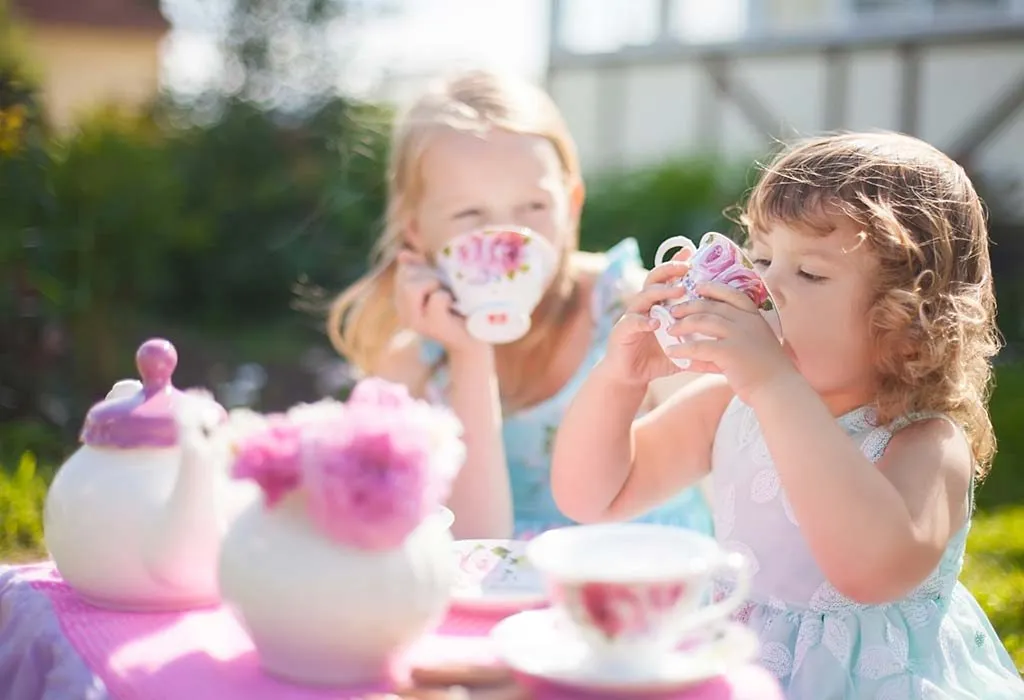 In this Article
One of the things that little girls especially love to do when they are little is throwing a make-belief tea party. Whether they are being hosted to their toys or they try to involve you in the game, they seem to have fun even though there are no real threats or real tea. It is wonderful that they can use their imagination and be happy, but imagine the fun if they could throw a real tea party!
If your little one loves tea parties, it would be a great idea to have a few of her friends over for a small tea party at home. She will be thrilled and it will give her great experience with hosting. If you want it to be on a grander scale, decide on a tea party theme for her birthday. For a tea party that is special, you can opt for a tea party theme. There is so much fun to be had when it comes to throwing a tea party.
How to Throw a Beautiful Kids Tea Party
Throwing a tea party for children is going to be as much fun for you as for the children. The best way to go about it is, of course, to have your little host or hostess help you with all the preparations. Just because the tea party is meant to be a fun activity, it does not mean you cannot use it as a great learning experience. It is precisely because it is fun that your child will be willing to learn better. Here we will cover a few important topics that will help you to throw a wonderful tea party for your children.
Tea Party Etiquette
If you were waiting for the opportunity to teach your child some table manners, here it is! There are certain tea party etiquettes that must be learnt and followed by all those who wish to attend a proper tea party. Just try not to be too strict about it. This is a learning experience, after all.
Napkins must be placed on the lap.
Never reach across the table to take anything. Instead, politely ask for it to be passed to you. "Please" and "Thank you" must make their appearances.
Never talk with a full mouth. Swallow and respond.
When you stir your tea, avoid clinking the spoon against the sides of your teacup.
Avoid smacking your lips or making a slurping sound when you drink your tea.
If you are asked for the salt or pepper, pass them both together
Avoid using your finger to push food onto your fork. Use your knife.
Don't be the one to talk all the time. Develop the art of listening to others speak as well.
Leave your plate where it is when you have finished your food. Do not push it away.
Tea Party Invitations
Your tea party invitation is nearly as important as the tea party itself. It sets the mood for the tea party and gives the invitees a little feel for what they are going to experience when they get to your tea party. Here are some of the important things to keep in mind when you are designing your tea party invitations:
Your invitation should be colourful and inviting.
Design your invitation to match the theme that you have chosen. For example, if you have chosen a fairy theme, your invitation can include a few things such as woodland creatures, green hues etc.
Include all the important information in your invitation. This will include the time, theme and dress code.
Traditional tea parties are held in the afternoon, often beginning at 3 pm. If you want to hold a luncheon tea party, it will begin mid-morning, at 11 am. It is important to include this in your invitations.

Decoration and Theme Ideas
Your decoration will go hand-in-hand with your theme, so it is important to pick out your theme wisely. Here are some things that you should keep in mind when you are at this stage of planning your tea party:
Choose your theme: Some of these can be, Princess Theme, Victorian Tea Party, Fairy Theme, Winnie the Pooh, The Mad Tea Party from Alice in Wonderland, etc.
Choose your location: Whether you have your party indoors or outdoors depends on your theme for certain concepts. The Fairy Theme and Winnie the Pooh theme would be wonderful themes to have outside but these, like all the others, are flexible.
Start your decorations: Keeping it simple is the perfect way to go about decorating for a tea party.
Pay close attention to the tea set: It is always good if the tea set matches the theme. You can also go for a mix and match tea set. Just pick up some assorted teacups and teapots from a thrift shop.
Make sure that you use cloth napkins instead of paper for a more sophisticated look.
Use proper cutlery, and avoid anything disposable. You want the real deal.
Set your table for the number of people you will be having over.
Make sure that each place has everything needed. You can keep spoons, forks and knives, as well as a cup and saucer and a bread plate.
Make some cute name cards for each setting, so everyone can find their seats.
Tea Ideas for a Girls Tea Party
Tea parties for little girls are the easiest because they are the tea parties we are traditionally used to seeing. Here are some ideas you can use if you are hosting a little girls tea party:
Get a fancy tea set. You can never go wrong with floral prints.
Pick a theme such as Disney Princess or Fairy Theme.
Go with soft pastel colours for your decorations.
Have activities such as jewellery or origami flower making activities.
If your theme is a princess theme, you can have your guests decorate some tiaras that they can then take home as a party favour. For themes like Fairy, you can have them decorate a magic wand. Just keep a few wand-sized wooden dowels available for them to use as a base wand.
Kids Tea Party Snack Ideas
The food is another very important part of your tea party. You cannot just go around serving anything at a tea party. Here are some tried and tested tea party snack ideas that are great for kids:
Sandwiches are a must-have for any tea party, whether it is for kids or adults. For children, you can make the sandwich options fun by serving peanut butter and jelly sandwiches along with a few other healthy options.
Either bake some delicious treats like a few muffins and cookies or order them from your favourite bakery. If you are baking them at home, your little host or hostess can join you. It will be a fun bonding experience.
If you are good at baking, you can try making fancy biscuits in tea party themed shapes. Teabag biscuits, teapot and teacup shapes and others will make the children all the more excited to dig in.
Fruit salads are a great addition to your tea party.
Young children really should not be drinking real tea, so you can substitute the tea with something like apple juice, or chocolate milk.

Tea Party Games and Activities
With children, it is always a good idea to have some activities planned ahead. This will make their tea party more memorable and also add to the fun factor. Here are a few ideas that you can think about:
Have a tea party makeover. Allow the children to doll themselves and each other with a bit of lipstick, perfume and other non-toxic makeup. The boys can choose if they want to join.
Fan decorating is another great way to have the kids pass their time. They can take home the fans as party favours.
Make a cake quilt. Cut out a rectangular cake into little squares. Each child will get to decorate one square. Once everyone is done decorating, you can reassemble the cake. The finished result is very interesting.
Tea Party themed colouring books or pages are perfect for keeping the younger crowd busy.
Jewellery making is a great way to keep children busy before serving tea. One of the good things about it is that they can wear their jewellery whilst having their tea to help them feel posher and higher end.
Dressing Up Kids for a Tea Party
Dress up for a tea party just makes it all feel very complete. Here are some great dress up ideas you can incorporate:
If you are throwing a themed tea party, then the dress up should match the theme. For example, Princess Themes should have the little ones dress in fancy dresses.
If you are throwing a regular tea party, then the kids can get quirky. Allow them to dress in tea hats, tea gloves, boa scarves, beaded neck ornaments and others.
Children's Tea Party Favours
You will need to get a little creative when it comes to the tea party favours you are going to hand out to the children. Here are some ideas that kids will love:
Allow the children to take the jewellery or fans that they have made home as a tea party favour.
You can give out the fancy cloth napkin as a tea party favour. To make it even more special, you can stitch or print each child's name on it.
Make a 'tea-bag; giveaway bag. You will need to staple two white sheets of paper, or perhaps stitch two white cloths together to form the teabag. Make a string and a label. Put little party favours inside. Some of these can simply be sweets, stickers, stamps, costume jewellery, stationary etc. The label will be the thank you card.
Hosting a tea party for children is a lot of fun. Not only will the kids have a blast at the tea party, but you will enjoy planning and setting it up for them. Use this guide for ideas and tips on hosting a tea party for your little one, for an evening of fun!
Also Read:
Birthday Party Games Ideas for Children
Easy and Fun Party Game Ideas for Children
Fun Baby Shark Party Ideas for Children