Beautiful Ideas to Make Baby's First Christmas Special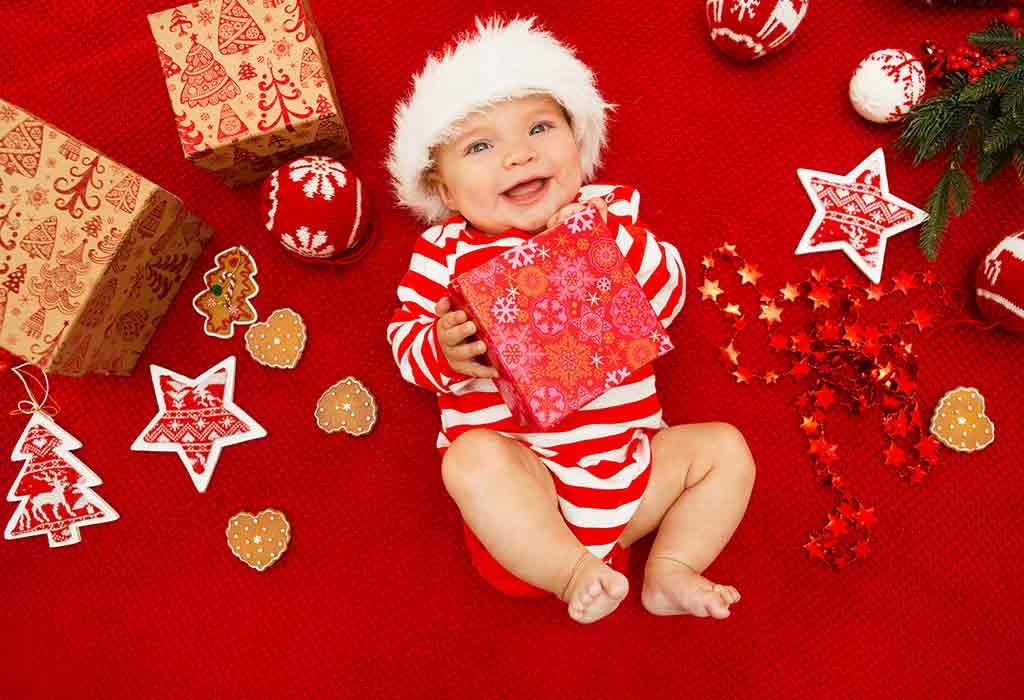 In this Article
After your little one is born, you will probably want to document every little milestone in his life! While you love making these memories, you should definitely know that Christmas is an important season! Your baby's first Christmas will be a magical experience for everybody in your family, and these are memories you will cherish for years to come. Make this holiday season less about giving gifts, and more about creating new family traditions and moments with the newest little member!
20 Exciting Ways to Celebrate First Christmas With Your Baby
Here are a few exciting activities and ideas to celebrate your little one's first magical holiday season!
1. Have a Christmas Family Photo Shoot
The first Christmas of your little one is the perfect occasion to start the family tradition of taking family portraits together every year! Professional photos with the little baby are something you will definitely cherish forever. You could either go for natural lights and an outdoor setting for the photos, or if you feel like the indoors are better, decorate your home in the Christmas spirit to make the perfect backdrop. These would also make adorable Christmas cards you could send to your extended family and friends!
2. Make a Holiday Countdown Jar
Instead of going for a typical Advent calendar, why not make it more fun with a countdown jar? Take 24 strips of green and red paper, and write out special activities you can do with your little baby. These can include some cute and classic activities you can do with your baby, like reading a Christmas-themed book or and walking on the snow. Toss all these activity papers into a jar, and take one out to do each day. By Christmas Eve, you will be able to make an entire month's worth of beautiful memories for your little one's first Christmas, instead of just two or three days. You could even download pre-stamped strips from the Internet, which will contain all the fun activities you could do with your baby, or you can take blank strips to write down some of your own ideas.
3. Visit a Christmas Tree Farm
A trip to pick up the tree from the Christmas tree farm is an adventure your baby would definitely enjoy. Your baby will surely have a good time with the entire family, and you could take a lot of videos and pictures! Moreover, it is the perfect occasion to start teaching your baby a few Christmas traditions.
4. Preserve Your Baby's Handprint
During your baby's first Christmas season, you will definitely take a lot of pictures that you can look back on. But, there is simply something a bit extra about preserving your little one's handprint in paint or salt dough. This way, you can always remember how tiny and adorable your little one was during his first Christmas. You could even turn this into your baby's first Christmas ornament, and hang it on your Christmas tree. There are adorable kits that can provide you with enough materials to preserve your baby's handprint which you can find in your local stores. You could also paint the baby's palm, and imprint it onto paper to make it a fun activity.
5. Make a Holiday Card
You would probably want to show off your perfect angel to your family and friends, so why not go for it during this holiday season? Collect a few toys and accessories that are related to Christmas, like a Santa hat or a reindeer soft toy, and take pictures as the little one explores these objects. If your baby is too little to hold things to play with, place him in front of a holiday setting, or lay him down on a Christmas-themed gift wrap. After you are done taking pictures and getting the perfect shot, you could either upload the photo to digitally create adorable holiday cards, or you could give the photo to a local store that would make the holiday cards of your baby.
6. Dress Up
Make the holiday season more exciting by dressing up your little one in a variety of festive holiday attire! This can be anything from green and red onesies and wintry hats to formal baby clothes. You could also go for popular Christmas characters, like Santa, a reindeer, or even a little elf. Or, go for characters from your baby's favourite Christmas-themed books to make your baby's first Christmas photo ideas unique! These outfits will make your holiday extra special, and taking photos and videos of these would make a wonderful addition to your photo albums. Dressing up is perfect for making a Christmas-themed holiday card, and the entire family can participate by dressing up as various characters of Christmas.
7. Get a Special Gift
Your little one would definitely not remember what gift he got during his first Christmas, but it would not stop him from enjoying and playing with his new favourite present. You do not have to go overboard with the present – choosing something special for your baby's first Christmas gift to bring him joy is enough! You could either pick the perfect baby's first Christmas toy or even an heirloom gift your baby would treasure as he grows older.
8. Hang Your Little One's First Stocking
Now that your family has expanded with the arrival of your little bundle of joy, it is time to go shopping for an adorable Christmas stocking to add to your mantle. There are so many cute options for your baby's first Christmas stocking, along with sweet stuffers to put in it!
9. Meet Santa for the First Time
One of the most iconic moments of your baby's first Christmas is meeting Santa! This is something you will not want to miss, and it is the best way to celebrate your little one's first Christmas. Even though the baby will not know or understand who Santa is, or have any memories of taking a picture with Santa, the photo op is simply too cute to ignore, and the memories will be great to look back on.
10. Begin a Christmas Cookie Tradition
If making cookies is not already a part of your Christmas tradition, now is the perfect time to begin! You could make cookies in your baby's favourite flavours, and turn this into a family tradition. You will be able to find many Christmas-themed cookie recipes online, and this is something everyone will definitely look forward to having every holiday season. Your baby can watch you make the cookies, and as he grows older, he can even help you every year!
11. Read Holiday Books
Take a break from popular children's storybooks you may have, and get a few special Christmas books. You could either get them from your local book store or borrow a few from the library. For each day of December, you could read a new Christmas-themed story and bond with your little one. You could go for classics like "The Night Before Christmas" and "The Polar Express". This would be something everybody in the family could look forward to, and is a wonderful idea for baby's Christmas presents.
12. Make a Christmas Eve Box
This is a wonderful idea for an adorable holiday tradition you could start with your baby's first Christmas. All you have to do is take an empty box, gather a few Christmas Eve-related things like holiday pyjamas, cookie cutters to make cookies for Santa, Christmas books, and a few carrots for the reindeers!
13. Slice Off a Christmas Tree Round
This could be another wonderful family tradition. If the Christmas tree in your home is fresh, you could saw off a round of the tree's trunk, and write on it a few details, like the date, and sweet messages like "Today was my first Christmas (baby boy's name)" or "What a fun first Christmas (baby girl's name)". This piece can be preserved beautifully, and will make the perfect memento for the little one's first Christmas. You could do this for the years to come, and store everything in a box with other little mementoes.
14. Make a Christmas Baby Mobile
You could make your own DIY baby mobile with a Christmas-y twist. Decide on a festive colour scheme, and you could use anything from stuffed animals to green and red pom-poms to create the hanging bits!
15. Make a Special Christmas Dinner
Sitting together with the family during mealtime is always fun, but with a Christmas touch in it, dinner time with the family will be spectacular! With the new little member in your family, you will have to think a bit more about the Christmas menu. You could look for ways to include baby-friendly dishes to your traditional holiday menu, while making sure everybody in your family can enjoy the feast.
16. Contribute to the Charity
Never forget that Christmas is the festival of sharing. Whether you share love or money, it is your will that counts. Collect your baby's belongings, like clothes and toys, that he does not need anymore and donate to the charity. This way you and your baby will be contributing something for charity and people in need. You can also teach your kid the value of gratitude.
17. Spend Precious Time With Your Baby
Festivities bring along tons of tasks and with a baby in the house, it gets impossible to take care of things proportionally. So this Christmas, give your child the best Christmas present – your time and love. Designate one day of yours to your little munchkin, click lots of photos, create videos, and preserve the moment for coming years.
18. Start a Baby's First Christmas Book
Design a custom book or scrapbook documenting your baby's first Christmas. Include photos, anecdotes, and memories from the holiday season, making it a cherished keepsake to revisit as they grow.
19. Take a Festive Family Walk or Drive
Enjoy the holiday lights and decorations around your neighborhood or visit places known for their extravagant holiday displays. Take your little one on a walk or drive, soaking in the festive atmosphere together.
20. Create a Baby's Christmas Time Capsule
Put together a time capsule filled with items or memorabilia from your baby's first Christmas, such as a tiny outfit, a favorite toy, a handwritten note, or photos. Store it away to open on a future Christmas, reminiscing about this special time.
Your little one's first Christmas can be a very exciting time for the entire family, but it is best to not overbook yourself. While doing all the fun activities during the day, you should also try sticking to the usual routine for sleeping, eating, and playing. However, no matter how you plan on spending this holiday season, from special Christmas-themed activities to special family time, you will surely be able to create a lot of beautiful memories.
Also Read:
Tips on How to Baby Proof a Christmas Tree
Baby Christmas Photoshoot Ideas