Creative Homeschool Organization Ideas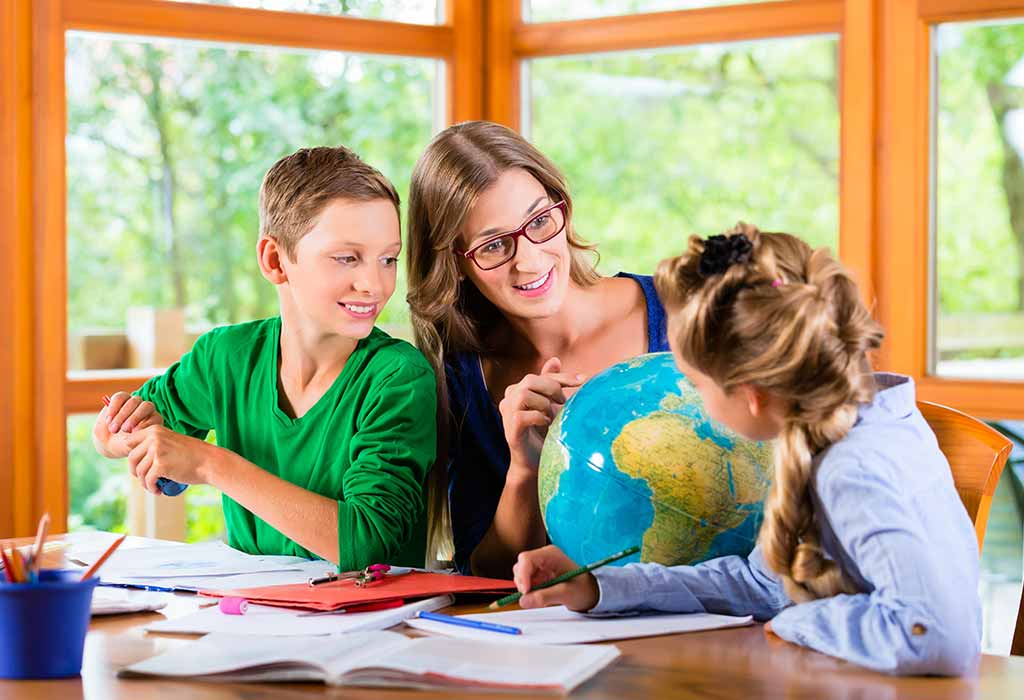 In this Article
Teaching and homeschooling are two different ballgames. Trying to get kids to home school within the space you play, work, unwind and relax could be a big challenge. Whatever be the route, homeschool organization ideas for small spaces are the best way to keep up with busy schedules, have a clutter-free workspace for kids, and be organized.
Best Ways To Organize Homeschool
Creating a healthy learning environment for kids does not mean revamping and redesigning your home. De-clutter and avoid the chaos with these space-saving homeschool storage ideas to be prepared for any whirlwind of an academic year. The following hacks could be helpful to redesign without spending any money:
1. Create a Command Centre
An excellent homeschool materials organization idea will involve converting any unused or open shelf in your home as a storage space. It could be the space for workbooks, art and craft supplies, textbooks, and bins. You could tuck loose sheets of paper and other materials away there.
2. Sort Stationery Supplies
Organizing homeschool supplies can be done with the help of some plastic drawers that could be tucked under the bed or table. Just make a rough estimate of stationery ( pens, pencils, glue, crayons, etc.) that you have and will need in the future. This will help to replace school supplies easily and help you stay organized throughout the year.
3. Filing Cabinet
Purchase a plastic filing cabinet that could store files and folders. You could tape labels with a fancy marker, and kids could segregate their finished and unfinished work. It makes looking for assignments and reference materials in loose sheets easy for you and your kids. It helps organize paperwork, informs kids about what needs to be graded, sent across for submission, and what needs to be stored for future reference.
4. Visual Schedule
Visuals work well with children. Most schools use visual timetables at the start of the day to help them have predictability. With visual aids, kids learn a lot better. Print out pictures of daily tasks and place them in the order that they need to be completed. It is a perfect idea for those who are still learning how to read and those not accustomed to learning from home. There are several ideas available on the internet, and all you need to do is click and print. If you wish to make it look fancy, you could laminate them and attach them to Velcro strips. As they complete the tasks, kids could strip them and put them in a finished work tray.
5. Lesson Planner
Catching up on lessons is very important when kids are homeschooling. With school and revision both being done at home, a lesson planner will significantly help. Ideas on how to organize homeschool lesson plans are available on the internet. You could create one on your own with your kid and update it in a diary too. Lesson planners help catch up on what is being done in school and prove helpful when grading assessments.
6. Use a Wall Space
You could convert a wall space into a DIY workstation by customizing this space for your child. Glue some containers to store stationery supplies, a pegboard to pin important notes, and a tiny whiteboard to jot down ideas.
7. A Bin for Each Kid
For those with more than one kid, homeschool organization could be challenging, especially with organizing supplies. Parents cannot afford to have a separate workspace with an area for storing things too. Invest in a few large plastic containers that can hold stationery supplies like pens, pencils, glue sticks, calculators, and other essentials. Label them, so they do not get mixed up. This way, kids can reach out to what they need from their bins.
8. Organize Books
Earlier, kids could store their books in the school locker, but kids now have to keep all their books at home. Once again, it will help if these are organized in a dedicated space. Plastic drawers or crates with labels of subjects could help children pick the books they need.
9. Hide Stuff in a Cart
Wheeled caddies, especially metal ones, could help move supplies and books from one room to another. If your child is too young to study by themselves at home and you have to juggle your work too, then a wheeled caddy could help to stuff their things for the day and have them by your side. They could then pull out stuff from it as and when they attend their lessons online.
10. Organize Assignments on a Weekly or Monthly Basis
Use a color-coded folder for all the essays, texts, artwork, and other handiwork of your kids. Get kids to be organized by moving the things that need for future reference according to priority and importance to these folders weekly.
11. Design a Workstation
Rearrange a corner or area as a workstation. Put up a bulletin board that tells the class schedule, homework, and other reading elements. Kids can change the layout and make amends as the day progress.
12. Have a Break Out Area or Corner
Schools are very differently designed and organized for children. Classrooms have displays, boards, reading corners for children to see, learn and relax. Re-organize a corner in your home with stuff baskets filled with reading books, coloring worksheets, and art materials for them to unwind when they have a break. Make sure to rotate and change it every week to have something new to look forward to weekly.
Homeschool organization could seem like a mammoth task. Having to organize your workspace and your kids may seem like there would likely be chaos in the house. However, all it needs is a bit of time and money investment in the form of time and money. Use the above tips and get on the right path to an organized homeschool routine!
Also Read:
Homeschooling Vs. No-schooling
Tips for Education through Homeschooling
Best Online Homeschooling Resources