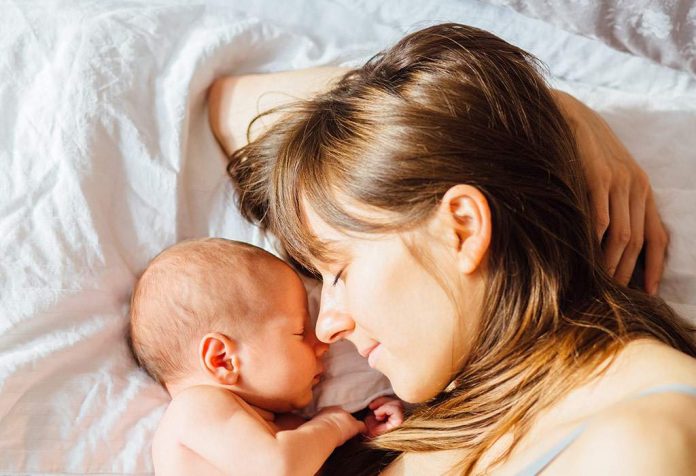 Last Updated on
Congratulations, if you have just welcomed a little bundle of joy in your life! Let me tell you it's never going to be the same, but in these happy and tiring moments never ignore yourself because no one can change the fact that a happy mum means a happy child.
After a baby, the first thing that changes in your life is your routine – specifically your self-care routine which is undoubtedly more important after pregnancy, as the tiring schedule is going to make the first impact on your health and skin.
Here we are going to discuss some ways to incorporate little changes in the way we are dealing with some issues.
Postpartum Life Challenges
1. Tiredness: Yes, no one can deny the fact that you will be tired day and night when you are trying to fulfil all the needs and unsaid demands of your cutie pie and on the other hand you are attending to visitors who are eager to meet your baby. Rest of the household responsibilities are still yours and if your husband still can't find his socks, why would you not be tired?
2. Uneven routine: Morning, evening and nights – what are these? When your baby wakes up that's your morning and when he/she sleeps that's your night. Not getting proper rest can make you feel irritated and it may directly/indirectly affect your baby.
3. Anxiety and depression: It's normal. Postpartum depression is an actual thing. Being overwhelmed with the responsibilities and a lot of sudden changes may bring that low feeling inside you.
4. Feeling left out: You will realise that you are not part of those coffee dates with your girlfriends or window shopping with them. You are missing those long chit-chats with them. You may feel left out socially now that your focus is on the baby.
5. Ignoring skin & hair care: Do you remember when you had used all those skincare products lying in your drawer or when was the last time you combed your hair? You can't even get time to bathe. Those dark circles are increasing. Melasma, pigmentation, rough and untidy hair are part of your life now.
6. Hatred towards your own physical appearance: If you are going to dislike yourself how you can expect others to love your personality? We always end up howling that we're looking ugly post-pregnancy and we are not beautiful any more. This kind of behaviour always creates annoyance in the people around and with time they may try to distance themselves from you to avoid that continuous nagging.
7. Over expectation from yourself as a mother:- We always want to be a super-mother. We just want to be the best for our baby, always available on our toes, and any little mistake makes us feel guilty. We always have those relatives, neighbour, in-laws, our own mother some time to judge us. If we will judge ourselves for the same reason, wouldn't we be so harsh on ourselves?
Always remember, perfection is a subjective thing, what is perfect for me may not be perfect for you. So don't be harsh on yourself. Also, you didn't get any training to be a mother, that you are expecting perfection from yourself. Nature, your own instincts and some good advice from your loved ones will make you learn it gradually.
8. Taking those judgements seriously: "You are making your baby wear diapers in summers!", "You are not getting enough breast milk supply, maybe you don't feel compassion towards your baby!", "What do you mean you will rejoin your job, is that more important than your baby!", "Your baby is not walking/talking yet, maybe you are not making any efforts!"
So, this is how we get judged. Many of you must have experienced these and many will experience in the future.
Tips and Tricks to Cherish Motherhood in the Best Possible Way
Always remember you are not going to get these days back. It will be stored in your memory as a film and you are the director of it. So, make it a beautiful one.
Be vocal. Don't hesitate in seeking help from your loved ones. Disperse a few responsibilities to them, involve your husband in the chores.
If you are staying alone, arrange a house help. If you don't want a full time one, have one for 2-3 hours. Even this is going to make a big difference.
Learn to say 'No' to those untimely demands of tea or coffee or anything else, from the very start. It is going to help in the longer run. But always be polite and make the person understand why you are denying those untimely demands.
Initially, you have to define your schedule as per your baby. With time you can train them as per your own requirement. It is possible, just a bit patience is needed.
Note the routine of your baby for a week and understand the pattern and manage your other responsibilities as per that.
Chores are never-ending. So when your baby sleeps, manage to take a nap with them. If he/she sleeps for 2 hours you take an hour nap.
Invest in those calming mask sheets and apply it while you are lying around with your baby.
Music is your best friend right now. Play soothing music in low volume. Your baby is going to enjoy along with you.
If you feel that you are going in depression and feeling low for longer than usual, share this thing with your life partner. Don't delay in consulting a good counsellor.
In this pandemic situation, it's better to not go outside. But, who is stopping you from enjoying a coffee date on a video call with your buddies? Ask your partner to take care of the baby for that time or even your baby may enjoy that get together with your friends.
Involve your skincare routine in your schedule. If you are following it 4 out of 7 days, you are successful.
Comb your hair daily, no matter what.
Start loving your new body along with making some changes in your lifestyle to cut off those unwanted and empty calories due to irregular eating. All I want to say is that you are not going to get your previous physical appearance by hating yourself. It may take some time but will happen gradually with little efforts.
Cut off sugar and caffeine intake by 80 per cent. They may give instant energy but are not at all helpful towards your weight loss.
Replace your sugar with dates and jaggery in your shakes and those laddoos you are eating.
Try some quick and healthy smoothies as you may be skipping your breakfast. So it's a better option for that.
Don't force yourself in any crash diets or exercise, these always show a reverse effect.
Only one solution to avoid those judgement calls- IGNORE. It's up to you if you want to reply to that person or keep mum, but always follow your own instinct and the paediatrician while deciding what is good or bad for the baby.
These are a few tips to make some good changes in your new life. Some may suit you some may not. Again remember, it's you who can decide what is right for you and the baby. So cherish these beautiful moments and make the happiest memory possible and feel free to ask any of your doubts. I will feel lucky to be a part of it.
Disclaimer: The views, opinions and positions (including content in any form) expressed within this post are those of the author alone. The accuracy, completeness and validity of any statements made within this article are not guaranteed. We accept no liability for any errors, omissions or representations. The responsibility for intellectual property rights of this content rests with the author and any liability with regards to infringement of intellectual property rights remains with him/her.