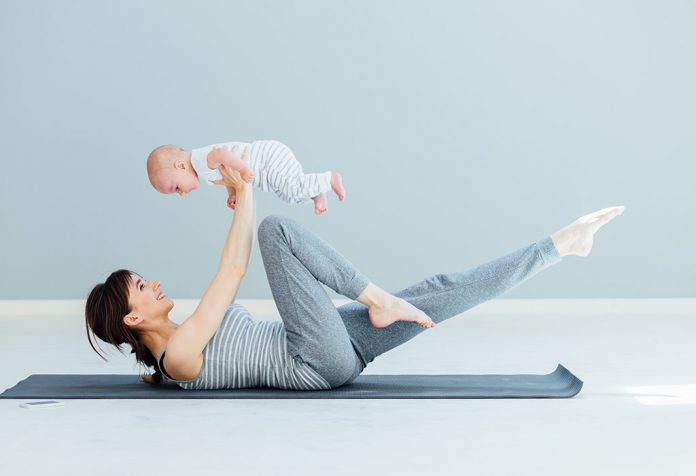 Last Updated on
I just got back home after attending to my sister who delivered last week. Having gone through this myself 30 months ago, I once again realised that getting pregnant, putting up through the pregnancy and delivering a baby is the greatest physical accomplishment that a woman can achieve. To call it 'overwhelming' does not entirely justify the radical shift that this journey brings to a woman's life.
If you are here and reading this, I believe you are somewhere into this journey. Having delivered your 'mini-me/him', what do you feel when you look at yourself in the mirror? I have been there and have known the strong urge to somehow jump back into my old body and mind space. Well, let's accept the fact that both will take a lot of time and patience.
It goes beyond saying that it is essential to work on your postpartum physical fitness. At the same time, taking it slow is equally critical. Your body's core muscles should be the centre of the action to any type of fitness training. However, in your case, the core has been wrecked and is fragile. For at least up to 12 weeks, it is not advisable to take up heavy exercises that stress your core. However, low impact exercises as like kegel exercise, deep breathing, heel-toe marches and heel drops would be really great to start with to strengthen your core. These aid in not only faster recovery, but also prep your body for more intense workouts in the coming months.
Just like your core, your bust also undergoes a massive change during and post-pregnancy. This is generally applicable irrespective of the fact that you're breastfeeding or not. If you have not been a busty girl all your life, you must be prepared for this transformation. You need a good bra to support your bust and your shoulders. If you intend to workout, investing in a high impact sports bra is advisable.
Well, while this might sound gross to some, many women have to face leakage while laughing, playing, or even moving around. Yes, this is a real problem that is not very commonly talked about. The pelvic muscles are most worked out during pregnancy and more so at the time of delivery. If you have been putting too much strain on your pelvic floor during pregnancy, you are more likely to face this issue. Also, if you are not training your body at all postpartum, your core will not recover fully and be able to handle or avoid leakage. Practising kegel exercise is an excellent way to work on the pelvic floor and core strength initially. Also, remember to empty your bladder before any workout, use panty liners, and start with any high impact workout only 6-8 months postpartum.
While all moms look forward to getting fit and in shape postpartum, it is surprising to experience the lack of motivation and energy to do so when your doctor finally gives you the green signal. Nursing and diaper changing seems like a full-day job. It becomes difficult to squeeze out a whole hour for self-care. But it is important to remember that a little
goes a long way. I personally struggled a lot with time for my fitness routine. Thankfully, the 30-minute walk with my baby and husband helped a lot as this was all I could spare from my never-ending baby care cycle. It not only helped me in gaining physical fitness but also being mentally relaxed and finding time to connect with my spouse, which is last in priority but pretty essential to keep you sane in all the madness. A short walk, light yoga, or grooving to your favourite music will affect your wellness.
With all the stress on working out and strengthening your muscles, it is of utmost importance to keep yourself safe from injuries. After giving birth, a lot of the calcium intake is used up for creating and filling milk for breastfed babies. This results in low bone density and a higher risk of injuries. Do watch out to not overstretch yourself while optimising your
workout to keep fit.
Exercise is vital for fitness at all times in life, but postpartum is a tricky phase. Knowledge and practice of the dos and don'ts will help you through the journey.
More power to the strong and beautiful mommies out there, keep yourself fuelled and slay through motherhood.
Disclaimer: The views, opinions and positions (including content in any form) expressed within this post are those of the author alone. The accuracy, completeness and validity of any statements made within this article are not guaranteed. We accept no liability for any errors, omissions or representations. The responsibility for intellectual property rights of this content rests with the author and any liability with regards to infringement of intellectual property rights remains with him/her.